Welcome to this week's RV and camping news brief. Have a news tip? Email Jason Epperson at [email protected].
By Jason Epperson
When does renting out your land for camping become commercial lodging? One California landowner found out. One Maine campground becomes a haven for legal marijuana, a dealership stores its RVs on nuclear wasteland, 5 national forests close entirely due to wildfire danger, and more. It's time for the latest in RV and camping news. 
Watch Below:
4th of July Travel Returns to Pre-Pandemic Levels
More than 47.7 million Americans will take to the nation's roadways and skies this Independence Day, as travel volumes are expected to nearly fully recover to pre-pandemic levels, according to AAA.
In fact, this will be the second-highest Independence Day travel volume on record, trailing only 2019. The 43.6 million Americans expected to travel by car this Independence Day can expect fuel prices to be the most expensive since 2014 with the national average for gasoline likely to remain above $3 per gallon.
Fuel prices are certainly high, but they're not that far out of line with this time of year in 2018 and 2019, prior to the pandemic. And it could be a lot worse.
Increasing gasoline stock levels have helped to keep gas prices mostly stable across the country. Last week, 40 state gas price averages held steady or saw fluctuation of only one to two cents. This helped the national average decrease by a penny since last Monday, down to $3.07 today. Stock levels have increased in line with refinery utilization rates, which are up to its highest rate since January 2020. Demand is also trending higher.
Five National Forests Close
Land agencies across the west are bracing for what could be a record wildfire season, and fire bans have been rolling in over the past week as the drought continues. Five of the six national forests in Arizona have closed to the public almost entirely, including Coconino and Kaibab, with very few exceptions for a handful of campgrounds and trails.
The closures come as the current extreme wildfire danger increases and 22 wildfires currently burn, along with a lack of manpower to combat the spreading fires.
All destinations and campgrounds within the forest's boundaries will be off-limits to the public, including forests in the areas of Sedona and the Grand Canyon. Heading into the closed forests could result in a fine of up to $5,000 for an individual or $10,000 for an organization.
Zion National Park See Increase in Emergency Calls
Zion National Park officials responded to six heat illness-related calls at the park's West Rim Trail over the span of two hours this past weekend.
The mixture of record heat and record crowds has created an issue that's kept park rangers busy over the past few weeks. Zion estimates there have been about two dozen heat-related calls over the past month, especially after a pair of heatwaves.
Death in Grand Canyon
Grand Canyon National Park rangers reported Monday that a 53-year-old Ohio woman participating in a multiday backpacking trip in the park became disoriented and eventually unconscious during the trek. By the time rangers reached her, she had died from a heat-related illness.
Heat-related illness is one of the biggest causes of death in the Grand Canyon and heat waves have been plaguing the West and Southwest, with a big one about to hit the Pacific Northwest over the next few days.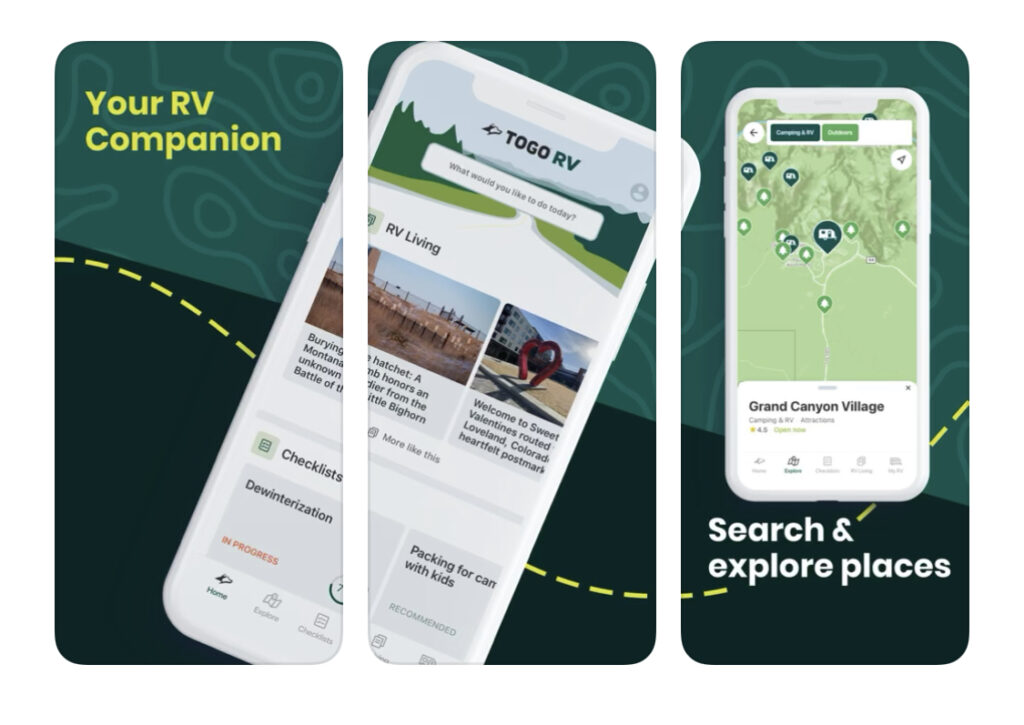 Save $10 on the Togo RV Plus App with Code RVMiles10X
If you're looking for route navigation on your phone that takes into account the length and height of your RV, look no further than the Togo RV App, which also includes checklists, maintenance reminders and recall alerts for your specific RV, and more.
Outdoorsy Receives Large Investment
RV rentals remain big business, with one of the largest rental platforms — Austin, Texas-based Outdoorsy — announcing that it has just received $120 million in investment funding.
Currently, Outdoorsy has 35,000 vehicle listings on its site, and booked more than 1.46 million travel days in 2020, with 250 employees worldwide, including 90 in Austin.
Outdoorsy will use the capital infusion to expand its platform and reach even more customers, and to accelerate the growth of Roamly, the company's insurance product which makes the whole peer-to-peer rental business possible.
Winnebago Release Quarterly Results and Updates on Production
Winnebago Industries, whose RV brands also include Grand Design. and Newmar has reported its latest quarterly financial results, including record revenues of $960.7 million and a record $3.7 billion combined backlog of unbuilt units.
CEO Mike Happe said he expects that by year's end, the company will not have made much progress in returning RVs to dealer lots, but will continue to meet the current demand of customer orders.
Happe says that demand is not decreasing at all as other forms of travel become more available, and that supply chain issues still challenge production, saying "It is consistently inconsistent" and that there's no way to predict when the supply chain will improve back to normal, but that, at least, it's not getting worse.
When Does Renting Your Land for Camping Become Commercial Lodging?
Hipcamp has become a popular platform for people to rent out their land for camping, similar to Airbnb, but for land. But at what point does your Hipcamp rental become commercial lodging?
According to a report in the Monterey County Weekly, a landowner in California's Big Sur region has been cited by a code enforcement officer for illegally operating a campground.
Michael Selig's 100-acres of ridgeline with views of the Pacific Ocean skyrocketed to the top of Hipcamp listings after Selig made it available for up to 30 groups at a time in March. Neighbors noticed the influx of campers right away, and in May, a neighbor pleaded with the county Planning Commission to shut down Selig's operation. He was ordered to shut down 5 days later.
Selig says he has no plans to reopen, but as campgrounds continue to be very busy, it's easy to imagine that we might start hearing more about Hipcamp, Harvest Hosts, and Boondockers Welcome locations falling under the scrutiny of local code enforcement.
RVs Stored on Nuclear Wasteland
How would you feel if you found out the new RV you just bought had been stored at a nuclear fuel site?
The Tribune-Review is reporting that more than 30 RVs have been parked on the condemned land since early May, prompting locals to question whether that violates land-use restrictions on the site, which has been vacant since 1997 after a massive environmental cleanup.
The site has a history of radiological contamination and litigation. However, a local official said Tuesday that the site is safe for parking RVs belonging to Meyer's Shreck RV.
Myers Shrek leased the property from the city in order to store and stage campers destined for display at the recent Pittsburg RV Show. Residents are concerned that parking vehicles on the site is disturbing the soil, which was heavily contaminated when they won an $88 million dollar lawsuit in 1997.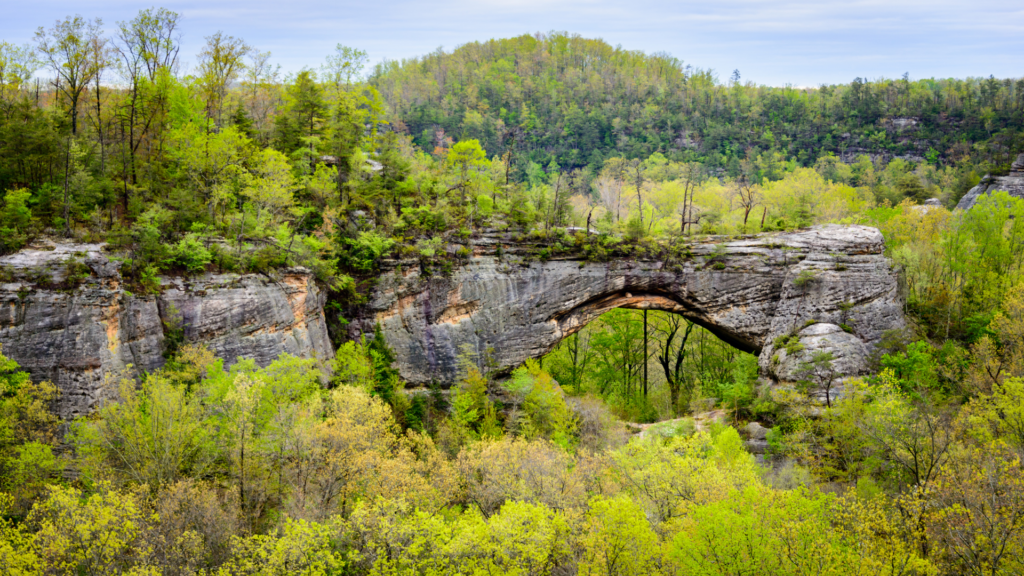 Theft in Big South Fork
Big South Fork National River and Recreation area employees discovered the theft of five large trail signs with maps directing people where to go from the Blue Heron Overlook Road area.
The signs are valued at more than $1000 making this act a felony. The park is reaching out to the community to assist in finding the person or people responsible, reminding that whoever receives, conceals, or retains the stolen property can also be charged alongside the individual who took the signs.
Park Rangers have recovered fingerprints that were left at the scene of the crime, as well as video footage from the area. Anyone with information is asked to call the park service.
Marijuana Welcome at Camp Laughing Grass
Marijuana has been legalized in many states for either medical or recreational use, but most campgrounds, both public and private, ban its use.
That's not the case at Camp Laughing Grass in Harrison, Maine, where at 4:20 p.m. each day, guests gather at the pavilion to pass around a joint.
Marijuana is not only allowed at Camp Laughing Grass but encouraged. It's an adult-only 17-acre resort. The campground opened in May after a soft opening last year and is already sold out for weekends this season.
RV Serves as Travel Home for Olympic Hopeful
Trials for the delayed Tokyo Olympics are underway, which has athletes trekking across the country for meets to try to earn a spot. One way they're doing it — RVs.
NCAA champion Ashtin Mahler is trying to make her mark in the heptathlon, a collection of 7 events: the 100 meter hurdles, 200-meter sprint, high jump, long jump, shot put, javelin throw, and the 800-meter run. Her husband Wolf is acting as her coach.
The two are making Eugene, Oregon their new home for the week in a Winnebago motorhome, carrying them and their 2 dogs all the way from Texas. Traveling in their RV has allowed them to save money on things like hotels and rental cars, as well as easily transport their athletic equipment – stuff that's hard to carry on a plane.
But things went awry as they were T-boned by a truck on their way to Eugene. Luckily, no one was seriously injured. Ashtin is going in placed second in the Heptathlon Trials, she'll need to hang on to the top 3 to make it to Tokyo.
Jamie Spears Lives in an RV
Finally, Britney Spears has been in the news quite a bit recently, as she fights to break from a court-imposed conservatorship run by her father, Jamie Spears who has been responsible for Britney's multimillion-dollar fortune for the last 13 years.
Forbes reports that Jamie Spears is earning about $16,000 per month for his role as conservator, along with a substantial percentage of her earnings, and according to the New York Times, he just sold the Kentwood, Louisiana house that the pop star grew up in.
He now lives in an RV parked on the outskirts of the town, outside a warehouse that stores much of the memorabilia amassed over the course of Britney's career – managing every detail of her life, about 2000 miles away from her Thousand Oaks, California home. #FreeBritney
Share a News Tip With RV Miles
Have a news tip? Email Jason Epperson at [email protected].
Have a thought or opinion on this week's topics? Let us know in the comments below.
---