By Jason Epperson
Get caught up on all the latest RV news here.
Watch the latest camping and RV industry news below:
U.S. Eases International Travel Restrictions
Incoming travel restrictions the U.S. imposed because of the COVID-19 pandemic will be partially lifted for nearly three dozen countries on Nov. 8. The news comes via a tweet from the White House Assistant Press Secretary. That's good news for Canadian snowbirds, some of whom live in RVs and for decades have traveled to the southern U.S. to escape the cold. The bad news is that many of those snowbird-friendly parks are already booked solid. 
All foreign visitors will be required to show proof of COVID vaccination upon entry or boarding a US-bound flight. 
New Stressors for our National Parks?
It's getting a little easier for vaccinated Americans to head overseas, too. But, If you're one of those folks that think the re-opening of international travel will reduce some of the stress on our national parks and other vacation destinations, consider this: about 100 million trips were taken to foreign countries by Americans in 2019. About half of those were to Mexico and Canada. But there were also about 80 million inbound tourists from other countries in 2019. More than 35% of them went to a National Park Service site. 17% of Yellowstone's visitors are from other countries in a normal year. 
However, there's good news for the return of international tourism, too. In many of the big parks, seasonal employees at concessionaires and in gateway communities are foreign workers. Having that labor pool open up again will relieve some of the stress on those businesses, and allow them to provide more service to tourists. 
Worldwide Propane Shortage?
Propane prices continue to rise, and it may be difficult to come by later in the year. Propane stocks were already pretty low after a cold fall and winter in both the U.S and abroad. Now, experts are warning of a worldwide shortage.
Last fall, we saw a shortage of propane with one factor being rain. Farmers needed to use lots of propane to dry corn and other crops. Following the summer build-up, propane stocks are still 30% lower than they were at the same time last year. Many experts don't think that's enough.
The cost of propane has been on the rise since last fall, and doesn't seem to be coming down anytime soon. 
RVLove Sets Fire to a Winnebago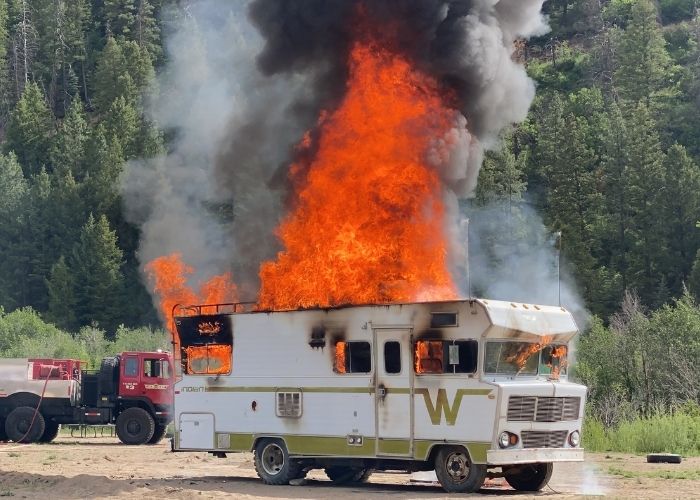 After seeing two friends, both full-time RV families lose their homes to fire in 2020 Marc and Julie Bennett of RV Love decided to do something about it. They bought an old Winnebago Indian motorhome for one dollar and set it on fire to see what really happens to an RV ablaze. The goal – to share this highly visual experience with others and bring awareness to RV fire education and safety. 
The 25-minute youtube video highlights the unique fire risks RVers face, and how to prevent it from happening. The Bennet's worked with local and state fire authorities who supervised the burn. With RV fires on the rise, firefighters were eager to be involved, using the burn as a training exercise.
Campground owners Paul and Emily St. Ruth of Kebler Corner in Somerset, Colorado stepped in to provide a safe testing space. The burn happened on the St. Ruth's two-acre parcel of land by the river – a former horse arena that was now just a dirt field.
The 6-month project brought together a team of 20 people. "It was a lot of work, yet a rewarding project," said Julie Bennett. "If it saves just one life or RV, it will be worth it, but we hope it saves many more." It's a video every RVer should watch at least once.
Air from Water?
As the RV industry pivots more toward off-grid, no-hookup camping, an Israeli company is set to solve one of the most difficult boondocking problems – water. How? By pulling up to 10 gallons of water from the air every day.
Watergen will launch the world's first aftermarket water generator for recreational vehicles in 2022, and it'll be available in select Camping World Stores. Removing water from air isn't exactly new technology. We're all pretty familiar with dehumidifiers, but the Watergen ON Board device is tailored specifically for making drinking water with advanced filtration. The device is mounted on your RV's roof just like an air conditioner. 
It's not a perfect solution – as it needs to be at least 59°F and above 20% humidity. However, that's well in the range of most daytime camping year-round in the U.S. It'll likely take a decent amount of power to run, but notably, it's a 12-volt device, which should be quite a bit more efficient than a standard dehumidifier. Getting water from the air is going to be a great solution for a lot of people that like to get away from a city water source.
Select Camping World stores will have the device in stock next year, and it'll be available to manufacturers and dealers to supply stock on vehicles or as an add-on to a new purchase.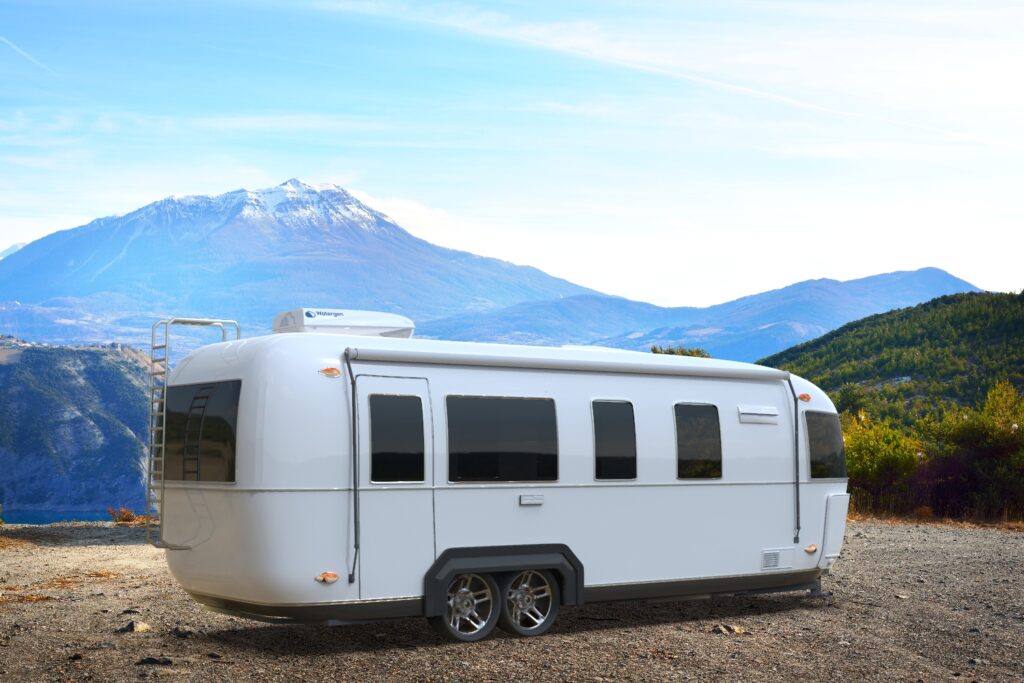 DC-Powered Appliances Dominate
When we look back on this period in RV design, I think it's very clear that DC-powered appliances like this unit, 12volt refrigerators, and DC air conditioners will be the driving force behind much of the industry's advancement. 
Winnebago Sets Zero Emissions Goal
Winnebago has set a goal to reach zero emissions in its manufacturing by 2050. That may be almost 30 years away, but the company plans a 90% reduction in waste to landfills by the end of this decade. Additionally, they've committed to eco-friendly upgrade options on all new products in the next 3 years.
By 2050, landfill waste is supposed to be reduced to zero, along with net-zero Greenhouse Gas Emissions and a 30% reduction in freshwater consumption. 
AAA Finds Rain Effects Modern Vehicle's Safety System
New research from AAA finds that moderate to heavy rain affects a modern vehicle's safety system's ability to "see." This may result in performance issues.
During closed-course testing, AAA simulated rainfall. They found those test vehicles equipped with automatic emergency braking traveling at 35 mph collided with a stopped vehicle one-third of the time. Lane-keeping assistance didn't fare any better with test vehicles departing their lane 69% of the time.
Vehicle safety systems rely on sensors and cameras to see road markings, other cars, pedestrians, and roadway obstacles. Naturally, they are more vulnerable to environmental factors like rain. Tests are typically evaluated in ideal operating conditions. However, AAA believes testing standards must incorporate real-world conditions drivers normally encounter. Researchers simulated rain and other environmental conditions like bugs and dirt to measure impact on the performance of automatic emergency braking and lane-keeping assistance. Some systems provide an alert or deactivate in extreme situations, however, the conditions AAA tested provided no warnings.
A reminder to slow to a safe speed when it's raining, and make sure to keep your windshield and vehicle's cameras clean. And don't forget, your drive train might be 4 wheel drive, but that doesn't do a thing to improve braking. 
Catalytic Converter Theft on the Rise
I've been hearing from lots of RVers that catalytic converter thefts are on the rise. Catalytic converters are an exhaust system component on gasoline vehicles. The converter turns toxins into less harmful byproducts, such as water vapor and carbon dioxide. Easily accessed from under the vehicle, they contain precious metals, such as platinum and Rhodium. Thieves can fetch a few hundred dollars for each unit stolen. They cost the vehicle owner a lot more to replace.
So why the surge in thefts? The costs of precious metals have risen drastically, and thieves are getting much more per unit than they were in the past. Converters are particularly easy to get to on an RV, especially ones higher off the ground than a passenger car and are often left unattended. And this year, it's not just RV owners that are getting hit. 
Pennsylvania State Police are trying to figure out who stole thousands of dollars worth of catalytic converters from 35 vehicles at the Valero Century RV dealership. The vehicles weren't RVs, but a fleet of food delivery trucks Valero has a service contract with. Earlier this year, 16 catalytic converters were stolen from RVs at Augusta RV in Georgia. 27 were stolen from an RV transport company in Elkhart, Indiana. In January, several people hopped a fence at an Ohio dealership and took off an hour later, having removed 18 catalytic converters. 
RVs and vehicles with bigger engines have bigger catalytic converters, which fetch more money. They're primarily stolen from gasoline-powered vehicles, but not all diesel vehicles are immune. 
Question of the Week
Have you experienced a propane shortage in your area or a drastic rise in cost? Let us know in the comments below.
---
Have a story to share for an upcoming RV news article? Email us at [email protected]