Welcome to this week's RV and Camping news brief!
Have a news tip? Email Jason Epperson at [email protected]
A new "smart home" system for RVs, a giant sequoia tree burns for months, a major bridge across the Mississippi will be out of commission for some time, Camping World has announced they'll begin making RV furniture, New RVs from Pleasure-Way and Keystone, and more. Read on for all the details.
By Jason Epperson
The Tale of a Gas Shortage that Never Was
A gas shortage that wasn't really a gas shortage but became a gas shortage has swept at least a big portion of the nation. After the cyberattack on the Colonial pipeline that sends about half of the fuel to East Cost gas stations, people began hoarding, even as far as Illinois, nowhere near the affected area. Gas supplies were never in danger, as the company shut down the pipeline over an abundance of caution, the reserves at terminals were plentiful, and the pipeline was back online within a week. There are also other suppliers that feed these areas. But, people hoarded nonetheless. Stations in the south and east were reporting three times the normal business by Wednesday and began running out. We're currently in South Carolina, where over half of all stations were reporting outages. As I'm writing this on Friday, stations are being refilled, but there are still plenty without fuel.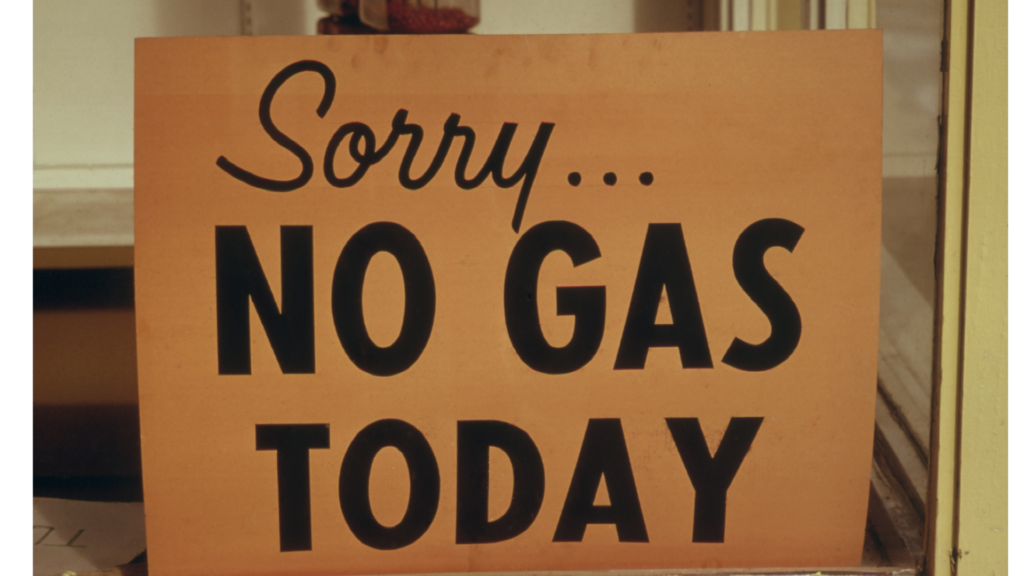 From the time the pipeline was taken offline on Friday until Thursday morning, the national gas price average increased 7 cents. That pushed the average to $3.02 this week – the highest average since October 2014. AAA says the national average is likely to continue to see fluctuation in the coming days and states where prices have spiked will see some relief as station supplies are restored.
Travel Expected to Increase 60% Memorial Day Weekend
AAA Travel expects a significant rebound in the number of Americans planning to travel this Memorial Day holiday weekend. From May 27 through May 31, more than 37 million people are expected to travel 50 miles or more from home, an increase of 60% from last year when only 23 million traveled, the lowest on record since they began tracking it in 2000.
The expected strong increase in demand from last year's holiday, which fell during the early phase of the pandemic, still represents 13%—or nearly 6 million—fewer travelers than in 2019.
---

RV Miles needs your help! We have a goal of reaching 100,000 subscribers on our YouTube channel by end of summer, but we can't meet that goal without you. Please take a moment, and subscribe to our YouTube channel, and help us crush that goal! We appreciate you!
---
Major Damage Discovered on 1-40 Bridge
The Hernando Desoto bridge on I-40 linking Tennessee and Arkansas at Memphis has been shut down indefinitely. A routine inspection team found a girder completely severed and called 911 to shut it down immediately. Not only were over-the-road vehicles affected, but about 1000 barges as well. The river traffic has re-opened, but it's going to be months before the bridge is repaired and vehicles are allowed to drive over it again. Traffic is being re-routed to the I-55 bridge just south but requires a trip through downtown Memphis. 
Camping World to Manufacture RV Furniture
Camping World has decided to become an RV furniture manufacturer. Last fall they purchased a furniture manufacturing plant and now they've announced a deal to license the Thomasville name for RV furniture. The fact that furniture names are often licensed is one of the reasons we made "fancy furniture names" one of our top things not to worry about when buying an RV.
Still, the ability to purchase RV furniture directly from a store will be of some benefit to RVers who are dealing with furniture that isn't in great condition, or those who plan to renovate an RV. Camping World has been taking note of the RV renovation craze and has focused dealership attention on used RVs as the current manufacturer supply chain woes keep new units from rolling in. Having furniture manufacturing in their portfolio will also allow Camping World to quickly freshen up used units for sale on their lots.
Keystone's Adds New Floorplan to Arcadia Line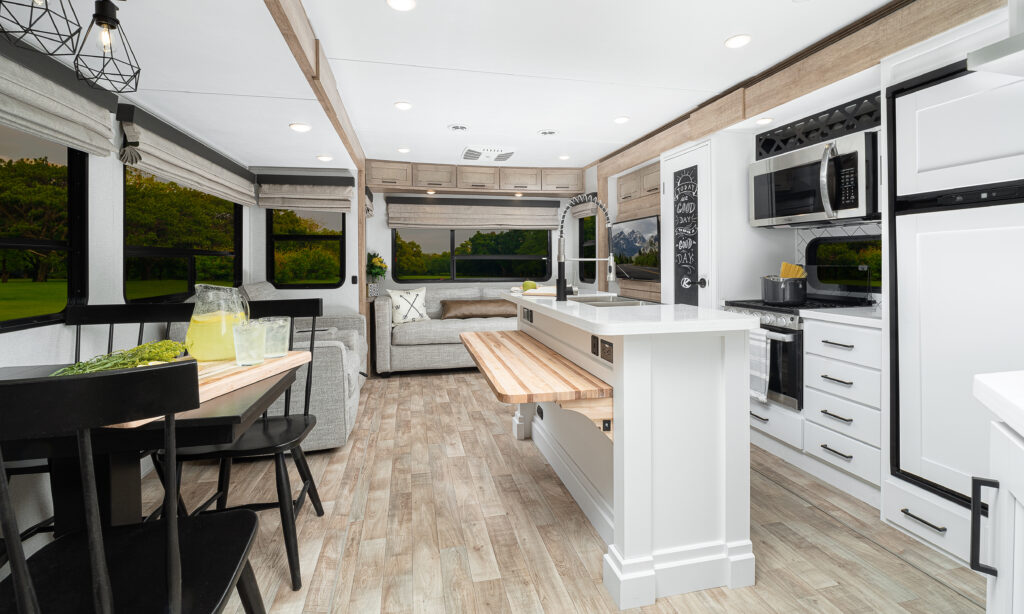 Keystone hit the ball out of the park with their new Arcadia fifth wheel line, an affordable, lightweight mid-profile fifth wheel, with they styling, insulation, and storage of something bigger and more expensive. Now, Keystone will be offering a similar California-king-bed rear-living floorplan in a travel trailer that's just slightly longer. Like their siblings, Arcadia travel trailers feature the Curt Performance Package suspension system, a flip-down workstation with outlets and usb ports, finished exterior storage with pegboard, and laminated slide sidewalls. The slides are flush floor, and taller than most. The Arcadia 370RL has an MSRP of $51,404 and will begin shipping in late June. Keystone plans to release two additional models this summer. 
Pleasure-Ways Class B Adventure Van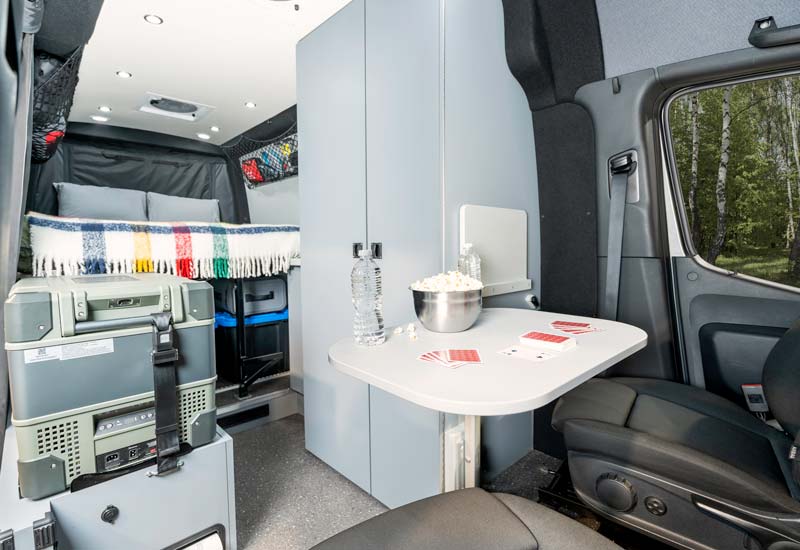 Pleasure-Way has introduced the new RECON 4×4 Class B. This Mercedes Sprinter-based off-road adventure vehicle has 11" of ground clearance, and nothing like propane, water lines,or  holding tanks underneath to get hit when out adventuring. There's 400Ah of lithium batteries, 400 watts of roof-mounted solar, and a whopping 40 gallons of fresh water that's located in the cab and surrounded by heat ducts to keep from freezing. For solo travelers, you can remove half of the bed to open up more cargo space.  MSRP is $171,600, and it'll be available in limited quantities this summer. 
Ford Set to Debut Electric F-150
In truck news, Ford will debut the electric F-150 on May 19th, and has released the name: Lightning. It's expected to be similar to the gas-powered F150 on the inside, so I'm not too excited about seeing what it looks like, in fact, I find comfort in the fact that it won't look like this: (Tesla truck) But what's going to be interesting is finding out how it will stack up in performance against the Tesla Cybertruck and Rivian R1T. And don't underestimate how many RVers might buy an electric truck. Sure, the range may keep them to 200 miles a day, but most RVs actually don't leave that size radius from home very often. 
Cooper Tires Launches Rugged Tire Line
Cooper Tire has launched the new Discoverer Rugged Trek tire, an all-season pickup truck and SUV highway-friendly off-road tire to compete with Nitto® Ridge Grapplers, Goodyear Wrangler DuraTracs and Toyo Open Country R/Ts. The Discoverer Rugged Trek tire, which is now available for consumers nationwide is billed as offering the flexibility of reliable, every day on-road performance in addition to a powerful, rugged design for off-road adventurers.
New Way to Travel with Pets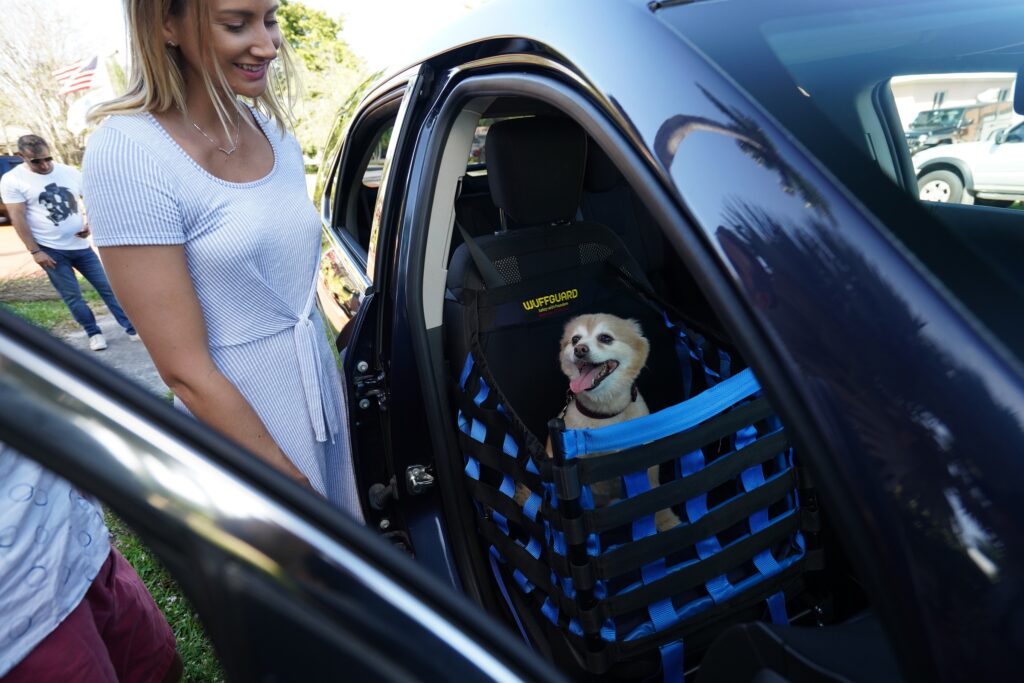 If you're looking for a way to buckle your pet in, here's a find: Wuffguard has launched their namesake product on Kickstarter, a car safety device for dogs. Wuffguard fully converts the front car seat into a safe, comfortable dog seat in seconds. Its seven-point shock absorption system will safely absorb approximately 2,000 lbs of force, which is the typical force that a 30-pound dog would be propelled forward during an accident.
RVs to Become More Like Smart Homes
If you're looking to make your RV's systems a little smarter, even like a smart home maybe, check out this new system called ProSmart from the Austrailian BMPro company, which is just entering the US market. You can connect all sorts of sensors, like tire pressure sensors, water and holding tank level sensors, propane level sensors, and even temperature sensors you can place in your fridge, freezer, or the cabin, and track them all via bluetooth on an app. You can connect up to 40 different sensors, so if you're pulling a trailer you can not only see your tire pressure while you drive, but your fridge temperature as well. From bed, you can check the tank and battery levels. The ProSmart isn't yet available, but it's on its way. 
Tree Still Burning Almost a Year Later
Finally, a wild story out of Sequoia National Park: a tree was found still smoldering from the Castle Fire that began last August. That fire took nearly five months to fully contain. The National Park Service said Wednesday morning that their finding shows just how dry the park is and that there could be more similar discoveries in the coming months. Drought conditions are affecting the entire state of California, and much of the Sierra is seeing severe to extreme levels of intensity. There have already been nearly 1,800 fire incidents this year, although only one has burned over a thousand acres.
---
Have a specific topic you want us to cover? Email your suggestions or requests for topics to [email protected]. Comment below any thoughts you have on this week's items.