MH Residential, LLC, which co-owns and operates 14 parks across southern Arizona, California, and Texas, has completed more than $1 million in campground improvements. The move comes in preparation for the upcoming winter season.
Campground improvements include the installation of new swimming pools, hot tubs, community rooms, bocce ball and pickleball courts, dog parks, and more.
"Snowbirds who stay at our portfolio of parks this winter are going to love the improvements," comments Michael Yamin, spokesperson for MH Residential.
Parks Open to People of All Ages
MH Residential has also opened its RV parks to people of all ages. This enables the company to accommodate the growing numbers of young families and people under 55 who have purchased RVs during the pandemic. The absence of age restrictions is particularly attractive to RVers visiting southern Arizona, where most RV parks are restricted to people 55 and over.
"We're trying to make our parks as accessible as possible to everyone who enjoys the RV lifestyle," says Yamin.
Campground improvements at MH Residential properties include the following parks:
ARIZONA
— Benson KOA in Benson: Improvements include construction of a new swimming pool and hot tub. The park's community room has also been remodeled and expanded to provide more space for meetings, movie nights and other activities. Renovation work is also underway in the park's office building, which includes bathrooms and showers, a laundry room, store and small recreation room. The park's putt putt course is being refurbished as well and new landscaping is being installed. The park includes 71 RV sites, seven cabins, eight tent sites and one loft apartment. It is often used as a base camp for trips to the historic towns of Tombstone and Bisbee as well as the Fort Bowie historic site. The Chiricahua Mountains and Cochise Stronghold are also close by. https://koa.com/campgrounds/benson/ 
— Black Canyon Ranch RV Resort in Black Canyon City: The latest improvements at this 107-site park include a dog run. This park has been rated 10-10-10 by Good Sam for the past eight years. The park features more than 100 trees, including citrus trees, and guests are allowed to pick the fruit from December through April. Amenities include a heated swimming pool and spa that are open year-round; a large clubhouse; an exercise area; a community garden; and a recreation trail. The park is surrounded by mountains on three sides, offering beautiful sunrise and sunset views. https://www.blackcanyonranchrv.com 
— Black Rock RV Village in Salome: This 405-site park has made many improvements, including adding pickleball and bocce ball courts and dog parks for large and small dogs. The park has also installed an awning over the new recreation hall patio as well as garden boxes and two tortoise pens with two rescued tortoises, Nala and Minnie, which the park obtained from the Arizona Game and Fish Department. Air conditioning has also been added to the park's cafe and five motel rooms. Additional improvements scheduled for the coming year include construction of a new office building with a coffee and ice cream shop. https://www.blackrockrv.com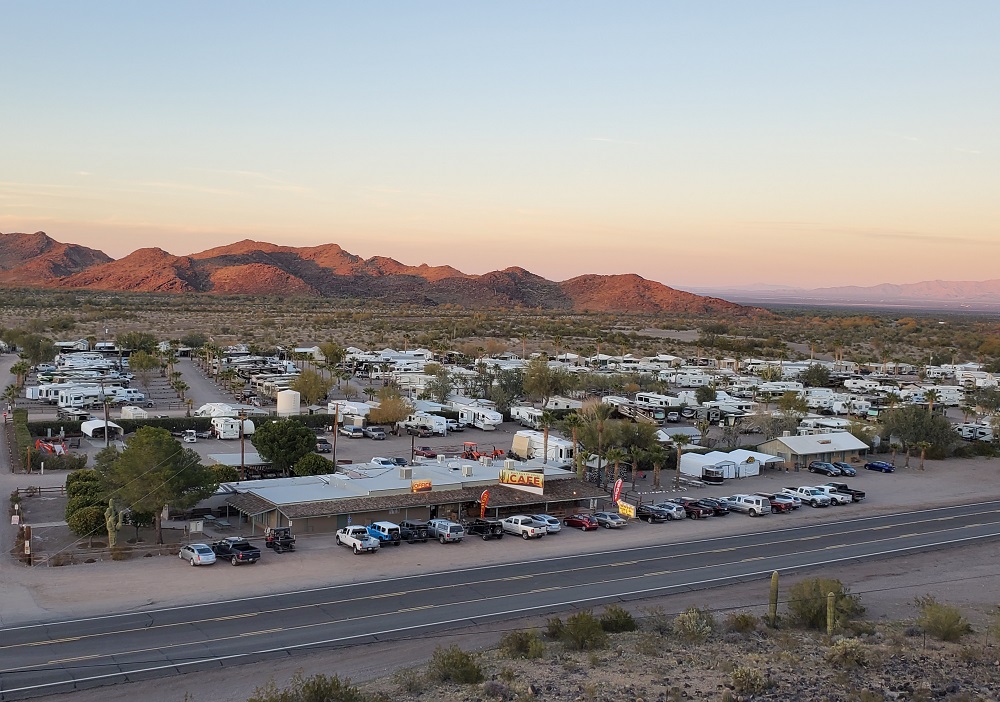 — Blue Sky RV Resort in Yuma: Roads have been resurfaced throughout this 250-site park, which has no age restrictions. Major landscaping work is also underway along with the installation of energy-efficient LED lighting. The park's clubhouse has also been equipped with a 70-inch TV. The park's swimming pool and decking were resurfaced in July. Other park amenities include an exercise room, pickleball and bocce ball courts and a full-service hair salon. https://www.blueskyyuma.com
— Holiday Palms RV Park in Quartzsite: Improvements at this 243-site all-ages RV park include a new swimming pool and two pickleball courts. The park has also resurfaced its roads, installed new washers and dryers, and installed 93 picnic tables, each of which is painted in Southwest colors. Additional improvements include the installation of a communal kitchen and dog runs for large and small dogs. http://holidaypalmsrv.com 
— Mountain View RV Park in Huachuca City: This 87-site park recently added four tent sites as well as horseshoe pits. https://www.mountainviewrvpark.com 
— Sun Country RV Park in Wellton: This all-ages RV park is installing new water connections and upgrading its electrical service to 50 amps. The park is also adding RV storage sites.  http://suncountryrv.com 
— Wagon West RV Park in Salome: This 215-site, 55-and-over RV park has added RV storage sites. Park amenities include a 9 hole desert golf course, a radio-controlled car track, a large clubhouse, pool tables and darts, a craft room, a woodshop, and a rock room. The park closes for the summer months, but during the winter season it offers many activities, including ATV trail rides and line and ballroom dancing. http://wagonwestrvpark.com 
CALIFORNIA
— Sam's Family Spa & Hot Water Resort in Desert Hot Springs: Numerous infrastructure repairs have been made at this 50-year-old park this year, including installing new electrical pedestals and new wiring. The park's WiFi system has also been upgraded. Attractions at this park include its mineral spas, which are fed by three natural hot mineral springs that are onsite. The spas are not chlorinated and utilize flow-through technology to constantly recycle the water. The mineral spa area has been repainted, cozing lighting has been installed and the area has new plants to enhance its relaxing allure. The park also has a large fresh water, chlorinated swimming pool. Three park model rentals have also been added to the park. https://samsfamilyspa.com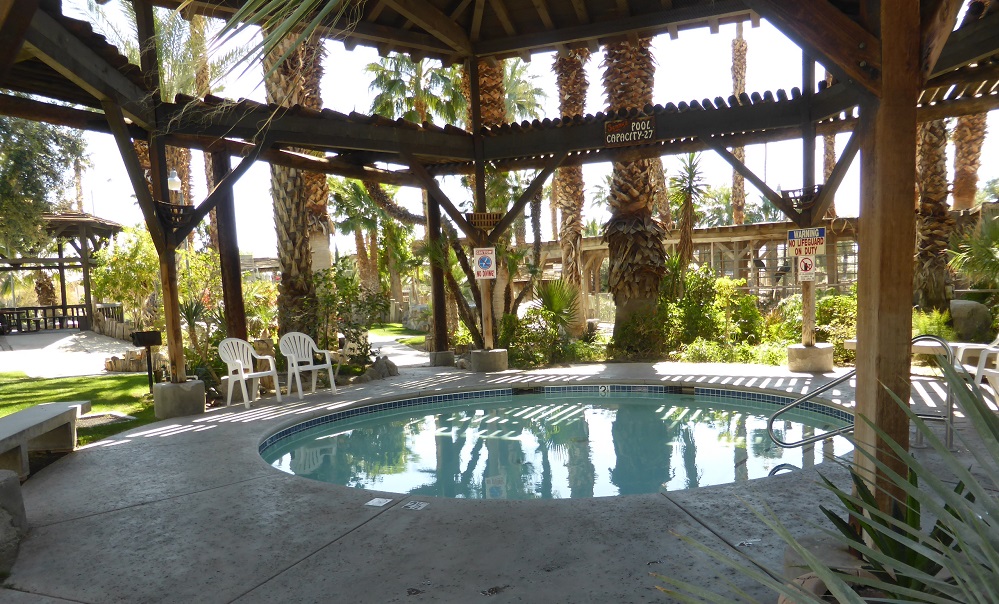 — Sparkling Waters Mobile Home Estates in Desert Hot Springs: The 100 RV sites at this 55-and-over park are being improved with new concrete and gravel. Park amenities include mineral pools, including one swimming pool and two soaking hot tubs; a clubhouse and commercial kitchen; pool tables, shuffleboard and horseshoes. https://sparklingwatersrv.com 
TEXAS
— Fig Tree RV Resort in Harlingen: This park features a newly remodeled swimming pool and hot tub and upgraded WiFi service. The park offices and recreation hall have also been repainted and feature new interior doors and new toilets. A dog park has also been added to the park and its streets have been repaved. Park amenities include large lots, a heated outdoor pool and an onsite massage therapist. The park plans to upgrade its WiFi later this year.  http://figtreervresort.com/index.html 
---
Want more RV and camping news? Check out our latest RV and camping news brief for the most recent campground improvements and up-to-date information.