It's the summer season for our public lands and in our National Parks, and that means stunning wildflowers, gorgeous scenic drives, hikes through lush wilderness', and crowds. Big crowds. Time for some travel tips for visiting our National Parks.
Keep Expectations Realistic:
It's important to set realistic expectations. If you plan to visit locations like Yosemite, Rocky Mountains, Yellowstone, or the Smoky Mountains you will encounter people. You may have to sit in a Bison traffic jam. You might find yourself in the back of the viewing area during peak Old Faithful hours. You may not get a parking spot near the hike you want.
More and more people are discoveing the joys of being outdoors, you included. Seek those off-the-beaten-path activities when you can. There are so many amazing adventures to be had in a National Park. Have realistic expectations going in and your visit will be one for the memory books.
Make Reservations in Advance
Timed Entry, Lotteries, etc.
Many National Parks require timed entry during peak hours or offer a lottery system for popular hikes.
Going to the Sun road in Glacier National Park can only take so many cars at once, otherwise, you'll be sitting in a parking lot of traffic that's not going anywhere, especially to the sun.
Angel's Landing, a popular hike in Zion National Park, recently moved to a lottery system due to a dangerous number of hikers on the trail during peak season.
Great Smokey Mountains National Park, while still free to enter, now requires you to pay for parking and will no longer allow people to park along the side of the road.
These policies are not there to make your vacation miserable but to ensure we don't over-abuse the land or create unsafe environments. Plan ahead and book any reservation required at the park you are visiting through Recreation.gov.
Didn't get a timed entry booked? Many parks offer "day of" entry tickets. However, you'll need to get there early. "Day of" tickets are limited and will go quickly during peak season. Another option – enter the park before or after entry hours. This often means arriving around 6 AM or after 4 PM.
Campground Reservations
While some campgrounds are still first-come, first-served, many now require advanced reservations.
If you're trying to get a spot at a popular National Park campground, like Zion's Watchman, you're going to want to make the reservation the day the booking window opens. Know in advance what day that is and set a reminder
The majority of public land campgrounds are booked through Recreation.gov. Create an account ahead of time to ensure the booking process goes as smoothly as possible. Look at the campground map and know which sites in advance will accommodate your camping needs.
Having a plan, and a backup to that plan will ensure you make the most of your vacation.
Additionally, certain parks hold a number of day-of reservations, so even if you can't get one in advance you may still be able to do so once you are there. Download the Recreation.gov app so you can make changes on the go as things shift and open up.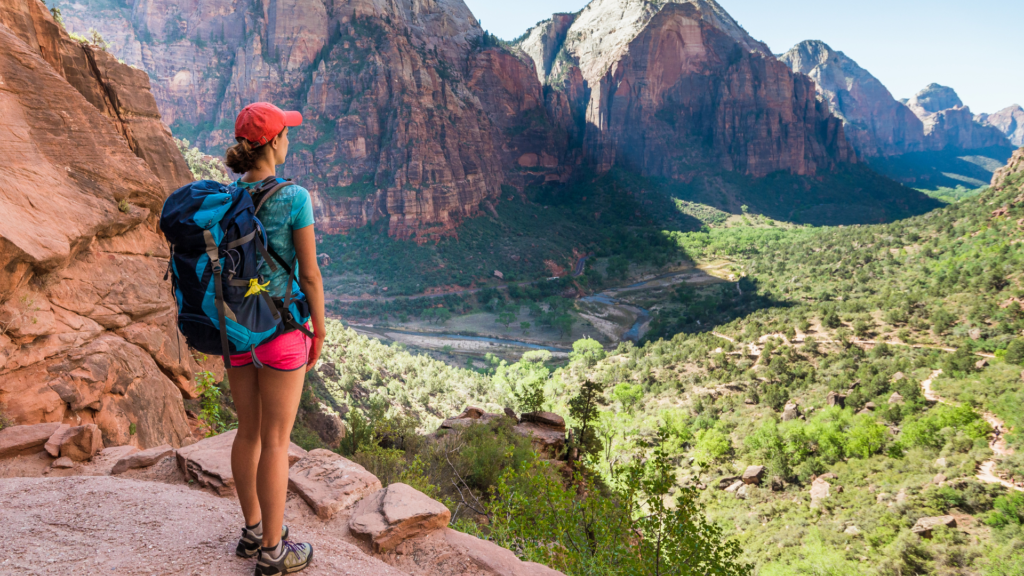 Know Before You Go
Staying in a National park or public lands campground booked through Recreation.gov? If so, you'll want to take advantage of the "Need to Know" section. Here you'll find information on the amenities you'll find at the campground such as a bathhouse, quiet hours, or dump station. You'll also find information about your specific campsite – does it have electricity, water, bear boxes, tent pad, site length, and more.
Knowing these facts about your campsite and the campground will ensure you arrive with everything you need and there won't be any unwelcome surprises.
Think Beyond the Popular Parks
With over 420 national park sites and hundreds of national forests, there are so many alternatives to parks that carry the capital N capital P title. If it's not so much about seeing Half Dome or hiking to Artists Point, as it is just being among the mountains or surrounded by nature, consider alternatives or lesser-known parks and National Forests.
Often many National Parks have a National Forest surrounding them, and the hikes and campgrounds in a National Forest can be just as amazing as the Park itself.
Some of our best adventures have happened in national park sites that don't get the same attention as their Grand Canyon sibling.
Ways to Avoid the Crowds
We have three tips for visiting a popular park and still feeling like you've escaped to the quiet of nature.
Stay Past the Dinner Hour
Bring dinner with you to the park. You'd be amazed at how many people exit a park around dinner time or head back to their campsite for dinner. We will often pack up the cooler and bring our dinner with us for a day in the park. The golden hour is a truly magical times to be in a park.
We've explored some of Yellowstone's most popular sites during the summer peak season and barely encountered anyone. We've driven the length of Cades Cove in the Great Smokey Mountains around sunset and never once had trouble finding parking or encountered traffic.
Many parks often open up to travelers without a reservation after 4 PM, meaning you could still have a good three or four hours of daylight in the summer to enjoy a leisurely stroll through a park without the hustle and bustle of daytime crowds.
Look for Alternatives to the BIG Attraction in a park
Cades Cove in the Great Smokey Mountains is certainly worth seeing, but have you heard of the Roaring Fork Motor Nature Trail? This hidden gem of a drive is just as beautiful and historic as Cades Cove but is often less crowded.
Did you know there are dozens of hiking trails in Bandelier National Monument? If being able to see the cliff dwellings proves impossible, get to know the land around that spectacular area and immerse yourself in the beauty of the area.
A park known for a particular feature will often have so much more to it. Take time to look through the park's website for recommendations, or talk to a Ranger when you arrive. Rangers are an incredible resource for finding hidden gems.
Don't Forget the National Forests and other Public Lands
Often there is a National Forest surrounding the park which also offers incredible views, waterfalls, campgrounds, and hikes.
While visiting Yosemite, we hiked the Carlon Falls Trail in Stanislaus National Forest. The hike took us into the backcountry of Yosemite and the end featured an incredible waterfall. Did I mention we encountered no one on the trail?
What if You Can't Make the Trip?
Things happen. We all know that. If you find you can't make the trip, make sure to cancel all your reservations. Don't hold on to that campsite or timed entry ticket. Releasing your reservations as soon as you know you'll no longer make the trip ensures that someone else will be able to enjoy that campsite or that park.
Those are our tips for planning a National Park vacation during peak season. What are your suggestions? Let us know in the RV Miles Facebook Group.