A new Smoky Mountains park fee plan for 2023 will keep entrance to the most popular National Park in the nation free but will require paid parking tags if you want to stop and see anything.
Great Smoky Mountains National Park, rising along the Tennessee–North Carolina border in the southeastern United States, was established in 1934, and, with over 14 million visits in 2021, it is the most visited of the 63 national parks in the United States, by far. For comparison's sake – Zion came in second last year with only 5 million visitors. 
Why No Entrance Fee?
The creation of the Great Smoky Mountains National Park proved much more complex than its predecessors, such as Yellowstone and Yosemite, which were on land that was already federally owned. Along with convincing logging firms to sell lucrative lumber rights, the Park Commission had to negotiate the purchase of thousands of small farms and remove entire communities. The commission also had to deal with the Tennessee and North Carolina legislatures, which at times were opposed to spending taxpayer money on park efforts. In spite of these difficulties, the Park Commission had completed most major land purchases by 1932, and the national park officially opened in 1934, with President Franklin D. Roosevelt presiding over the opening ceremony at Newfound Gap.
Entrance to the park has always been free. There's been a persisting rumor that the park's enabling legislation prevents the park entrance fees as a sort of compromise between the two states and the federal government. But it's just not true.
Why, then, don't they charge an entrance fee at the busiest park in the nation? It boils down to a few historic legal actions.
In 1951, the state of Tennessee transferred Newfound Gap Road and Little River Road to the park. That deed transfer contained a restriction preventing tolls on either road. Before the creation of the Interstate Highway System, these were the main roads between Tennessee and North Carolina, and the state likely included this restriction to ensure access to free interstate travel.
Federal law prevents the National Park Service from charging entrance fees where tolls are prohibited on primary park roads. Because Newfound Gap Road and Little River Road are the primary roads in GSMNP, the park is, to this day, unable to charge an entrance fee.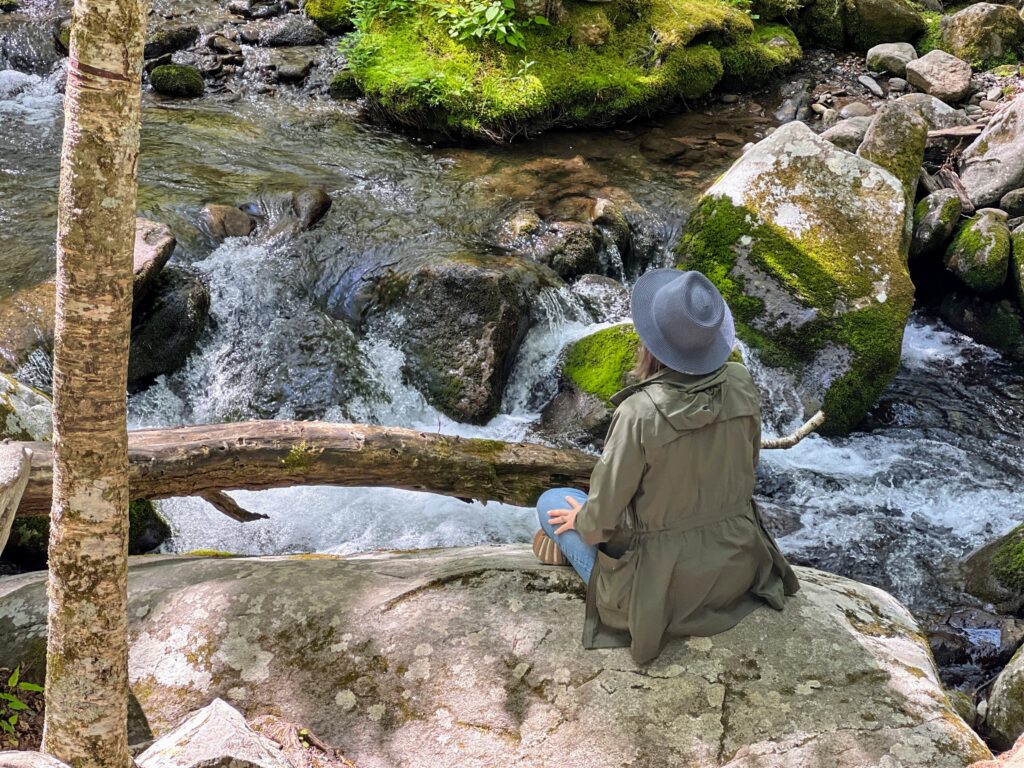 What Has Changed?
But the dramatic increase in visitation has taken a toll on the park, especially with little increase in funding. A decade ago, the park brought in about 5 million fewer visitors each year.
Park managers think they finally have found a way to charge a fee that will bring in some more revenue, and may help alleviate some of the major parking problems that persist at popular trailheads.
Great Smoky Mountains National Park is seeking public input on proposed fee program changes for 2023, including a new parkwide parking fee, the proceeds of which will remain in the Smokies to directly support operational costs for managing and improving services for visitors including trail maintenance, custodial services, trash removal, and supporting more law enforcement staffing across the park.
Essentially, you'll be able to enter the park for free, but you'll have to pay for parking.
The proposed Smokies Parking Tag program would create what the park says will be "a sustainable revenue source to address longstanding challenges associated with high use, year-round operational needs, and resource protection."
What Are the Proposed Smoky Mountains Parking Fees?
The park is proposing a daily parking tag for $5, a parking tag for up to seven days for $15, and an annual parking tag for $40. The proposed rates and tag duration were determined by considering a comparison of rates for similar access on private and public lands. Basically, they looked at the cost to park in nearby gateway communities.
The Smokies Parking Tag would be required to be displayed on all motor vehicles parking in designated parking spots within park boundaries. But the tag would not guarantee a parking spot at a specific location. Parking would continue to be available on a first-come, first-serve basis. Unofficial roadside parking would be eliminated to help improve motorist and pedestrian safety and to improve traffic flow through congested areas. 
The parking tags would not be required for motorists experiencing the park through a scenic drive or using park roads as a commuter route. Nor would they be required for pedestrians or cyclists.
But here's the big catch — they also wouldn't be free or discounted for annual America The Beautiful public lands pass holders. Nor for senior or access pass holders. 
Camping Fee Increase
The park also plans to increase backcountry camping fees from $4 per night to $8 per night, with a maximum of $40 per camper. These fees have not been increased in 10 years, while the use of sites has increased to more than 100,000 camper nights per year.
Frontcountry campsites would jump to $30 per night for primitive sites and $36 per night for sites with electrical hookups. Rates are currently varied across campgrounds, ranging from $17.50 to $25 per night. Day use facilities, like picnic shelter rentals, are also set to increase.

Where do you stand on charging for parking in the Smokies? Let us know in the comments, and consider sharing your thoughts with the park. Public comment on the proposed Smokies Parking Tag, camping fee, and day-use facility rate changes is open through May 11th. Comments can be submitted via https://parkplanning.nps.gov/GRSMfeeproposal2023. ETA: The NPS has indicated the public comments website will be down for maintenance on 4/30/22 and 5/1/22.
---