Have an RV industry news tip? Email [email protected].
By Jason Epperson
Watch the latest camping and RV industry news below:
Camping and RV Industry News for the week of 8.21.21.
RV Manufacturers to Increase Storage Facilities
The RV industry has learned from the parts and materials shortages that has plagued manufacturing over the past year and a half. Most manufacturers keep parts in storage for about 3 model years, so if you need a replacement, you can give them a call and order a new trim piece or a sink.
Throughout the pandemic, they've had to cannibalize some of that supply, but more importantly, they want to be prepared for future supply chain interruptions. Most manufacturers I've talked to have plans to vastly increase their storage facilities in order to keep more parts, supplies, and components on hand. Heartland, for example, has a massive new warehouse to make sure things keep running supply chain hiccups occur.
No More RV Ladders
Don't expect to see many RV ladders on 2022 model years and beyond. RV manufacturers all adhere to a common construction standard, and an update to the standard is requiring RV ladder connections to be tested to hold much more weight than before, which would require re-engineering the rear walls of most RVs. Most manufacturers aren't going to find the expense worth it, so you're going to see very few ladders going forward.
Water Shortage on the Colorado River?
The story of the summer in much of the west right now isn't the once-in-a-lifetime pandemic. It's the once-in-a-lifetime drought. For the first time ever, the federal government has declared a water shortage on the Colorado River, forcing cutbacks to water allocations to Western states that will begin in the next several months.
A quarter of the counties in Western states are experiencing exceptional drought, which is the technical term for it, according to the National Drought Mitigation Center, along with some of the central plains states. Private wells are running dry in some California areas, and campgrounds aren't immune.
Nine National Forests Close
Dry conditions are a major cause of the massive wildfires that are plaguing California this year, and now, the U.S. Forest Service has announced that beginning Sunday, it will close nine National Forests from near Lake Tahoe at the Nevada border on the east all the way west to Six Rivers National Forest, which stretches north to the Oregon border and contains more than 1 million acres of land alone.
Eldorado National Forest has been closed due to the Caldor Fire, which raveged the Sierra Nevada town of Grizzly Flats this week. The Caldor Fire has burned well over 100 square miles of land and is entirely uncontained after growing tenfold in two days.
Record Breaking Camping Season Continues
It continues to be a record-breaking camping season across the country, and it's far from over. KOA's Monthly Research Report says that 28.46 million households across North America plan to camp over the Labor Day holiday weekend, which is a 60% increase over Memorial Day Weekend and 44% more than independence day.
About one-fourth will camp over the long weekend only; 1-in-5 plan to add 1 or 2 additional days around the holiday, and 12% plan to camp the entire week.
Changes to National Parks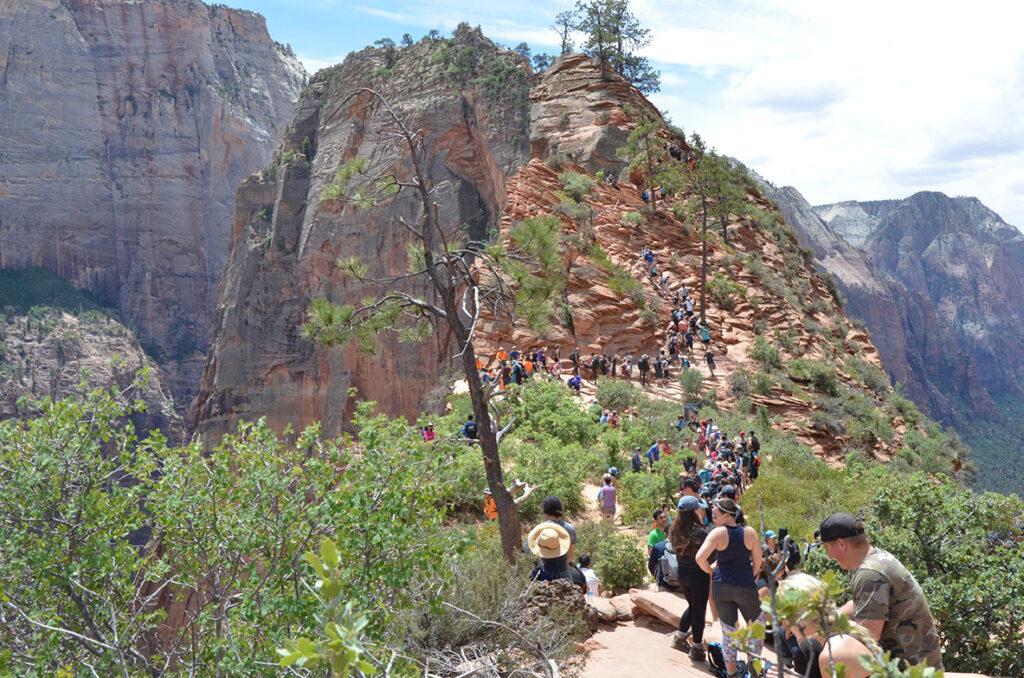 A busy season has brought a lot of changes to National Parks, changes we've talked a lot about over the course of the last several months.
A new change at Zion will have hikers planning to take the popular Angel's Landing trail getting a timed permit. Beginning in January, Angel's Landing will have a lottery system similar to Yosemite's Half Dome. The park estimates during the peak season up to 2,000 hikers per day take the hike. There's little room at the top and hikers going up and down must navigate the same chains and steep drops, passing around each other. 13 people have died on Angel's Landing since the turn of the century.
Across the National Park Service's 400+ facilities, visitors will now see signs prompting them to don masks once again. As the Delta variant of COVID-19 spreads, the agency is requiring that visitors wear masks in all buildings and outdoors in busy areas.
RV Manufacturers Focus on Boondocking
RV manufacturers are keenly aware of the changes to the way people camp that have been brought about by the pandemic.
This first came about with last year's model change that offered many different office workspace floorplans and flex rooms, and there's more of that coming, but this year, we're seeing more of a focus on boondocking, as customers demand more ability to get away from busy commercial campgrounds.
Keystone, one of the largest travel trailer and fifth wheel manufacturers, has announced that every single unit it sells, including entry-level budget models, will come stock from the factory with at least 200 watts of solar. Plenty of manufacturers offer solar, but this is a well-thought-out manufacturing focus that will allow owners to expand their solar package to up to 1200 watts of solar and over 1000 watts of lithium batteries. Parts that Keystone dealers can stock and install.
Electric World to Open in September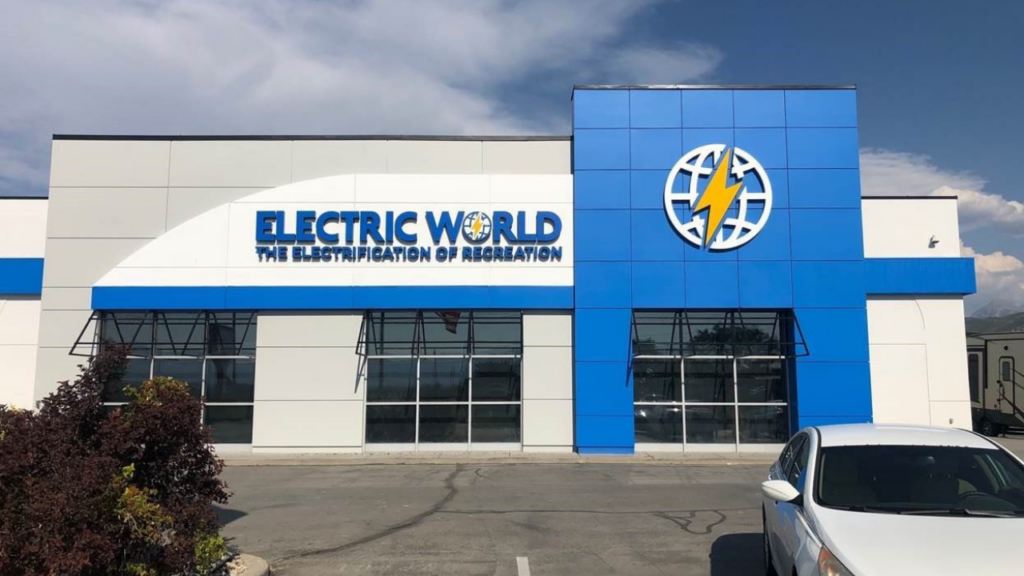 Speaking of Electric, Camping World is set to preview its new Electric World concept store in Salt Lake City on September 15th.
No word on what will be there, but the company was supposed to be working on an electric motorhome with Lordestown Motors and becoming a service center for Lordestown trucks. The companies have put those plans on hold while Lordestown works to get its trucks ready for market.
That had me assuming that the previously announced "Electric World" wouldn't be happening anytime soon, but we'll see what Camping World CEO Marcus Lemonis has up his sleeve in a few weeks.
Camping World Jumps into World of DIY Reno
Camping World separately announced a new focus for its retail locations – "Home-on-wheels Improvement."
Camping World tested and launched Design, DIY and Renovation Centers at seven locations earlier this year, and based on the results they are expanding the concept nationwide. Camping World stores will be removing low-performing items from the shelves to make way for RV bath & kitchen fixtures, flooring, furniture, mattresses, cabinets, countertops, lighting, bedding, appliances, and more.
A New RV Manufacturer
A new RV manufacturer is set to begin production in the Elkhart area this fall: Ember Recreational Vehicles is founded by Ashley Bontrager Lehman, whose grandparents were the founders of Jayco.
We shared the news of Ember earlier this year, and in the meantime, the company has been operating out of an 18,000 square foot warehouse to build prototypes. By the end of September, they'll have opened a $4 million, 88,000-square-foot facility on 15 acres in Bristol, Indiana. I suspect this isn't the only new RV manufacturer we'll be hearing about by year's end.
I-70 Reopens
Finally, it's not often that we get to praise road construction, but a minor miracle was just performed on I-70 near Glenwood Springs in Colorado.
Back on July 29th unprecedented monsoonal rains showered between 2 to 4 inches in about an hour throughout Glenwood Canyon, causing substantial debris flows that washed out the highway, causing major infrastructural damage. A surge of heavy mud, rock, and loose earth trapped more than 100 motorists. More rain and mudslides followed.
The significance of the damage cannot be overstated, but after round-the-clock workdays, CDOT crews successfully re-opened I-70 in just 16 days. It's one lane only each way, with a 35 mph speed limit, but still, it's a major win for the region, which saw a 50% decrease in lodging reservations and was cut-off from deliveries of supplies like fuel for gas stations and food for restaurants and grocery stores. Grateful residents even posted thank-you signs for workers.
The stretch of highway is said to need $50 million dollars of repairs and upgrades, and work will continue through Thanksgiving.
Have an article to share for an upcoming RV Industry and camping news article? Email us at [email protected].