After seeing two friends, both full-time RV families lose their homes to fire in 2020 Marc and Julie Bennett of RVLove.com decided to do something about it. They bought an old Winnebago Indian motorhome for one dollar and set it on fire to see what really happens to an RV. The goal – to share this highly visual experience with others and bring awareness to RV fire education and safety. 
Setting the RV Fire Scene
The 25-minute RV fire video highlights the unique fire risks RVers face, and how to prevent it from happening. The Bennet's worked with local and state fire authorities who supervised the burn as part of Fire Prevention Week. The Professional Development Unit Chief of Colorado Division of Fire Prevention and Control teamed up with the local Paonia Fire Department who brought two fire trucks and 6 crew.
Campground owners, Paul and Emily St. Ruth of Kebler Corner in Somerset, Colorado stepped in to provide a safe testing space. The burn happened on the St. Ruth's two-acre parcel of land by the river – a former horse arena that was now just a dirt field.
The 6-month project brought together a team of 20 people. "It was a lot of work, yet a rewarding project," says Julie Bennett. "If it saves just one life or RV, it will be worth it, but we hope it saves many more. It's a video every RVer should watch at least once… maybe even once a year as a reminder."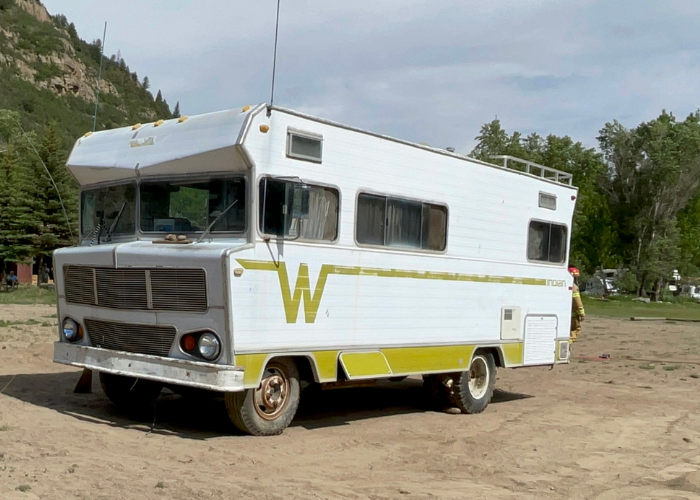 The Bennetts are RV content creators at RVLove.com and authors of two books: "Living the RV Life: Your Ultimate Guide to Life on the Road" and "RV Hacks: 400+ Ways to Make Life on the Road Easier, Safer and More Fun."
You can learn even more about The Bennetts on episode 159 of the RV Miles Podcast.