Ready to see the Utah Mighty 5?
An RV trip through Utah can have you checking off National Park after National Park. The Utah Mighty 5 includes some of the most popular Parks, including Zion National Park, and Arches National Park. It's also an RVers paradise road trip.
While Summer is certainly the most popular time of year to visit, I highly recommend a shoulder season visit (late spring or early fall trip). The beauty of the parks, as they come into seasonal bloom, is really spectacular, plus there are fewer visitors.
Plan Ahead:
National Parks are more popular than ever. Make sure you book reservations for campgrounds, timed entries, and more. as soon as the reservation window opens. All of your planning will happen through Recreatoin.gov and we've got 4 TIPS FOR RV TRIP PLANNING WITH RECREATION.GOV that will make sure you have the best RV vacation possible.
Starlink has made it easier than ever for RVers to have internet service even in the remotest of National Parks, however, if Starlink isn't part of your RV adventure, it's important to know that In all of Utah's Mighty 5, you'll find little to no cell service.
A majority of the parks are fairly removed from civilization, so a quick run to the grocery store for milk isn't always going to be easy. Make sure you stock up and include meals like our 10 Easy Cast Iron Skillet Recipes on hand for a quick and hearty meal ready after a long day in the park.
Utah Mighty 5
---
Zion National Park
Utah's first National Park, Zion National Parks. By far our favorite of the Utah Mighty 5, Zion has it all — making it a popular summer vacation spot for families and adventurers.
Trails range from short and easy to long and strenuous. The Watchman Campground offers some of the finest camping inside a National Park.
It's also the only campground of the five to offer partial hook-ups making it incredibly popular. There's also the adjacent South Campground, which has no hookups, and smaller sites. It's mainly full of tenters but can be a good option for van campers and other small RVs.
Shuttles take you from the Visitor's Center through the canyon, making Zion ideal for those RVers without an additional vehicle. With the gateway town of Springdale tucked right up against the park's main entrance, you've plenty to do, plenty to eat, and plenty of places outside the park to explore.
Tip: There are a few private campgrounds around Zion, plus some great BLM land wild camping, but just know, if you're not staying in the park, get there early or come later in the day. The parking lot fills fast and fills early. By late morning cars are being redirected to Springdale and even then parking can be a real hassle.
Large Vehicles coming from the East will have to enter via the Zion-Mt. Carmel Highway through a tunnel that isn't very tall or wide. Any vehicle that is more than 7 feet 10 inches in width or 11 feet 4 inches in height is required to have a $15 tunnel permit, and you can only pass at certain times of the day.
Rangers shut down the tunnel and allow you to enter without other vehicles. Other restrictions include vehicles over 13 feet 1 inch, vehicles weighing more than 50,000 pounds, single vehicles over 40 feet long, or combined vehicles over 50 feet long are not allowed in the tunnel. Whenever possible, it's best to come to the park from the West, but it adds an hour or more of travel time.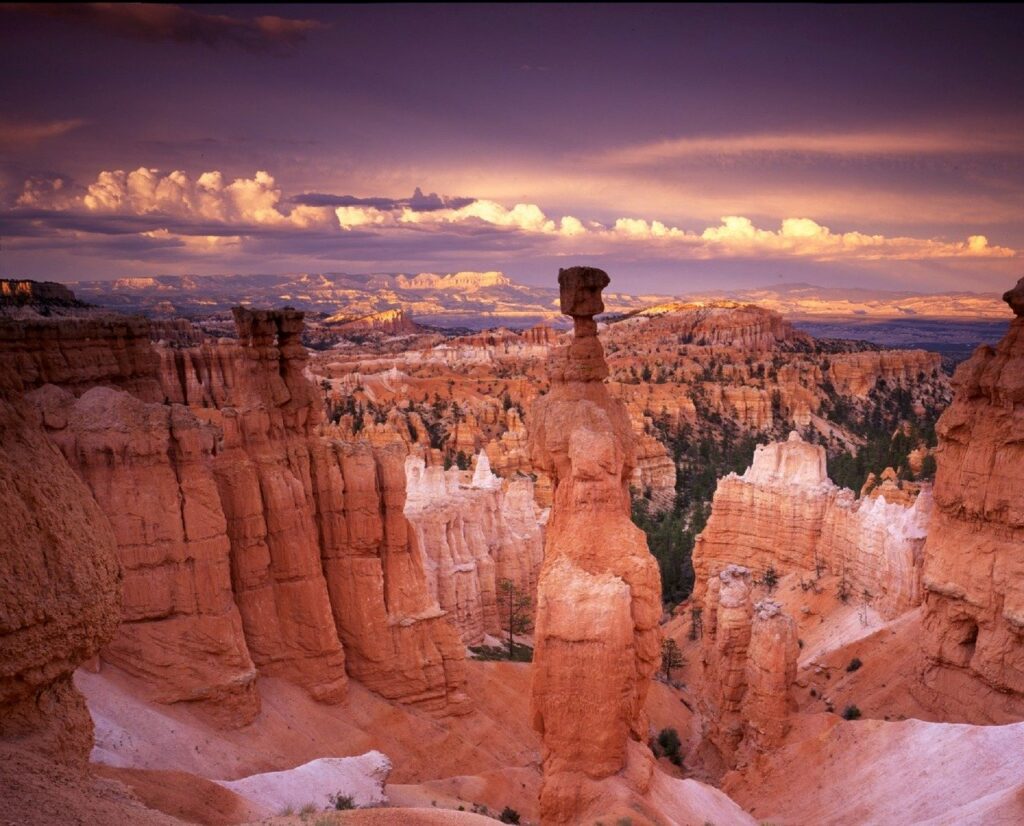 Bryce Canyon National Park
About 75 miles north of Zion is Bryce Canyon National Park, famous for the largest collection of hoodoos in the world. To really take in the majesty of these rock formations hike the Fairyland Loop Trail. The eight-mile hike is considered strenuous due to its length and meandering trails with multiple elevation changes, but the views are worth every step.
Tip: Bryce offers RV camping by reservation at the Sunset Campground and first-come-first-served at the North Campground. There are no hook-ups at either campground, but a dump station is available for a $5 fee. We highly recommend staying at Sunset Campground and then utilizing the park's shuttle during the busy season to get around the park.
Capitol Reef National Park
A little less than 120 miles up the road from Bryce is Capitol Reef National Park. An International Dark Sky Park, Capitol Reef is a hiker's paradise and offers some of the most stunning night skies you'll ever see.
Capitol Reef is a hidden treasure, filled with cliffs, canyons, domes, and bridges all in a Waterpocket Fold that extends almost 100 miles.
In the Fruita area, there are fifteen-day hiking trails that start along Utah's Highway 24 and the Scenic Drive. Trails range from easy strolls over level ground to strenuous hikes involving steep climbs over uneven terrain near cliff edges. 
Tip: Like Bryce, Capitol Reef offers developed campsites for RVs, however, you won't find any with hook-ups. You do however have access to a dump station and fresh water nearby and there are bathrooms with flush toilets, but no showers. Private campgrounds are an option, but you'll have at least a 20-mile drive between you and the park.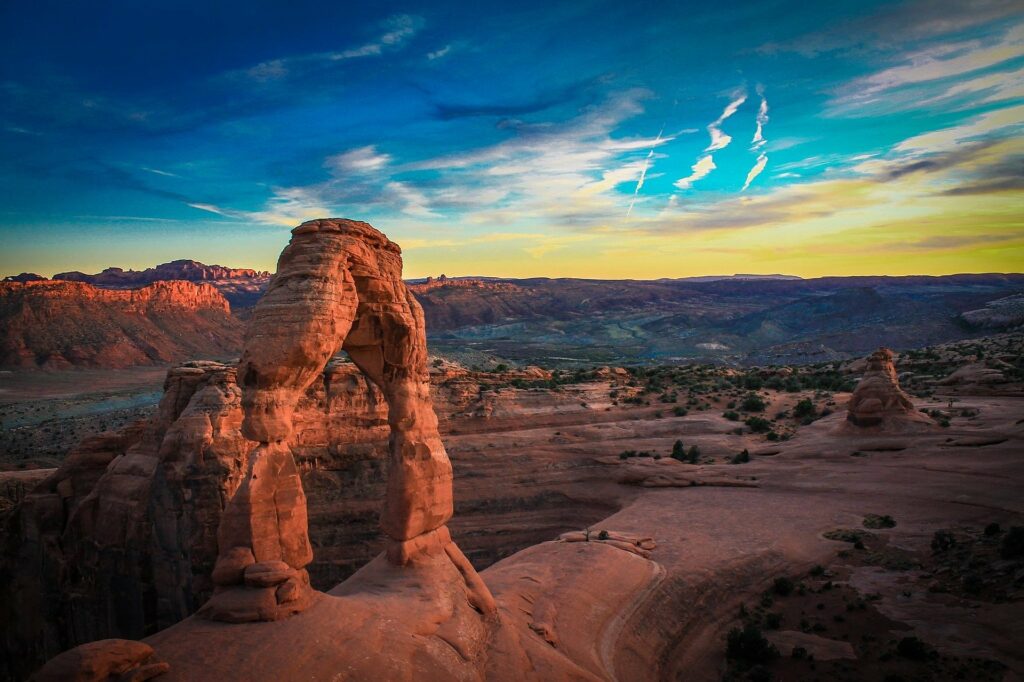 Arches National Park
Travel 130 more miles down the road and you'll discover Arches National Park. Arguably Utah's most famous park, or at least most photographed,
Arches is a red-rock wonderland unlike any other in the world. The park has over 2,000 natural stone arches, in addition to hundreds of soaring pinnacles. Sunsets and sunrises in Arches will amaze and inspire.
Like Capitol Reef and Bryce, RV camping is available but there are no hook-ups. Drinking water and flush toilets are located in the campground and reservations must be made during the busy season. It's important to note that Arches has no dump station.
Tip: At the park entrance, secure a $16 ticket for a ranger-led hike around the Fiery Furnace loop, which takes you through a maze of sandstone walls that, at times, requires crawling on your hands and feet. If you're up for an adventure, Fiery Furnace is for you.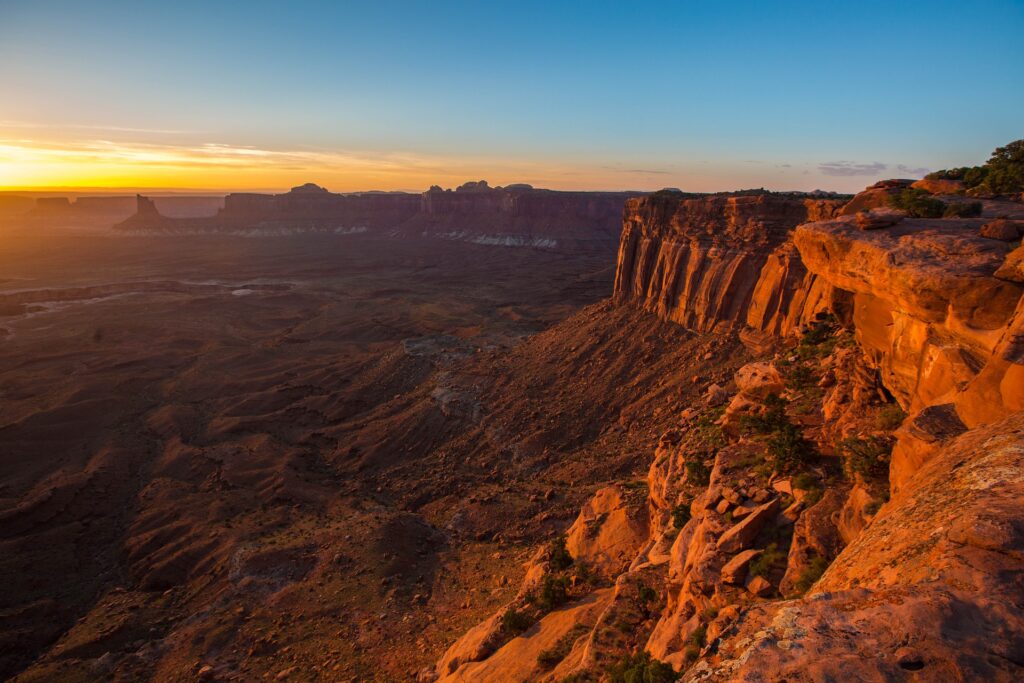 Canyonlands National Park
Canyonlands is a massive park that invites you to explore a wilderness of canyons and buttes carved by the Colorado River and its tributaries. In fact, the rivers divide the 337,598 acres of park into four districts: Island in the Sky, The Needles, The Maze, and the rivers themselves.
Tip: Though they appear close on a map, there are no roads that directly link the four districts. Traveling between them requires two to six hours by car as there are few places to cross the rivers. Most people find it difficult to visit more than one area in a single trip.
---
Honorable Mentions:
Did you know Utah is a wonderland of National Park Service sites? Beyond the five National Parks, Utah is also home to Dinosaur National Monument, Natural Bridges National Monument, Golden Spike National Historical Park, and so many more. Click here to see a full list of NPS sites in Utah.
Want more NPS travel inspiration? Head to the Midwest and check out these five not-to-be-missed locations.