Is there anything more camp cooking perfect than easy cast iron skillet recipes? Whether you use an actual campfire or your RV stove, cast iron skillets are the perfect vehicle for hearty, filling, and just downright perfect tasting meals.
If you've perused our camp recipes section, you know that we are all about the easy. Easy one-pot meals, easy instant pot meals, basically, we believe that you don't have to spend hours cooking to make a delicious meal at the campground. So, with that in mind, we've rounded up 10 cast iron skillet recipes that are oh-so-easy and taste oh-so-good.
Red Potato, Bell Pepper, and Spinach Breakfast Hash: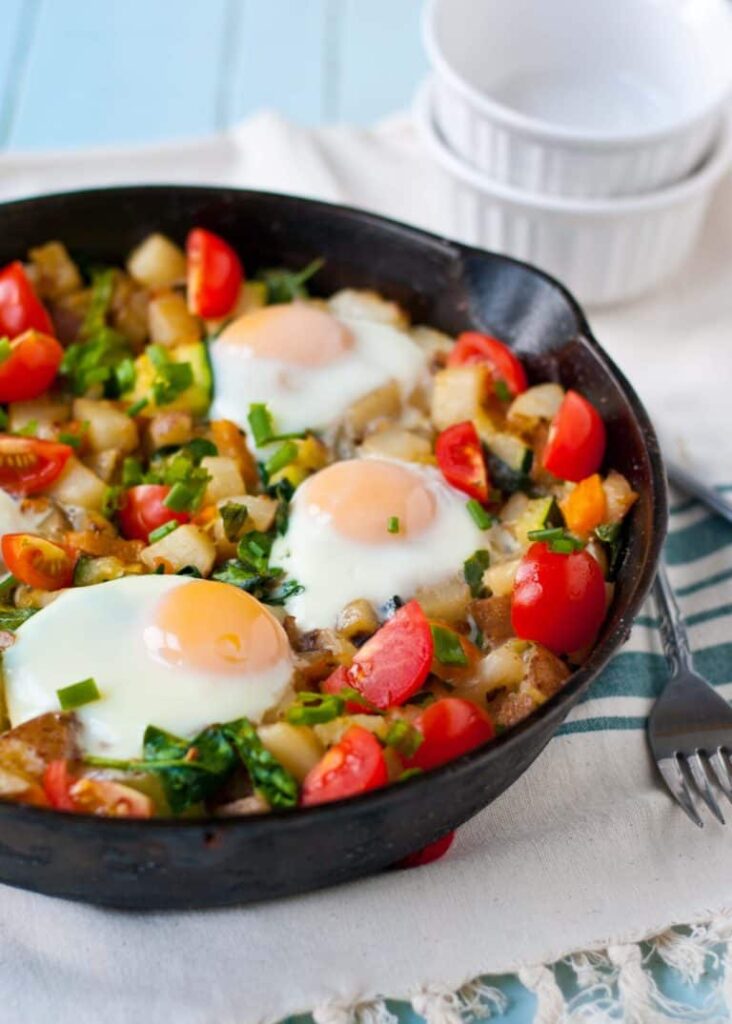 Let's start with breakfast. I love a good hash and this one from Neighbor Food Blog is right up my alley. It's easy, hearty and perfect for an early-morning breakfast or a late-morning brunch. Keep it vegetarian, or add in some chicken sausage for a little extra protein.
---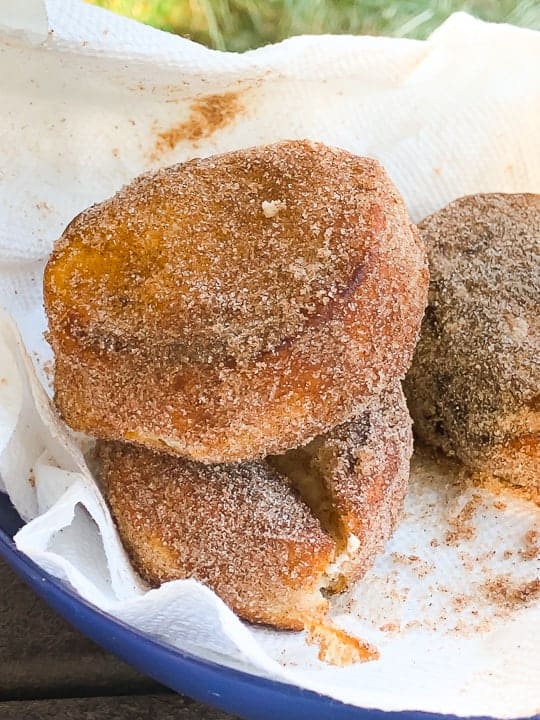 Camping Donuts:
Our kids would eat donuts every day we'd would let them, and honestly, so would Jason and I. These camping donuts from Create Kids Club are so easy and take no time to put together.
If you don't want donuts to be the only thing for breakfast, I think these would go great with a little yogurt and granola or fruit.
---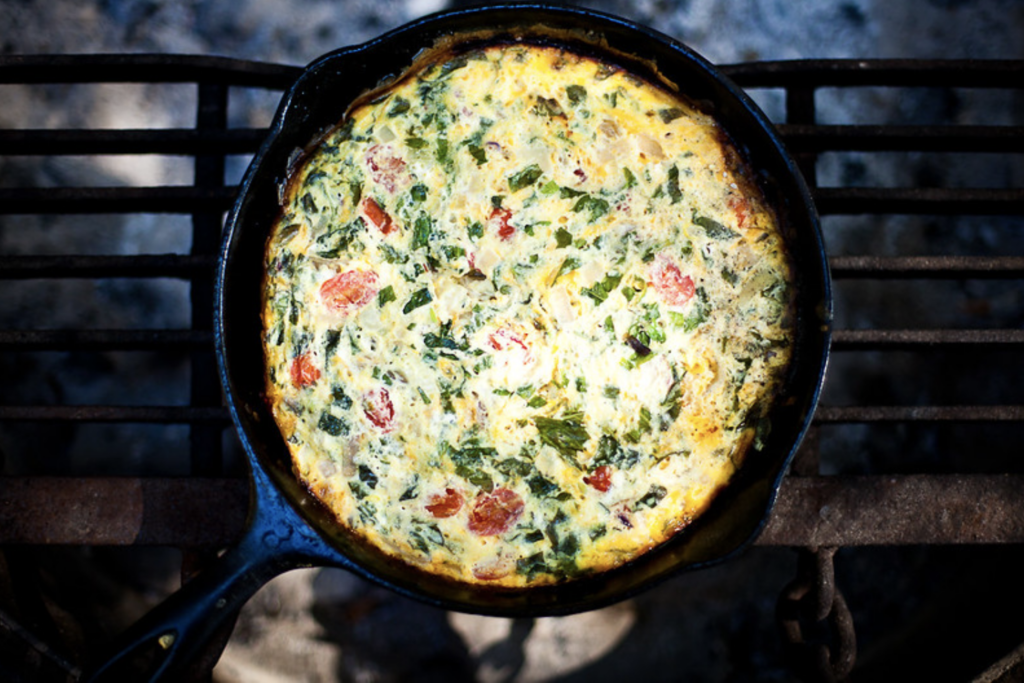 Campfire Frittata
Honestly, a frittata is perfect for breakfast, lunch, or dinner. It can be made with just about anything you have on hand too. Check out this recipe from The Year in Food for inspiration on how to transfer it from your oven to your campfire.
---
Campfire Nachos:
Featured in our "5 Easy One-Pot Meals" this campfire nachos recipe from Fresh Off The Grid is a one-pot Dutch Oven meal that will have you reaching for a margarita and wondering why you didn't try this sooner.
---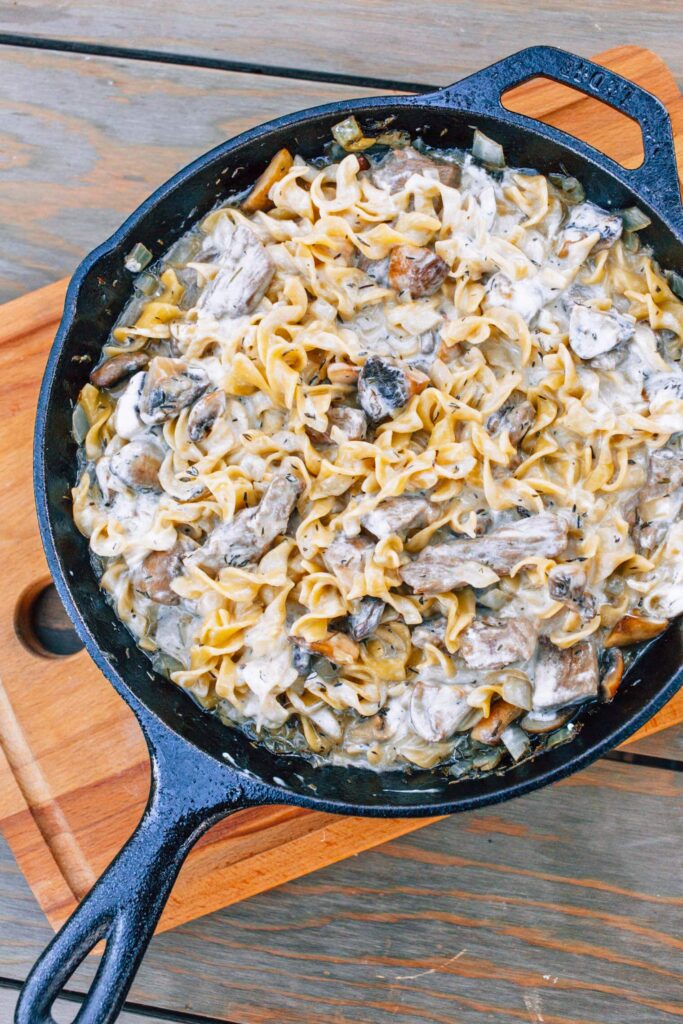 Beef Stroganoff:
Another great recipe from Fresh Off The Grid, this time featuring the dinner-time classic Beef Stroganoff. A perfect meal for feeding a large group on a budget, you can sub in various cuts of meat and really tailor this meal to be what you remember growing up.
---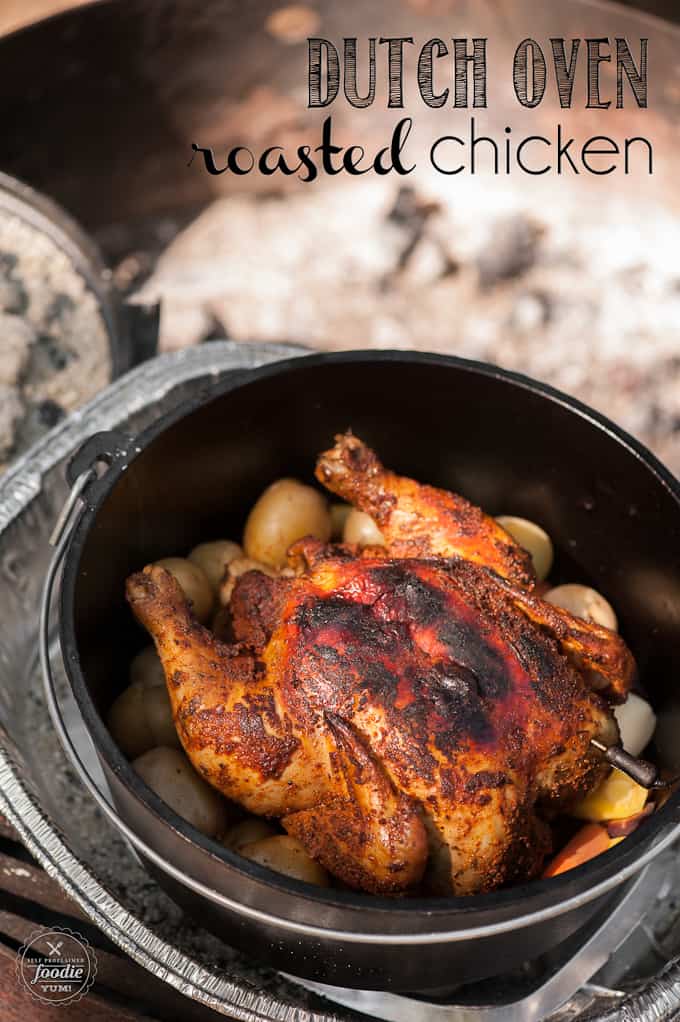 Dutch Oven Roast Chicken:
This recipe from Self Proclaimed Foodie is so easy, and if you prep the chicken before you get to the campground it's even easier. Chicken, potatoes, onions, and carrots. Done.
---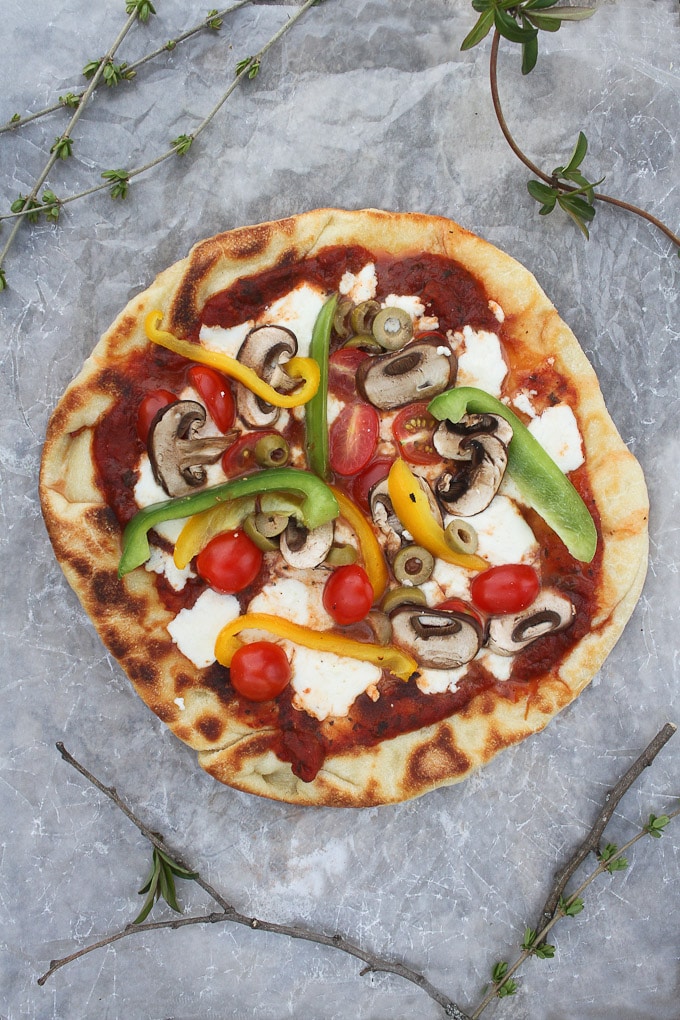 Cast Iron Pizza
If you follow the RV Miles Podcast, then you know our family loves pizza, so it's only natural there should be a pizza recipe in this article. Versatile and perfect for all tastes, you can make a veggie pizza, like this one, or pepperoni, sausage or good ol' cheese. Whatever your heart desires.
---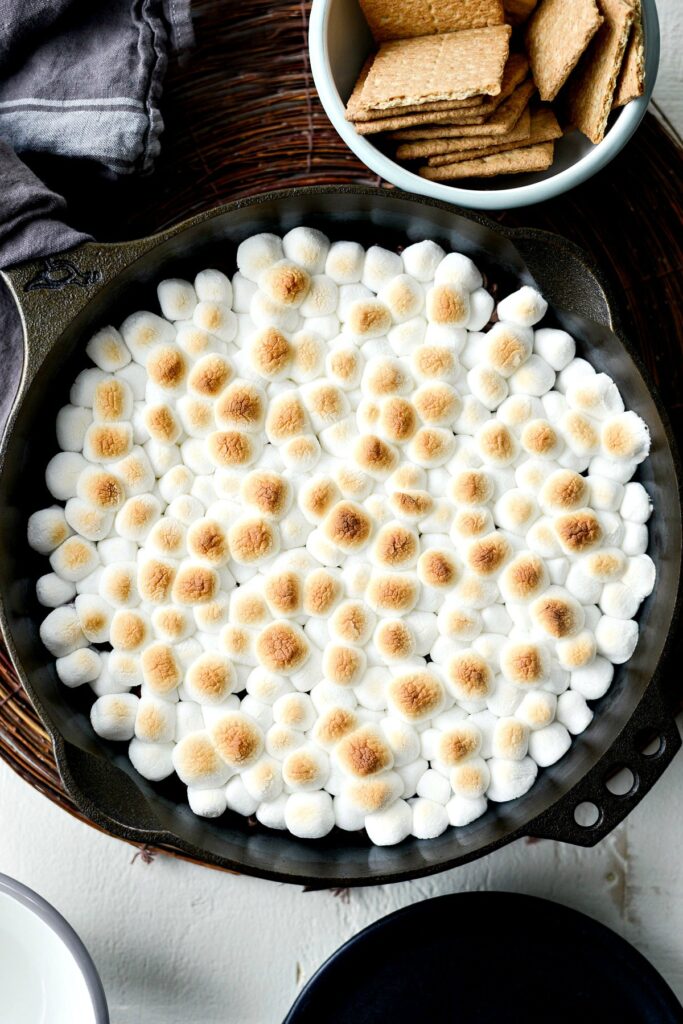 S'Mores Dip:
We like to step outside the traditional s' mores box, and this s'mores dip definitely does that. Gooey, yummy and fun. Sub out the oven part of this recipe and go straight for the campfire. Place the cast iron skillet off to the side, away from direct heat, and cook for the same amount of time. But keep an eye on it so you don't burn the bottom.
---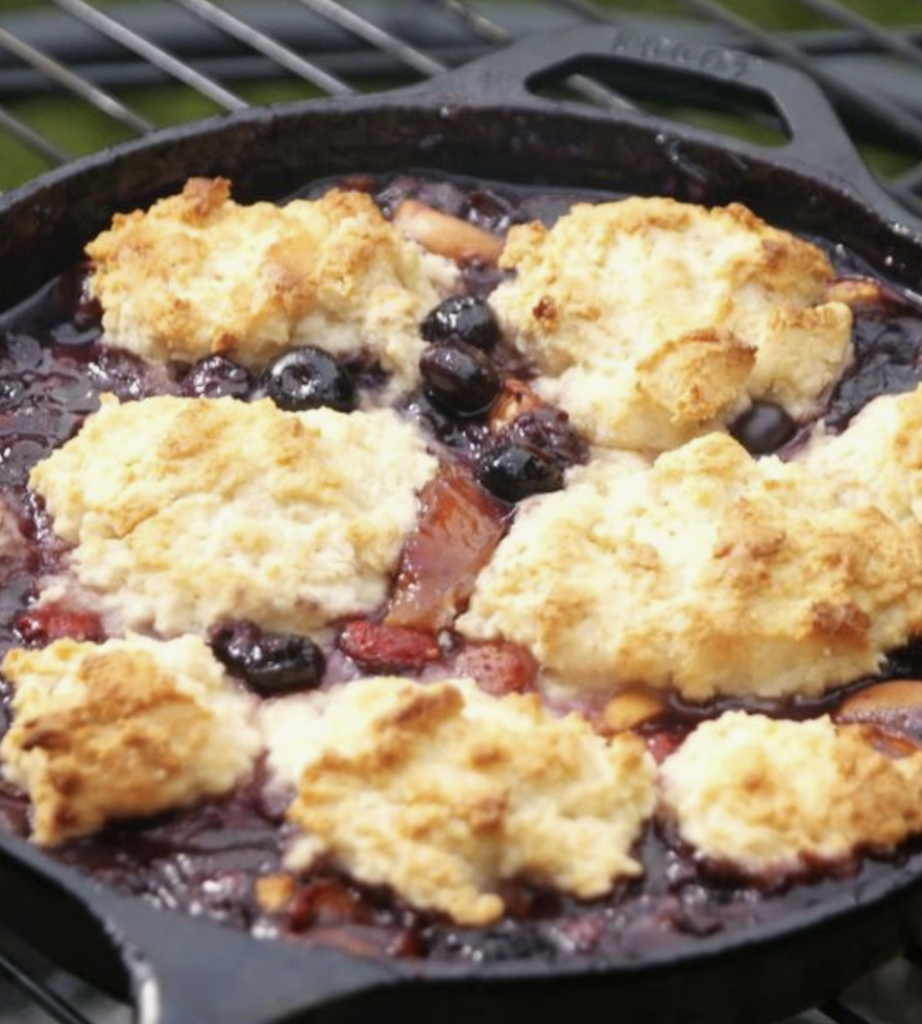 Campfire Cobbler
I love cobbler. It reminds me of childhood, and I absolutely love a cobbler made in cast iron skillets. Use whatever fruit you'd like, I'm a huge fan of peach to create the perfect summer dessert. This recipe from Delish.com is pretty easy and you can even use the Bisquick for pancakes the next morning.
---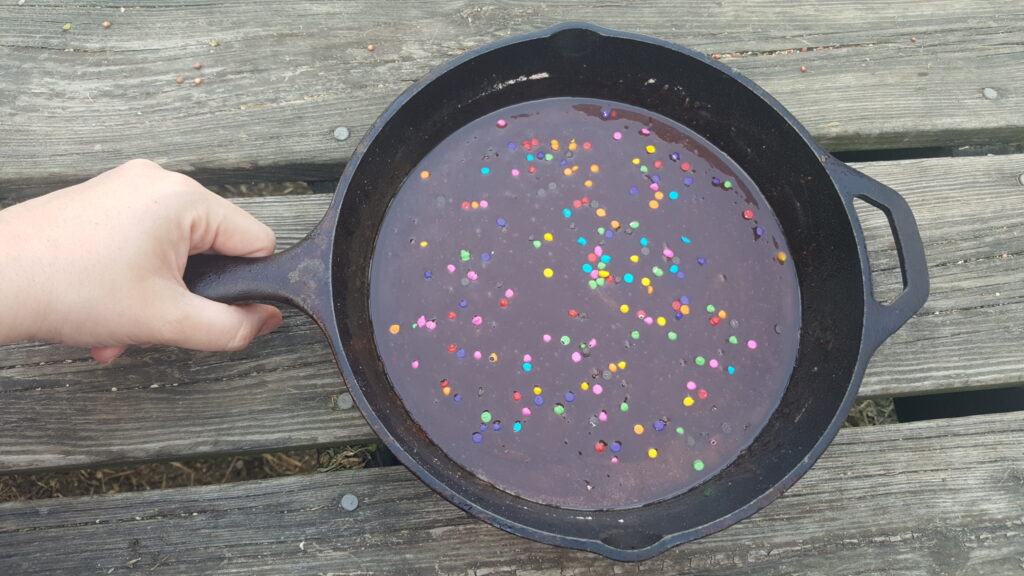 Easy Camping Brownies
Brownies. They are just the best thing ever and they make a perfect cast iron desert. Check out this recipe and do whatever you'd like to put a spin on your campfire brownies. We like to add in a good handful of Reese's peanut butter chips (you can thank me later) and call it a night.
---
Happy camp cooking!
Sign-up for the RV Miles Road Signs Newsletter and get content like this delivered right to your inbox every week. Fill out the form below and rest assured, we'll never give your info away. Ever!