Welcome to this week's RV and camping news brief. Have a news tip? Email Jason Epperson at [email protected].
By Jason Epperson
Listen Below:
Watch Below:
Another month of record-breaking retail sales for the RV Industry, it's been a rough few days over at General Motors, 4th of July weekend saw campgrounds bursting at the seams, RV community events return, and Arizona's National Forests open back up. It's time for the latest in RV and camping news.
Gas Prices on the Rise
U.S. oil broke $76.98 a barrel on Tuesday, its highest level in six years, as OPEC, Russia and their allies again failed to agree on production increases. Demand for gasoline is at its highest since 2019, causing prices to rise to an average of $3.14 for a gallon of gasoline in the United States, according to AAA, up from $3.05 a month ago. AAA expects prices to increase by another 10 to 20 cents through the end of August. OPEC is keeping production low, and Russia and the United States are trying to mediate a deal to raise output. Experts say Price wars are almost always short-lived, and that OPEC members generally agree that production should increase, but in the meantime, consumers lose out.
Another Month of Record Retail Sales
For the 12th month in a row, the RV Industry has set a retail sales record for that respective month, according to Statistical Surveys Inc. 65,303 new RVs were registered in North America in May 2021, breaking the previous May record of about 3,000 fewer set in 2018. When will sales let up? Check out our recent article on the predicted used RV glut for some detailed thoughts.
Two Major GM Truck Recalls
It's been a rough few days for General Motors, as two major recalls have been announced for GMC and Chevy trucks.
More than 400,000 trucks in the U.S. have side airbags that can explode without warning and spew parts into the cabin. Three inflators ruptured in 2015 Silverados last month, one in Florida and two in Texas. All three trucks were unoccupied at the time, and GM says it has no reports of injuries. A manufacturing defect allowed moisture into the inflator while it was being manufactured, causing corrosion.
The recall covers certain 2015 and 2016 Chevrolet and GMC Sierra 1500, 2500, and 3500 trucks. Dealers will replace both side airbag modules, but they have a limited number of replacement parts available. About 9,000 of the trucks were recalled last year for the same problem.
Separately, around 330,000 Silverado and Sierra heavy-duty diesels are being recalled due to an electrical short circuit that can occur in the engine-block heater cable or cords, increasing the risk of a fire. The affected vehicles are 2017 to 2019 2500s and 3500s with the optional engine-block heater cord.
GM said it received 122 related complaints and 24 reports of fires. To fix the issue, dealers will just be disabling the block heater. GM will provide free replacement block heaters and cords at a later date.
Owners will be notified about both recalls starting Aug. 16.
RAM Announces Electric Trucks
RAM has announced that it will begin building electric trucks in the 2024 model year, well behind everyone else. And that's sometimes a good thing as manufacturers late to the party can look at what's working and what isn't for their competition and improve on it. But the shocking thing is that many of the specs RAM is touting for trucks that won't be here for another 2 years aren't any better than what is about to be released by Ford, Rivian, GMC, and Tesla.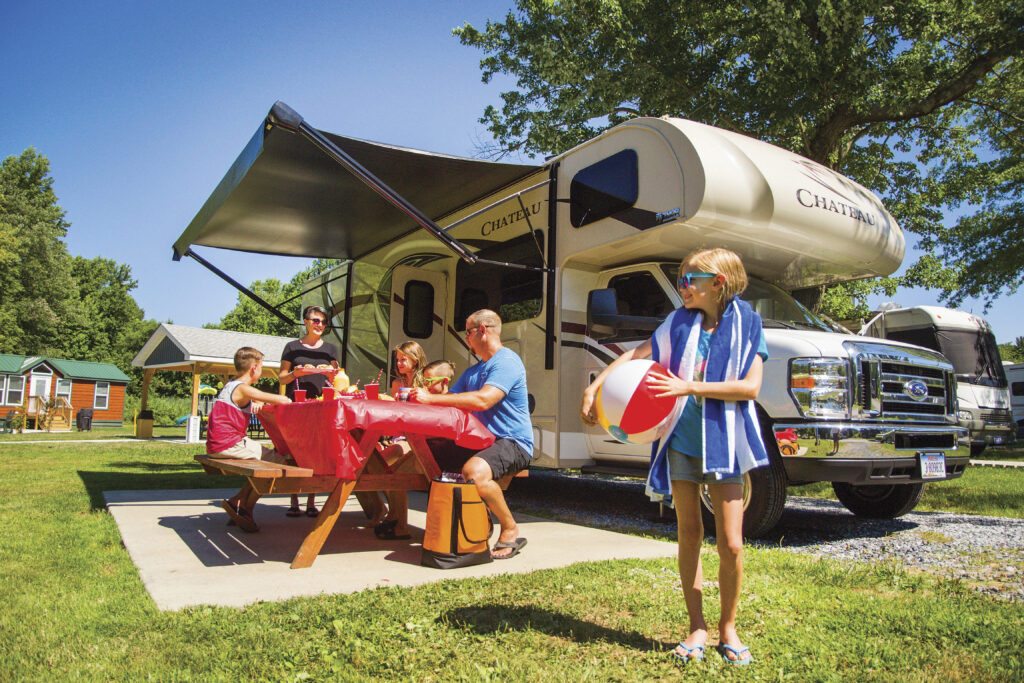 Campgrounds at Capacity Over 4th of July Weekend
Many campgrounds across the country reported being at or near capacity for Independence Day Weekend. Michigan state parks reported nearly 96% occupancy. Campgrounds across the state reached almost full capacity before the weekend officially kicked off keeping parks across the state busy, and in some instances completely full.
KOA campgrounds had check-ins up 36% for the holiday weekend over their record year in 2019. Looking forward, advanced deposits for the KOA system are up 66% over this same time period in 2020, when KOA experienced its best fall on record. This year's prime camping season is going to go deep.

Arizona National Forests Re-Open
Thanks to recent rainfall and cooler temperatures, National Forests in Arizona are reopening to the public after closing at the end of last month due to wildfire concerns. The re-openings rolled out earlier this week, but all five of the previously closed forests remain under Stage II fire restrictions, which means no campfires, no smoking outside of campsites, and no charcoal grills.
DEATH VALLEY BREAKS HEAT RECORDS IN JUNE
Speaking of weather and public lands, Death Valley National Park had its hottest June on record this year, with an average temperature of 102 degrees beating the previous June record by 1 degree. The June heat wave affected much of the West with temperatures peaking in Death Valley at 128°F on June 17.
The 128 degrees high broke the daily record by six degrees. Nights brought little relief from the heat. On June 29, the lowest temperature was 104°F around 3:00am. Death Valley saw seven days in the month that set new daily records for high temperatures.
Georgia Tornado
Tropical Storm Elsa moved across North Florida and into Southeast Georgia earlier this week bringing with it heavy rains and wind gusts strong enough to spawn a tornado that resulted in more than a dozen injuries at an RV park on Naval Submarine Base Kings Bay.
According to the National Weather Service, the EF-2 tornado touched down Wednesday with peak wind speeds of 130 mph. The tornado reached maximum strength as it descended upon the RV park, flipping multiple RVs and blowing one rig about 200 feet into a lake north of the campground. The tornado was on the ground for a total of 4 minutes. Overall 17 people were injured, thankfully non of the injuries were life-threatening.
Detroit RV and Camping Show Canceled
The 2021 Fall Detroit RV & Camping Show has been canceled, according to the Michigan Association of Recreational Vehicles and Campgrounds. The event had been scheduled to begin on September 29th.
This is the second year in a row the show has been canceled, last year for pandemic-related reasons, this year due to lower-than-expected dealer inventory. The show typically attracts about 17,000 people over the five-day event with 12 dealers displaying over 350 RVs as well as 55 campgrounds, RV parks, aftermarket suppliers. It's a story we've been hearing over and over this year, with low inventories and high demand making RV shows financially obsolete for dealers.
RV Community Events Return
But on the other hand, in-person RV community events are back. The 103rd FMCA Convention is underway this week in Gillette, Wyoming, where 1,250 RVs will travel to the Equality State to take part. 70s pop-rock stars Three Dog Night headlined the entertainment on Friday night, with several other bands and performers filling out the four-day weekend as attendees hit over 100 seminars. The Escapees organization is also in preparations for its annual Escapade, which will also take place in Wyoming July 18-23.
That's it for the news this week. Have a thought to share on the topics discussed? Leave a comment below and let's talk.
Get caught up on past RV and Camping News Briefs HERE.
---