New RVs, from a flagship diesel pusher to a Jeep Gladiator micro-RV concept, new refrigerator technology and a whole lot more.
It's time for the latest RV & Camping news round-up.
Canada/US Border closure extended
The closure of the Canada/US border to non-essential travel has been extended to September 21st, if it goes on longer, it could be a big problem for Canadian snowbirds. 14% of Texas snowbirds are Canadian. There's also a concern that even American snowbirds might not make the annual migration. It's a problem for campgrounds, but it's also a problem for Canadians who live full-time in their RV. Not many want to try to get through a Canadian winter in their rig. This is the fifth renewal of the border restrictions since the coronavirus pandemic began.
Michigan parks see record crowds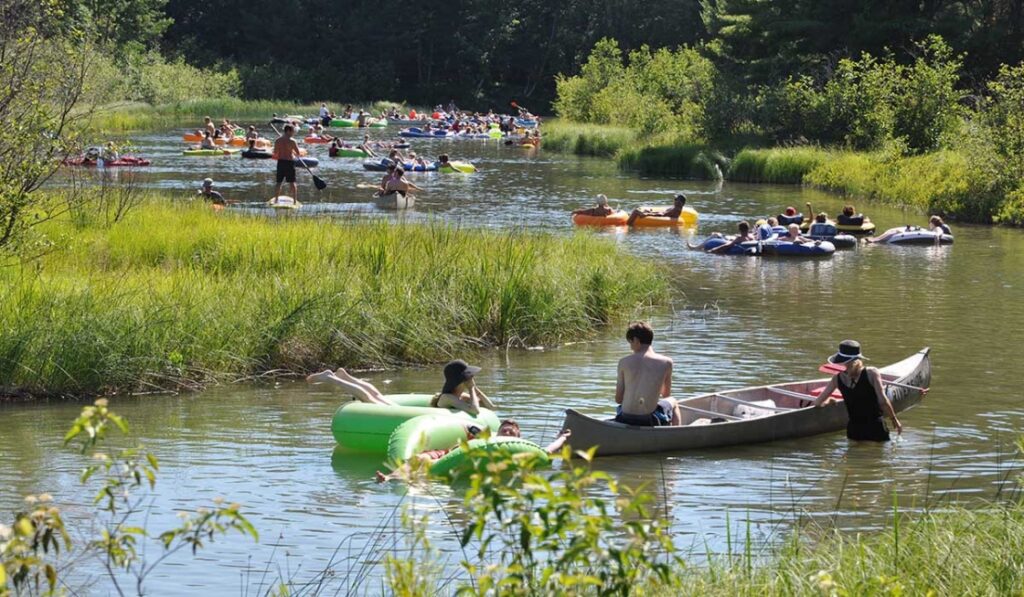 Michigan's campgrounds and trails are reporting record attendance this summer. At Sleeping Bear Dunes National Lakeshore, July saw more than 590,000 visitors, topping last year's numbers by about 20%. Nights reserved in Michigan state park campgrounds in July were up 25% over the same period last year. There are reports of increased littering, and people who have arrived without a reservation are creating illegal campsites. And some people, hoping to avoid restrooms for fear of the coronavirus, are…going wherever they please.
Oregon adds out-of-state-fee
The state of Oregon has a similar problem – and their way of attempting to solve it is by increasing camping fees for out-of-state residents—at least temporarily. The Oregon Parks and Recreation Department announced a 30 percent surcharge on nonresidents who camp. Oregon's state parks system was hit hard by COVID-19 shutdowns and losses from the Oregon Lottery, which partially funds the parks. The average cost for an RV site is currently $33 per night, but that has increased to an average of $42 for nonresidents.
Heat & fire
A record-breaking heat wave is hitting a large swath of the country, particularly the southwest, and another one is on its way. The temperature at Death Valley National Park hit 130 degrees last Sunday, marking what is considered be the hottest temperature recorded on Earth. Death Valley's 1913 record of 134 degrees has been disputed as unreliable. Amidst all this heat, firefighters are battling 29 blazes across the state of California, including the Loyalton Fire, that jumped the state's border with Nevada after spawning a rare "firenado" over the weekend. Some electricity suppliers in California have instituted rolling blackouts for the first time since 2001.
If you're out in the heat, drink plenty of water, wear light colors, and take care of your pets
Hotels.com targets RV "buyer's remorse"
Hotels.com has taken direct aim at the summer RV boom – they encouraged people who have RV buyer's remorse to get their RV half-heartedly appraised for a chance to win free hotel stays from the hotel booking giant. The publicity stunt was short lived – RV owners had just 7 days to enter.
CampgroundBooking.com Wins $375K Investment Contest
But the stunt brings into sharp focus a different problem in the camping industry – we don't have our own version of something like Hotels.com or Expedia to book campgrounds virtually anywhere. Many have tried, but getting campground owners who often don't even have a website to pay for a reservation service is a tough sell.
But there's a new reservation service out there that aims to provide campgrounds the option to add online bookings for no monthly fee, and they just received a big infusion of cash. Friend of RV Miles Heath Padgett and co-founder Paul Ryan have been developing CampgroundBooking.com over the last several years, and recently beat out more than 100 other entries to claim the top prize in a contest run by the Greater Colorado Venture Fund.
12v compressor refrigerators on the rise
One of the hottest options on RVs in the last few years is residential refrigerators that run only on 110v power, replacing the standard 2-way propane and electric gas absorption fridge. Residential fridges cost less per cubic inch, and they cool faster and better. But they come with a host of problems. They can't run on propane, requiring a serious battery and solar system for boondocking, or the ability to run your generator all day. Their heat gets vented into the cabin, and in order to remove and replace them, often the slide or the windshield needs to be removed.
Well, there's a new technology that's tearing up dealer lots — 12 volt DC compressor fridges. Check out the interview Josh Winters, the RV Nerd, from Haylett RV in Coldwater, Michigan on the Stressless Camping podcast for a really interesting and thorough chat about RV fridges and, particularly the newer 12 volt compressor fridges which cool up to 5 times faster, and sip power.
This technology has actually been around for a long time, but it's been refreshed and is largely being adopted by the RV industry. They're incredibly durable, and pull only 2.5 to 4 amps DC. Winters believes these fridges will entirely replace residential fridges over the next few years. I'll put a link to the Stressless Camping episode in the description below.
RV share bookings up over 50% for Labor Day
The peer-to-peer rental site RV Share was in dire straits earlier this year, laying off a majority of its workforce, but they've since roared back to life. As the Labor day holiday approaches, RV Share says bookings for the weekend are up 50% over last year, and they expect that to be up over 100% by the time things are said and done.
New Startup puts RV rentals at airports
RV rentals are certainly trending just as strong as purchases, if not stronger. And a new company plans to make it even easier for people to fly out west and rent an RV. A company called Blacksford announced this past Friday that it has launched its first rental hubs – right at the Las Vegas and Bozeman, Montana, airports. The company has has a fleet of Mercedes-Benz Sprinter RVs from Winnebago. Prices include the RV, unlimited miles, a generator, bedding, supplies for the bathroom and kitchen, and unlimited on-board Wi-Fi. There's also an annual pass to national parks included, and 24-hour roadside assistance for the vehicle. Daily rates start at $199, or you can get a what the company calls "mini-leases" for those who want to spend a few months away.
Gas prices peaked?
Those RV renters might have something else to be excited about – gas prices aren't likely to increase for the Labor Day holiday, so says AAA. Gas prices may have peaked for the year at an average of 2.17 a gallon. That's down from $2.62 a year ago. The current average for diesel is $2.42, down from $2.95 at the same time in 2019.
Holiday Rambler flagship 44LE – Largest RV Shower?
In new RV news, there's a new flagship model for Holiday Rambler diesel pushers: The Armada 44LE features ultra-premium amenities, including the standard Aqua-Hot 400D hydronic heater, which delivers 65,600 Btu/hour through the subfloor and seven exchangers. There's no noise, and it maintains an even temperature inside the RV utilizing a diesel burner or shore power instead of propane. The Armada 44LE also features the largest shower stall in any RV made.
East to West RV announces "Tandara"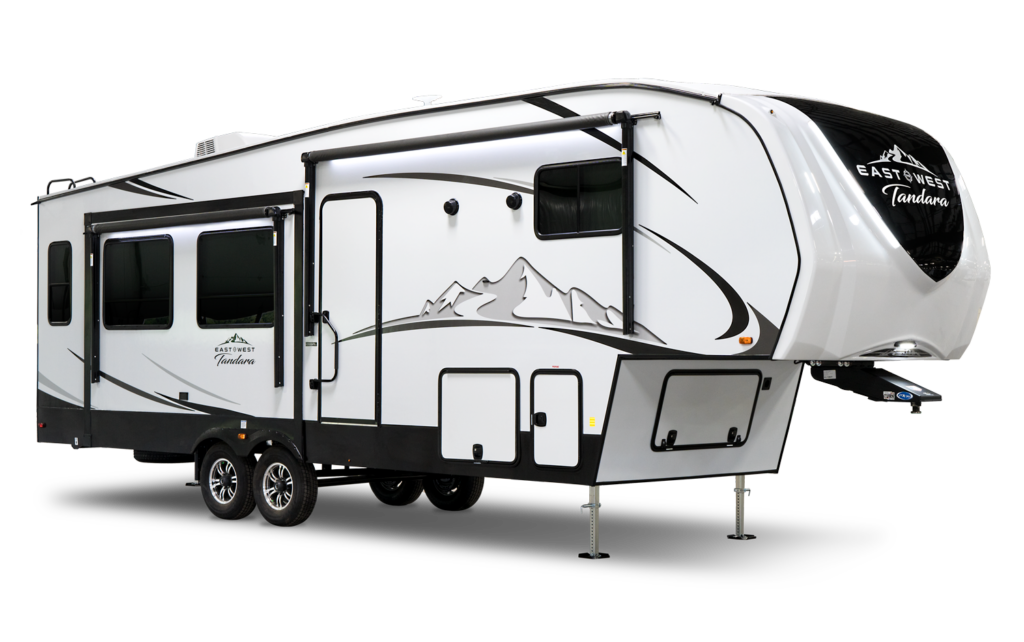 Forest River's East to West RV has announced the new "Tandara" line of mid-sized fifth wheels, which the company says is built with the best construction techniques and components to minimize warranty problems and maximize customer satisfaction. They went out and identified the best-selling mid-profile floor plans in the industry, and say they have improved on them significantly, with features that deliver real benefits, not just cosmetic buyer triggers.
Flat-floored 5er
Speaking of Fifth Wheels – here's something you've probably never seen before: A flat-floored fifth wheel. The Palomino River Ranch features a single-level design that combines the storage capacity a Class A motorhome with the towability of a fifth wheel. Engineers noticed the popularity of raised-rear living room fifth wheels and asked "what if the whole thing were raised." The air conditioners have been removed from the roof and have been put in the basement, meaning the roofline is taller than most fifth wheels, going right up to the 13'6″ legal limit. The River Ranch has 480 cubic feet of pass-through storage. The average Class A motorhome doesn't usually even hit 300 cubic feet.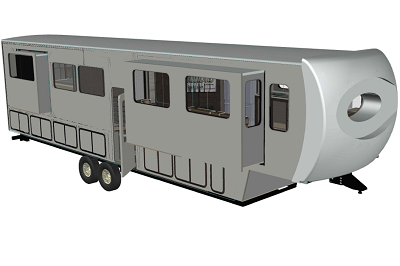 The HVAC system is almost residential, in that it utilizes the same ducting for heat and air conditioning, along with a residential-style air filter. As a sign of the times, the unit also comes with the "COVID Clean Care" package, which kills airborne pathogens in the HVAC, and water-born pathogens in the water system.
The first River Ranch units are 42 feet long, 13,500 pounds dry, and will debut in October. My biggest question is who is the customer that needs to carry so much stuff?" And with a cargo-carrying capacity that will likely come in at just over 2000lbs, is it even possible to use all that space?
Jeep Gladiator micro-rv concept
On the other end of the spectrum, JEEP has put together a micro-rv concept for it's Gladiator line of itty-bitty pickup trucks. The "Farout" build will feature off-road upgrades and AT Overland's Gladiator Habitat pickup-top camper. More than a roof-top tent, it's a fully enclosed interior to sleep, feed and seat its occupants.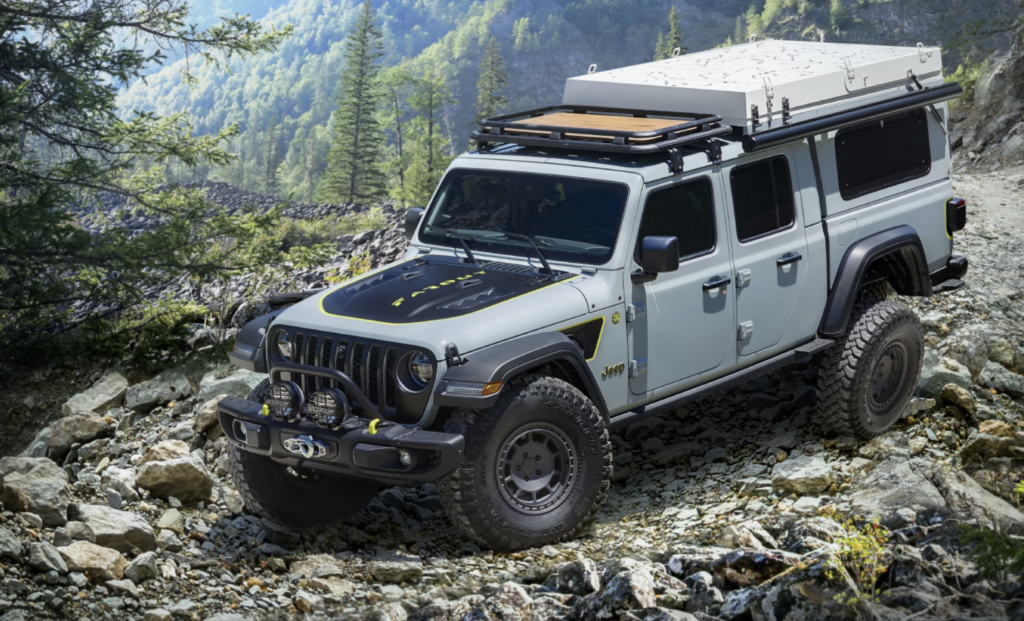 It turns the Gladiator bed into the floor of an interior living space, and the tent topper folds out behind the Jeep, providing soft-sided sleeping space while affording a higher vantage point for taking in the views. There's a stove, fridge, seats, tabletop, storage racks and ambient lighting in that little pickup bed. A cargo basket over that cab provides space for gear that won't squeeze between the camper furniture in back.
Great American Outdoors Act
The Great American Outdoors Act has been signed into law: providing billions of dollars in funding to repair aging infrastructure in national parks and other public lands. What will it mean for RVers? Well it probably won't mean more campsites, bigger camp sites, sewer, and 50amp electricity. And it shouldn't. But what it will certainly mean is better roads in National Parks. About 50% of the park service's maintenance backlog is roads and bridges. Hopefully they'll repair an aging bath house or two while they're at it.
20 Years of RVtravel.com
RVTravel.com is celebrating its 20th year covering the industry from a consumer news perspective. Editor Chuck Woodberry is often considered one of the first bloggers, and has been bringing RV info to the internet as long as anyone.
I interviewed Chuck about the state of the industry for this week's episode of the RV Miles Podcast, coming out later this week on any podcast app or on YouTube.
---
That's it for the latests news. Follow RV Miles all over social media, and check out the #1-rated RV Miles podcast on any podcast app, including Apple Podcasts, Stitcher, Spotify, and Google Podcasts. Keep loggin' those RV Miles.