By Jason Epperson
Get caught up on all the latest RV news here.
Watch the latest camping and RV industry news below:
Motorhome Values Drop
Motorhome values dropped 7% between July and August on the wholesale market according to the analysts at Black Book — that's the first dip in motorhome values since February.
Towables increased in value over in August, but by under 1%, the smallest gain since last November. But if you think that means the market for RVs is starting to loosen up, take a look at Thor Industries' fiscal year-end earnings report released on Tuesday…
Thor Industries Backlog Doubles
Thor Industries has recorded a record $12.3 Billion in sales and over 300,000 units sold according to their fiscal year-end earnings report.
Back in December Thor had a $9 Billon backlog of orders yet to be built, and one would think if sales were dying down, they'd have hacked away at that a bit. Nope.
The current backlog for the world's biggest RV manufacturer has almost doubled in 9 months to about $17 Billion. People are buying more and more RVs in 2021. The industry generally ships around 500,000 units and expects to ship over 575,000 in 2022.
Boondockers Welcome Get a New Website
On Monday, Boondockers Welcome will be launching a new website, the first step toward integration with Harvest Hosts since being purchased by them in June.
The new website will allow members to search across both Boondockers Welcome locations and Harvest Host locations at the same time.
The site will also feature Search by Route functionality, customizable "Trip" boards, redesigned Member and Host profiles, and integrated sign-on for folks with both memberships.
Jayco Continues Class B Push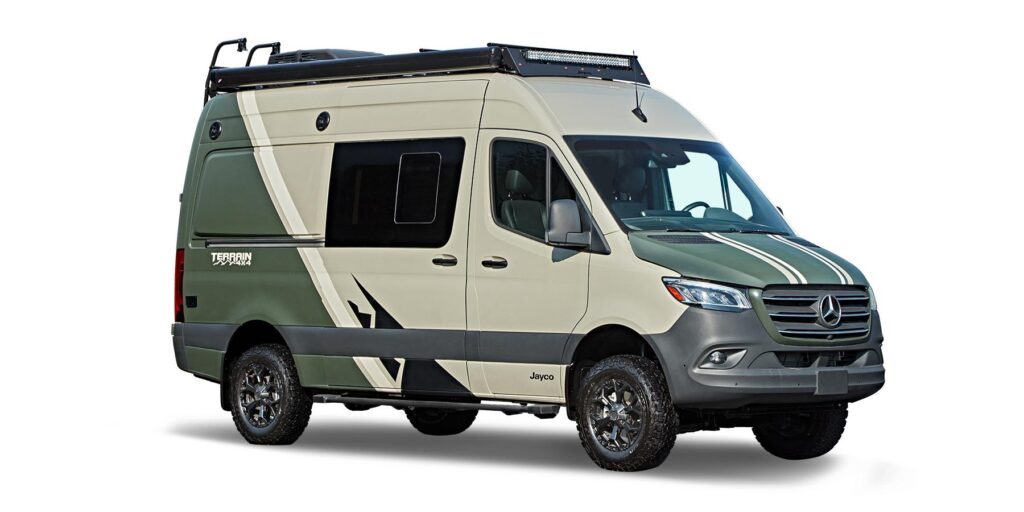 Jayco, long a maker of all types of RVs except Class Bs, recently entered the campervan market with the "Swift," which features two floorplans on a RAM Promaster chassis — a rear bath with dual twin beds, and a rear kitchen model with a fold-out sofa bed and 4 captains chairs.
Now, Jayco is upping the game with their first 4×4 camper van — the Terrain. The $192,000 van is built on a Mercedes Sprinter chassis and features a drop-down bed in the rear to allow for lots of gear space in the 20' cabin.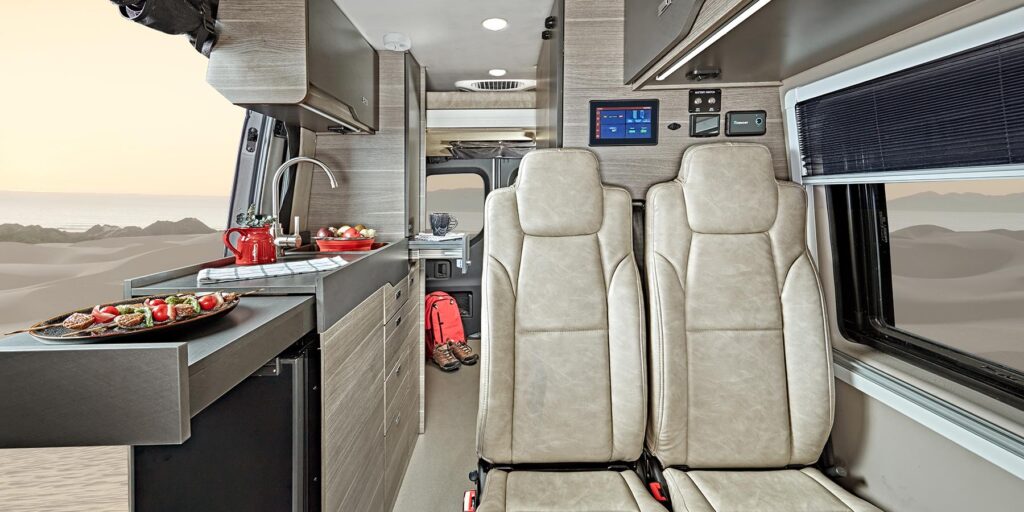 There's a bathroom with a shower and cassette toilet and a kitchenette with a sink, fridge and induction stove, and a couple of pullout tables that can be expanded to create a dining space or lounge.
Underneath there are upgraded shocks and a rear sway bar for off-road comfort. A roof rack and a built-in air compressor come standard.
The Terrain is fitted with a 48V 210AH lithium battery plus 200 watts of solar panels on the roof, and the thing that turned my head — a 48 volt DC air conditioner.
Ember's Off-Road Adventure Trailers
We've mentioned a few times recently that there's a new RV company on the block — Ember — and now we've had a look at their off-road adventure trailers.
Embers are built on a Heavy-Duty Tubular Steel Frame and feature coil springs and dual shock absorbers on each wheel. The walls, roof, bed, and bunks are framed in aluminum, and the windows are dual-pane acrylic.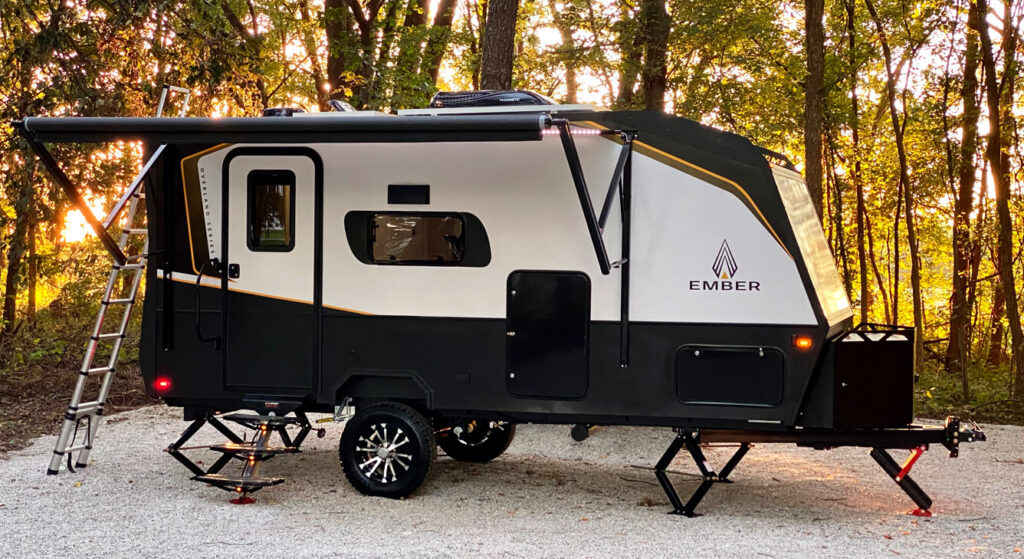 There's a smart control system, 190watts of solar, more propane, water, and holding tank capacity than a typical RV this size, an integrated parking brake, and way more goodies than I can mention here. Check them out at EmberRV.com.
"Slow Down" Reminder from AAA
AAA has issued a grim reminder — move over or slow down for emergency vehicles, including tow trucks. Recent deaths of two AAA tow providers, killed while assisting motorists, highlight just how dangerous it is for individuals who regularly work along the shoulders of America's busy and congested roads.
Glenn Ewing, 32, was killed July 4 near Cincinnati, OH, while placing a disabled vehicle on the back of a flatbed on the side of the road. He leaves behind a fiancée and two children.
Only three weeks later, 30-year-old David Meyer was assisting a driver on the left-hand shoulder in Castle Rock, CO, when he was also struck and killed. As of August of this year, 14 tow providers have been killed while helping others at the roadside in 2021.
The AAA Foundation for Traffic Safety found that among drivers who do not comply with Move Over laws at all times: 42% thought this behavior was somewhat or not dangerous at all to roadside emergency workers.
To protect these individuals, AAA and other traffic safety advocates have led the way in getting Move Over laws passed in all 50 states and the District of Columbia. Yet, they find that nearly a quarter of people are unaware of the Move Over law in the state where they live.

And It's not just tow providers and other emergency responders being killed on the side of the road. Since 2015, over 1,600 motorists have been struck and killed while outside of a disabled vehicle.
The reality is that drivers are increasingly distracted while driving. Previous AAA Foundation research has found that drivers are up to four times as likely to crash if they are talking on a cell phone while driving and up to eight times as likely to be in a crash if texting.
If you see something, anything, on the shoulder ahead, slow down and move over. It could literally save someone's life.
Responding to RVTravel.com Article
Recently, our friends over at RVTravel.com released an article about the state of new RVs in the RV industry, and several of you wrote in and asked me to comment on it. The article is titled "Pathetic quality": RV dealers are fed up with what manufacturers are producing"
An RV Travel reporter was given the opportunity to listen in on a nationwide conference call between dealers, in which one dealer was quoted as saying "It's some of the worst stuff I've seen in 30 years…It's horrendous inside and out. But we have no recourse but to put it on the lot and try to sell it. You take what you can get, and you move on."
The dealer goes on to say that manufacturers are "building them as fast as they can, and there just isn't any quality control. Manufacturers are not doing a good job of taking care of their customers. It's gone from bad to worse."
The article went a bit viral and was quoted by a handful of other major websites. While it's very clear that the RV industry has quality control problems, and has for years, I wish the article went a bit further than just one anonymous quote from one dealer and followed up with some on-the-record conversations.
It is true, there is 100% a problem with quality control and there has been for years, but it's important to not paint every manufacturer with the same brush.
Yes, there are only a handful of big parent companies, but having done factory tours during this crazy busy time for RV sales, and having spoken with dozens of dealers, I can tell you that, over the course of the last year and a half, some manufacturers have been cranking RVs out at a breakneck speed and have let quality control slip even further.
I can also tell you that many manufacturers have responded in different ways. Some have not increased production at all. They only have the capacity to produce so many units and don't have new labor, facilities, or parts to build faster.
Some have streamlined their process. Take Sabre, for instance. Full disclosure, we're brand ambassadors for Sabre, but in order to go from 16 units a day to 18, Sabre streamlined their processes, making everything standard. There are no dinette or table options, or refrigerator options. They make 5 floorplans and they make them well.
Some manufacturers have actually dramatically stepped up their quality control, building multi-million dollar facilities recently to handle the process. Others are trying to keep their output high and prices low by cutting corners.
Some dealers are perfectly happy to carry any brand, other dealers will cut their orders if a manufacturer's product has become a headache for them and go to someone else.
The bottom line is, each unit is unique and needs to be judged on its own. I'm not here to defend the industry, because the problem needs to be addressed. But it's much more nuanced than one anonymous quote from one dealer that's gone viral.
Tips for Buying a New RV from a Dealer
Have the unit professionally inspected by a third party, buy from a brand with a reputation for standing by their warranty, and from a dealer that actually has the capacity to service units.
Question of the Week
Bought an RV recently? What has been your impression of the quality so far? Let us know in the comments below.
---
Have a story to share for an upcoming RV news article? Email us at [email protected]