by Jason Epperson
Look around you … that Jetsons' world of the future that feels like it never arrived is actually slowly seeping into our society. Don't believe me? Haven't you seen somebody pay with their smartphone at the grocery store? You can even go buy items from certain shops without interacting with a checkout counter or machine. Do you know somebody who owns a Tesla? The adaptive cruise control on those puppies will pass a vehicle in front of you all on their own. Oh yes, self-driving cars are much closer to reality than you think.
As are self-driving RVs. One day you will be able to hang out on the couch in your motorhome as it drives itself to your next campground. We can debate whether that's a good thing at another time. But what does that campground look like? That's a query that has the brains over at KOA (Kampgrounds of America, Inc) ticking.
You can already say "Hey Alexa, order me some more laundry detergent"—what if you were sitting around the campfire, running low on wood, and could say "Hey KOA, bring me some more firewood"?
That's one of the ideas KOA will present at the RV industry's RVX trade show next month. An interactive exhibit will present concept campsites through virtual reality, asking attendees to immerse themselves into five futuristic campgrounds in urban, seaside, forested, mountainous and desert settings.
What if, when you arrive at a campground, geofencing technology triggered your phone to automatically check you in and an app opened to guide you directly to your site? And then a decade later the app becomes obsolete as your RV guides itself to a campsite, levels itself, and connects to the hook-ups on its own?
We're probably well past the point where many of you began shaking your fist at the idea of technology-enhanced campgrounds, but KOA is actually looking for new ways to help campers connect with nature. For starters, they want to blur the lines between the indoors and the outdoors with ideas like convertible open-air common spaces, retractable roofs on cabins, maybe even glass-floored campsites that perch campers over natural landscapes such as streams and valleys. They're looking at gathering spaces that fit in closer with the environment, and recreational activities more focused on outdoor activities. Trails may lead directly into a campground, and play structures could have more natural features.
See, it's not all voice automation and self-driving cars. In fact, one of the biggest focuses is on environmentally-friendly campground design. Several of the features that will be on display at the Campground of the Future exhibit already exist and are being actively tested on KOA campgrounds.
"We have a massive Solar Parasol structure that covers two acres of RV sites at our Tucson/Lazydays KOA Resort in Arizona," said KOA President Toby O'Rourke. "That structure supplies more than enough power for the campground, while providing partial cooling shade for the RVs parked beneath it. That's just one example of the futuristic steps that are already being taken."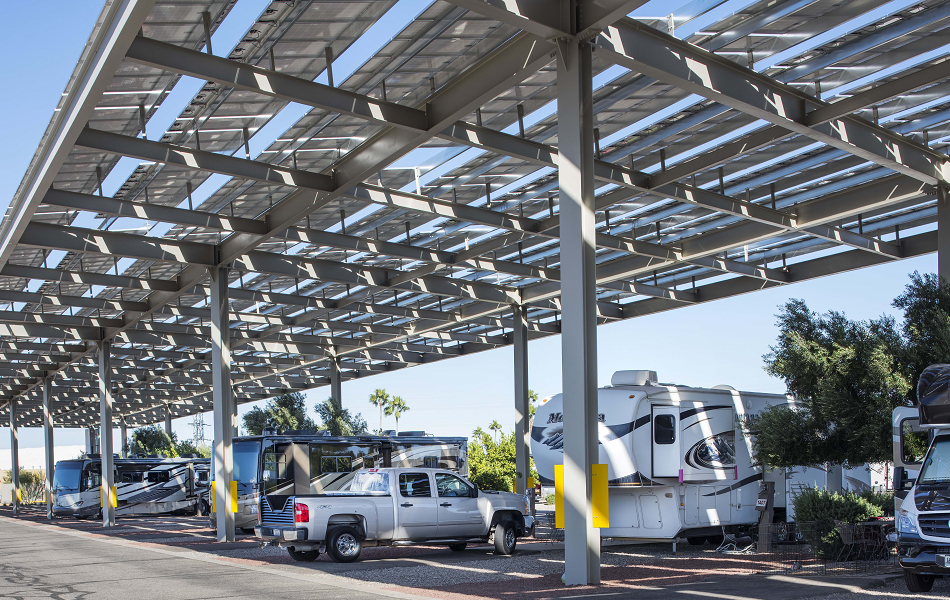 "Advancements in technology and the ever-evolving approach to environmental standards will certainly impact how people prefer to interact in the outdoors through camping, and also impact the way we design campgrounds in the future," said O'Rourke. "We believe camper expectations will continue to increase over time, and the thoughtful use of technology will play a key role in meeting those expectations."
Of course, campgrounds would be wise to not forget the things that they can provide today that make a lot of RVers happy—spacious flat sites, clean facilities, top-notch customer service, and affordable prices.
What does the campsite of the future look like to you? Let us know in the comments.