Photo: Students from Concord Junior High School in Elkhart participate in the LEAP program | Courtesy of Concord Junior High School
by Jason Epperson
One of the biggest problems facing the RV industry today is a lack of workers available to meet the ever-growing manufacturing and service demands. Short-term solutions like job fairs and hiring bonuses are band-aids to a major awareness obstacle, and the world's largest RV manufacturer has its eye on the long game.
In October of 2017 Thor Industries — parent company of Airstream, Jayco, Heartland, Keystone, and many more — launched an educational outreach program to bring the RV industry into grade schools and high schools near their Elkhart, Indiana manufacturing facilities. It's called LEAP, an acronym for "Learn, Engage, Achieve, Perform," and Thor considers it a rousing success. LEAP is more than an introduction into the RV industry, however. Through the program, kids participate in activities that teach them how to solve problems in the manufacturing process, and about all the ancillary career paths available, from design to engineering to marketing and sales.
Rick Schutt, Thor's director of community engagement, heads the program. "The students really enjoy the Lego assembly line, where they each have a specific job and must work together as a team to build RVs out of Legos in a designated time period," he said. "There are built-in flaws in round one that the students must identify and solve. They have greater success in round two, showing them the importance of process improvement and cutting down on waste. The activity not only gives students a glimpse of what goes on inside the factories, but also helps them learn problem-solving and team building skills."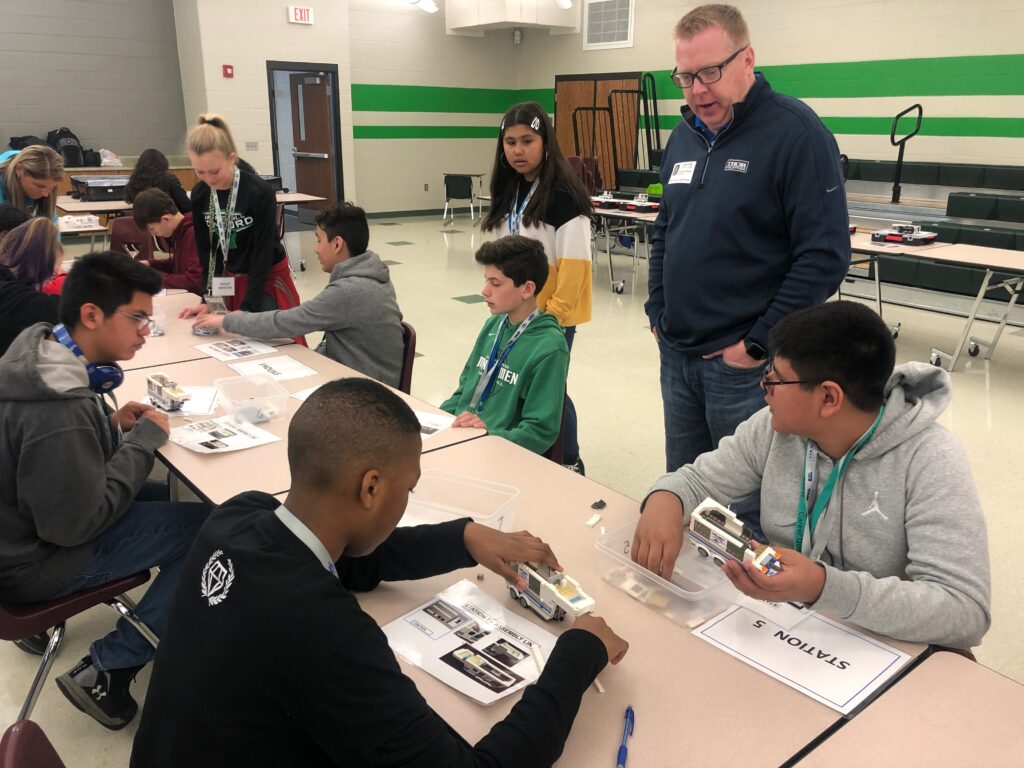 Educators love that kind of instructional opportunity, where real-world professionals directly interact with students to show them how their education relates to real problems. "Teachers and administrators especially like that the program helps school districts meet Indiana's educational requirements of applied learning and real-world experience, and LEAP helps to facilitate those classroom-to-real-world connections." Schutt continued.
We spoke with Rick in the fall on an episode of the RV Miles Podcast as he prepared to enter LEAP's second school year. Since, the program has reached 5000 students in the Elkhart area. I spoke with Schutt again recently as the 2018-2019 term wrapped up. He said that this year they were able to bring RVs to the schools for students to tour, which was eye-opening for the 5th-graders, 8th-graders, and high schoolers the program targets. "We have a lot of students say that they're interested in working in the RV industry, which is one of the program's goals," Schutt said. That's good news for an industry desperate for workers, though planting the seeds for future RV purchases can't hurt either.
"We're actually expanding the program this summer beyond schools and offering a variation of LEAP to a number of organizations including the Boys and Girls Club of Elkhart County and the Girl Scouts of Northern Indiana," Schutt continued. "LEAP is raising awareness not only for the Thor brand and its subsidiaries, but also for this huge industry right in the students' own backyard. Students are starting to realize the variety of career opportunities available to them within the RV world –– not just manufacturing jobs, but also roles in accounting, human resources, marketing and beyond. We're proud to see the program's growth in such a short period of time, and we're looking forward to seeing the long-term influence LEAP has on these students years down the road."
Moving forward, Thor plans to continue its successful partnership with Elkhart County area schools and is currently reviewing ways to bring the LEAP program to schools in the surrounding counties. "The goal will be to add more schools and students to the program and raise awareness of this amazing industry and all of the career pathways available to students," Schutt concluded.