It's that time of year! Our spring gear guide is here, full of great products and gifts to make RV travel and camping easier and more fun! Below are our editors' top picks for gear to help out any RV owner. Click on the links to purchase. You can also listen to Jason and Abby cover them on the RV Miles Podcast:
---
These hangers are a little pricey, but they're half the height of a regular hanger, giving you more storage space under your clothes. They're also space-saving thin and covered in a non-slip coating that will keep your clothes from bouncing off on the way down the road.
---
There is no other type of ladder that saves as much space. They're a little flexible, but can hold 350lbs and extend to 13.5 feet. Tall enough for any RV roof.
---
Squirt or spray bottles are phenomenal water-saving devices. Use them to pre-soak dishes with soapy water, to wet down crazy hair in the morning, to tame grill flare-ups… they have dozens of uses.
---

This new generator from Champion is unlike any other portable unit on the market. It takes some of the function and fuel savings from a more expensive inverter generator and packs it into a low-price, quiet standard frame generator. Champion says it's a little louder than speaking voices at 27 feet away.
---
If you don't have an outdoor light on your RV where you want it, these little affordable guys are very useful, particularly placed low near a doorway. When it gets dark, they stay on a low setting at all times, and then a motion sensor turns them bright when someone approaches. Installation is a breeze with a super-strong sticky backing, and they recharge in the sun!
---
This handy gadget turns your RV's ladder into a clothesline, flagpole, bird feeder, wind chime, or anything that you can hang under 20lbs. It's a solid piece of thick aluminum and folds down for driving.
---
This cool device pops into your standard overhead vent to create a light-blocking shade for those late-risers, or to keep sunlight (and heat) out in storage.
---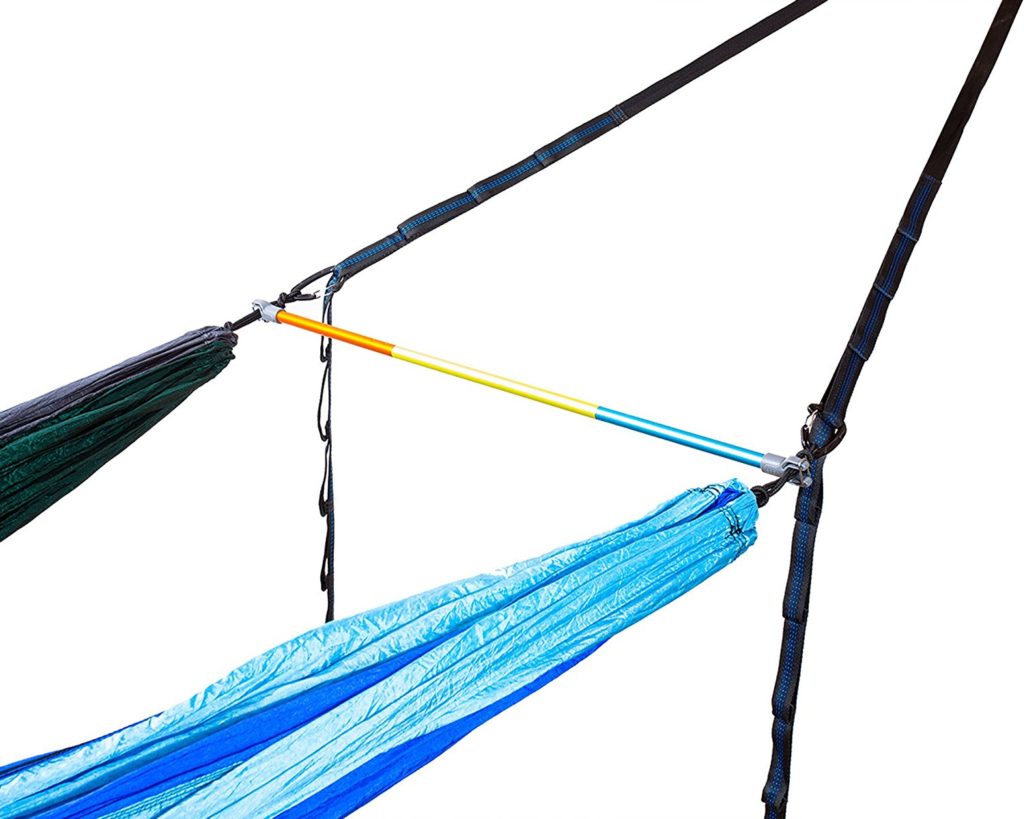 There's rarely a spot to hang 2 hammocks on a campsite. This cool device from one of the more popular hammock brands, ENO, allows you to hang them side by side from the same two trees. You'll need to supply your own hammocks, and two pairs of hammock straps.
---
Kelty has re-designed all of their child carriers to incorporate an automobile inspired aluminum roll cage, keeping your child protected in the case of a fall. This model also comes with a removable daypack, diaper changing pad, automatic kick-stand, and is hydration bladder ready.
---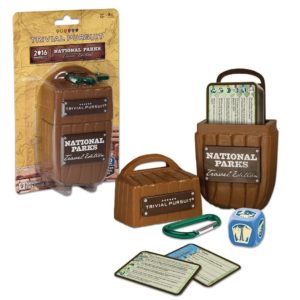 Games are the best way to wait out the rain. We love these national park themed editions.
---
After the Instant Pot, Blackstone Griddles are all the rage at campgrounds. It's a portable propane powered griddle, allowing you to cook bacon, eggs, steak, burgers, and whatever else at the same time, dirtying one easy-to-clean surface.
---
Even if you already have a shower, these affordable little devices are great to tag along to the beach, to rinse your little one's feet off before jumping into the RV. They're also a great way to avoid using your water heater when off-grid. You just fill with water and let the sun heat it up.
---
Monthly surprise subscription boxes are all the rage – and Cairn is one of the best. Pay a subscription fee of $29.95 a month, and you'll get a box full of outdoor goodies shipped free to your door, worth $50 or more. Things like beanies, cliff bars, knives, headlamps — all kinds of cool stuff!
---
We've created some travel inspired T-Shirts to help you support RV Miles. If you love what we do consider one of these super-cool premium Ts, available in men's', women's' and children's' sizes and a variety of colors.