It's that time of year! Time for the RV Miles holiday gift guide. We have all kinds of items that will make the camper or public land lover in your life smile. We are doing things a little differently this year, and instead of one big RV Miles Podcast episode, we are sharing suggestions all season long, which means this article will continue to grow all season long too, so keep it handy for when you need an early, mid or late in the season gift idea.
Watch us talk about some of the items below and why we think there great:
---
Clothing and Shoes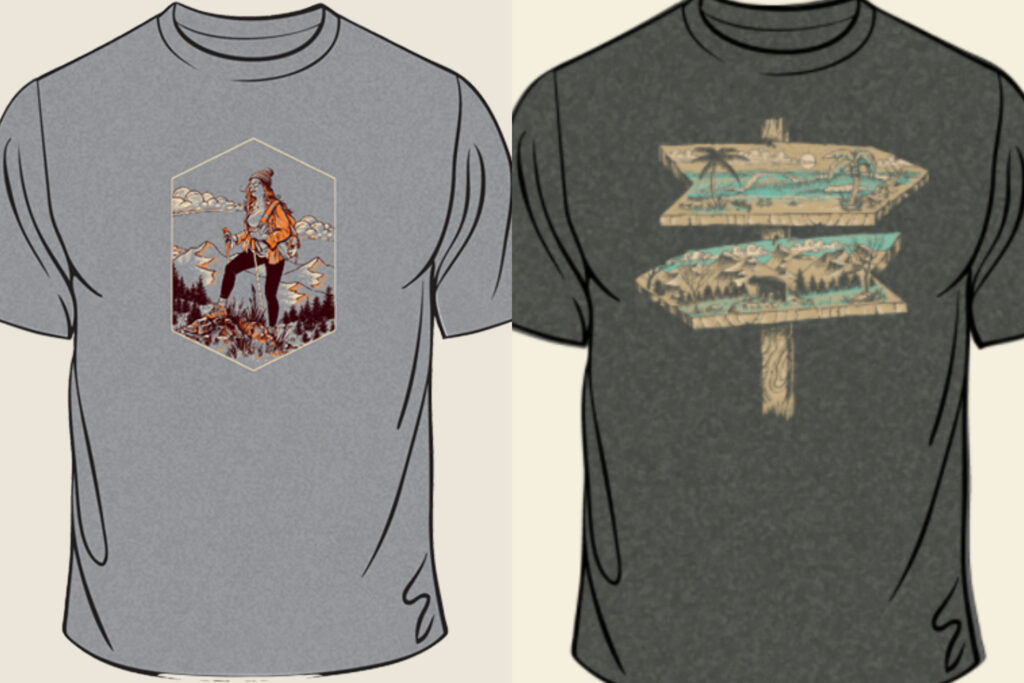 A Holiday Gift Guide favorite, American Backcountry is back again this year, because we absolutely love their shirts. This year's National Park themed favorites are the Hiker Gal tee and the Trailhead tee. Both retail for $25.99 on American Backcountry's website.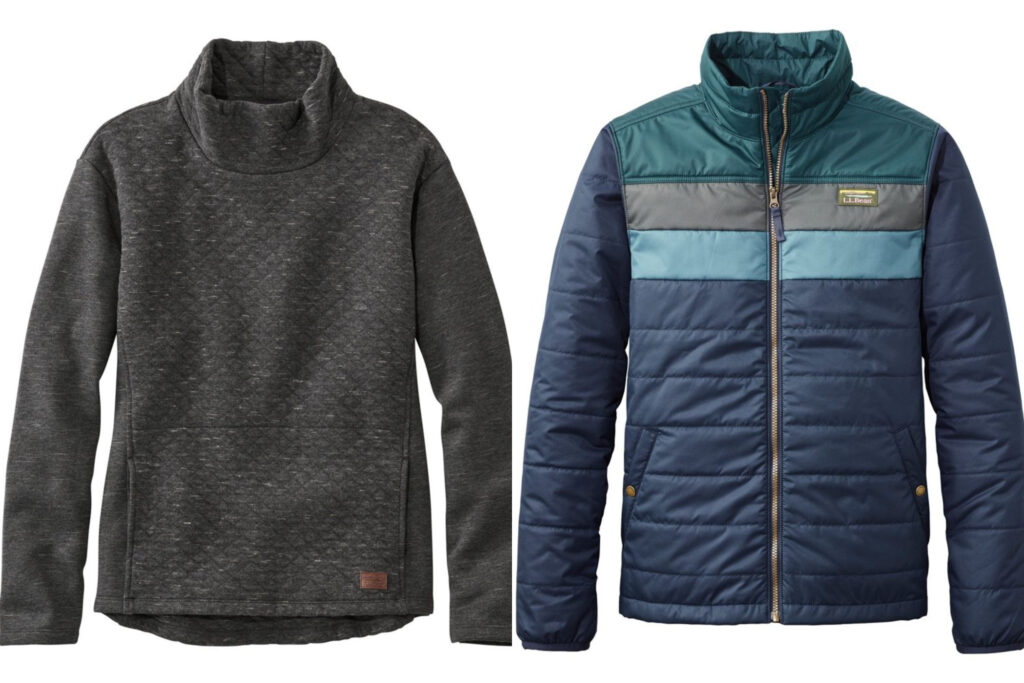 As the years have ticked by and we've continued our partnership with L.L.Bean, or respect for the brand has only grown. Tough, stylish, well made, and cozy, you can't go wrong with an L.L.Bean gift. This holiday it's all about comfort and getting outside thanks to the Women's Quilted Sweatshirt (Abby has the pullover version), the world's softest sweats, and the warm Men's Mountain Classic Puffer Jacket.

Show your love for us at RV Miles! Starting Wednesday, 11/25 through Sunday, 11/29 save 25% off your entire order in our Teespring store. We have t-shirts, coffee mugs, RV Miles stickers and so much more!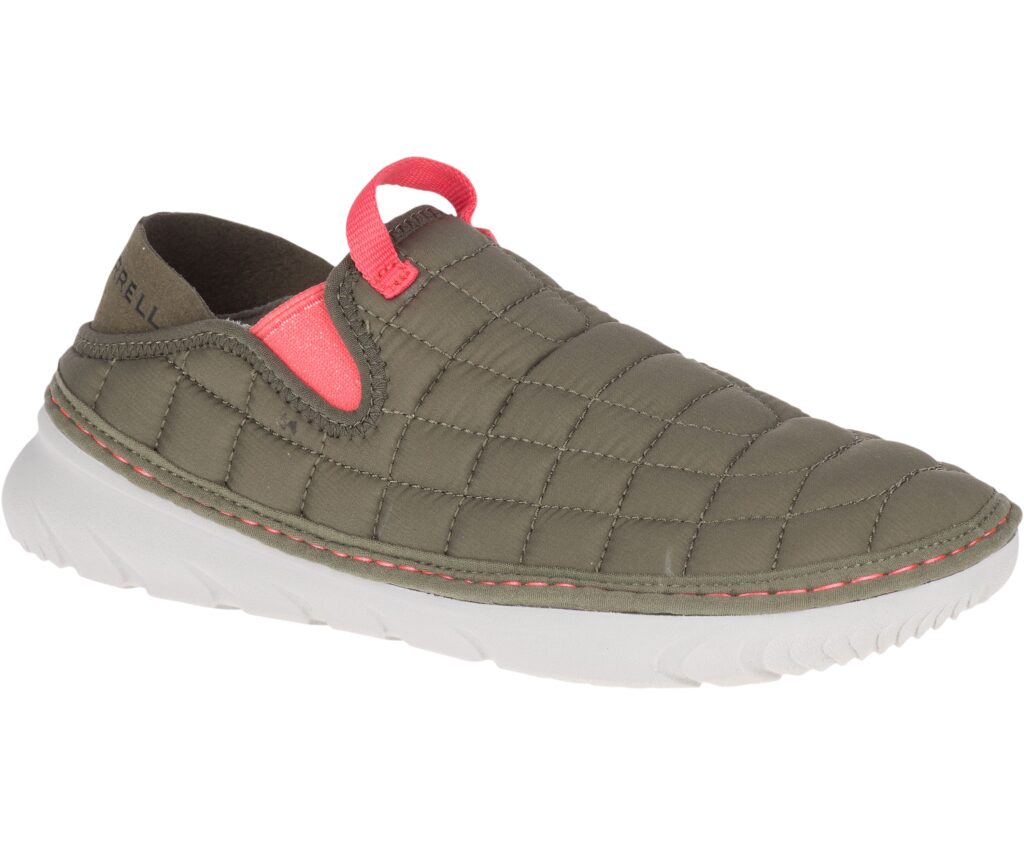 Easy to slip-on and perfect for the campground, Merrell's Hut Moc is a great addition to those easy relaxed days around camp. Retailing for $80, we have the Olive Hut Mocs and love how lightweight and portable they are.
Gadgets and Gear for Camping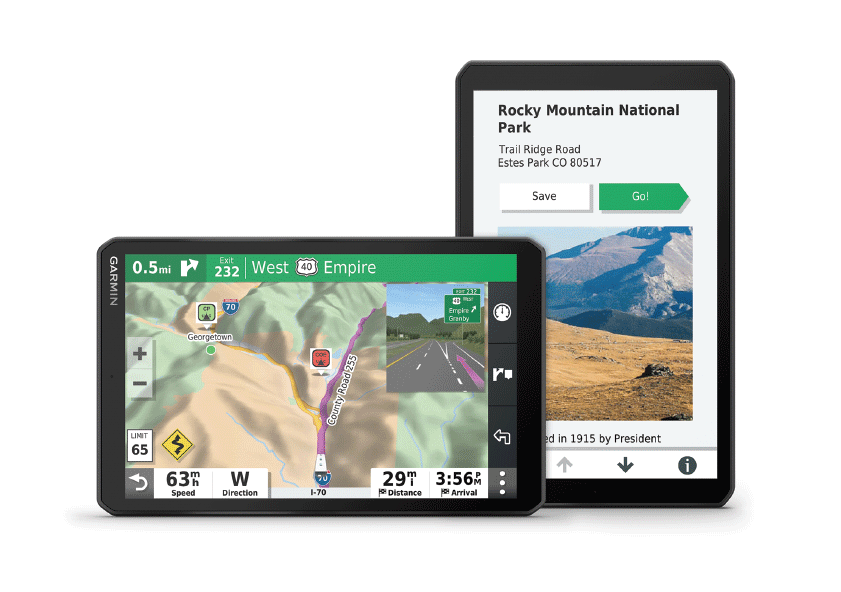 Garmin made a big update to its line-up of RV GPS units this year and the results are impressive. The new RV 890 can be used in horizontal or vertical positions, mounted magnetically, and has a large 8″ touch screen. At $499, it's a pricey holiday gift, but it's just as at home in a truck or motorhome and you'll find yourself using it even when you aren't pulling the trailer.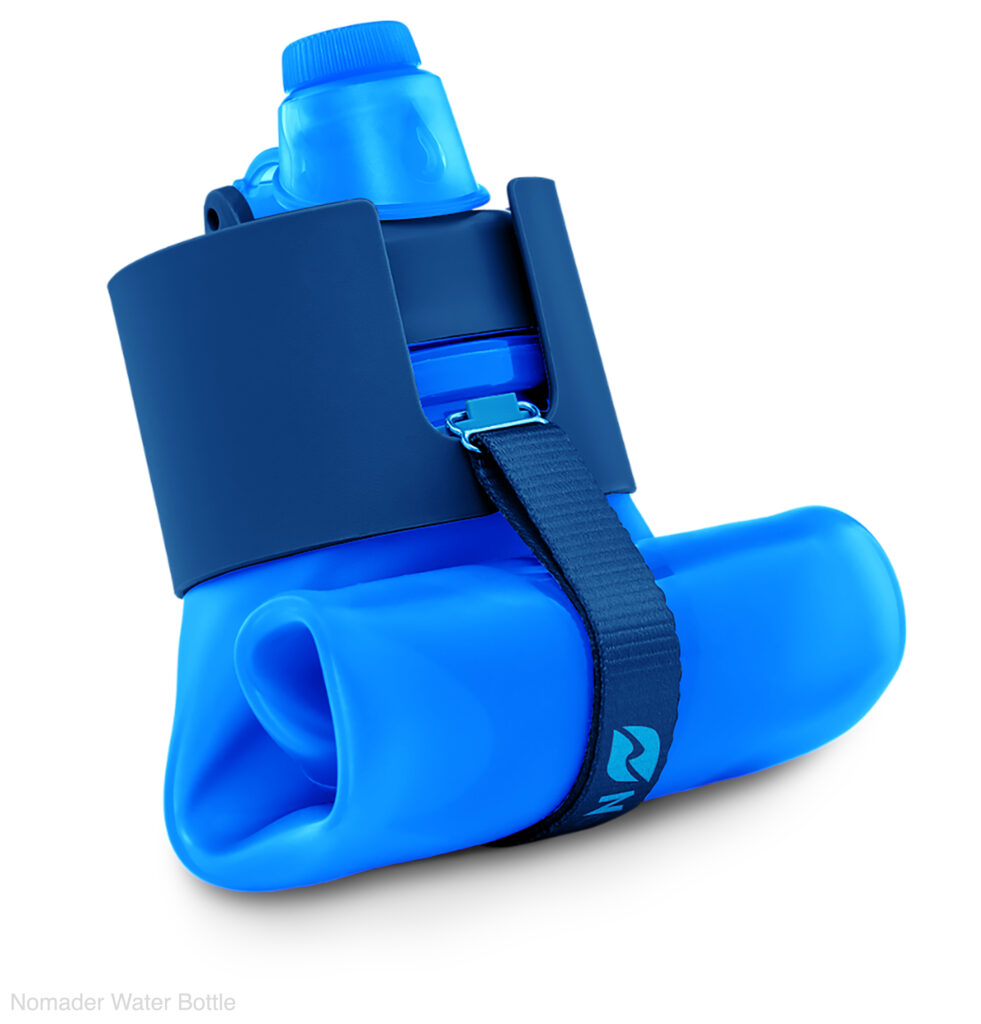 Looking for a water bottle that you can take anywhere, won't take up much space, and is super light? Then this Nomader Collapsible Water Bottle is your bottle. At only $24.95, the Nomader makes a great gift for anyone in your life looking to spend more time outdoors and want to up their hiking gear game.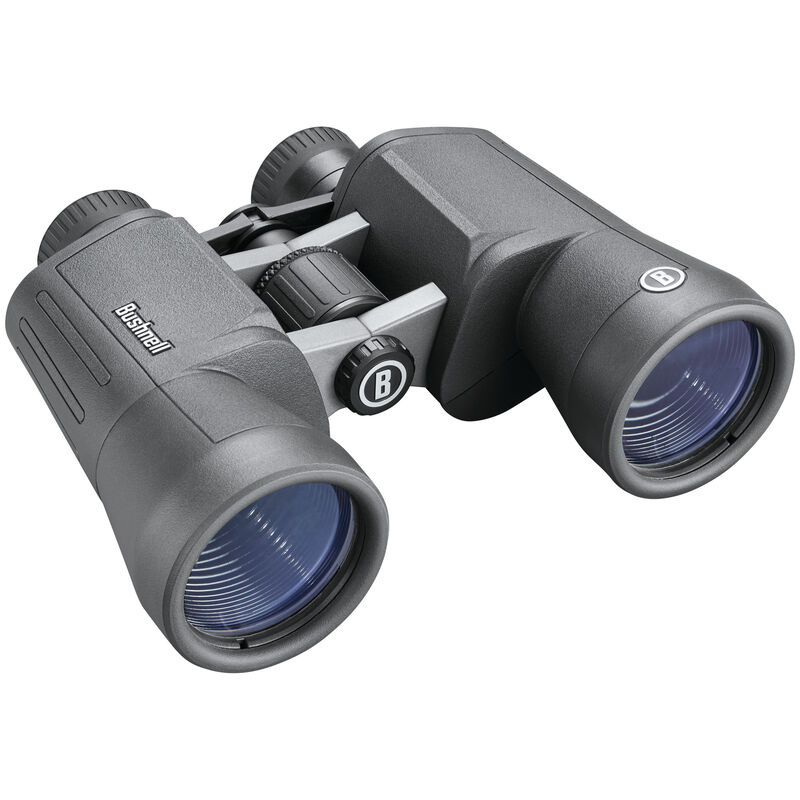 Over the years we have owned some pretty bland binoculars and have learned our lesson – quality matters and Bushnell is synonymous with quality. Sharp, clear, lightweight, and priced just right, Jason shares his thoughts on why the Powerview 2 would make the perfect gift on episode 171 of the RV Miles Podcast.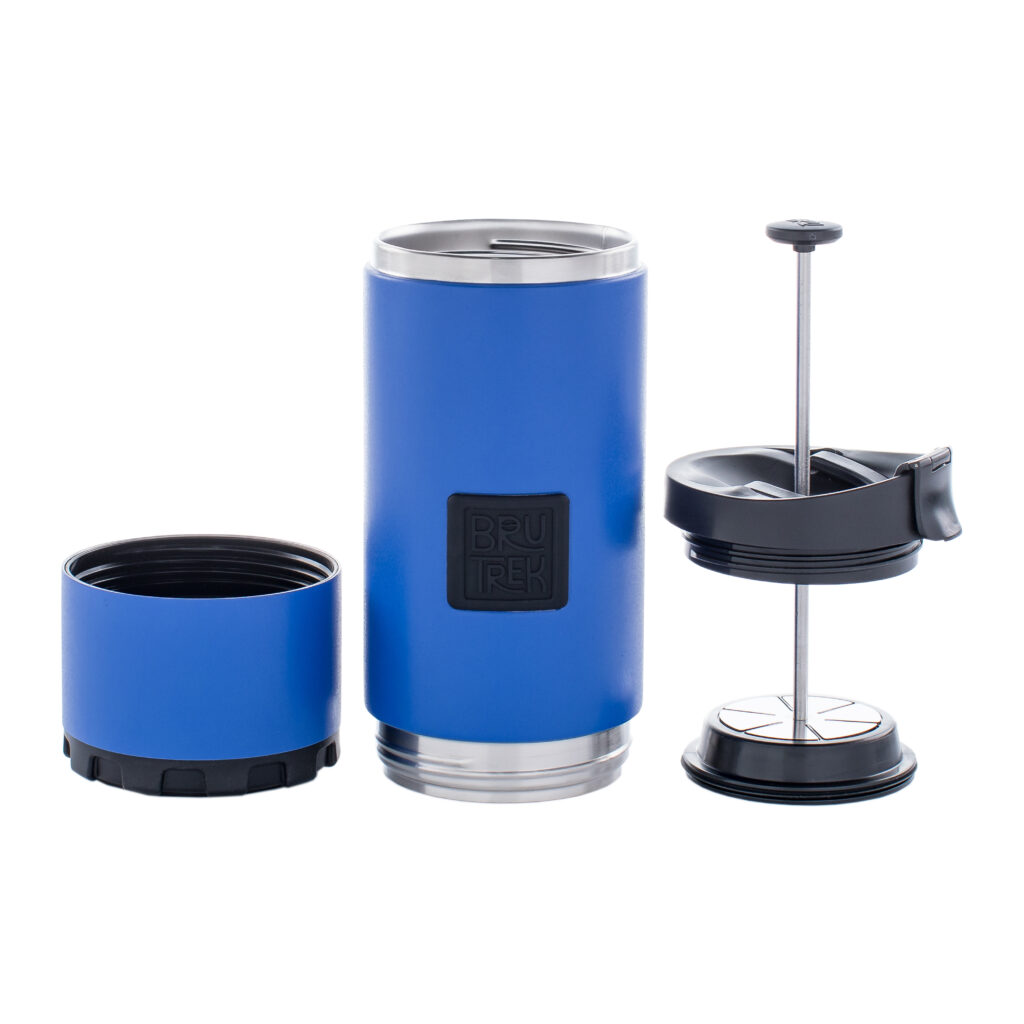 Have an avid boondocker or tent camper in your life who can't live without their morning coffee? Or maybe you just want to downsize the number of kitchen gadgets in the RV? Then this is the perfect gift for them and for you! The OVRLNDR French Press was designed with the camper in mind and makes brewing a cup incredibly easy. Best part? The easy to dispose of coffee grounds thanks to a removable bottom. Abby shares her enthusiasm for the OVRLNDR on episode 171 of the RV Miles Podcast.

Keep drinks cold or hot longer with the 64 oz bottle from Pelican Coolers. One of our favorite things about RV travel is checking out all the local brews and bringing our favorite back to the campsite, and this 64 oz bottle is perfect for that. Versatile, it'll be a great addition to someones camp kitchen setup.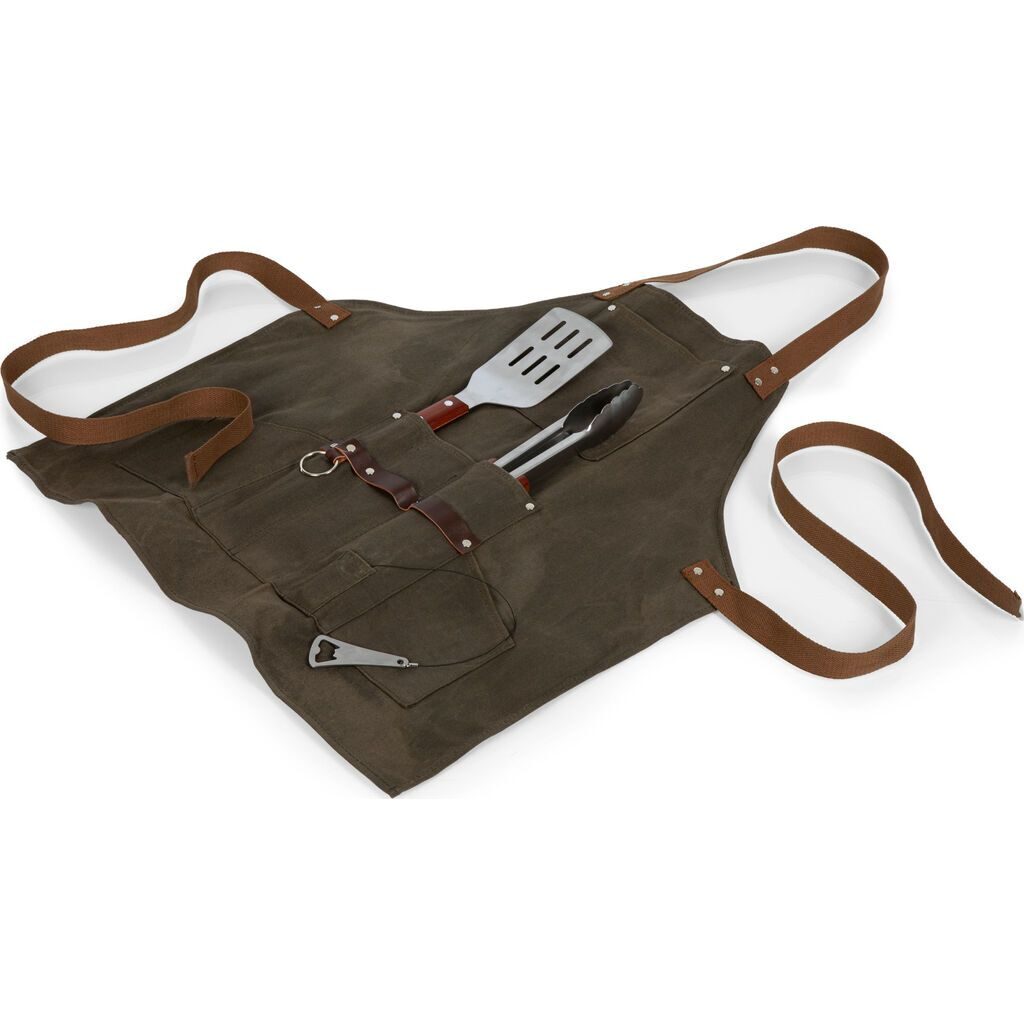 Have a grill master in your life? This canvas apron with a set of tools makes for a great gift and is one that Jason has been so pleased with. Keep those grease splatters off your clothes and look good doing it.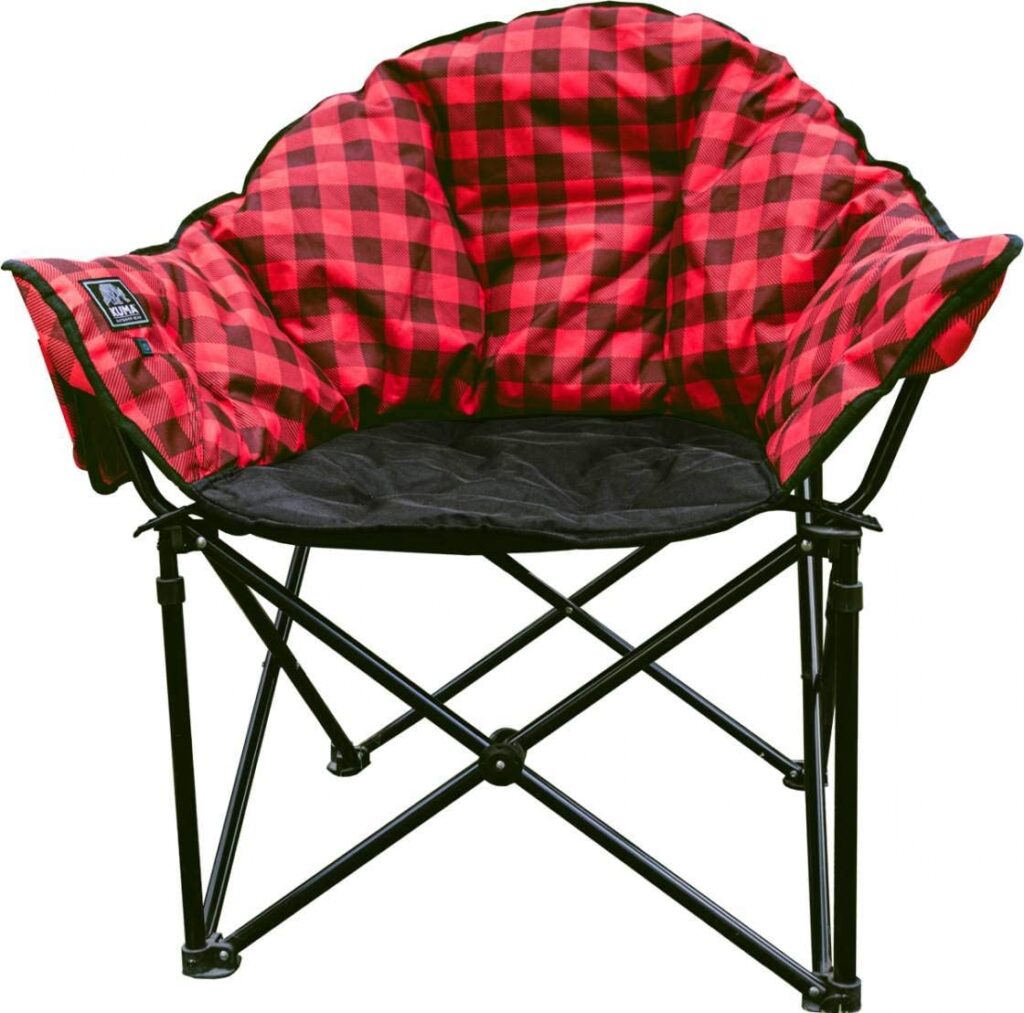 A heated chair? A legit heated chair? Yes, please! We absolutely love this chair from Kuma and if you've got someone who is always running cold, or perhaps does a lot of camping in areas where fire bands are common, give them the gift of warmth so they can sit around the campsite later and longer. They will love you for it!
Stocking Stuffers: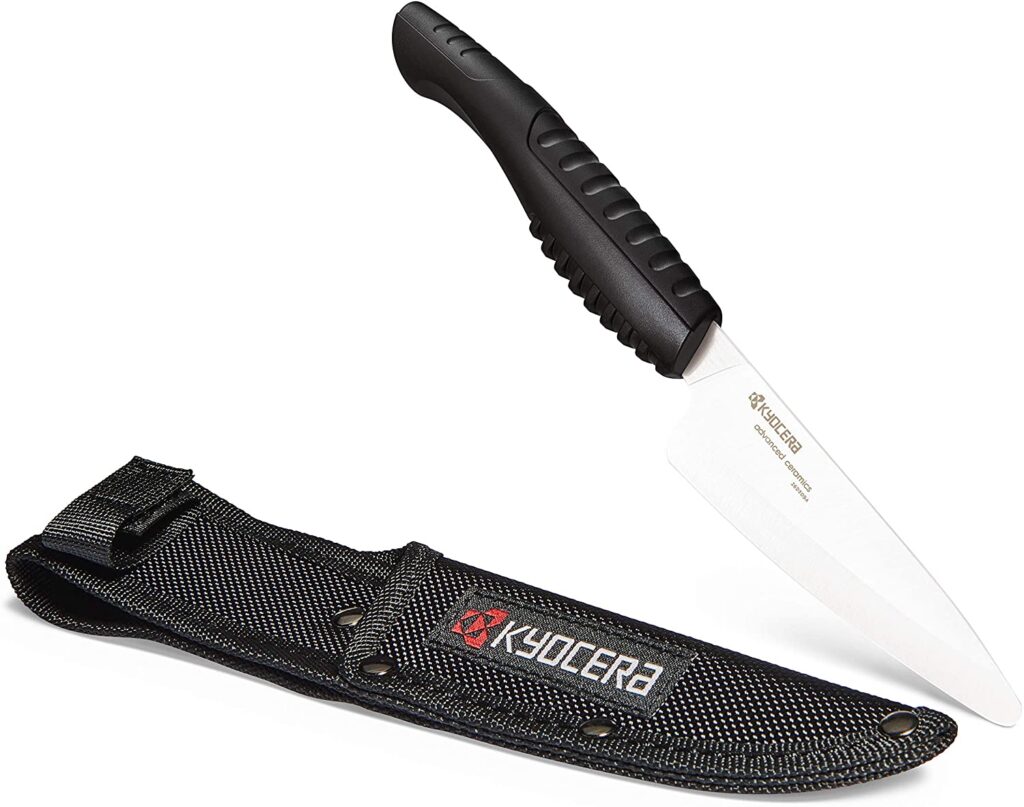 Made from Kyocera's very own proprietary zirconia material produced in Japan this knife is ultra-sharp and features a ceramic 4" blade that will maintain its edge up to 10x Longer than a steel blade. It's also lightweight and easy to clean, making it perfect for packing a picnic and spending a day in a National Park.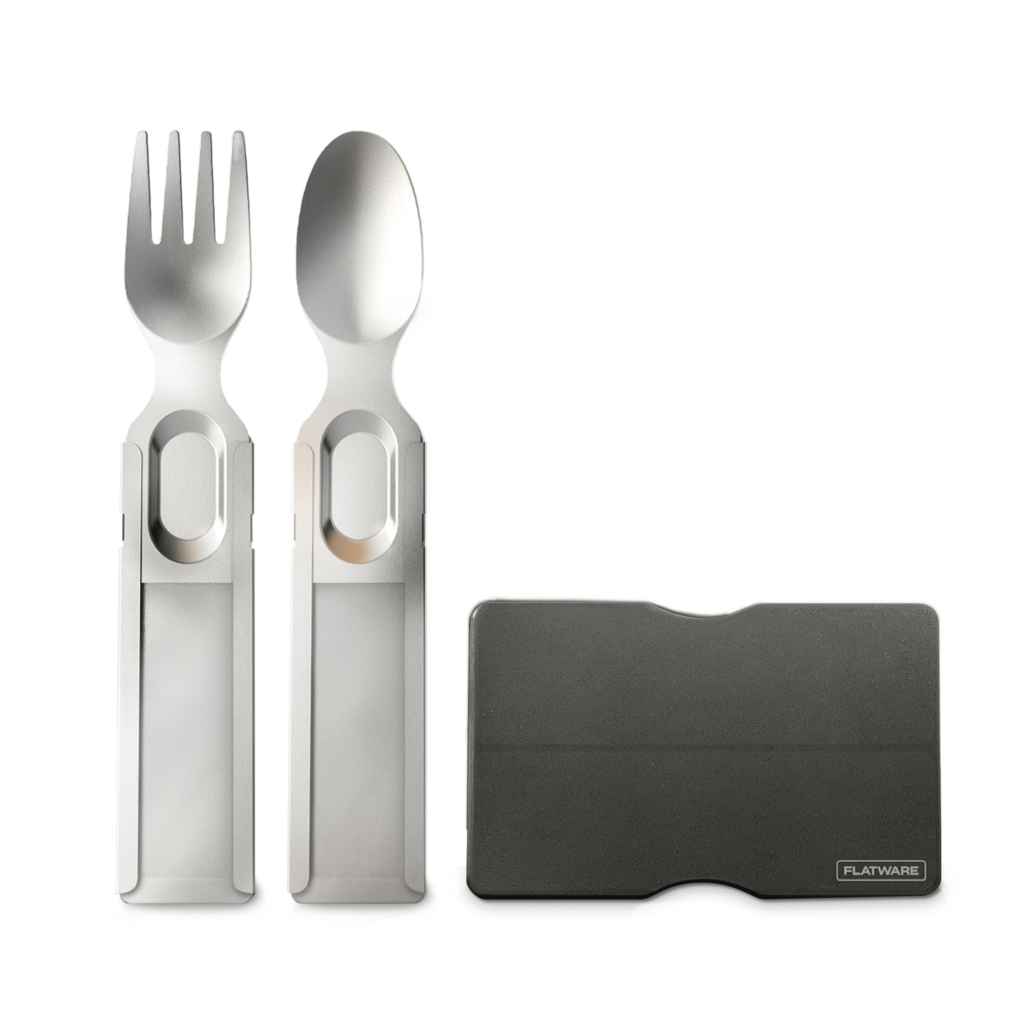 GoSun Flatware is a reusable, stainless-steel cutlery set to stop single-use plastic. Fits in your wallet, purse, or pocket—making it ideal for camping, travel, & take-out.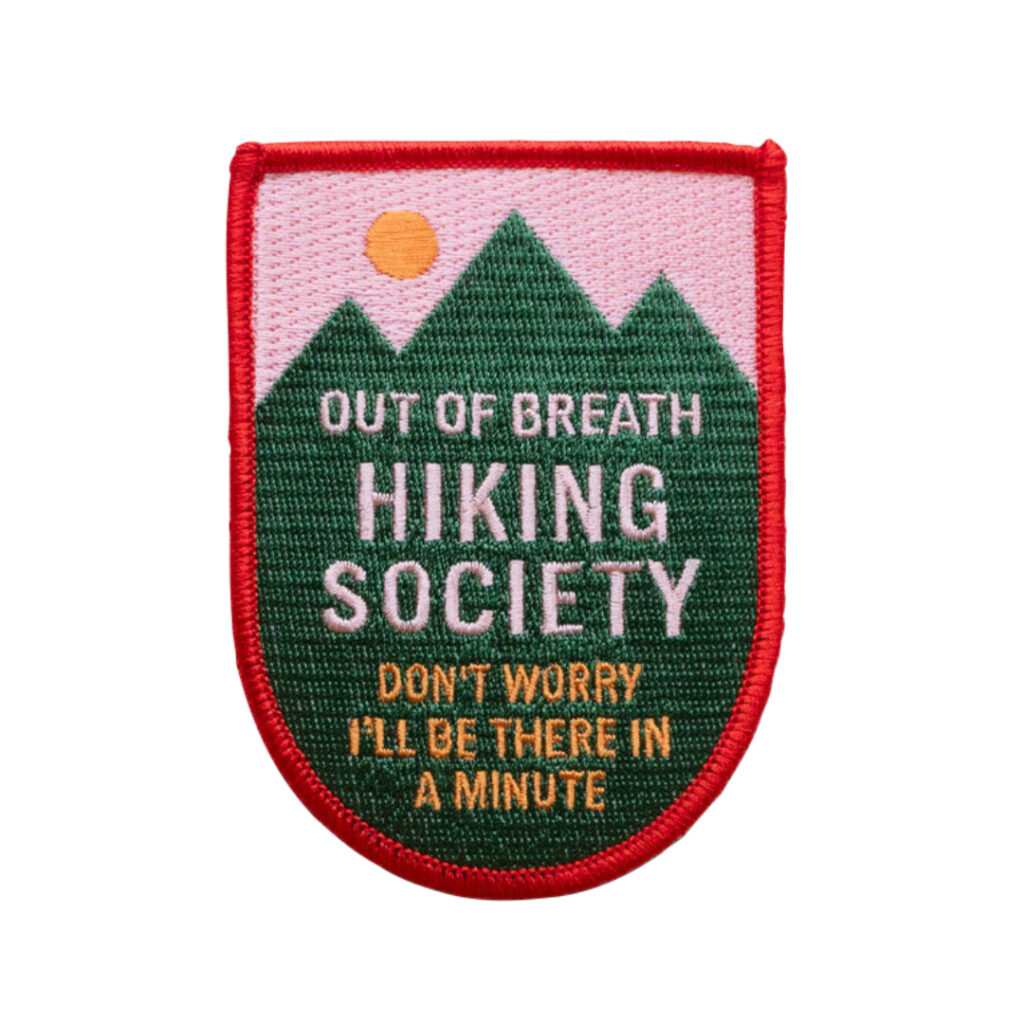 Be a part of one of the coolest societies out there, the Out of Breath Society with this fun patch from The Outer Sunset. The patch or sticker makes a great stocking stuffer.
Books
Our friend Chuck Woodbury of RVTravel.com has put together an easy-to-read Q&A style book asking all of the most common questions when it comes to RVing. The ABC's of RVing is the perfect gift for those new to RVing or those interested in the RV lifestyle.
Texas Poet Laureate's Karla Morton and Alan Birklebach have put together a beautiful collection of work dedicated to our National Parks. It's available for pre-order and features stunning photos of all 62 National Parks and is an elegant reminder of how important it is to save these natural wonders for future generations.
Want to give the full-time RVer the gift of books without asking them to compromise their limited space? Available to gift in 3, 6, 9 and 12-month memberships, an Audible Gift Membership is a perfect gift for the avid reader or RVer in your life, and one our family has been enjoying for years.
Kids and Family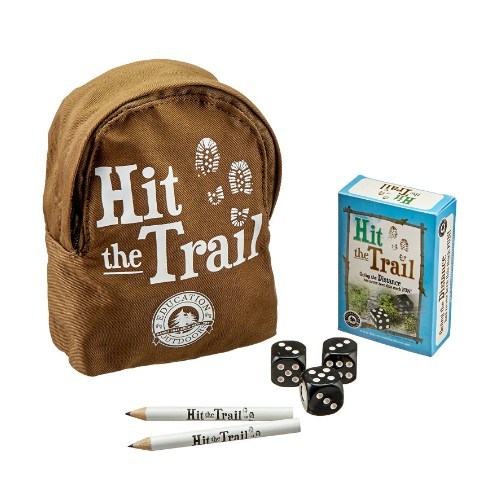 We keep this game in our backpack and love how compact, lightweight, and easy to play Hit the Trail is. If you're looking for a game the whole family can play anywhere, this is it.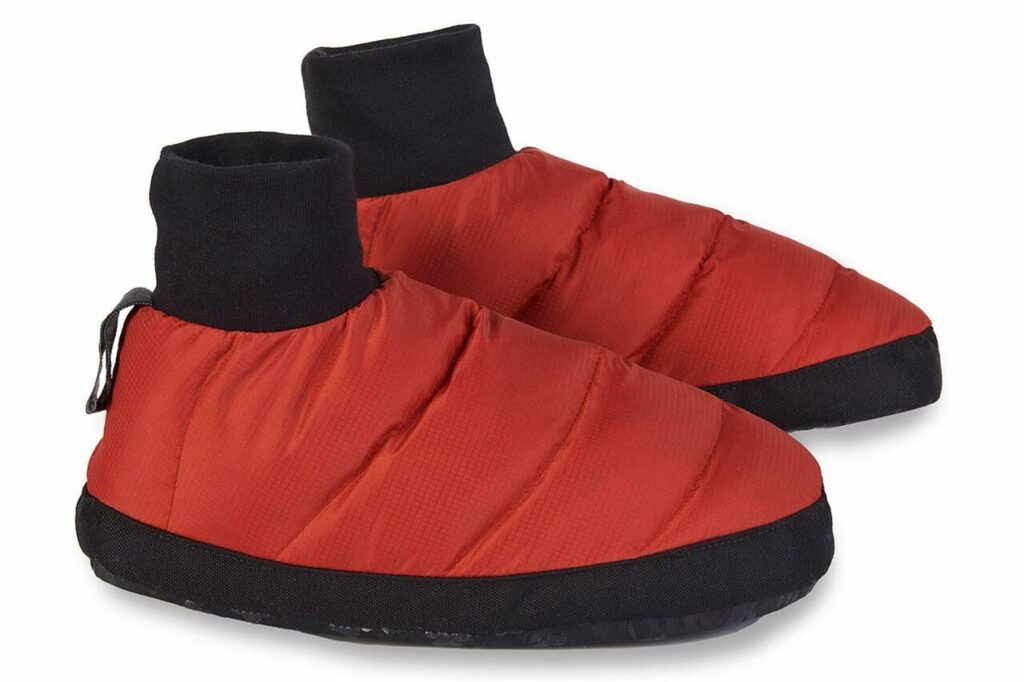 Easy to get on, easy to take off, and made to keep kiddos' feet warm around the campground, Sierra Design's Youth Down Mocs are a tough all-purpose shoe built for play (our kids like to pretend they are Astronauts and these are their moon boots).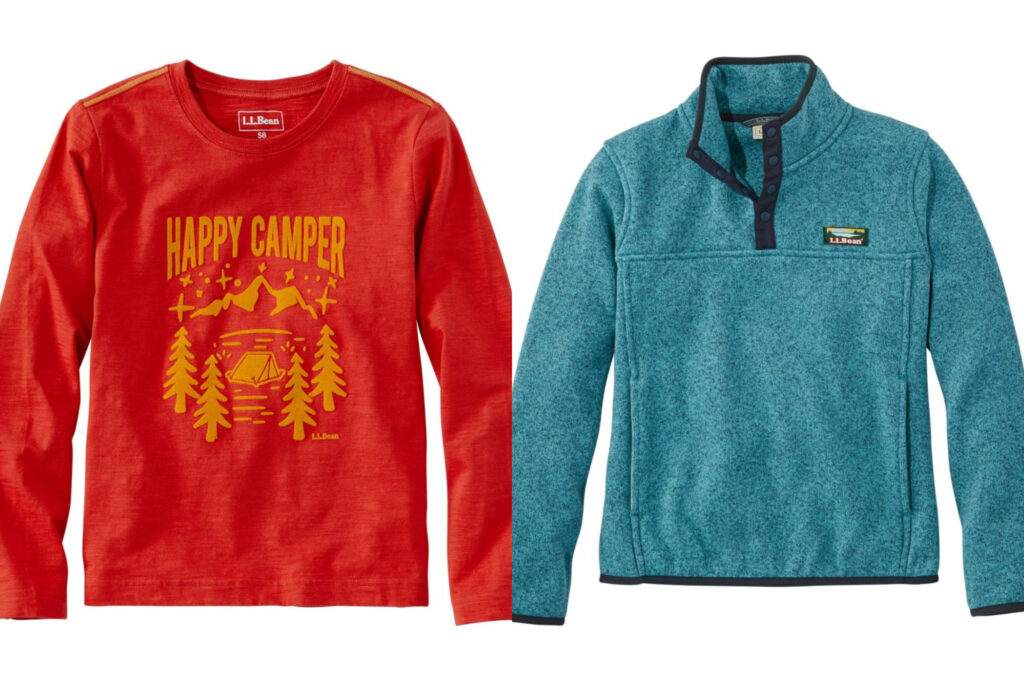 Getting kids outside and enjoying nature, even in the cold, is so incredibly important and L.L.Bean is a big supporter of projects that encourage families to get outside and explore. Our kids all own long sleeve shirts and fleece pullovers and not only do they look super cute wearing them, but they stay toasty warm. Encourage your happy camper to find their park and spend more time outdoors this winter.
Gift Boxes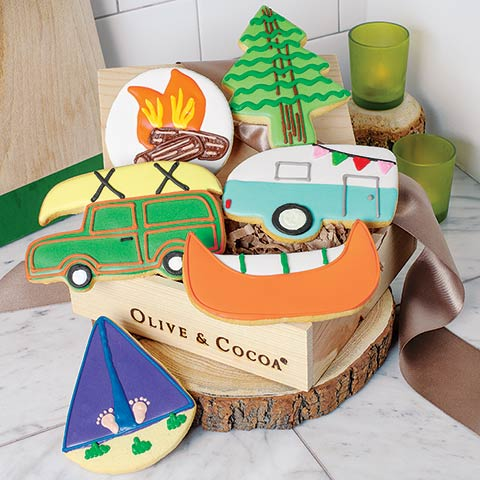 Want to send someone something just truly delightful, delicious and just plain fun? The Olive and Cocoa National Parks Cookie Set is just the thing. Our kids absolutely loved opening up the beautiful wooden box and discovering the artistically impressive and delicious cookies inside. Skip the popcorn tin this year and send cookies instead.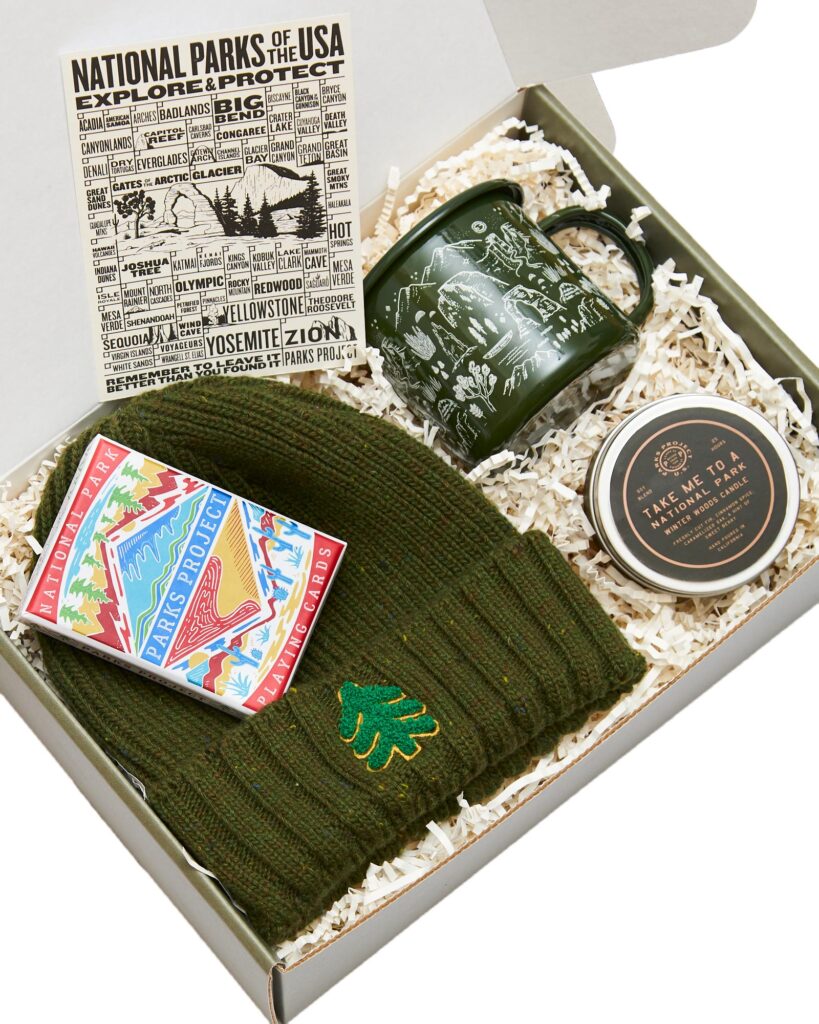 We are big fans of the Parks Project and this gift box has an eclectic mix NPS/outdoor-themed items making it a delightful gift to put under the Christmas tree. That said, even if this gift box doesn't tick off what you're looking for, odds are they've got something for the National Park lover in your life.
Subscriptions:
Have someone on your list who want for nothing when it comes to gear and gadgets, or perhaps is trying to limit the amount of "stuff" they own? A subscription or membership is a great way to gift something they can use all year long, and here are a few of our favorites:
Give the National Park lover the gift of the great outdoors all year long with an America the Beautiful Pass Annual. This pass will allow the owner free admission into all fee-collecting parks for one year. You can learn more about all the passes, their cost and why you might want one too, in the video above.
Got a road trip enthusiast on your list? Then Roadtrippers is the perfect gift! A Roadtrippers PLUS subscription will unlock tons of enhanced features, including up to 150 waypoints per trip, all designed to help them find the coolest attractions, best eats, campgrounds, hotels, and more along their route. Save 20% on a yearly membership with code RVMILES2X at checkout (making Roadtrippers PLUS only $25 for the year).
BONUS: Want to pick up a Roadtrippers PLUS for a friend and one for you too? Take advantage of their BOGO deal now through the end of the year.
For the RVer who loves to experience new places while traveling, a Harvest Hosts membership is the perfect way to help them do so. With over 1,200 destinations, Harvest Hosts offer RVers a unique place to overnight for free as they travel around. Wineries, breweries, museums, farms, and more are all waiting for the Harvest Hosts member to discover. Now through the end of the year, save 20% off a membership when you click HERE and use code HHFRIENDS20
Another great membership for the RVer in your life is Boondockers Welcome. Spend a night (or two) boondocking on a fellow RVers private property. 3 – 4 hosts even offer some kind of electric hookup if being totally unplugged isn't a reality. It's a great way to safely enjoy boondocking, and the RV community and a 1-year subscription is only $50.
Give the RVer in your life a membership that will cover almost all the bases. Togo RV Plus offers checklists, camping discounts, Roadtrippers PLUS and more is on its way. A Togo RV Plus membership is only $39.99, however, we've got a discount code! Save $10 when you use code RVMILES10X.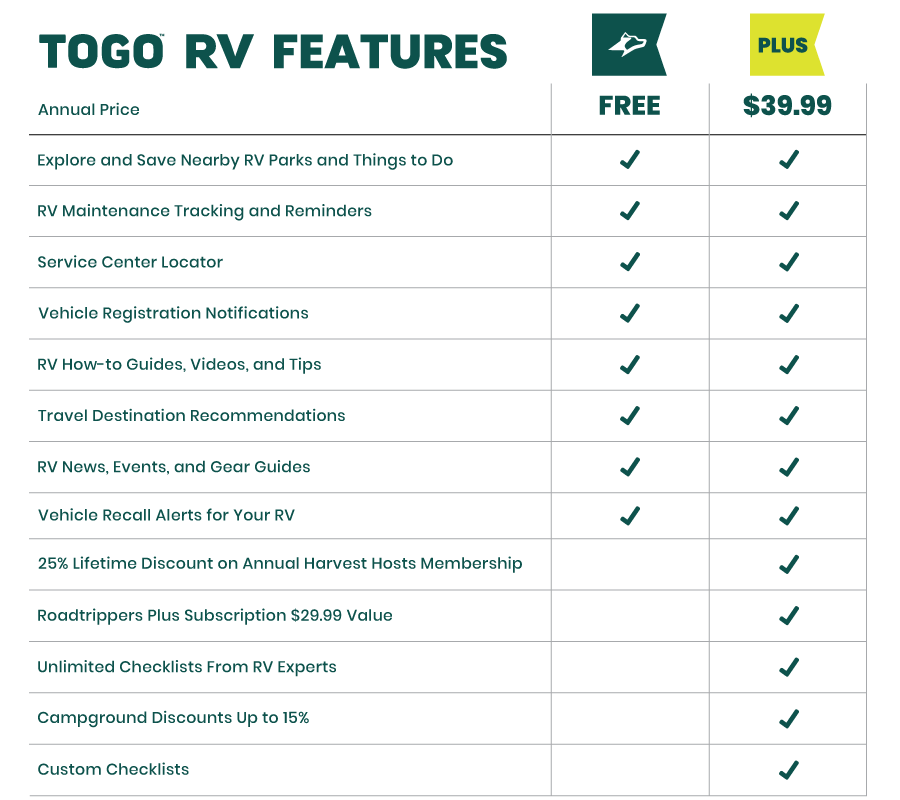 ---
What's on your holiday wishlist this year? Let us know in the comments below!