Our annual Holiday Gift Guide is here! We've got all sorts of goodies for every type of RV owner on any size budget — and we think two or three of our recommendations are bound to be the hottest items at the campground next season. From electric scooters, to board games, and the coolest camp clothing, find great gifts for the RV owner you love! You can listen to RV Miles Editors Abby and Jason break down the list on the RV Miles Podcast in the player below, or just search RV Miles in any podcast app.
---
The RV Miles Editors' 2018 Holiday Gift Guide
---

GoSun Solar Cookers
We're kicking off with an excellent gift for any cooking gadget lover out there. GoSun Solar Cookers cook hot meals at up to 550 degrees with just the power of the sun — perfect for the boondocker in your life. These things can steam, bake, roast, and boil – even when it's cloudy. They use special reflectors to grab all available heat from the sun and trap it into a borosilicate glass tube where it multiplies. The biggest reason we're recommending GoSun cookers this holiday season is their excellent Black Friday deal. Their three models are all heavily discounted for one day only: The GoSun Sport, normally $249, will be offered for $199. The ultralight GoSun Go goes for $139, but GoSun is offering it for $99 this Friday. Their other models and packages will be discounted as well, and RV Miles readers can take another 15% off the already discounted prices with the code RVMILES at gosun.co.
---

American Backcountry's 2019 National Park Shirts
We're big fans of American Backcountry's moisture-wicking tee shirts here at RV Miles. They're manufactured using 100% spun polyester, so you get great drying performance and avoid the cold and hypothermia concerns with wearing cotton on the trail — but they're incredibly soft. They look and feel like organic cotton, and are anti-microbial and stain resistant. And the designs are stunning. We particularly like the Bison, which features a bison with a mural inside it, and the Muir, which is adorned with a stellar portrait of John Muir. Many many more designs are available, mostly for $25.99, at americanbackcountry.com. 
---

L.L.Bean Slippers
Slippers are the quintessential holiday gift, but they're often disappointing. They can be hot, slippery, and uncomfortable to wear. Not L.L.Bean's versions. The biggest thing that makes these stand out from the rest is the excellent rubber sole, perfect for stepping outside at the campsite. For women, we recommend the Mountain Slippers Boot ($75) which features stretch side-gore panels for easy on/off. For men and kids, the Wicked Good Moccasins ($79) are made with premium sheepskin and wick away moisture, so you're not stuck with swamp feet. The insole is a very comfortable memory foam. 
---

Kühl Sun Blade Hat
We've been on a quest for a while to find the perfect outdoor hat that is packed with performance but doesn't look like a floppy afterthought on the style front. The Kühl Sun Blad is the answer. First off, there's some serious thought put into the brim. It's not overly wide, but still has the length to keep you protected. Underneath the brim is a dark gray material that helps reduce the sun's glare, especially when the ground is light-colored, like sand or snow. You can even turn it around and wear the deeply curved rear brim forward for more sun protection. The top is vented to keep your head cool with a high-quality dimensional mesh that also provides padding against bumps. Inside, a moisture-wicking sweatband activates when damp to keep you cool. Our favorite feature is the cord, which boasts a lock to hold the had tight to your head and a hook to carry items like survival whistles or to hang it securely anywhere. The cord is entirely removable in seconds, for those days when you're looking for style over function. It's available for $45 at kuhl.com and at many outdoor retailers, but we've found it for the rock-bottom price of $28 in Scheels stores. 
---

Montem Ultralight 3K Carbon Fiber Trekking Poles
Our biggest beef with trekking poles has always been their weight. They're great for keeping stable while hiking, especially if you're carrying a lot of weight on your back, but they're just a pain, unless you can afford the incredibly expensive ultralight carbon fiber poles out there. Color us shocked when we landed upon the Montem Ultralight 3K Carbon Fiber Trekking Poles – for only $99 a pair. At only 7.8 oz per pole, these beauties will never get in your way or load down your pack. They're telescoping, so no matter your hight, they'll work for you, and they pack down nice and small. They come with 4 different tips for rain, snow, ice, sand, and rock. The hand grip and wristbands are some of the most comfortable we've felt. Find them on Amazon.

---

Blue Ridge Chair Works Landing Pad
This is the greatest RV-specific item you never knew you needed. A high-quality wooden landing pad for the base of your RV steps. We've been testing it out, and it is now at the top of our must-have list for any RVer. This product is made by Blue Ridge Chair Works, who make remarkable, quality camp furniture. Crafted from durable white Ash, stainless steel snaps and polyester webbing, the Landing Pad rolls up neatly and is stored in its own heavy duty carry case. When you arrive at the campsite, unroll the mat and snap the three stiffening boards in place, and you're done. Keep your feet out of the grass and dirt and mud when you step in and out of your RV. It's particularly excellent for dirty desert environments. You can also use the Landing Pad as a base for outdoor showers or a solid surface on the beach or at a picnic. $116 from blueridgechair.com.
---

Camp Board Game
If you can't camp during the winter, the Camp Board Game is a great way to pass the time until the spring for the whole family. Featuring trivia questions about geography and the great outdoors, what sets Camp apart are the question cards that have different degrees of difficulty depending on the age of the player. A 5-year-old can have just as much fun playing Camp as a 50-year-old. $29.95 from L.L.Bean or other outdoor and game retailers.
---

Shady Rays Sunglasses
Shady Rays are high-end, shatter-resistant, polarized lens sunglasses at an affordable price. Stop wasting money on incredibly expensive sunglasses only to scratch, break, and lose them. Shady Rays wants you to be active in their sunglasses, and they'll even replace them if you break them or they dissapear on you. Most models are only $45. The company also secures 11 meals to fight hunger through Feeding America with every order placed. The adventurer in your life will love the Amber Woods style. Available on Amazon.
---

National Park Junkie Hoo-Rag from Wanderlust
Much more versatile than a traditional bandana, Hoo-rags can be worn in multiple ways on the head and neck, and are made of 100 percent polyester microfiber that wicks away moisture and protects you from the sun's harmful rays. Wanderlust's National Park Junkie edition is made in America and sports an adventurous National Park theme. Great for long hikes, quick runs, or hiding your camp hair. Available in multiple colors for only $15 wanderlustmark.com.
---

Aklot Ukulele
What is better around the campfire than a song or two? Ukuleles are the perfect starter instrument for anyone of any age because most chords take one or two fingers. You'll pick up a song in your first practice session. And what better travel instrument? You can stow it pretty much anywhere. Ukes can be pretty expensive, but there's no reason to spend a lot of money on one. We have the Aklot brand, which is made of mahogany and comes with strings, picks, an electronic tuner and case for about $60 on Amazon.
---

Harvest Hosts Membership
Harvest Hosts is one of the most popular memberships for RV travelers. The company links you up with wineries, farms, boutique museums and other attractions for free overnight parking. The only thing they ask is that you patronize the business, and that your RV be entirely self-contained (restroom, water, cooking, etc must be on-board). Membership is $49 a year at the moment, but it's going up to $79 on January 1, so now's the perfect time to buy, even if you won't use it until next spring. Get an additional 10% off through this link with the code HHFRIENDS.
---

Swagtron Swagger 5 Scooter
Electric bicycles are all the rage for getting around campgrounds, but they can cost well over $4000. Instead, consider getting an electric scooter. We're seeing these all over the country as a part of scooter share programs in big cities, where people can easily zip around with little effort and save a lot of time. No more walking for 20 minutes just to take the trash to the campground dumpster. Hop on your Swagger 5 and go. This is virtually the same scooter you'll see on the streets of Salt Lake City, Kansas City, and Los Angeles. We're highly impressed with the battery's run time and the top speeds. Depending on your weight, these can go 6-12 miles on a charge at up to 18mph. You can even mount your phone to it and connect via Bluetooth for a speedometer display and control of advanced options. We have a feeling you're going to be seeing a lot of these at campgrounds next year, especially since the $360 price is so nice. Available on Amazon.
---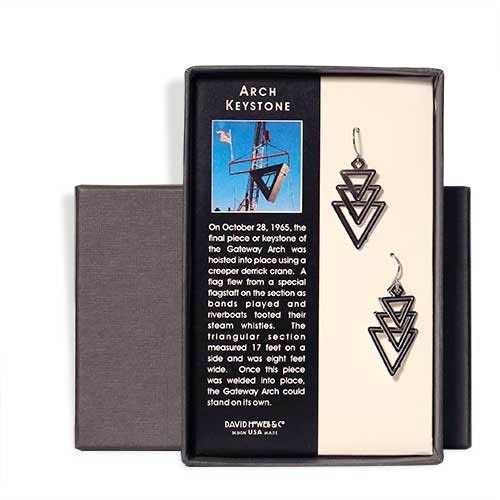 Gifts from online Park Stores like Gateway Arch National Park
Everybody loves something from a National Park gift shop, and you get to support the ongoing operation of the park when you purchase their unique gifts. Did you know many National Park gift shops have online stores too? This year we have a new park in Gateway Arch National Park (formerly Jefferson National Expansion Memorial), so you can get all kinds of products emblazoned with the new name right on the website of the non-profit partner, the Jefferson National Parks Association, which also offers gifts from Voyageurs National Park, the Lewis & Clark Trail, and more. Check out the stylish earrings shaped like the keystone of the Gateway Arch, the Lewis & Clark Spyglass, or the coffee mug quoting Thomas Jefferson: "Coffee, the favorite drink of the civilised world."
---
No products have paid to be included on our gift guide. Some have been provided to RV Miles for testing. Where available, we've included Amazon affiliate links. When you purchase anything on Amazon after clicking through from RV Miles, we get a small kick-back. We appreciate the support.