What is the difference between motorized and towable, travel trailer and Class B? With so many RV types out there it can be hard to keep it all straight.
In this article, we break down the different types of RVs out there to help you make the best decision.
The term "RV," short for Recreational Vehicle, encompasses a whole lot of different types of vehicles, including motorhomes, trailers, and more. Though most RVs are used for recreation, some people live in them full-time, and some styles are meant to stay in one place for extended periods of time.
The common RV types can be divided into two major categories: motorhomes, and towables. Motorhomes are any RV self-powered by an engine. Towables are RVs that require another vehicle, usually a pickup truck, to tow them down the road. Each style has different advantages and disadvantages, and people have their own preferred travel style, so before buying an RV, it's important to consider how you plan to use it.
Quick Links
Towable Types
Conventional Travel Trailer
Fifth-Wheel Travel Trailer
Folding Camping Trailers
Hybrid Trailers
Teardrops
Truck Campers
Other RV Types
Toy Haulers
Park Models
Tiny Homes on Wheels
Bus, Truck, and Van Conversions
---
Motorhome RV Types
Motorhomes are RV types that are driven on their own, ranging from small campervans to 45′ long motorcoaches. The driver's area is accessible to the rest of the vehicle, making for a comfortable journey for passengers, who can move about the cabin (if they are adults). Motorhomes are a bit easier to drive than most larger towables, because trailer sway on the highway is not an issue.
The main disadvantage to a motorhome is that you either have to break down camp to visit sites and go to the grocery store, or you have to tow a vehicle (called a "towed" or "toad" vehicle) behind you.
However, the vehicle you pull behind you can be very nimble and easy on fuel mileage just remember, not all vehicles can be towed behind a motorhome. Some can be flat-towed (all 4 wheels down) and some can be dolly-towed (two wheels on a tow dolly and two on the ground), but many vehicles cannot be towed long distances either way, and would require a flat-bed trailer, which is possible, but difficult to stow at a campground.
So, the family car you already own could be a factor in choosing a motorhome over a trailer. If you plan to pack everything you need for a week and drive to a location and stay there, you may not need a towed vehicle. Bicycles, motorcycles, golf carts, rental cars, free campground shuttles, taxis, and Ubers are other methods that motorhome owners employ to avoid towing a vehicle, but most that travel heavily find it a necessity.
Motorhomes are great for people traveling with pets. There's plenty of room for them to wander around, and places for cages if need be.
Another consideration is car seats for children. All car seats need to be in a forward-facing seat, and while all newer motorhomes have seatbelts in the living area, sometimes there isn't a forward facing seat or enough of them. Most newer models also incorperate the "latch" system for car seats. It is a hotly debated topic whether car seats should be used in motorhomes at all, as they are not crash tested. If your family needs car seats, a towable unit is the safest option, with the family up in the tow vehicle.
Motorhomes are broken down into three different categories, class A, B, and C. The different categories are not related to their size.
Class A Motorhomes

Class A motorhomes are built on their own custom chassis and have a box-like shape. They tend to be the most expensive of all RVs, but not always. They range in length from about 30′ to a maximum of 45′. Length is an important concern, as some campgrounds cannot accommodate (or have fewer sites for) the biggest of class A rigs. They range in price from around $75,000 to the millions for a high-end motorcoach.
Most class As are "diesel pushers," meaning the engine is at the back, which allows for a smooth, quiet ride, and easy access to the engine bay. Some have the engine at the front, however, particularly the more affordable gasoline-driven models.
Class As are often laid out for the traveling couple, usually with one queen or even king-sized bed. Some models have a set of bunk beds, and some have a bed that drops down over the cab, but most supplementary beds require converting a dinette for the night. Realistically, they can usually sleep up to 6 comfortably. Class As usually have multiple slide-outs that expand the living space when parked. Some even have more than one bathroom, and some have washer/dryer combo units. There is usually a great deal of "basement" storage underneath the coach.
Class As are the heaviest of motorhomes, and require a truck or RV service center for repairs. In some states, an RV over 26,000 lbs needs to be driven by someone with a non-commercial class a or b license. Usually, only Class A motorhomes will fall into this category.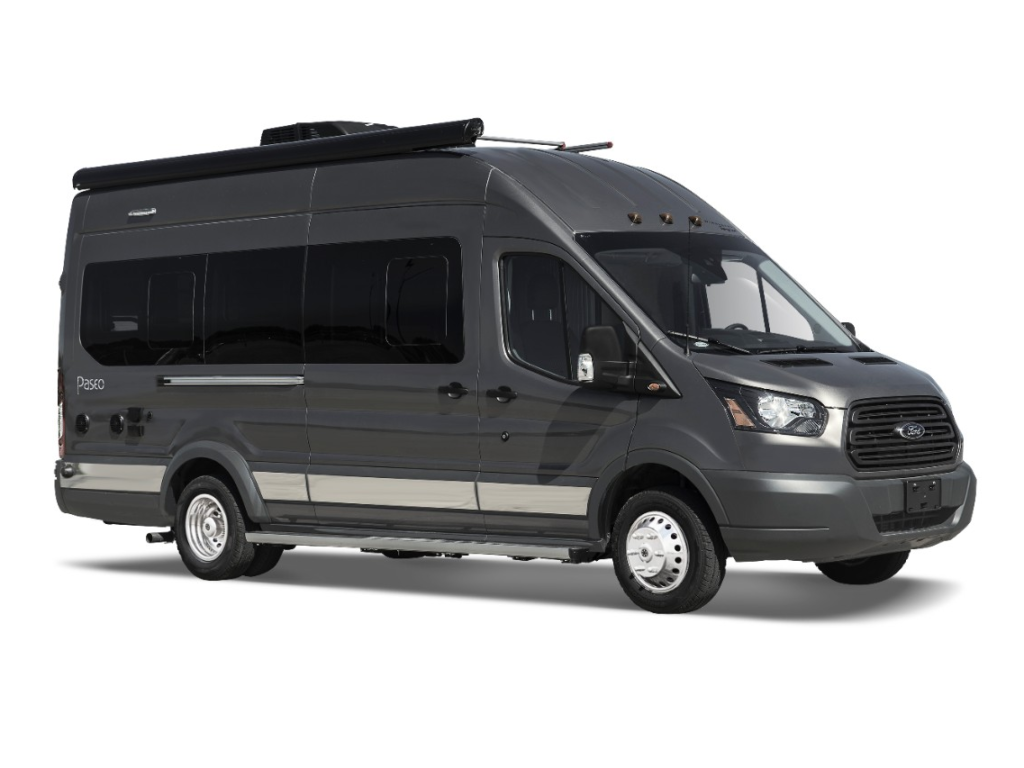 Class B Motorhomes
Class B motorhomes are built into a commercially manufactured van shell. There is usually only room for 2 to sleep comfortably, 4 max, and the bed space usually converts to the living space for the day. Most are equipped with a full bathroom, but a major trade-off for the size is usually a shower/toilet combo (called a wet bath) and smaller holding tanks for fresh and waste water. They are the easiest of all RVs to drive, and the most nimble. Most fit into a regular parking space. Class B travelers rarely tow anything, opting to break camp when they need to drive somewhere. But, breaking camp is fast, meaning they can be on the road in no time and are able to stop pretty much anywhere for the night.
Everything is small in a class B, but they usually have ingenious layouts utilizing every single nook and cranny. Fuel mileage is great, and a lot of people use them as their second vehicle at home. They're great for taking to kids' ball games. Class Bs run from around $60,000 to $150,000+, and usually, they are under 21′ in length, fitting into most garages.
Some municipalities and homeowners' associations do not allow RVs to be parked in your driveway, but usually, class Bs are not a problem. They're also great for "stealth camping" on city streets and in parking lots.
Since they are built on a major brand-name chassis, like Mercedes or Ford, service on the vehicle portion is easy to obtain.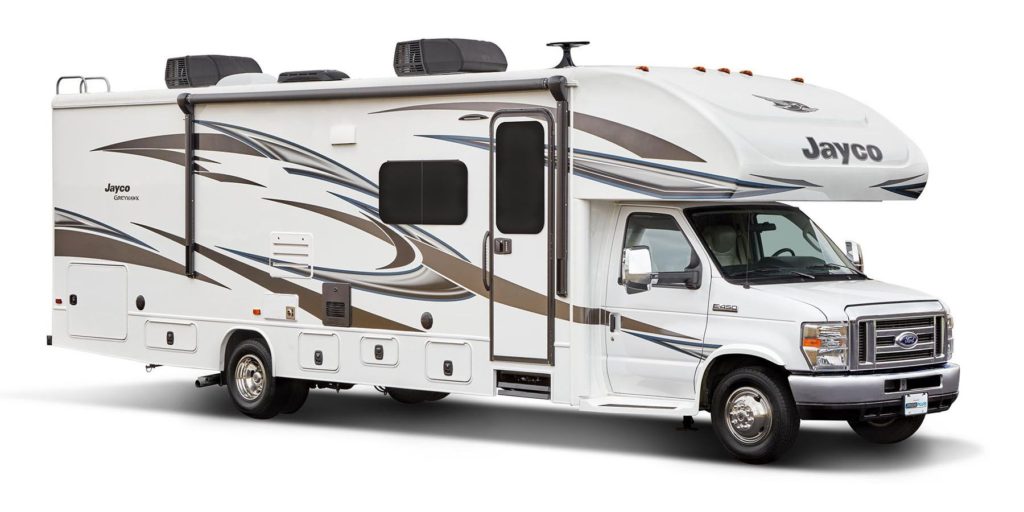 Class C Motorhomes
Class C motorhomes are built on a name-brand truck chassis, opting to create their own custom shell. The tell-tale signifier of a class C is an overhang that juts out over the driver's cabin and the hood. It's usually used for a bunk that adds more sleeping room than you might find in a class A. In fact, many class Cs, particularly those with a slide-out, rival class As in living space.
Class Cs are much more affordable than most class As, and often have lower-end finishes and construction quality. Gas and diesel models can both be had, and, as with class Bs, service on the vehicle portion, particularly warranty service, is easier to obtain than a class A.
---
Towable RV Types
Towable RV types are those that are generally pulled behind a truck, or sometimes a smaller vehicle. They are drastically less expensive than a comparable motorhome, making them more popular. Towables range in size from the tiniest little teardrop trailer to massive 40'+ trailers with multiple slides-outs.
One major advantage of towables is that you bring your own vehicle with you that you can day-drive in, and you are only bouncing around with one engine to maintain. But, this is also the biggest disadvantage for some, because you need a serious truck to pull the bigger towables. You may pay $60,000 for enough truck to haul your trailer, which negates the cost savings over a motorhome. If you already have the truck, or need a truck, then that can help defer the cost.
You will generally use less fuel with a towable than a large motorhome, but you will use much more fuel driving around destinations in a big dually truck than a little toad vehicle.
It is incredibly important to make sure the tow vehicle you own or buy can haul the trailer you are looking at. Do not listen to the dealer (neither the RV nor the truck dealer), who will do anything to make a sale. Your tow vehicle should be rated to tow at least 20% more than your trailers weight (loaded, not empty), or you will not be happy with your vehicle's performance. Only the very smallest pop-ups and teardrops should be pulled behind an SUV or minivan. If you want a trailer, you more than likely need a truck.
Your family cant sprawl out in the trailer while you are driving, either, like in a motorhome. But, if you need car seats, there's no safer way to travel than with the kids strapped in properly in the tow vehicle.
The different types of towables are as follows: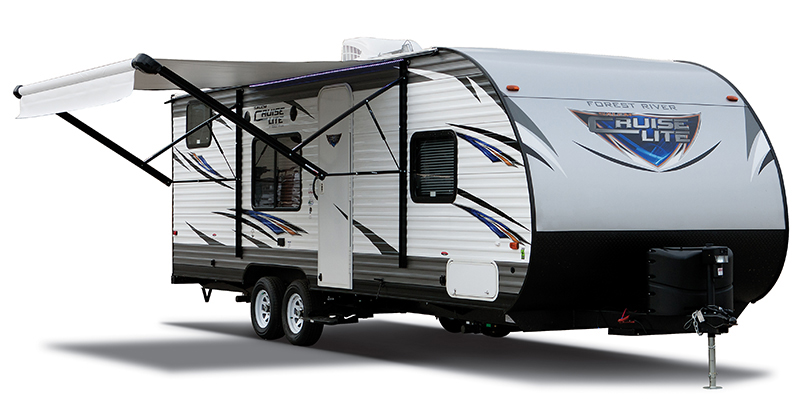 Conventional Travel Trailer
Usually just called a "travel trailer" or a "bumper-pull," these are the most popular RV types on the market, mainly due to their price. They range anywhere from around $10,000 to $100,000 with varying amenities and floor plans. Some have slide-outs, and living space depends drastically on the length of the trailer. Sway can be an issue with conventional travel trailers, and a sway control system is highly recommended.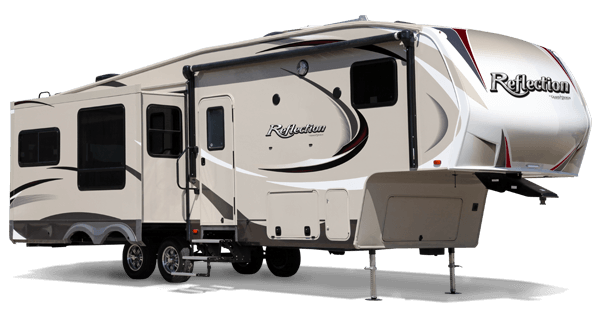 Fifth-Wheel Travel Trailers
Fifth wheels are named for the type of hitch they use, which is located in the bed of the truck, instead of attached underneath the bumper to the frame. This type of hitch allows the truck to pull a much heavier trailer, and the shape of the trailer allows for bonus space in a split-level floorplan. The ride is also improved, with less sway. The biggest fifth wheels are the most spacious of RVs, with multiple bedrooms and wide open livingroom/kitchen areas. They range in price from around $25,000 all the way up to near $200,000, with varying build qualities and amenities.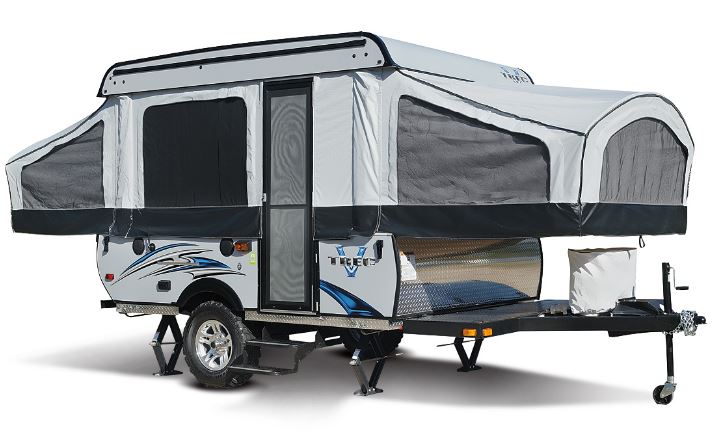 Folding Camping Trailers
More commonly called "pop-ups," these are generally the least expensive RV types available. They are sort of a combination between a travel trailer and a tent. Usually, the roof lifts up and beds swing out, all encased in soft canvas and mesh screen material. Most don't have private bathrooms, and some don't have any kitchen facilities. It's the tent-camping experience with the convenience of quick set-up, electricity, and (sometimes) heat and air conditioning. They are usually very light, and can often be pulled behind an SUV.
The major downfalls of pop-ups are the lack of storage, the time to set-up and tear down, and the exposure to the elements. Just like tents, the canvas can leak over time and needs maintenance. Some parks in bear country do not allow soft-sided RVs like pop-ups for reasons that should be obvious.
Pop-ups can be had for as low as $7000 new.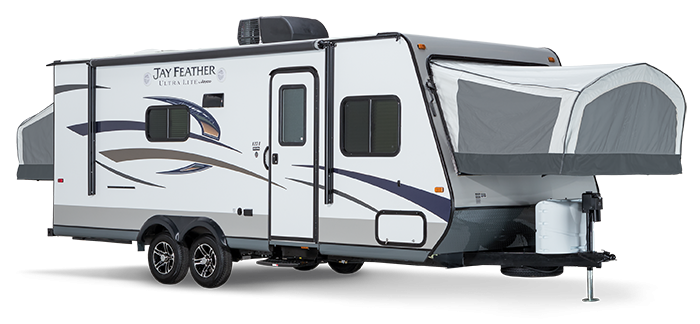 Hybrid Trailers
Hybrids are conventional travel trailer that, instead of slide-outs, have expandable canvas pop-outs (usually a bed area), drastically increasing the space inside. They usually have the same amenities as a travel trailer, but are less expensive than something that would otherwise be as big. Usually $10,000-$30,000.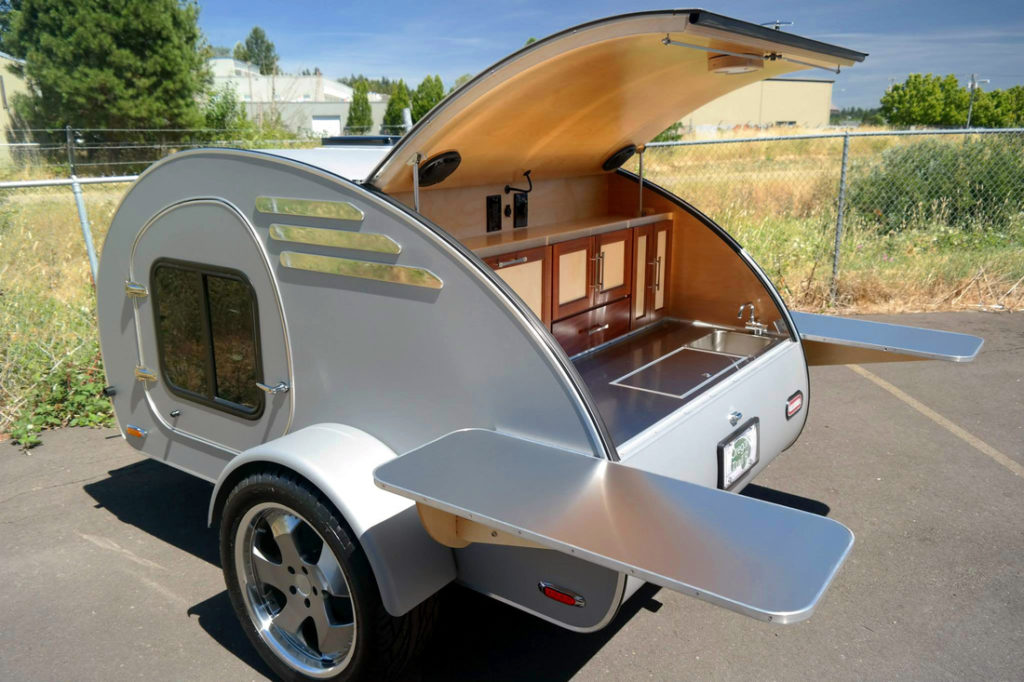 Teardrops
A teardrop is a very small, lightweight trailer that can be towed behind a wide range of vehicles. Usually, inside is just enough space for the bed, and the kitchen is on the outside. Most don't have bathroom facilities.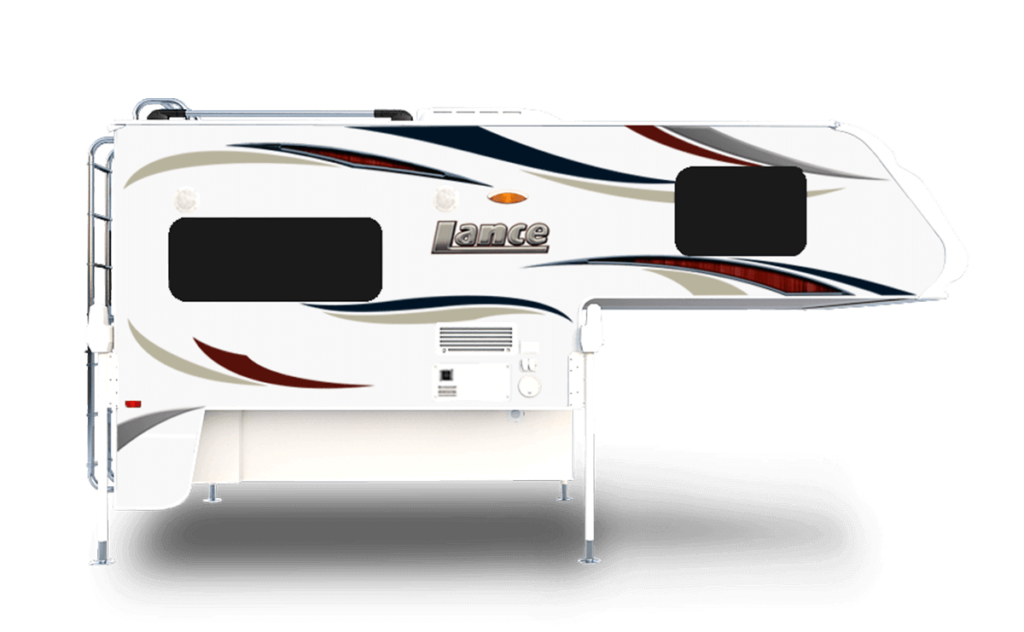 Truck Campers
Truck campers physically ride in the truck bed. There is a surprising amount of space inside, though they are very compact. Like a class B motorhome, you can drive and park them pretty much anywhere. Usually, there are retractable legs that allow you to drive the truck out from underneath the camper, so you can leave it at the campground while you go out. Some campgrounds do not allow this, however. They range anywhere from $8000 to $60,000.
---
Other RV Types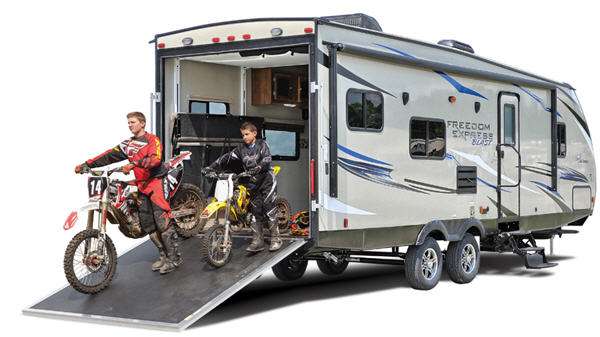 Toy Haulers
Or "Sport-Utility RVs" as the industry technically calls them, are RV types that have a garage space inside meant for dirt bikes, dune buggies, ATVs, golf carts or motorcycles. There are toy hauler motorhomes, travel trailers, and fifth wheels. They have become very popular recently, and often people buy them not to haul "toys," but because the garage space is easily customizable into a kids' room, an office, a dog kennel, or anything you like. Some have very nice fold out party decks.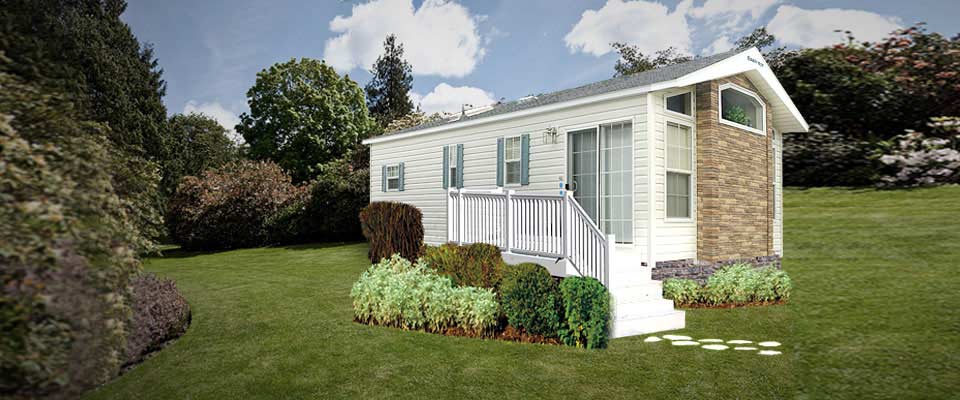 Park Models
A park model is a trailer that is meant to stay in one place for a while, usually at a camping resort, but it's still moveable. It's a similar concept to a mobile home, but they are much smaller, still within the legal limits to be towed with a regular truck down the road without a special permit. But it usually demands a beast of a truck, so most park model owners have theirs professionally moved.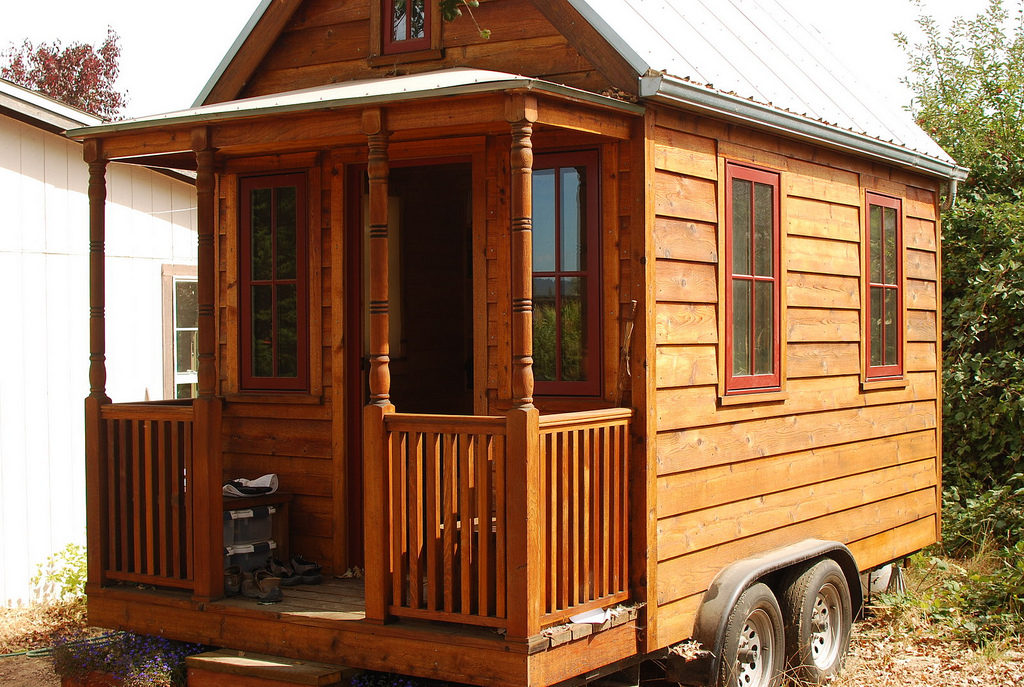 Tiny Homes on Wheels
Tiny homes are all the rage these days, and really, most are just a home-made or custom-made travel trailer. Most tiny homes are built on a trailer frame — either a bumper-pull or a fifth-wheel. This allows them to avoid building codes, and to be able to be moved from location to location. Some are designed to travel often, and some are more like a park model, designed to move infrequently. Campgrounds vary in their acceptance of tiny homes. Owners will rarely have a problem getting into a government managed park, but private parks may disallow them for insurance purposes. For this reason, many tiny home manufacturers have joined the Recreational Vehicle Industry Association (RVIA), whose seal of approval provides broader acceptability among campgrounds. Tiny homes parked on private land have their own issues, as many municipalities do not allow you to camp on your own land for more than a specified amount of time.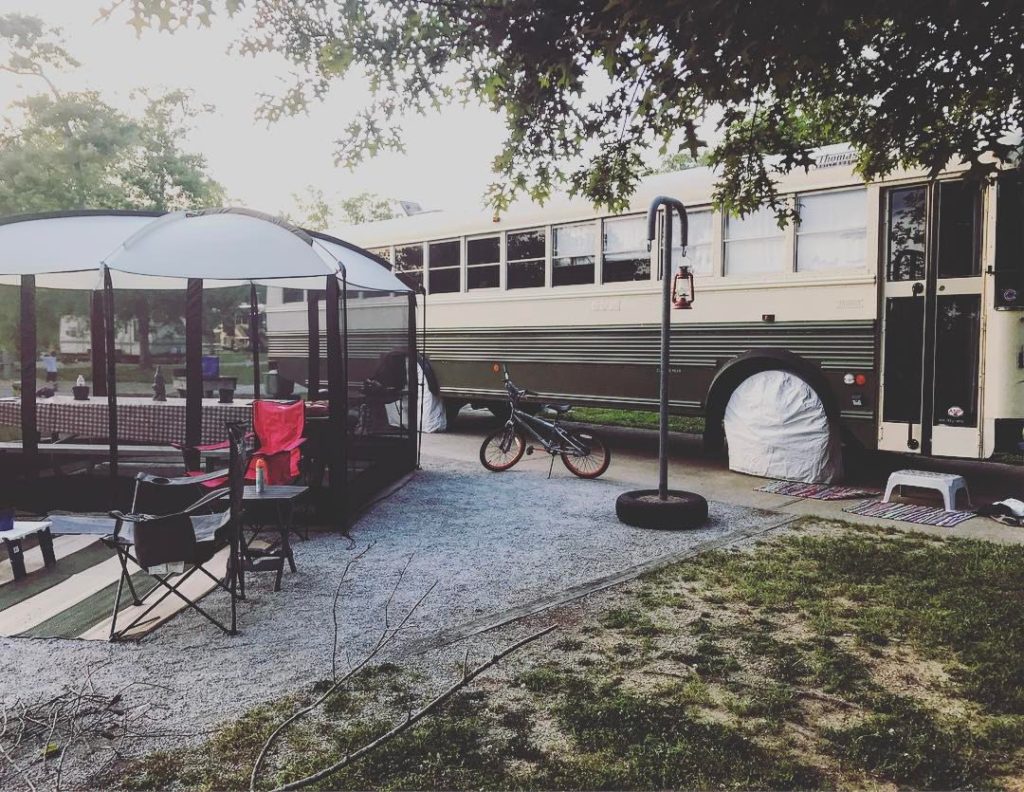 Bus, Truck, and Van Conversions
As tiny homes are usually custom travel-trailers, conversions are custom-built motorhomes. People build motorhomes out of classic coaches like MCIs and Eagles, school buses, city transit buses, mail trucks, cargo vans, box trucks — really any type of vehicle they can get their hands on. The same problems with campgrounds and municipalities persist. Insurance can also be a challenge for the conversion owner, but the rewards of building your own motorhome are great. RV Miles editors and podcast hosts Jason and Abby Epperson live full-time in a converted school bus that you can read about on their blog.
Have we missed something? Let us know in the comments below: