By Abigail Epperson
Carlsbad Caverns is an underground wonderland. One of those places where seeing is truly believing, and pictures — even the iconic Ansel Adams— just can't capture the true power and size of this cavernous space.
I don't think I fully understood what we were getting ourselves into on that first day. Yes, we'd been to Mammoth, yes we'd been on several private-run cave tours, and yes, we finally knew the difference between a stalagmite and stalactite (why is that so hard to remember?), but oh my goodness! Those adventures were just the appetizers on the cave lovers banquet. Carlsbad is the feast.
Day one we opted to take the Natural Entrance down to The Big Room, a journey we absolutely recommend as long as you are physically and mentally comfortable with the terrain. We had a kiddo not so mentally comfortable with the combination of heights and darkness, something we didn't fully realize was an issue until we were too far in to turn back. The sheer size of the Natural Entrance and its descent down can be visually overwhelming for grownups, so I imagine it is double, probably triple the stimuli for a small person. But, after about 45 minutes on the trail, the whole family eased into it, although my knees didn't forgive me for days. The trail never really levels out. It's a steep descent down to 750 feet below ground over a distance of 1-1/4 miles.
However, if you can tell your knees to hush-up and your walking companions are game, you will be treated to room after room of massive cave formations that will leave you speechless, and once you actually make it to The Big Room (and it took us about 90 mins or so), you think it can't possibly top what you just experienced, but oh man, does it ever.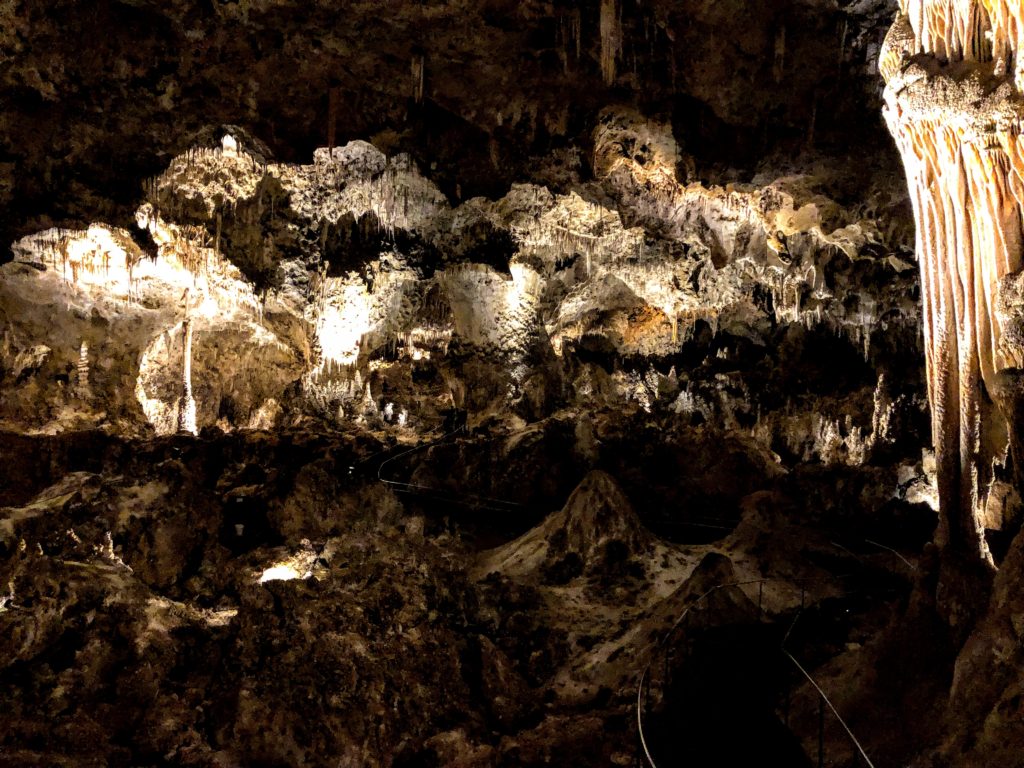 Here you'll see jaw-dropping columns, stalactites and stalagmites, and while 95% of the cave has stopped growing, you can get up close to one glossy, wide stalagmite in The Big Room that is still increasing in size. And it is awesome.
Now, I will say, that a few times I didn't feel as safe with my kids as I would have liked. Yes, there are railings, and the kids weren't being wild, but your heart does skip an extra beat near the "Lower Cave" and "Bottomless Pit" areas, and I wasn't the only parent putting a hand on my kids' shoulder. There's something about the back half of The Big Room that makes parents stick extra-extra close to their kids. Drove Jack nuts, but I wasn't about to let go of his shirt as he stood there looking down into the Lower Cave. Jack, bless his heart, likes to pretend he's a daredevil, and that can sometimes leave me wondering "will he or won't he?" I was in full on helicopter parent mode, and I'm not afraid to admit it.
Another great feature, once you're in The Big Room, is that you don't have to take the steep walk back up the Natural Entrance in order to leave. You can take the elevator located near the snack bar and restrooms. Yes, I said snack bar and restrooms. You can totally pee 750 feet underground in a flush toilet facility. Modern amenities deep down in a cave. Amazing.
The elevator can also lower you into The Big Room should the Natural Entrance not be an option, and much of the walking path is wheelchair and walker accessible once you're down there.
We spent two days at Carlsbad, and on the second day we took the elevator down and back-up to ensure we had plenty of time in The Big Room. A pro-tip from us to you – the back half of the room is closed off 90 minutes before park closure, so don't be an Epperson and miss it on your first go-around.
The boys also completed their Junior Ranger programs on the second day and, once again, I was really impressed with the activities and thrilled at just how much Henry was able to do independently in the under-six book. Thrilled, and a little sad to be honest. That kid is growing up way too fast!
We packed a lunch both days, and I highly encourage it. The views outside the visitors center — which sits on top of a ridge — are the perfect addition to your picnic and it gives the kids a chance to run around and burn off a little energy before they head underground and have to walk, stay on the path AND NOT TOUCH ANYTHING. That desire to touch the cave was so strong, but our kids fought the impulse to turn to the dark side, and Jack, who is often lead by strong impulses, was very proud of himself.
Carlsbad Caverns offers several Ranger-led tours, and those fill up fast, so book early if that's a must-do for you. There's also a 1/2 mile nature trail outside the visitors center, a driveable 9.5 loop dirt trail where you can stop at the Rattlesnake Canyon Overlook, and between March – October you can observe Brazilian Bats exiting the cave via the Natural Entrance every day at dusk. There's a cool amphitheatre that's been constructed near the entrance and visitors can "ohh" and "ahhh" as thousands of bats descend into the dusk-filled sky to feast on insects. We hear it's an amazing sight to behold, and we are sorry to say we missed it by weeks.
As we've said time and time again, New Mexico continues to delight and surprise us, and both our stay at Brantley Lake State Park, our trips to Carlsbad Caverns, and the time we spent in the city of Carlsbad itself, visiting the Living Desert and Zoo, have left lasting impressions on all of us. If only the Starbucks had opened before we left, then it would have been a perfect two weeks.
If you want to hear more about all we did in Carlsbad, including our epic tire drama, check out Episode 30 of the RV Miles podcast, and to learn more about visiting Carlsbad Caverns, and to see me shiver with cold, check out our latest YouTube video detailing even more highlights during our two days of National Park fun.
Until next time, fellow Wanderers.