Video: Overview of the Mariposa Grove restoration project
Yosemite National Park has announced that the Mariposa Grove of Giant Sequoias will reopen to the public at 9:00 am on Friday, June 15, 2018. The area has been closed to the public since July 2015 for a major renovation, which is nearly finished.
The Grove, located near the park's southern entrance at Wawona, receives more than 1 million visitors a year and includes roughly 550 giant sequoia trees, some of which are among the largest trees in the world, reaching 285 feet tall and 2,000 years old.
During the rehabilitation phase, crews have torn up asphalt surrounding trees, replaced pit toilets with modern flush toilets, and removed the gift shop and tram rides, which featured a chugging diesel truck pulling wagons full of tourists through the area. The project includes improvements to natural hydrology, an ADA-accessible boardwalk, and an improved welcome plaza.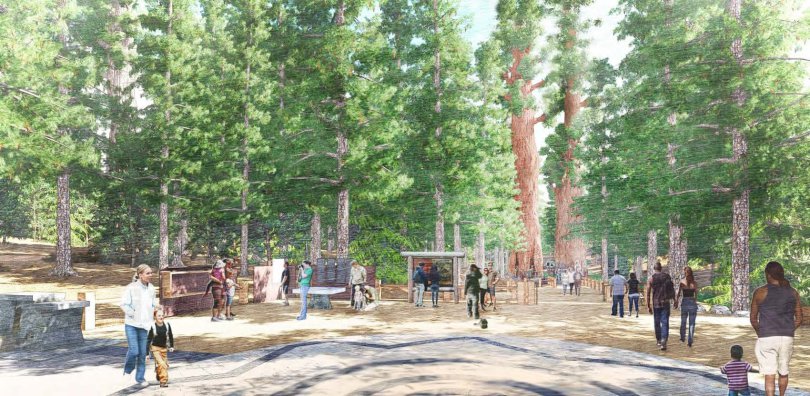 A rendering of the new entrance to Yosemite's Mariposa Grove of Giant Sequoias (Photo: Mithun Architects)
The nearly $40 million project, which was scheduled to conclude in late 2016 but was delayed due to heavy winter conditions, was split equally by the National Park Service and the non-profit Yosemite Conservancy.
To visit the Mariposa Grove of Giant Sequoias, visitors will park in a new 300-vehicle parking area at the South Entrance and hop on a free shuttle at the Welcome Plaza, which will transport them to the Lower Grove.
For more information on Yosemite National Park visit nps.gov/yose.