By Jason Epperson
TAMPA, FLORIDA — Just a day after Winnebago introduced an electric Class B+ motorhome concept at the 2022 Florida RV SuperShow, THOR Industries has entered the game with the "Thor Vision Vehicle"—or TVV— an electric RV built on a custom chassis co-developed with Roush.
The TVV motorhome includes a number of unique elements designed to maximize chassis performance. Key being an integrated fuel cell, which can boost the 700-volt, 100-kilowatt battery's range up to 300 miles — decently within the average non-stop travel distance of most RV owners. For comparison, Winnebago's eRV concept has an estimated range of 125 miles, with no fuel cell on board.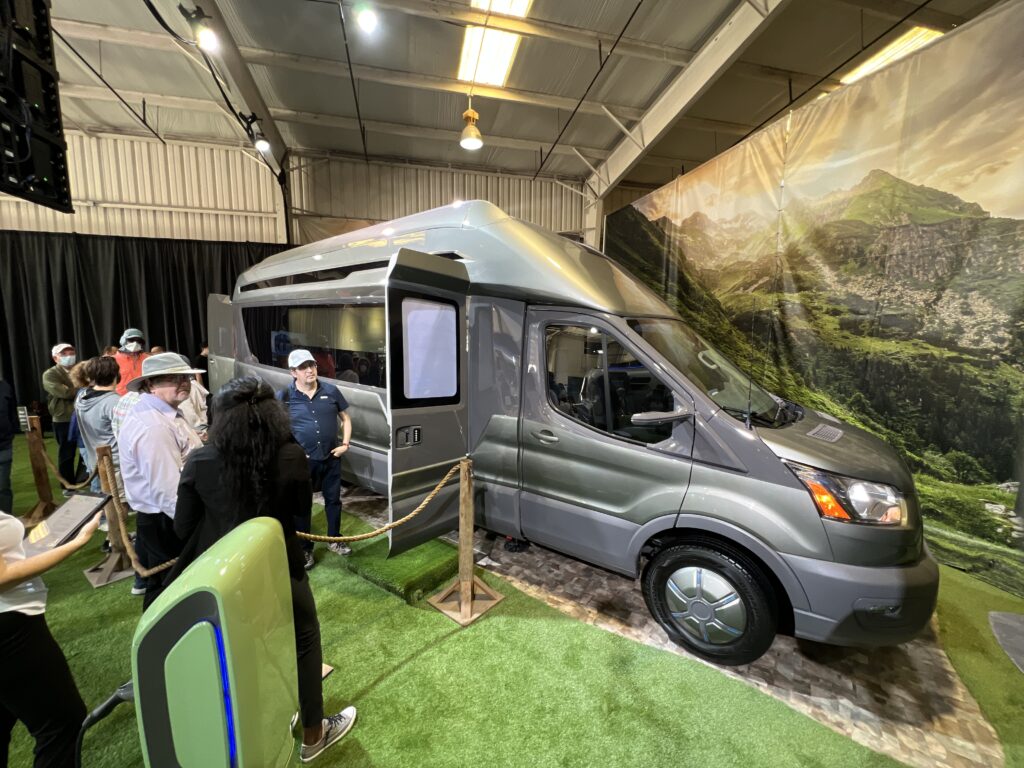 Thor is tight-lipped on the type of fuel the range extender utilizes, but an engineer told RV Miles that it's not gas and not diesel. It could be hydrogen, or perhaps propane — which would be ideal for topping it off at RV parks that already have propane stations on-hand. The engineer hinted that it may even be a multi-fuel device.
It might be the first motorhome that's gone through such extensive wind-tunnel testing and has been engineered for wind resistance. It's often thought that it's not worth maximizing drag efficiency with a vehicle this large, but Thor says they've reduced drag by 34% and can apply that knowledge to even their gas and diesel-powered motorhomes.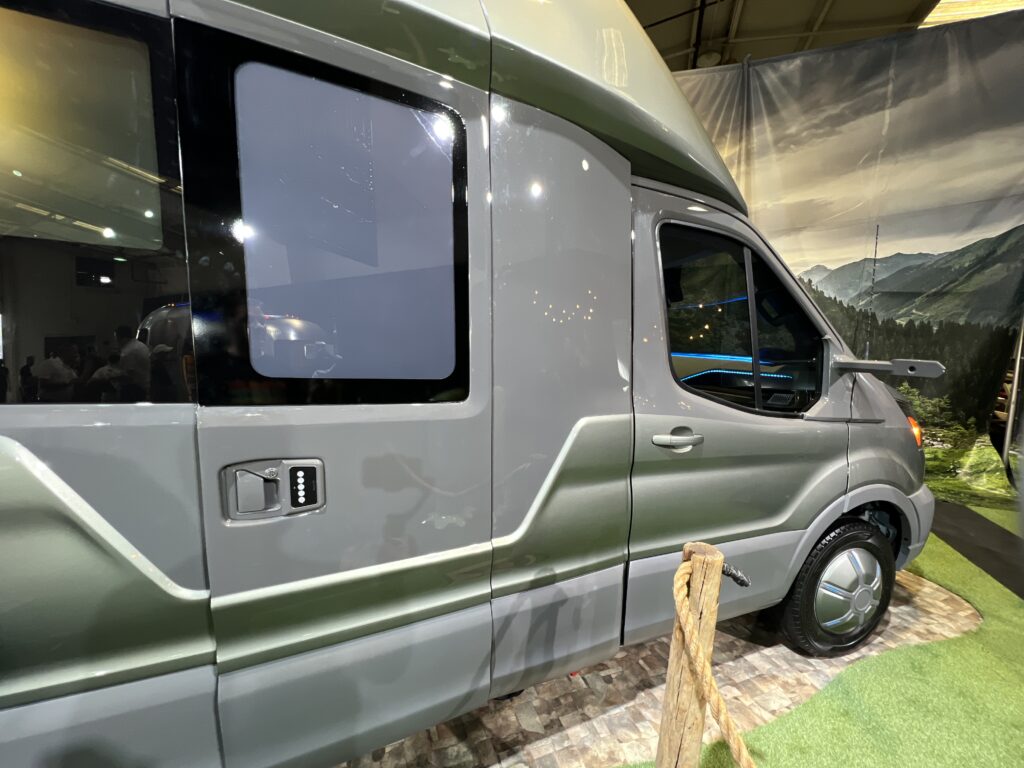 The awning is tucked away into a side panel, and there's nothing on the roof but a giant skylight and 1500 watts of solar panels, which is almost unheard of on an RV this small. The air conditioner has been integrated into the rear roof, where the sewer gas and furnace also vent out. They even eliminated side-view mirrors to minimize drag — two small cameras on sticks project a side-view display onto the dash.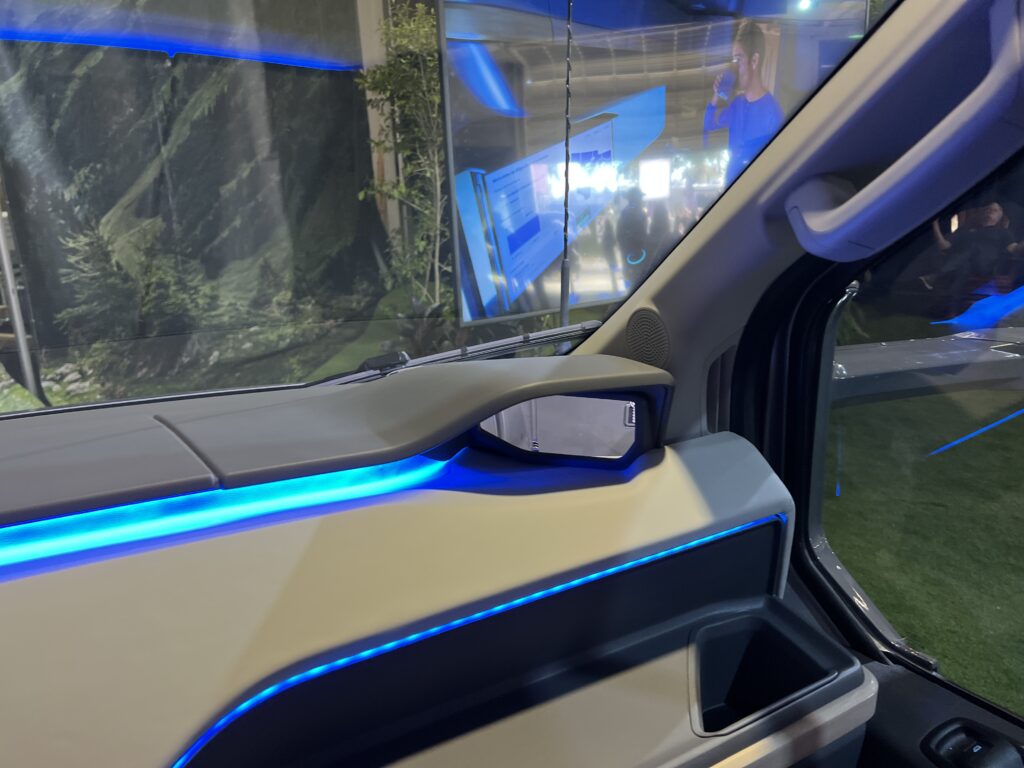 Inside are all sorts of technical goodies, not the least of which is that entirely digital dash that integrates with Thor's Roadpass web and app platforms to provide routing information and more. Similar to what electric car manufacturers are doing, range anxiety will be reduced by utilizing map and route information to tell you exactly where you need to stop to charge up. Dynamic feedback will warn you if the awning isn't in, when it's time to empty the tanks, etc.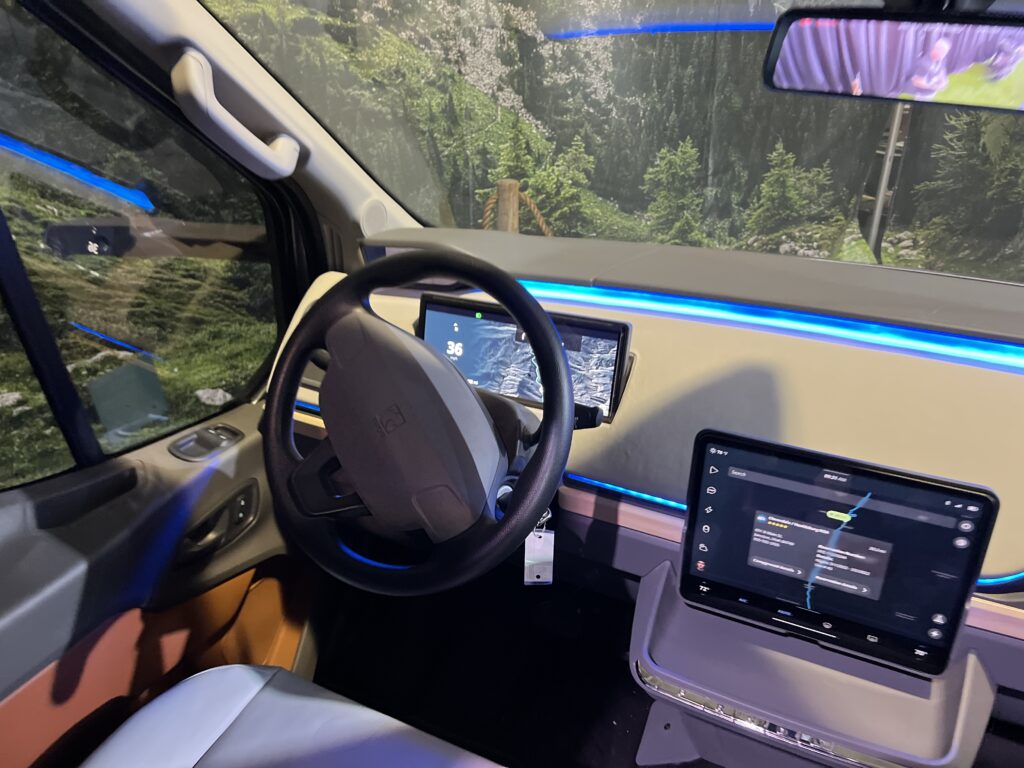 There are no panels with switches and buttons to check those tank levels and turn on the water pump — everything is a touch screen. Many of the TVV's features can be operated through an Alexa voice assistant or a mobile app, and utilize the television for large displays of information about power usage, tank levels, and more. You can say "Alexa, shower mode" which will turn on the water pump and water heater while turning the electronic switchable glass windows opaque.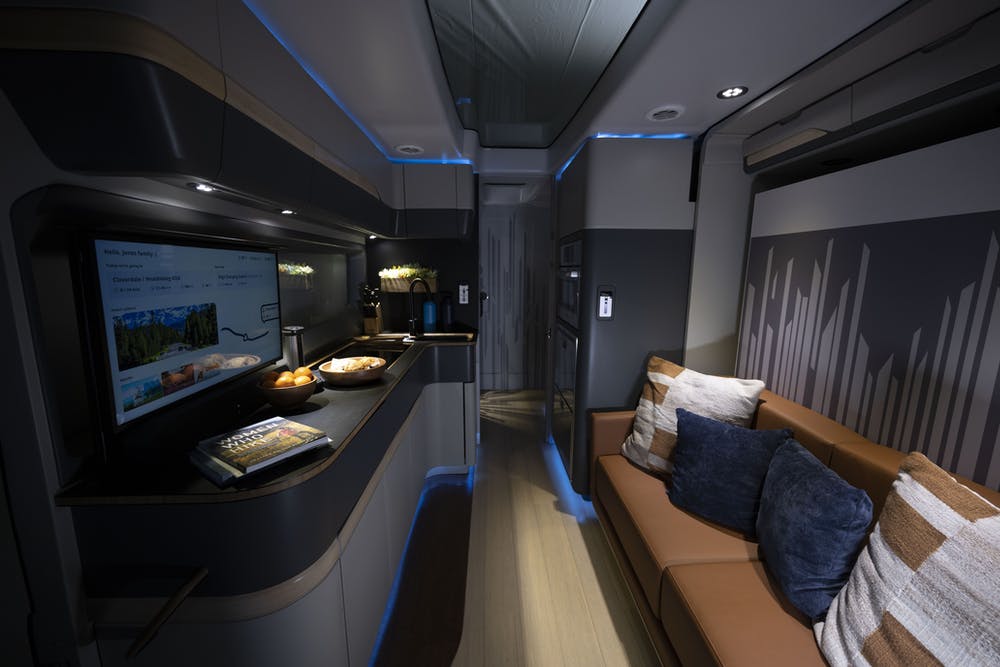 Batteries in the floor mean less room for storage and systems, so a rear garage was designed for gear, while most of the RV's components—like the air conditioner and tanks—are mounted inside the walls and roof.
The fit and finish is beautiful, and as much as possible recycled or renewable materials were used. The floor is bamboo and cork. The countertops are bamboo and recycled paper. The sofa cushions are made from recycled materials.
It's the small innovations like that that will make a big difference in the near future. RV manufacturers are still having a hard time getting foam cushions after the freeze-up in Texas nearly a year ago damaged many chemical plants that produced seating foam.
The TVV is, in the end, a concept vehicle. It's not going to be for sale any time soon. In fact, it won't be for sale at all. Instead, Thor's goal is to build an electric motorhome platform that its subsidiaries — like Jayco, Tiffin, Airstream, Erwin Hymer, and Thor Motor Coach — can upfit. They're shooting for 2024 availability, but the result is already 16 patents that are available right now for Thor's companies to utilize for their entire line-up, electric or not.
It's clear with the debut of the TVV that electric motorhomes are right around the corner, quicker than a lot of people expected.