For those of us on the road, reliable Internet access can be a challenge. Starlink's satellite internet service is making it even easier for RV travelers and campers to stay connected with their high-speed internet service. But Starlink has made several significant changes (again!) to its service offerings and terms of service. In this article, we'll dive into all the details of these plans and share the current state of Starlink Internet so you can make an informed decision about whether or not it's suitable for your travels.
A brief overview of the Starlink Service
Starlink, a satellite internet system developed by Elon Musk's SpaceX, aims to provide high-speed, low-latency broadband access to users worldwide, particularly those in remote areas where internet connectivity is unreliable. The Starlink system consists of a constellation of small satellites orbiting the Earth, which transmit and receive signals to ground-based receivers or "user terminals"—the satellite dish you receive when you purchase Starlink. With download speeds ranging up to 150 Mbps and relatively low latency, Starlink has the potential to revolutionize internet connectivity and bridge the digital divide. But it is undoubtedly in its infancy. The service is available in select regions of the world, with plans for expanded coverage in the coming years. Most of the US is covered, but many areas are at capacity, and you have to get on a waiting list for fixed-location service.
Overview of the Changes to Starlink Plans (in the US)
As of May 2023, Starlink has simplified its offerings into four plans: Standard, Priority, Mobile, and Mobile Priority. These replace the Residential service, Roam, Business, and Maritime plans, among others.
The Standard Plan is designed for fixed locations. It replaces the Residential plan and can no longer be moved around the country (the "portability" add-on has been removed.)
The Priority Plan is also for fixed locations, offering the same speeds and unlimited data as the Standard plan. However, users will receive higher priority access to the network during congested periods.
The Mobile Plan is intended for mobile users, such as RV owners, providing internet access on the go. The plan offers lower-priority data access than the Standard Plan and may be slower during times of network congestion. You can move it around a given continent and use it everywhere you stop, but it cannot be used in motion.
The Mobile Priority Plan offers priority data for mobile users and allows for in-motion use, allowing RVs and other vehicles to access the internet while on the move.
Overview of Equipment Options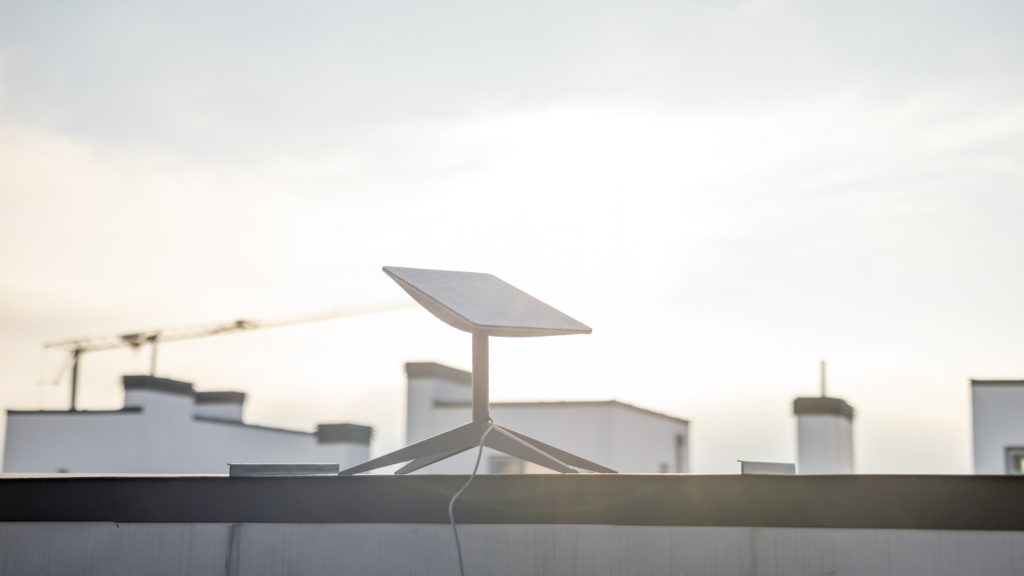 We'll go into more detail for each plan in a moment, but first, it's essential to know which equipment is available because some only work for specific plans.
Starlink offers customers three equipment options, each with unique features and limitations.
Standard Starlink Dish
The first option is the Standard Starlink Kit, priced at $599 in the US, and comes with a motorized dish mounted on an arm. It also included a router, power cable, and a proprietary ethernet cable (with nonstandard ends) that links between the dish and the router. The cable used to be 75′, but we're hearing that people are receiving shorter cables now in the 35′-50′ range.
The standard dish can be used either with the included stand for setting the dish out on the ground or with mounting accessories to attach it permanently (like on a roof or a pole). When the dish is set up, it will automatically search for the best angle and position itself to get the clearest view of the sky (usually north in North America.)
The standard kit is not officially usable in motion. People have had luck getting it to work in motion in the past, but it is against the terms of service, and we suspect it will be enforced going forward with the launch of these new plans.
High-Performance Starlink Dish
The second option is the High-Performance Starlink Kit, which is priced at $2,500 US and also comes with a dish on a post, but the dish is much larger and has an additional robust power supply unit. Like the Standard Kit, this option is not officially usable in motion. However, the High-Performance kit is designed to provide faster download speeds than the Standard Kit, and its larger antenna is less affected by obstructions like trees. The high-performance kit uses significantly more power than the standard dish, making it challenging for RVers trying to conserve batteries.
Flat High-Performance Starlink Dish
The third and final option is the Flat High-Performance Starlink Kit, also priced at $2,500. It is identical to the high-performance dish but comes flat-mounted and has no motors. The only difference in performance is that it's designed to be mounted on a vehicle. It is the only option officially usable "in motion." It is ideal for users who frequently travel or require internet access while on the move, but it still uses a significant amount of power.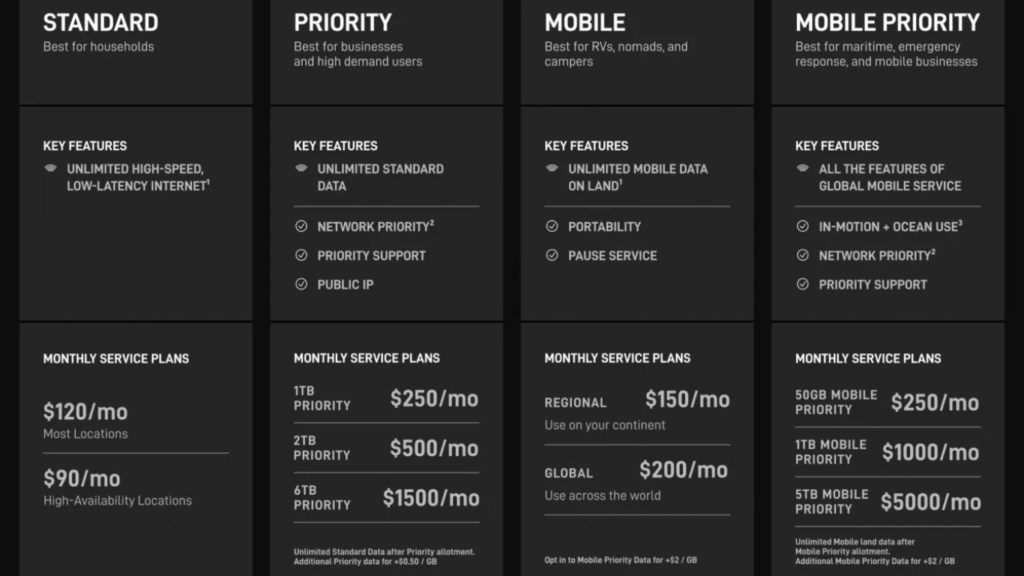 Details of Each New Plan
Standard Plan
This plan is designed for fixed-location users who require a reliable internet connection for their home or business. It's for more than just residential users. You can only use it from your registered service address. You can change your address as often as you want, but there must be availability in the area. So for RVers, you might consider the standard plan if you are a "snowbird," traveling to a fixed location for the winter.
The standard plan is at capacity in some areas, and you have to get on a waitlist to receive access. Some people on the waitlist have been waiting for years now.
The standard plan is $120 a month in congested areas and $90 a month in areas with fewer users. The standard service cannot be paused. If you stop your service, you may lose access at your address.
One of the new changes is that the Standard Plan is now unlimited again. Previously, a one-terabyte limit was announced, and after you reached that limit in a month, your data was deprioritized to the same level as the mobile plan.
Deprioritized data refers to data that may experience slower speeds or lower network priority during times of network congestion. This is a common practice among Internet service providers to manage network resources and ensure a consistent user experience for all customers.
The Standard Plan can now be used with either the Standard dish or the High-Performance dish, but not the Flat-Mount High-Performance dish.
Overall, the Standard plan is the best choice for households that require faster and more reliable internet speeds than traditional satellite or DSL providers can offer. It provides an affordable and convenient alternative for those living in remote or rural areas with limited access to high-speed internet.
Priority Plan
The Starlink Priority Plan is a step up from the Standard Plan, offering higher priority access to Starlink's network resources. This means that users on the Priority Plan will generally experience faster download speeds, particularly during peak usage times. The Priority Plan also includes unlimited data, a change from the former Business plan that it replaces, allowing users to stream and download without worrying about hitting data caps. However, after a set amount of data usage, users may be subject to deprioritization.
The pricing is as follows for different packages of priority data:
1Tb – $250 per month
2TB – $500 per month
6TB – $1500 per month
After your allotment is up, you will drop down to standard data or can pay $0.50/GB for extra priority data. The Priority Plan comes with a higher monthly service fee than the Standard Plan, but for those who require abnormal amounts of data (like businesses with many users), the additional cost may be worth it. You can get the priority plan with either the standard or high-performance dish.
Mobile Plan
The Starlink Mobile Plan is designed for those who need internet access while on the move. It was formerly called Starlink RV, and then briefly Starlink Roam. This plan is ideal for those who frequently travel by RV, truck, or any other type of mobile vehicle, but it only works on land (or very close to land). It often will deliver the same speeds and unlimited data as the standard and priority plans but is deprioritized, so in times of network congestion, it will be slower. And as more users join the network, that could be more problematic.
It offers unlimited data in 2 flavors:
Regional – $150 per month for use on your home continent.
Global – $200 per month for use anywhere around the world that SpaceX is authorized to offer service.
The mobile plan can be used with any of the three dishes Starlink offers but does not allow for in-motion use, even if you have the flat high-performance dish. That's a new change.
Although deprioritized data may be experienced during periods of heavy network congestion, Starlink has a new option for users of the mobile plan to get around it. You can buy priority data at $2 per gigabyte. That data can be used anywhere Starlink has service – including in the middle of the ocean or while in motion (with a dish that allows for it).
The Mobile plan can be "paused" on a per-month basis, meaning you can stop paying for it in the months you aren't traveling.
Mobile Priority Plan
The Mobile Priority plan is similar to the mobile plan but can be used in motion and worldwide (where Starlink has service). Like the regular priority plan, you will pay fixed amounts for packages of priority data:
50GB – $250 per month
1TB – $1,000 per month
5TB – $5,000 per month
or $2.00 per GB for additional priority data
You will be able to switch when you are using priority data and when you are not so that you can save your priority data for when you need it. For instance, yacht owners may have priority data turned off when docked and turn it on when out at sea.
You can also pause the Mobile Priority Plan.
New option to switch between plans easily
If you are still deciding which plan to choose or will need different plans at different times, Starlink now provides an easy way to switch plans. You can access the online portal at any time and make changes to your plan or switch between the priority and regular plans as needed.
Our Experience with Starlink in 2023
We have been using the Starlink residential (now "standard") plan for over a year now full-time on the road, from Florida to Virginia to Baja to Oregon and everywhere in between. (Note, we have "grandfathered" portability service, you can no longer travel with the residential plan without changing your address).
We are a family of five heavy internet users, with online classes, zoom meetings, and YouTube videos to upload, and we consume lots of streaming video.
Starlink is our primary source of internet, but not our only source. We also carry a cellular hotspot with AT&T data and two Verizon cell phones with tethering data available. In few locations do all of our internet options work, and occasionally none work.
Starlink requires a reasonably clear view of the sky to work, but over the last year — as more satellites come online — we've seen a massive improvement in how Starlink handles obstructions. A year ago, a single small tree may have made things difficult. Now we can camp in trees as long as there is a bit of a clearing to set Starlink in. That's one of the benefits of not mounting the dish to your RV.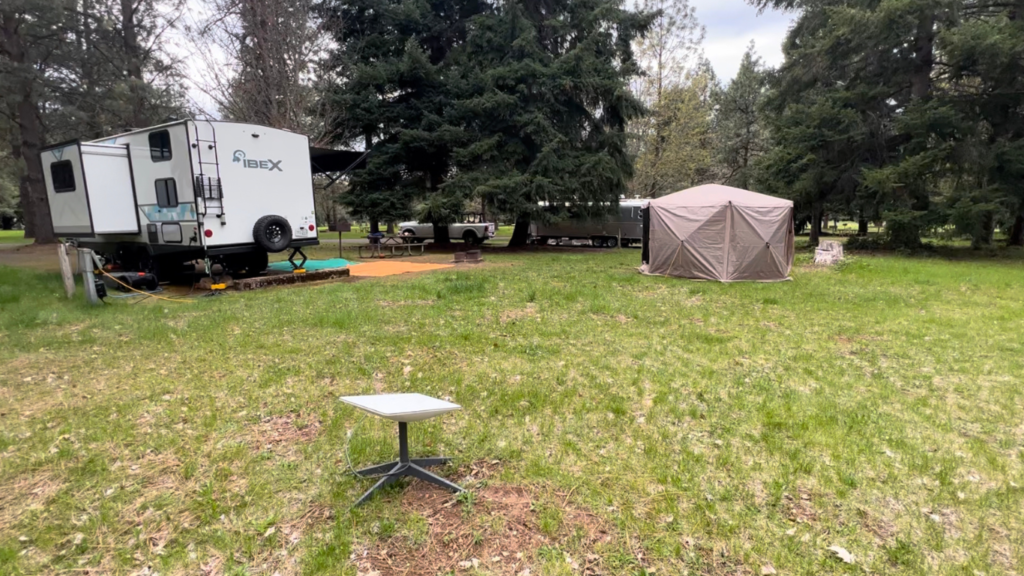 That said, real-time communications are still a big issue with obstructions. Zoom calls and the like can be problematic, especially if you lead the call or present something.
We have seen speeds as low as 1mbps during peak hours, but it has been a long time since that has happened. We usually get around 50mbps downloads and 10mbps uploads. The upload speed has improved over time. It used to be much worse for us. We also travel with a family on the RV plan (now "mobile plan). They usually receive similar speeds to us, but occasionally their service has been slower.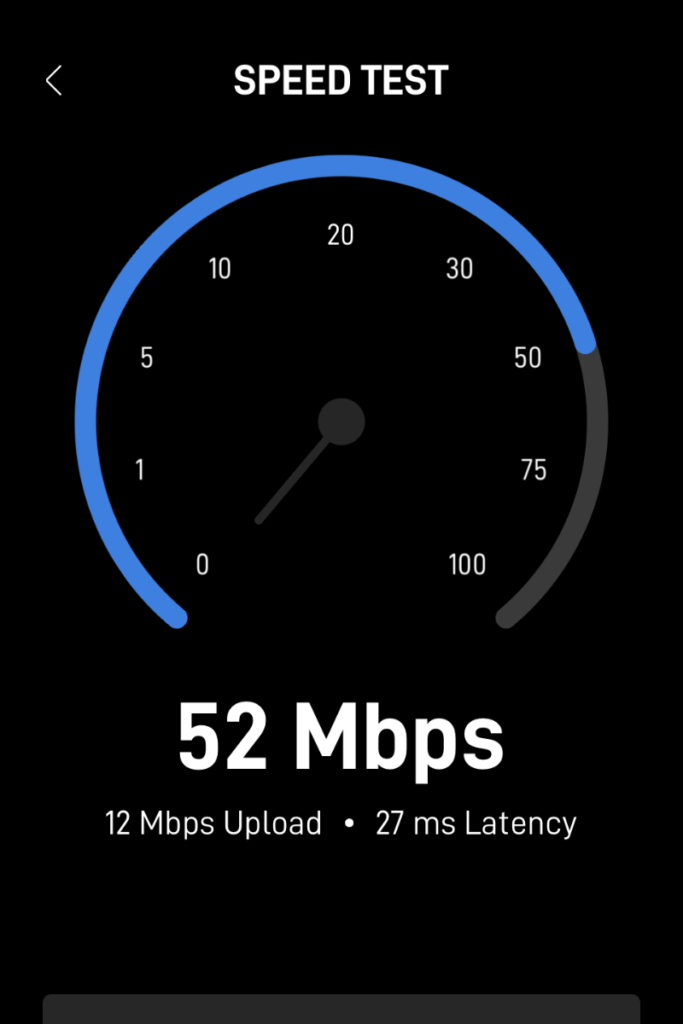 We used Starlink for a month in Baja, California, flawlessly. In fact, we had the best speeds we've ever had in Mexico. There are so many places we have been able to travel to since purchasing Starlink that we could not have gone before without having to drive to a coffee shop for internet (sometimes an hour away).
We have experienced a couple of total outages in our time with Starlink, both under an hour.
Ordering Starlink
Ordering Starlink is relatively easy and can be done through the Starlink website. However, it's important to note that not everyone can order the fixed location plans at this time. Due to high demand and limited satellite capacity, Starlink is operating on a first-come, first-served basis in many areas, and there is a waiting list for new customers. When you go to the Starlink website, you can enter your service address to see if Starlink is available in your area and to join the waiting list with a deposit. Once your order is confirmed, you will receive a notification from Starlink regarding the estimated delivery date of your equipment.
Dishes on the mobile plans will be shipped right away. It usually takes 7-14 days for most people to receive their equipment. Starlink charges $50 for shipping and handling and ships via FedEx.
We recommend ordering a backup cable from Starlink, especially if you are an RVer and will be moving the dish around wherever you go. You want to avoid being in a situation where you must wait a couple of weeks for a replacement cable if yours gets damaged.
Starlink now offers easy transfers of dishes between users who are selling them used. Unfortunately, this has opened up an opportunity for many scammers. We recommend you buy directly from Starlink or from someone you know.
Starlink Customer Service
While Starlink deserves praise for its fast and mostly reliable internet service, some customers have reported issues with its customer service. We have heard many complaints of people waiting weeks for an answer. There is no direct way to contact Starlink customer service. The only way to get in touch is by going to the website's troubleshooting section and clicking the "thumbs down" when it says, "Did this solve your problem." The site will allow you to submit a support ticket.
Conclusion
Starlink is an excellent option for those in rural areas with limited access to reliable internet or those intending to travel to rural areas. Just ensure you know what to expect before signing up and understand the customer service limitations. And if the internet is crucial to your life, make sure to have at least one backup cellular option.
If you are stationary and have access to another internet service, it might be more affordable at better speeds and latency. It could be worth taking the time to research other providers in your area.
Good luck with your internet search!