This episode of the See America Podcast was hosted by Jason Epperson and written and narrated by Abigail Trabue.

Listen below, or on any podcast app:

The See America Podcast is sponsored by Roadtrippers. America's #1 trip planning app. Enjoy 20% off your first year of Roadtrippers PLUS with the code RVMILES917X.
---
Hollywood, 1928. One of the biggest movie stars of the silent era sets out to build herself a gorgeous dream home, sparing no expense and employing a talented legion of industry colleagues to design and build it. But this house wasn't destined for the Hollywood Hills, nor would any human ever live in it. This was the original tiny house, long before tiny houses were cool – Colleen Moore's Fairy Castle, which now resides in the Museum of Science and Industry in Chicago, Illinois.
As a former theater designer and producer, I have crafted and designed my fair share of sets and lights, and yet, any time I stand in front of the Colleen Moore Fairy Castle, I find myself in awe of the artistry, precision and sheer size of the piece. It's massive for a dollhouse, but everything inside it is tiny at a 1″ to 1′ scale. Before full-time traveling, our family spent many an afternoon at the Museum of Science and Industry, and a trip to the Fairy Castle was a must…
History of the Fairy Castle:
Silent film star Colleen Moore was always fascinated by dolls and dollhouses. Born Kathleen Morrison in Port Huron, Michigan on August 19, 1899, Moore was the eldest child of Charles R. and Agnes Kelly Morrison. As a child, she owned several elaborate dollhouses, and her aunts, who doted on her, indulged her great passion, often buying her miniature furniture on their many trips.
In-all, Moore would own eight dollhouses in her lifetime, but it would be the final that would be her greatest creation. The idea for a magical castle first came to Moore and her father Charles during a family cruise to Hawaii. By the time the vacation ended, plans for Moore's dream dollhouse were in place.
Using her standing as one of the most popular actresses in Hollywood, Moore was able to hire a host of industry professionals to help realize her dream, including Horace Jackson, who designed stage sets at First National Studio. Jackson would oversee the floor plan and layout, saying, "the architecture must have no sense of reality. We must invent a structure that is everybody's conception of an enchanted castle."
From there, Moore enlisted the expertise of interior designer Harold Grieve, a natural choice, since he designed the interiors of Moore's real-life mansion. Grieve would fill the miniature castle with working solid gold chandeliers and running water for the kitchen and baths.
Moore's father also played an enthusiastic role, opening an office in Glendale, CA during the construction period, and often solving many of the tiny house's engineering problems.
A friend of many talented artists, Moore's fairy castle is filled with samples of their work. In the Drawing Room, stacked on the playable rosewood piano, are scores copied in tiny notes by Rachmaninoff and Stravinsky, Richard Rogers, Irving Berlin, and George Gershwin. The list is a who's who of music.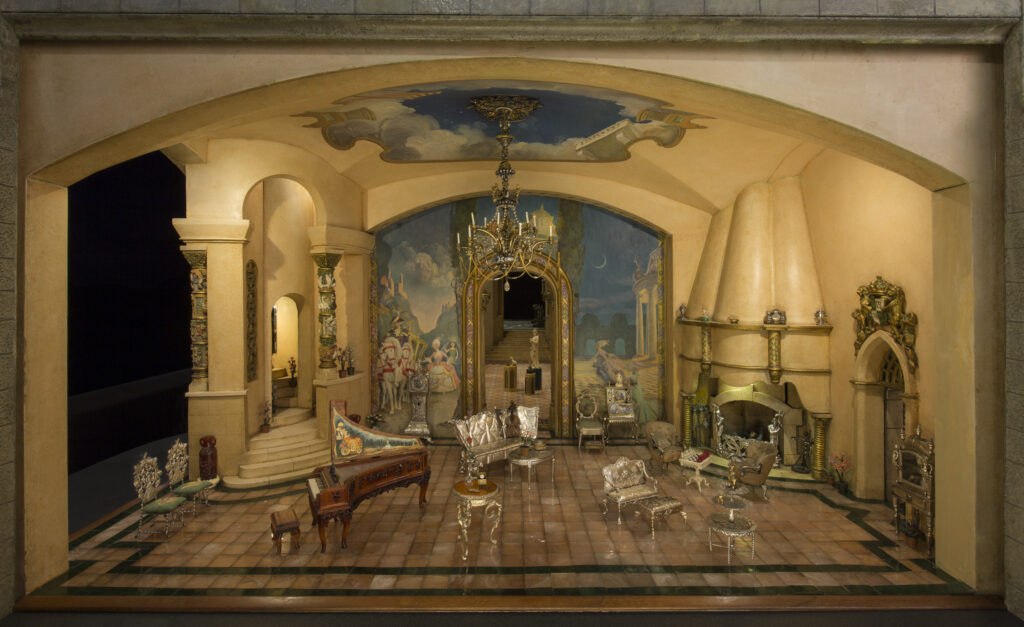 The Library features books less than an inch at their longest dimension, written in small-scale by some of the most famous authors of the time – authors like Noel Coward, Thornton Wilder, John Steinbeck, Arthur Conan Doyle, Edna Ferber, Sinclair Lewis and more. But it's the sixty-five 18th century leather-bound miniature books that are the heart of the Library's collection. It even has the world's smallest Bible, printed in 1840.
As you go through each room, fairytale themes appear before your eyes. In the dining room, King Arthur holds court in a replication of the round table. The Kitchen wall murals feature the three Little Pigs, Jack and Jill, Humpty Dumpty and Little Bo Peep. In Cinderella's drawing-room, a full-length portrait of Mickey and Minnie Mouse dressed as the King and Queen of Hearts was painted by Walt Disney himself.
The Magic Garden features the stories of Aladdin, The Wizard of Oz, Don Quixote and even Santa Claus. A Silver Coach waits to take Cinderella to the ball. The Magic Garden also includes one of Moore's favorite pieces -a cradle that sits on a rocking tree. The piece was made with jewelry from Moore's grandmother, which she inherited from childhood. Her mother's engagement ring was repurposed as a vigil light in the chapel.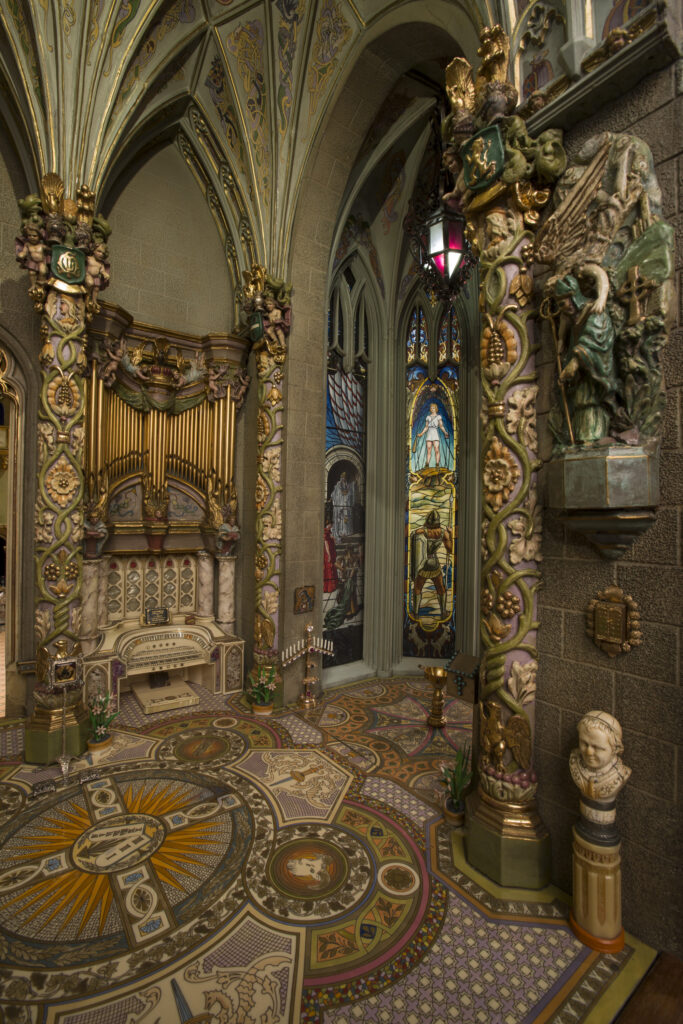 In fact, diamonds and other jewels make up most of the tiny crystal chandeliers. There's even a set of Royal Doulton china. Only two copies of this set were made; the other set resides in Queen Mary's dollhouse. Suits of armor made of real silver, given to Moore by Rudolph Valentino, guard the halls. And what is said to be a sliver of the True Cross resides in the house, which Moore received from her friend Clare Booth Luce, the Ambassador to Italy, who received the relic from the Pope.
By 1935, approximately 100 people were working on the Fairy Castle, which contained more than 1,500 miniatures and cost nearly $500,000, well over $9 million in today's money. The house's floorplan spans just over 8′ in each direction, yet it's full of every fit and finish imaginable for a castle.
In 1935, Moore's fascination with her dollhouse was transformed as the Great Depression tore through the country. Spurred by a passion to help, Moore organized a national tour of the Fairy Castle to raise money for children's charities. The entire structure can be broken down into 200 individual pieces that fit in specially designed shipping crates. The tour stopped in major cities throughout the United States, often exhibited in toy departments of prominent department stores such as Macy's in New York City, The Fair in Chicago and May Co. in Los Angeles. The tour was a huge success and raised more than $650,000 between 1935 and 1939, more than it cost to build it in the first place.
In 1949 Major Lenox Lohr, director of the Museum of Science and Industry convinced Colleen Moore to have the Fairy Castle make one final journey. She described their encounter as follows: "When I was seated next to Major Lohr at a dinner recently in the directors' coach at the Chicago Railroad fair, he mentioned the dollhouse while we were having soup, and by the time dessert was served, he had the dollhouse!"
Today the "dollhouse" has been renamed the "Fairy Castle" and has its permanent home at the Museum of Science and Industry. The Fairy Castle is displayed behind glass, and the light, temperature and humidity in its environment are carefully controlled to ensure that the artifacts will be preserved for generations to come.
Visiting The Museum of Science and Industry:
1.5 million people visit the Museum of Science and Industry, or MSI as it's known, annually, making it one of Illinois' biggest tourist attractions. It's also the largest science museum in the western hemisphere. It was founded by philanthropist Julius Rosenwald, chairman of Sears, Roebuck, and Company. He was determined to house the museum's collections in the Palace of Fine Arts, the last building remaining from the World's Columbian Exposition that had been held in Chicago in 1893. The structure, which had been designed expressly for the exposition, had served as the temporary home of the Field Museum of Natural History until 1920 and had begun to disintegrate from neglect. It was rebuilt of more-permanent materials from 1928 to 1932 and was opened to the public during the city's Century of Progress Exposition in 1933.
The museum hosts major exhibits on mining, automobiles, telecommunications, aviation and aeronautics, space travel, agriculture, time, and medicine. Early planes hang overhead of a giant locomotive and a 3,000-square-foot model railroad. There's a full Boeing 727 hanging from the balcony, and a World War II German U-505 submarine underground. The Pioneer Zephyr, a gleaming train sits in the main lobby. It raced a nonstop "Dawn to Dusk" speed run from Denver to Chicago in 1934. The Zephyr completed the trip in just over 13 hours, ushering in a new height of train travel and style. Its sleek Art Deco form was soon to be mirrored in everyday items from transportation to toasters.
The museum's Henry Crown Space Center is home to a giant dome Omnimax theater, the real Apollo 8 module and the Aurora 7 capsule.
MSI is located just south of downtown Chicago on the lakefront in the beautiful and historic Hyde Park neighborhood. It's open every day except Christmas and Thanksgiving.
---
Connect With Us
Join the See America Facebook Group here. You can also follow See America on Facebook, Instagram, and Twitter.
Find more resources for the U.S. based traveler and National Park enthusiast at RVMiles.com.