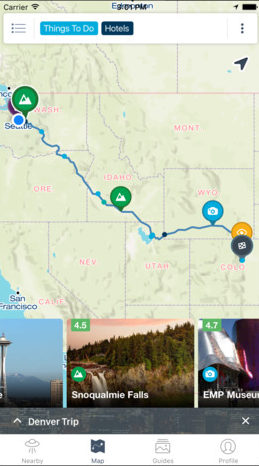 Save 15% on Roadtrippers PLUS with coupon code RVMILES2X.
Roadtrippers PLUS is one of the top-rated road trip planning apps and exclusive sponsor of the RV Miles See America Podcast.
Roadtrippers PLUS features options such as offline maps and live traffic. EV charging station information within the app, along with new RV-friendly trip routing tools like vehicle dimensions, safety alerts, and route avoidance.
New map filters highlight categories like offbeat attractions and campgrounds that can fit your big rig. Roadtrippers Plus members enjoy an increase in the popular waypoint feature. 150 waypoints per trip.
Roadtrippers PLUS is currently $29.99, however, RV Miles readers can save 15% with our Roadtrippers PLUS coupon code RVMILES2X.
Looking for more great deals on RV-related items? Check out our DEALS section in the menu above or click here.
This article contains affiliate links. When you shop with an affiliate link RV Miles receives a small kickback at no extra cost to you. Thank you for your support.