Don't pass on this amazing National Park in the western section of Colorado.
Quick Overview of Mesa Verde National Park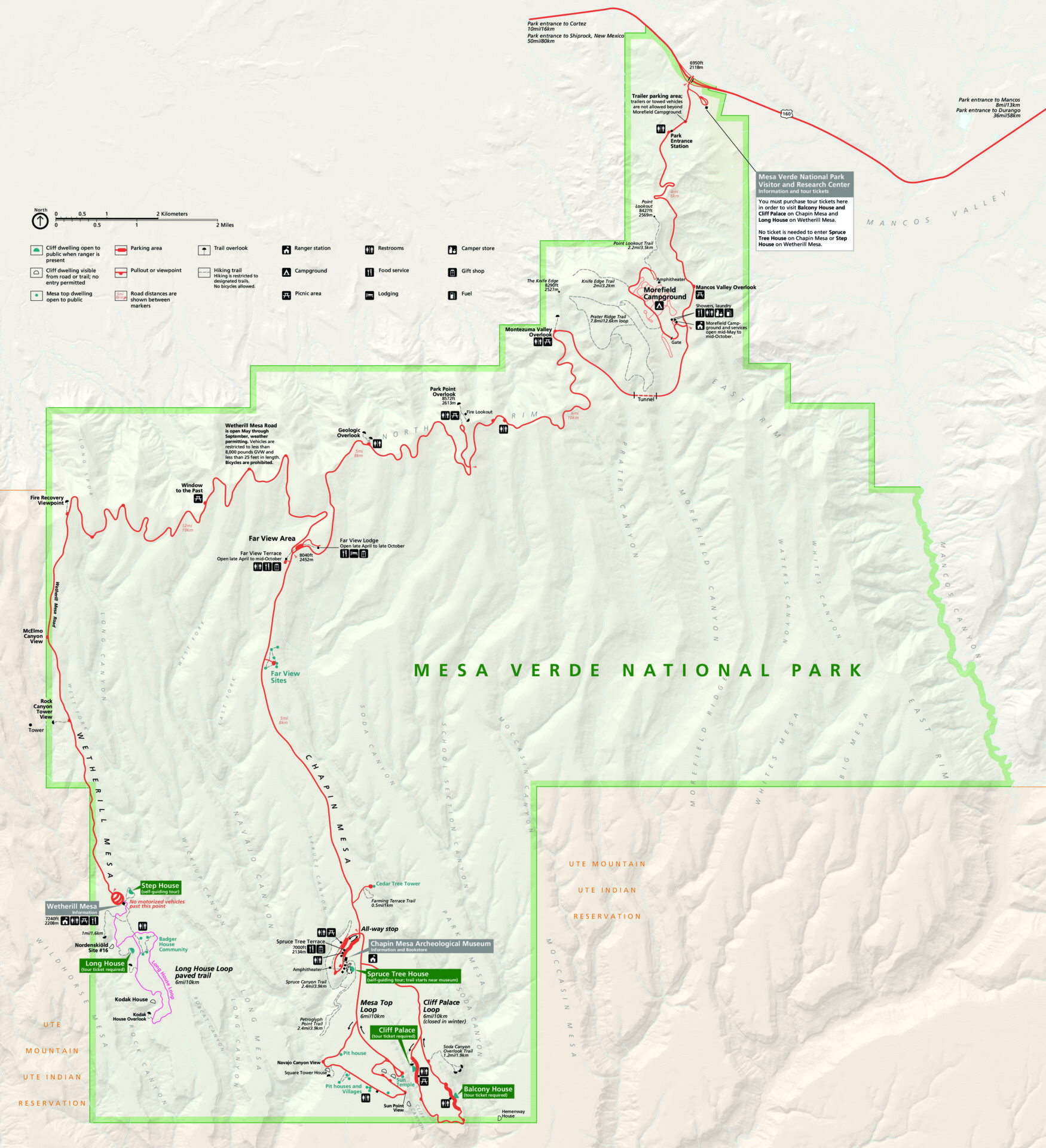 Southwestern Colorado's Mesa Verde National Park is an excellent park for an RV vacation due to its ease of access and on-site campground.
It's a stunning park that hosts dozens of ancient cliff dwellings as the main attraction but offers so much more to see and do. As the landscape transitions from Colorado's rocky mountains to the red rock of Utah and Arizona, Mesa Verde offers something totally different. Flat-topped green mesas offer stunning vistas in every direction.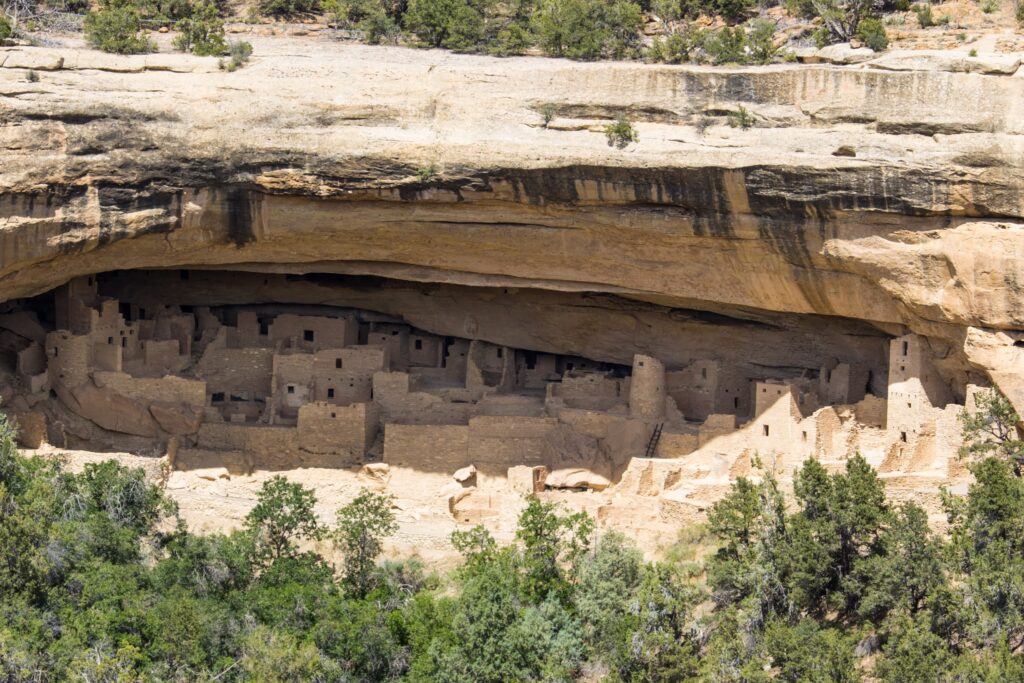 The cliff dwellings are more than 700 years old and are in excellent condition. You can view most of them from the park road's paved overlooks, or get up close and personal with a ranger-led tour.
The tours often require scaling steep wooden ladders and aren't for everyone. But do not skip this park just because you don't want to a tour. There is so much to offer, including many incredible hikes and a self-guided loop-drive tour.
Mesa Verde is a bit of a hidden gem, meaning you often don't have to deal with the oppressive crowds some parks suffer from.
Location
Mesa Verde has its own exit right off of US 160 between Mancos and Cortez, Colorado, in the "four corners" region (where Utah, Colorado, New Mexico, and Arizona meet).
160 is big-rig friendly. If you are coming from Eastern Colorado, you'll need to go over the continental divide at Wolf Creek Pass, which isn't too difficult in good weather. But if your truck is undersized or your rig struggles with grades, you're probably better off crossing further south on I-25 or I-40 and heading back north on US 491.
The town of Cortez has a Walmart, restaurants, a hospital, and other basic provisions. Mancos is much smaller, without a full grocery store. But it has some quaint dining options.
Your RV in the Park
Motorhomes are allowed on the main park road and should have no issues navigating it. There are many hairpin turns and hills, but nothing really dangerous.
There are tons of motorhomes that navigate the park every day, as well as plenty of tour buses. But if you tow a car with you, there's a parking lot just past the main entrance gate where you can unhook and leave your rig behind.
There is ample motorhome parking at most (but not all) of the overlooks and points of interest throughout the park. Trailers are not allowed past that same parking lot. You must unhitch and leave your trailer behind unless you are driving into the campground.
This parking lot is NOT the main visitor center parking, which is located outside the main entrance gate. You should not leave your trailer or motorhome behind at the visitor center.
A large motorhome may have difficulty parking on the loop road tour, but medium to small rigs should be fine.
It is a decent drive (20 min+) into the park before you'll see any cliff dwellings.
Pay very close attention to the speed limit wherever you are in the park. Law enforcement rangers are very aggressive about ticketing speeders in Mesa Verde. We witnessed 4 vehicles pulled over within just one hour.
Camping
The parks Morefield Campground offers full hookups at an affordable price and has a laundromat and fuel station. But it isn't very big-rig friendly (probably 35′ max), and has virtually no cell service. It's also run by a concessionaire, so your Senior Pass or Access Pass will not give you a discount.
Another option is Mancos State Park, which is about a 15-minute drive into Mesa Verde.
We stayed at the Echo Basin Resort on Echo Basin Road in Mancos, which is about 25 minutes from Mesa Verde. It's a full-hookup campground with lots of shady sites, a restaurant, bar, playground, and a small pool. It has a great rustic, ponderosa pine feel and friendly staff, along with easy access to the mountains of the San Juan National Forest right behind it.

The National Forest has excellent boondocking options off Echo Basin Road (and is a great visit all on its own). Bigger rigs will be able to navigate the lower elevations, and smaller rigs can nestle back into the mountains or perch onto some cliff-top camp spaces. Many of which are cleared with fire rings.
Off-roading is very popular here. You could easily spend several days boondocking in the National Forest and a night or two at Echo Basin Resort to dump, fill, laundry, and shower.
What to Do at Mesa Verde National Park
Loop Tour
The first thing you'll want to consider at Mesa Verde National Park is the Mesa Top Loop Road Auto Tour on Chapin Mesa. This drive will take you to several pit houses, cliff dwelling overlooks, and gorgeous views, all accessible from short paved paths. If you download the park's app, you can listen to an audio narration.
Make sure to download both the app and the individual audio files before you get deep into the park, where there's little cell service. It will take you a couple of hours at the least to visit all the stops, but you can pick and choose. Just make sure to see "downtown Mesa Verde" and the Cliff Palace toward the end.
Hiking in Mesa Verde National Park
Chapin Mesa is also home to a small museum. which is the launching point for two great trails: Petroglyph Point and Spruce Canyon. Both are 2.4 mile loops, and they start off together. Spruce Canyon takes you down into the canyon, around, and back up for an up-close look at the landscape.
Petroglyph Point hugs the cliff walls of the same canyon and provides spectacular views as you conquer easy rock scrambles and wind through rock hallways. Near the end is a wall of petroglyphs before a steep ascent back up to the canyon rim.
If you don't have the time (or aren't capable of long hikes) you can go the wrong direction (clockwise) on the 3/4-mile gravel rim section of the Petroglyph Point trail for easy access to dramatic views.
Near the front of the park, check out the easy Knife Edge trail or the Point Lookout Trail, both a bit over 2 miles total (out and back). You'll get excellent views of the Montezuma Valley, especially at sunset.
Cliff Dwelling Tours
Balcony House, Cliff Palace, and Long House cliff dwellings can only be visited by taking a ranger-guided tour. The tours are various lengths, but all involve ladder climbs. There are no height or age restrictions, but children must be capable of walking the extent of the trails, climbing the ladders, and negotiating steps independently. Infants must be carried in backpacks.
---