We eat a lot of pork. I mean, a lot. It has more flavor than chicken, and is a lot cheaper than beef, especially lately. You can do a lot with it, and it goes with almost anything. Plus, it is fairly healthy since it is so lean.
We will be doing something different today by making lettuce wraps, and we will also be using a wok. If you don't have one you can use a large, cast iron pan. If you don't have one of those, go get one and then come back when you are prepared to do some real cooking in the kitchen. Your Insta Pot will not save you here. (OK, you could probably do all of this in an IP, but it won't be stir-fried and it definitely won't be as much fun!)
VEGGIES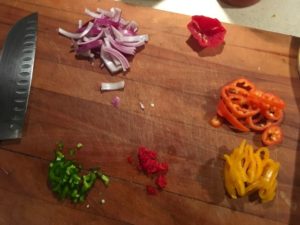 Start by slicing all your veggies. This way you are prepared to toss them into the wok as they are needed. When cooking with a wok it is important to always have everything prepared ahead of time, because you are working at really high temps and it doesn't take long for something to overcook or even scorch.
How many veggies? Again, that is up to your tastes and how many people you are cooking for. For the two of us, I sliced, diced, and chopped up about a quarter cup of orange pepper, yellow pepper, and red onion. Then I prepared about an eighth of a cup of jalapeños, and just a large pinch of habanero.
Feel free to use or add whatever veggies you want. I like the contrast between red onions and sweet peppers, with the heat from the others. I usually use mushrooms as well, but I didn't want to make this dish too veggie heavy. Also, you can slice, dice, mince, or chop them anyway you like. I like to have different sizes and shapes in my meals to make them not only more appealing to the eye, but it also changes the texture of the dish as well as how the flavors combine in your mouth.
PORK
I recommend slicing the meat after the veggies, especially if you are using the same cutting board. That way you can't contaminate the veggies. If you have a large cutting board you can leave the veggies on it and just keep the meat separated. If you only have a small one, take the veggies and place them on a plate and set them aside.
You can use whatever you want here, but thin cut pork chops are the easiest to manage. I like using what they call "breakfast chops" down here in Tennessee because they are really thin. I sliced the pork into little strips about a quarter inch wide and two inches long.
BACON (Yup! More pork!)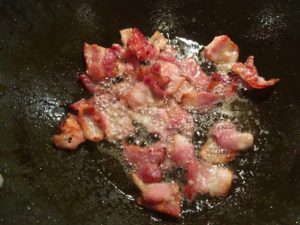 Cook up some bacon. How much? That depends on how much you want in your wraps. Do you want stir-fried pork wraps with bacon, or bacon wraps with stir-fried pork? Your choice. No one here will judge you.
Cook it any way you like. Fried, baked, whatever. Here's a little tip: Most restaurants bake their bacon. That is why it is always pretty flat and not all shriveled up. Depending on the bacon I get at the store (boy, do I miss making my own…) I will either bake it in the convection oven or fry it in my large Wagner cast iron pan. For this recipe I was only going to use a few strips, so I opted for frying it in the wok to add flavor to the pork and so I only had to wash one item when I was done.
Make some rice. I don't care how you do it. Minute Rice works just fine. You can even use your Insta Pot.
ARE YOU READY TO WOK?
Start by getting the wok nice and hot. This takes no time at all on a gas stove, but if you are using an electric one it might take a bit. This can also be done outside on the grill, of course. Once the wok is nice and hot add a teaspoon of oil. Not EVOO or olive oil! If you try to use olive oil in a wok it will burn because the smoking point is too low. Peanut oil works well, as will any of the available "stir fry oils" on the market. My favorites are made by House of Tsang. They have all sorts of oils, from relatively unflavored to spicy Szechuan.
This is why it is nice to have a few choices in your cabinet.
When using a wok you want it to be as hot as possible so the food cooks faster and you don't lose all the good stuff, like flavor and vitamins.
Add the oil, coating the entire inside of the wok buy swirling it, and then add the bacon pieces (Hot Wok, Cold Oil). Now, if you have never used a wok before, there is a certain technique that you use to keep everything cooking evenly and to avoid burning it. This guy knows what he is doing:
Personally, I don't like using a metal utensil in my wok, so I use a wooden spatula to help move the food around.
Once the bacon is done, take it out and let it sit on a paper towel to soak up some of the grease. Leave the stove on and the wok hot.
Judge how much bacon grease/oil you have in the wok. Is it enough to cook all the pork you sliced? Another nice thing about cooking in a wok is that it takes a lot less oil to cook the same amount of food because of its shape. This means that it is also an inherently healthier way to cook. You just want enough oil to make sure the amount of food in the bottom doesn't stick to the wok. You don't need to cover everything. We are not deep frying here (though that is pretty easy to do in a wok as well).
Start adding the pork to the wok. If it is looking like you have way too much pork and not enough oil just go ahead and add some. The more often you cook like this the better you will get at judging what you need. This is where you can also add any spices to the pork. Again, it is up to your tastes, and also what you are using for the oil.
If you have sliced the pork thin, it should only take a couple minutes before you are ready to start adding the veggies. The pork should be about halfwaydone so that when the veggies are cooked the pork is not well done. I added the onions first because I want them to cook a little longer than the peppers and soften up. After a minute or so add the sweet peppers. After another minute or so add the jalapeños and habanero (obviously skip this step if you don't like, or can't eat, spicy foods).
Keep that food moving until the veggies are warm and just start cooking through. When you think it is done to your liking, turn off the stove, and if using an electric one, remove the wok from the burner.
…AND ROLL?
Grab some lettuce. Whatever you like. I used romaine because it is my favorite, but you could use bibb, butter, Boston, or Chinese lettuce. Yes, you can even use iceberg, even though there is almost no nutritional value or flavor in it.
Make a bed of rice in each leaf, then add the ingredients from the wok on top. I also added cherry tomatoes (or whatever they are called in your neck of the woods) sliced in half for sweetness and also more cold items to contrast the warmth of the cooked ingredients.
Serve them open, that way everyone can watch everyone else try to roll up their dinner. Hilarity will most likely ensue, unless you are adept at lettuce wraps. Hint: Leave enough room to use the lettuce like a tortilla. Start rolling one side, fold over one end, and then continue rolling. That way the filling can't fall out of the bottom.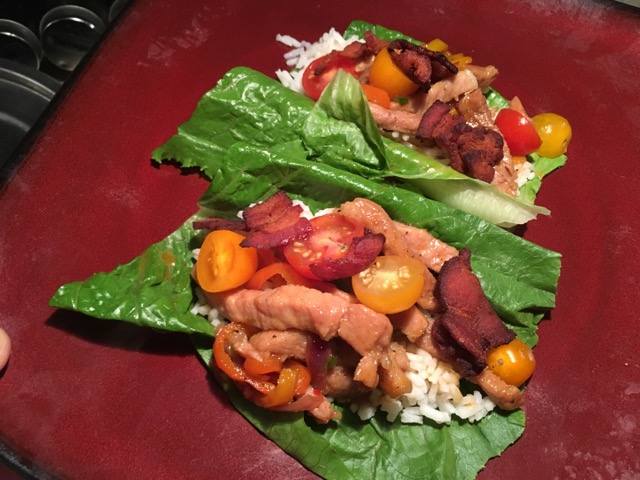 ---
Recipe:
1/4 cup orange bell pepper (or sweet pepper)
1/4 cup yellow bell pepper (or sweet pepper)
Or whatever peppers you like
1/4 cup red onion (or yellow, or white)
1/8 cup jalapeños (or not if you don't want it to be a little spicy)
Large pinch of habanero pepper (see above)
Or whatever veggies you like
These are all sliced, diced, or chopped however you like them. Be creative!
One thinly sliced pork chop per person- about 4 ounces
1 strip of bacon per person (or more. There is no such thing as too much bacon)
Chopped into one inch pieces
Rice- one serving per person (look at the box)
Stir fry oil, or peanut oil (amount depends on how many people you are cooking for)
One leaf of lettuce per wrap, two wraps per person.
Cherry, grape, or constellation tomatoes- sliced in half