We're grill people. Always have been. We love cooking outdoors, especially when camping. There's just something about the open air and flame-kissed food. Part of the problem with camping and grilling is that it's just messy as heck.
Though I love cooking on charcoal, lugging around briquettes and cleaning out ash isn't very desirable. Portable propane grills have to send the grease somewhere, so you're often left with a huge mess to clean up at the bottom of the grill and no real convenient way to do it. That's why most campers just cook with pots and pans on camp stoves or cook over a wood fire. Cooking over a campfire can be fun and tasty, but it's hardly easy. Three meals a day for a full-time family can get laborious when you have to build a fire each time, and pull the food off every couple minutes to see if it's done. Plus, there are a lot of areas where campfires are banned.
So what to do? We wanted a true grill, one that would sear with direct flame, but be compact, maneuverable, and easy to clean. That's why we were thrilled to find the Coleman Road Trip LXE.
What piqued our interest about this grill was it's large cooking surface, removable cast iron grates (most portable grills use a steel wire grate), it's ability to collapse, wheels for hauling it around, and what seems like a really easy to clean design.
We made our purchase from Amazon, where the price ranges from $127.99 to $191.98 depending on which of the 8 colors you choose. We went with the red "official grill of the National Park Foundation" model, partly because we like to support the national parks, but mainly because it was the least expensive.
Unboxing and Assembly
The LXE arrived in a large, heavy box with a lot of styrofoam packaging. Once out of the box, assembly essentially consisted of putting the wheels on to the legs. That's it. Pretty simple.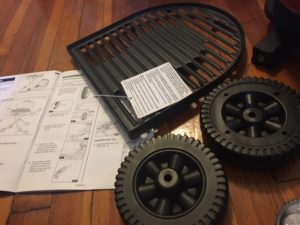 The stand took me a minute to figure out how to unfold, but once I did, it made sense. Two trays slide out of the sides to hold food and cooking necessities. They are sturdy and easy to use. There's also a place to hang utensils on the front. Installing the 1lb propane cylinder was a piece of cake, and I like that it has a support to keep it in the right position.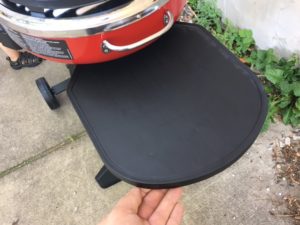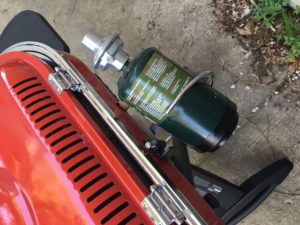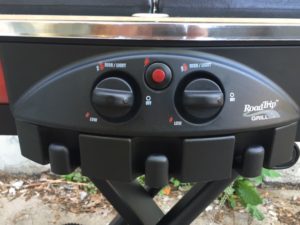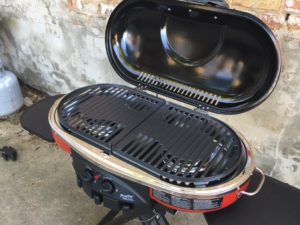 I was immediately impressed by the wide burners and the quality of the cast-iron grates, though they add a lot of weight. This isn't the easiest grill to lug around, particularly if you can't lift a lot. The rolling wheels are nice, but you can't count on them when packing up, as you'll read about in a moment.
Cooking
Our first test of the Road Trip LXE consisted of some pre-made pub burger patties from the deli counter at the grocery store. I thought this was a really good choice, because the patties were laced with cheddar cheese chunks inside, which I know from the past can be a sticky nightmare to clean up. We also heated up some baked beans and toasted the buns.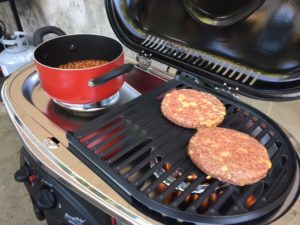 The grill lit up immediately from the push of the ignitor button. No using a lighter to get it going, which is common for propane grills. I waited for a minute for the cast iron grates to heat up and then tossed on the patties. They sizzled immediately, at a perfect medium-high.
When it was about time to turn them, you could see that the burner doesn't exactly heat evenly. At first I was annoyed by this, but then I realized that the sloped shape of the underside of the grill makes for hotter cooking towards the edges and cooler towards the middle. Knowing that in the future will actually help me keep stuff from overcooking, but there's a little trial and error involved. In the end, the LXE provided a perfectly seared burger with nice grill marks. I was worried that the large circular section in the center would affect cooking, but it doesn't seem to.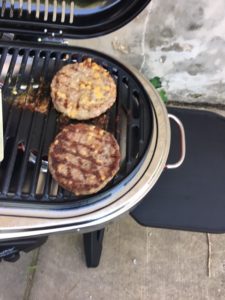 One of the common issues I have with propane camp stoves, in particular, is that they run too hot. The LXE was able to give me a good low setting to simmer the baked beans without boiling and burning them. Even though we didn't order the available pot stand, I was able to set our beans right on the burner with no issues. It wasn't unstable at all on the wide burner. I don't know that I would recommend that on land that isn't perfectly level, but it worked for me.
There's plenty of space for a lot of food. I could easily do proteins and a side for my family of 5 with room to spare. The only major cooking issue I forsee is that the lid is shallow, meaning you can't cook a large roast or whole chicken on this grill.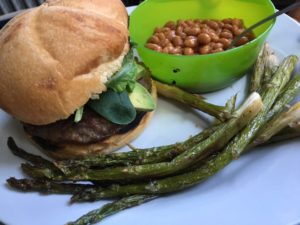 Cleanup and Storage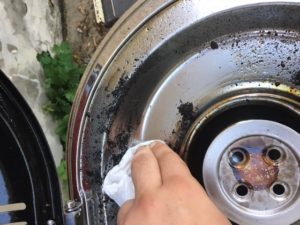 After eating and letting the grill cool, I was easily able to remove any food bits left on the grates with a grill brush. When I lifted up the grates to clean the underside, I was pleasantly surprised that everything wiped away with one swipe of a paper towel. That large round shape in the middle of the grates does a good job of keeping food bits and grease out of the burner itself. I would probably avoid cooking sugary things on a grill like this, because I don't think burnt sugar will remove as easily. So, be careful with your barbecue sauce and fruits.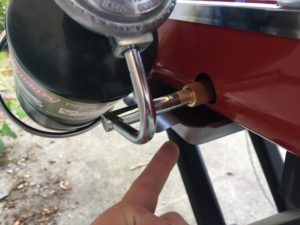 The only issue I had with cleanup was that the removable grease tray is in an awkward location that requires you to take off your propane cylinder to remove it.
When it came time to pack the grill up and put it away, I had a couple issues. I again ws challenged by folding up the stand. When I went to wheel it away, it rolled along just fine, but when I decided to lift it by the pull-handle to go down a couple stairs, the whole thing opened up on me, whacked into the ground, and the top got scratched. If you get this grill, you have to lift it horizontally by both steel handles, not the plastic pull-handle.
Overall, I think the Road Trip LXE will be a great fit for our family. If you're looking for a large cooking surface, and easy to clean design, this grill is for you. I would avoid this grill if you are concerned about weight and size. It's a beast! You can get the optional pot stand accessory and a griddle-grate that fits into the same slot as the grill grates from Coleman.