An indoor RV Park is suing the state of North Dakota. New York is shortening its camping season. This and more in the latest RV and camping news.
Have a news tip? Email us at [email protected].
Prefer to watch the news? This episode and past episodes of the news can be found on our RV Miles YouTube channel.
Maine State Parks Set Recrods
We kick off this week with a topic that continues to dominate campfire discussions and was one of the hottest asked questions at our recent RV Miles Meetup – the need for more campgrounds and campground popularity.
Maine, home to 48 state parks and historic sites, with a statewide population of about 1.4 million people, has seen a soaring increase in campground attendance since the start of the pandemic. According to the Portland Press Herald, 2021 is now the second year in a row the parks have set an attendance record. 315,000 campground visitors, up from last year's 270,000. State officials say they expect 2022 to be even bigger.
New York Shortens Season
That type of news is what makes this announcement from New York state parks so surprising. The state will decrease its 2022 camping season by as much as four weeks in some parks. Speaking to a local NBC news affiliate, park officials were quoted as saying "State parks periodically adjust the camping season schedule to respond to visitor demand and ensure quality." That's vague.
With a short camping season to begin with, and millions recently spent to improve the parks, the decision to reduce the season has left many confused. The state plans to focus on the core camping season from Memorial Day to early October. Open and closing dates will vary with each state park. Letchworth State Park's camping season for 2022 will decrease by four weeks. The popular state park will open three weeks later than the 2021 season, and close one week early. Cutting a total of 28 days off its camping season. 
Indoor RV Park in Western North Dakota Sues State
An indoor RV park in western North Dakota is suing the state over a denied license renewal. The campground alleges that in late 2020 the North Dakota Department of Health made it clear that its operating license for 2021 would not be re-issued unless new "cost-prohibitive" conditions were met. The suit implies these new conditions and the Health Departments' involvement was all due to an ongoing dispute with the North Dakota Fire Marshal's Office. A dispute going back as far as 2016 when concerns were raised about safety in connection with how the park operated. In 2018, the Fire Marshal's Office issued an order halting residential use of the park. The order was appealed and before any judicial resolution could be found, the Fire Marshal's Office abandoned its order.
The suit claims that that move was a play by the Fire Marshal's Office to coordinate with the Department of Health on shutting the park down. There's a lot of grey water here, and no one seems to want to give any clear statements as to exactly what issues were raised or what was done to address them.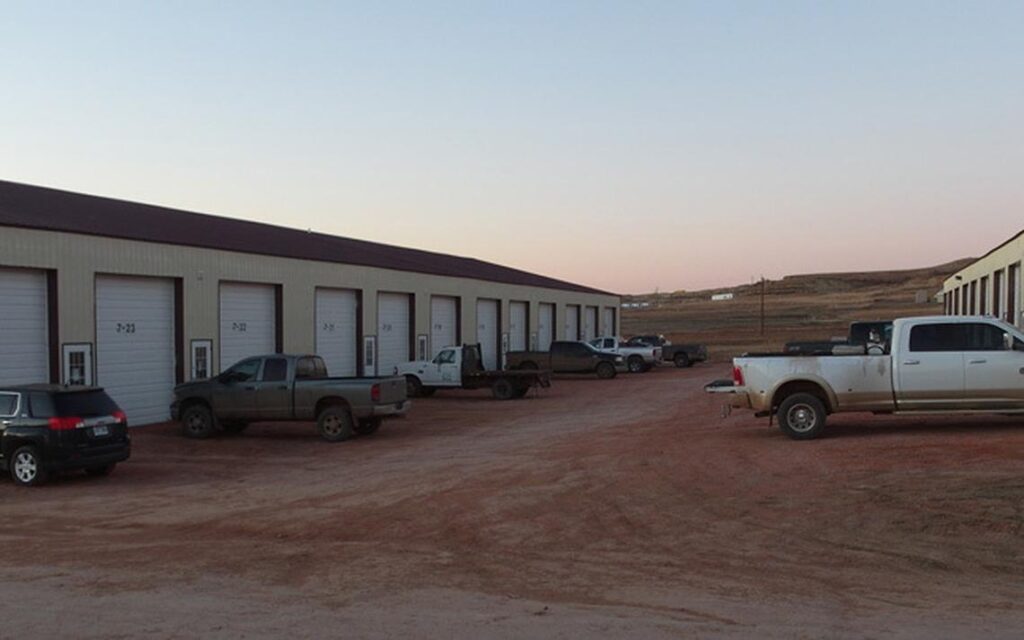 The Watford, North Dakota campground opened in 2013. The park offers ten insulated buildings equipped to house 160 RVs. Each building offers eight bays with each 50-foot-wide bay able to accommodate two RVs. The sites provide water, electric, and sewer hookup for each RV. The suit alleges that the park invested $5 million in specialized equipment based on an expectation that the state would issue operating licenses. The license would be "on the same basis" as the original. In the suit, the campground believes the Fire Marshal's Office "sought to circumvent the park's right to judicial review … by using the Department of Health as a 'backdoor' to enforce the abandoned abatement order."
According to several articles, The North Dakota Attorney General's Office said in a written response that the state denies the allegations made in the suit and will answer the claims "in due course." Calls to the North Dakota Indoor RV park were answered by a recorded voice stating that the park was temporarily closed but that storage space was available for rental. The lawsuit, filed in a U.S. District Court, is asking that state officials be forced to renew the park's operating license, or in the alternative, pay the RV park at least $5 million for the property improvements.
New Automobile Prices Reach All-Time High
New-vehicle prices jumped up for a seventh straight month reaching another all-time high. The average price surpassed $46,000 in October, according to a new report from Kelley Blue Book. The average transaction price is currently $46,036 up 12.9% from one year ago and up 2.0% from September 2021. Trucks, along with SUVs and luxury automobiles continue to drive the overall rise in price. The average luxury buyer paying almost $62,000 last month for a new car. 
According to Kayla Reynolds, analyst for Cox Automotive, the current buyer is a mix between an impatient one and a desperate one as inventory continues to remain well below healthy levels. Reynolds goes on to say that "while the average transaction price jumped to a new record high, the average incentive package fell to a 20-year low." Buyers are accepting no-haggle pricing, and much like we have been saying in the RV buying world, the same holds true here – it is absolutely, 100% a seller's market.
Automakers continue to focus on high-revenue products, shifting away from more affordable sedans. Kelley Blue Book expects no immediate relief from high prices. New-vehicle inventory is expected to remain tight through the first half of 2022. Automakers continue to focus on high-revenue products, and the market mix will continue to shift away from more affordable sedans. 
Keystone Expands Cougar Production
The RV capital of the world, Elkhart Indiana continues to see impressive growth, as multiple RV manufacturers continue to expand and branch out into nearby areas. Keystone announced this week it will open its fourth Cougar manufacturing facility according to a recent article in RV Business. Slated to open last year, but put on hold due to pandemic challenges, the new facility will address the increased demand. It will also allow the company to shorten its lead-time on pre-sold units. 
Ember Produces First Trailer
A company we've been keeping an eye on all year, Ember Recreational Vehicles celebrated the creation of the very first uni to come off the production line earlier this month. Among those in attendance were Dave Haylett and Josh Winters of Haylett RV. You may know Josh as Josh the RV Nerd on YouTube.
Haylett was there to take delivery of the Overland 170BH travel trailer which they'll take back to the dealership in Coldwater, Mich. Dave Haylett told RVBusiness the unit will not be for sale. He'll be adding it to his collection of vintage automobiles. That's how big of a deal this is. Haylett also went on to praise the management crew saying, "You've got decades of experience here, but a new generation of trailer."
Forest River Expands IBEX Production
These off-road adventure trailers are clearly all the rage in the RV industry, and the growth doesn't stop there. Forest River announced a major expansion in nearby Noble County as the company looks to ramp up production of the IBEX Travel Trailer line. The three-building facility will house IBEX production, parts, and service center. According to RV Business, Forest River has invested well over $4 million to acquire 65 more acres in the area to develop three 95,000-square-foot facilities. 
The IBEX lineup features eight floorplans, four of which are 7' wide and weigh in at under 5,000 lbs. The rest are under 7,000 lbs, making them ideal to be towed behind SUVs and smaller trucks.
All IBEX models feature Azdel construction, largest-In-class refrigerators, solar, an inverter, heated and enclosed underbelly, tank pad heaters, all-terrain tires, and increased ground clearance. There's a central vacuum system, 12V television, Rhino-Rack RTV tracks, Panoramic front window, and more. 
RV Miles Podcast Now Has Its Own YouTube Channel
Finally, just a reminder that the RV Miles Podcast now has its own YouTube channel. Come join Abby and me every week for a talk show-style discussion on travel destinations, news, listener questions, plus interviews featuring people from all around the RV world. We look forward to seeing you over there as well. 
Question of the week: Would you camp at an indoor RV park? Share your thoughts on that topic, or any covered in this article in the comments below.
Get caught up on all the latest news here.
---