RV News Brief for 8.1.21.
Have an RV news tip? Email [email protected].
By Jason Epperson
Masks are going to be required in national parks again, even for vaccinated, people as the Delta variant of Covid 19 rips through the country. Wildfires continue their spread as well, pulling a blanket of smoke over much of North America. RV dealership chains are gobbling up independent dealers – we'll talk about what that means for buyers. An electric truck manufacturer has been indicted for misleading investors by making up virtually everything about the company's trucks and cobbling together fake prototypes out of parts of other vehicles.
The Elkhart, Indiana RV capital is making a big expansion across the state's northern border into Michigan, and a new campground coming to Louisiana is turning heads – its motto? 'Bring your house and share your spouse.'
Watch Below:
RV News for 8.01.21.
Masks On (again) at National Parks
New guidance from the CDC on mask-wearing will have masks required again indoors at many national park service facilities and buildings operated by other federal land agencies across the country – even by people who are vaccinated.
Instead of a blanket mask requirement, the new guidance recommends masks in areas where transmission rates are high, and the White House has decided to make those recommendations requirements in federal buildings.
Since transmission rates change regularly, the areas where masks are required will too. In Utah, for instance, four of the five national parks will require masks indoors. That includes shuttle buses and campground restrooms. Covid cases have begun to climb in Utah in recent weeks, due in part to the new highly contagious Delta variant of the virus as well as stalling vaccination numbers. Travelers should also expect new state and local mask requirements in many of these high-transmission risk areas.
Wildfires Burn Over 1.7 Million Acres
Wildfires continue to rage across the west where according to the National Interagency Fire Center 83 large fires have burned over 1.7 million acres across 13 states. Recently new large fires were reported in Idaho, Washington, and Wyoming.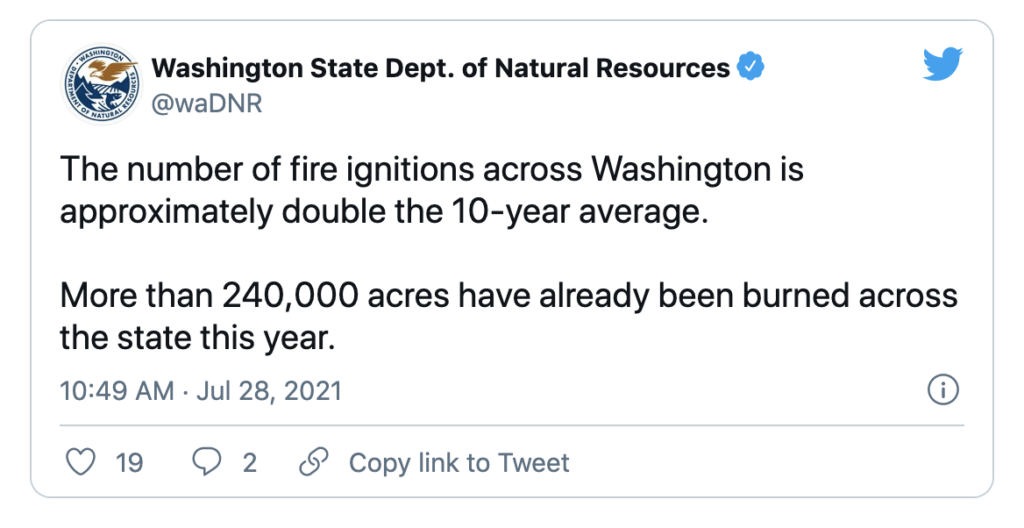 In Washington, the Department of Natural Resources is reporting that 517, or almost 62% of the wildfires this year have been caused by humans. ​​The number of wildfires in Washington has already reached about double the 10-year average with the most active fire months, August and September, still to come.
Air Quality Suffers Across the Country
As wildfires continue to rage in the west, poor air quality across the U.S. increases. The eastern part of the country is currently seeing some of the poorest air quality in more than a decade. In the Midwest, smoke from the north, including smoke from fires raging in Canada, has created cloudy conditions and poor air quality. And lest we forget, fire season is just getting started and this, unfortunately, is not the last time we'll be discussing wildfires in the news.
Large RV Dealership Gobbles Up the Independents
The great RV dealership consolidation continues. We've reported many times this year on Camping World's dealer acquisition spree, but they're not the only ones in the game. RV Retailer has announced the acquisition of Blue Dog RV's 12 stores, mostly in western states.
That puts the RV Retailer up a whopping 32 stores in 2021 – more than Camping World has taken over. New to the scene, RV Retailer was founded three years ago, and now has 70 stores across 24 states.
As much as I'm not a fan of how dealership chains are beginning to dominate the RV industry, I think it IS important that Camping World has a major nationwide competitor or two, otherwise they'll run the table with manufacturers and suppliers, driving changes to the market that aren't consumer-friendly. Remember when they began paying a bounty to RV transporters last year to get RVs on their lots before anyone else? All that did was drive up the cost of shipping an RV to anywhere dramatically.
Camping World now has over 170 stores, while smaller chains like Camper's Inn, Family RV Group, Lazydays, Bish's, Fun Town and General RV have between 10 and 20. And then there's the Route 66 network, an alliance of 200 independent dealerships in North America, which has the specific aim of staving off mass consolidation by giving dealers the clout and buying power of a big chain without selling out. There are about 2600 RV dealerships in the U.S.
Battle of the Electric Trucks
In the electric truck arena, a battle has been brewing over the specs of a whole lot of trucks that haven't been released or even built yet.
Last week, I discussed regulations that threatened big diesel RV engines, and a viewer of the video version questioned why those even exist at all when Tesla can build a semi-truck that can charge overnight and go 300 miles on a charge. Surely that can be applied to big class A RVs, right?
Perhaps, but Tesla has yet to build that truck, and has postponed production until it can produce its own batteries. Why the delay? Probably because Tesla's competitors say that the range of Tesla's electric semi defies the laws of physics and any current battery technology.
Founder of Nikola Charged with Fraud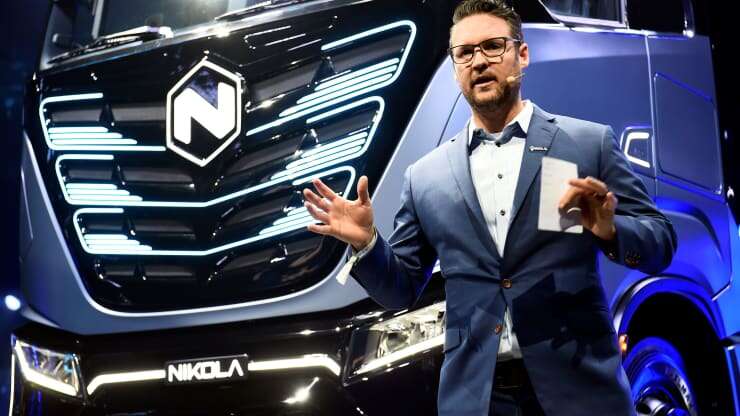 Almost comically, the founder of Tesla's heavy-duty electric competitor Nikola (whose moniker comes from the other half of the name of the brilliant-if-not-totally-realistic inventor Nikola Tesla) has been charged by a federal grand jury with three counts of criminal fraud for lying about "nearly all aspects of the business." 39-year-old billionaire Trevor Milton resigned as chairman in September after two counts of securities fraud, including making false statements about the company, and wire fraud.
Milton is accused of telling lies to generate popular demand for Nikola stock, beginning around March of 2020, when the company announced that its stock would become publicly listed. Milton claimed Nikola had successfully manufactured working prototypes of electric semi-trucks and pickup trucks that would turn the industry on its head, when, in fact, they'd never built anything.
The so-called prototypes were cobbled together by parts from other vehicles. According to the indictment, At public events, the prototype vehicles were towed into position and were powered by hidden wall sockets. In one incident, to make it appear a truck prototype was driving, it was towed to the top of a hill and then rolled down to the bottom.
Milton allegedly repeatedly said publicly that the prototypes were fully operational and overstated the number of pre-orders the company had received.
---
Have an RV News tip? Email us at [email protected].
---
RV Manufacturers Shying Away from Electric?
Given the above, we're a long way from electric Class A motorhomes. Regardless, I'm on the record as being a big believer in electric vehicles but skeptical about their current viability for heavy-duty, long-distance applications.
That doesn't mean RV manufacturers aren't shying away from electric, however. Winnebago has already built electric blood banks and bookmobiles, vehicles that don't drive long distances — perfect for electric. But there's another eco-friendly option that may be on its way…
Heavy-Duty Hydrogen Fuel Cell Trucks
Engine manufacturer Cummins has entered into an agreement with Air Products, a leader in chemical supply and transport. The two companies plan to rapidly expand the availability of heavy-duty hydrogen fuel cell trucks to the Americas, Europe, and Asia.
Cummins will provide hydrogen fuel cell electric powertrains integrated into Air Products' own fleet of 2000 trucks, Additionally, Cummins and Air Products will work together to grow zero-emission hydrogen infrastructure.
Air Products states the best way to promote the adoption of hydrogen for mobility in heavy-duty applications is to lead by example with their own fleet. They also believe the semi-truck market holds a major opportunity for hydrogen due to its rigorous requirements, and that only hydrogen fuel cell vehicles can provide the necessary range, refueling time, and weight requirements to decarbonize this important transportation sector.
Hydrogen fuel cells are gaining momentum as the technology of choice in heavy-duty applications due to the duty cycles, especially in extreme climate conditions. Hydrogen as a transportation fuel most closely mirrors the traditional fuel experience.
Air Products is the world's largest producer of hydrogen, and Cummins' hydrogen innovations have been part of many of the world's "firsts," including powering the world's first hydrogen fuel cell passenger trains, and the world's first hydrogen refueling station suitable for ships, cars, and trucks in Antwerp, Belgium. Cummins also makes virtually every Class A Diesel RV engine. So could we see Hydrogen motorhomes in the future? Time will tell.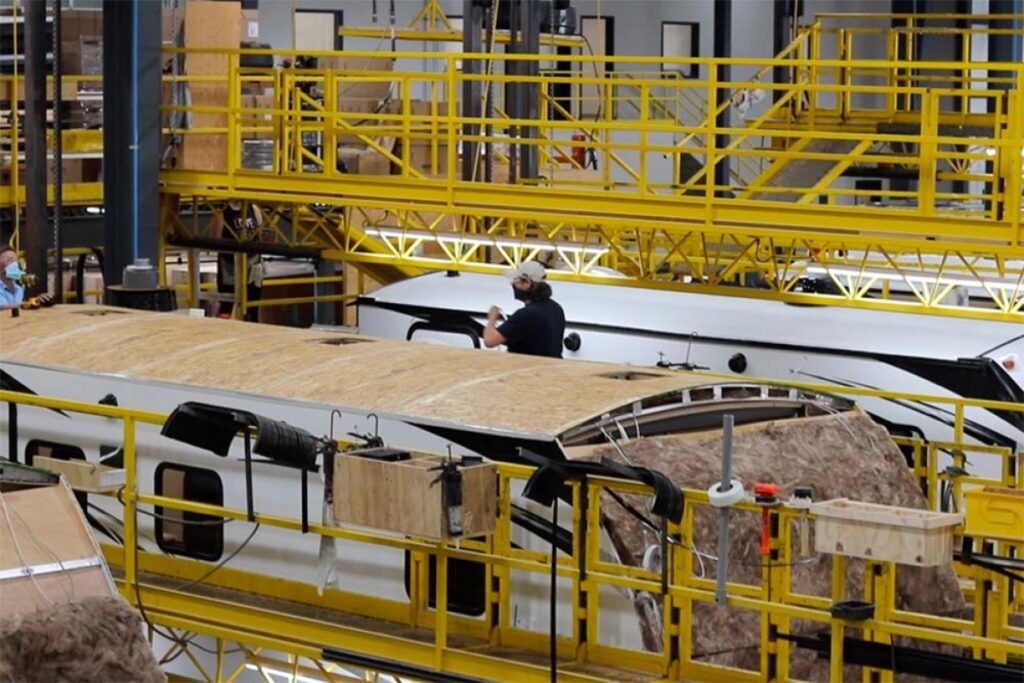 Bye, Indiana, Hello, Michigan
The vast majority of RV manufacturers are located in Elkhart County, Indiana, but as the RV industry grows, building new plants in Elkhart has become a challenge due to the tapped-out labor pool.
Perhaps that was part of Thor's decision to buy Tiffin Motorhomes last December, along with all its ancillary businesses in Alabama? Now, Thor is looking north of the Indiana border to expand two of its biggest nameplates — Heartland and Cruiser RV, and Michigan is incentivizing the expansion into the Wolverine state's St. Joseph county, where Forest River already manufactures its Palamino brand.
Grants and state and local tax abatements helped sweeten the pot for Michigan, and Thor says access to a strong pool of talent was one of the primary reasons they chose Michigan.
How Accurate are Your MPG Readings?
According to a recent report from AAA, the vast majority of drivers use their "miles to empty" readout as the trigger to head to the fuel station instead of their actual fuel gauge. But how accurate are MPG readings in today's vehicles?
AAA tested the accuracy of these systems and found their estimates vary significantly over shorter trips, but on the whole, they're pretty accurate.
On average, the fuel economy display of the vehicles tested was off by 2.3%. The worst test vehicle overestimated fuel economy by 6.4% or 2.2 mpg, while another underestimated it by 2.8% or 0.9 mpg. Overall, AAA believes most of these variances are based on driving conditions and not inaccurate computers.
"Bring Your House and Share Your Spouse"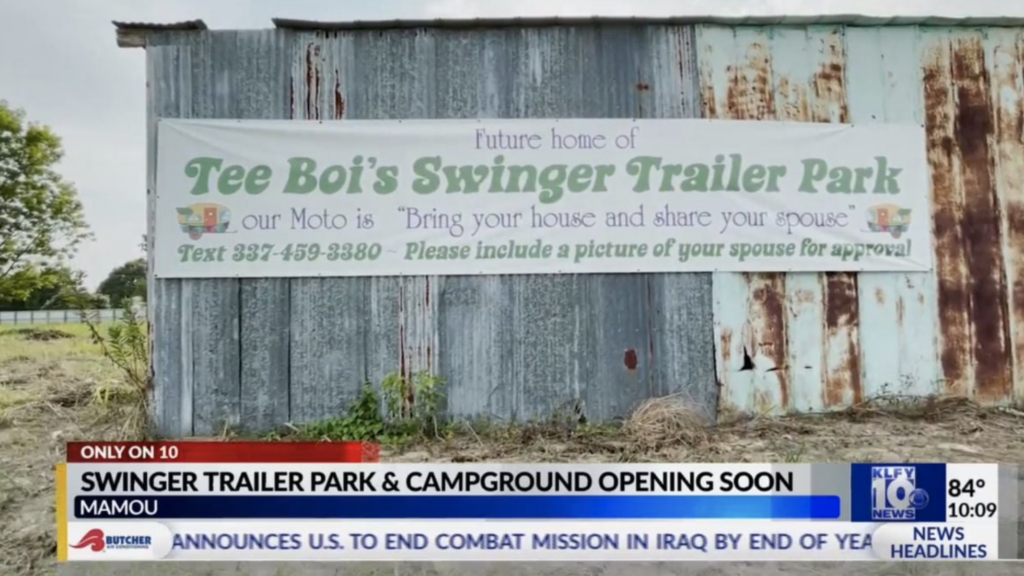 Finally, a yet-to-be-built RV and trailer park is drawing some side-eyes in Louisiana. A vinyl banner went up for Tee Boi's Swinger Trailer Park – their motto… 'Bring your house and share your spouse.'
The owner says he's getting so many calls from all over the country, he can barely keep up with them. The sign says you have to send a picture of your spouse for approval, which owners say was a joke for attention. But still, lots of text message pictures have come in seeking approval.
Many on social media thought the sign was a prank, but rest assured, Tee Boi's Swinger Trailer Park is set to open memorial weekend of 2022. When it's finished, the site will have a nude pool, a nude yoga stadium, a strip poker hall, and a key party cabana.
It may be called a trailer park, but it's designed to operate more like a campground…where swingers can come for "party-themed weekends."
That's one campground RV Miles will not be reviewing…
---
That's it for this week's RV News Brief. Have a thought to share on the topics discussed? Leave a comment below and let's talk.
Get caught up on past RV News Briefs HERE.
Have an RV News tip? Email us at [email protected].