By Jason Epperson
Get caught up on all the latest RV news here.
Watch the latest camping and RV industry news below:
Camping and RV Industry News for the week of 9.18.21.
KOA Finds Large Number of Camping Households Will Camp This Fall
Across the United States, 54% of camping households are planning a camping trip to explore the changing colors of fall foliage, according to a recent report from KOA.
The most popular locations for these leaf-peeping trips (that really ranks as one of my least favorite all-time terms) (Insert west wing clip?) include Vermont, New York, and Colorado.
"Over the last few years we've seen a marked increase in the number of fall campers," said Toby O'Rourke, president and CEO of KOA.
While the outlook for fall is strong, COVID is still having an effect on campers. Nearly 24% of campers say that they have canceled a planned fall camping trip due to COVID concerns, up slightly from August.
Conversely, nearly 1-in-4 campers say they plan on taking more camping trips, camping more nights, or replacing other trips with camping trips due to the pandemic. New international restrictions are prompting 16% of campers to say they plan to replace a European vacation with a fall camping trip.
Providing Relief For Caldor Fire Evacuees
Speaking of KOA, the 112-site Placerville, California franchise has provided discounted rates, free meals, and clothing for 200 evacuees who fled the Caldor Fire. The evacuees started arriving at the Placerville KOA on Aug. 17 and spent close to a month at the campground while firefighters battled the Fire.
The resort canceled hundreds of reservations so that the evacuees could stay. They worked with local restaurants and a food bank and other businesses to bring in relief. They set up a donation section in the campground where people could bring donated items, like food and clothes and pallets of donated water and toiletries from members of the community.
The evacuees got a free dinner almost every night. This was the fifth time in the past decade that the Placerville KOA served as a temporary evacuation center.
No Real Deals at Hershey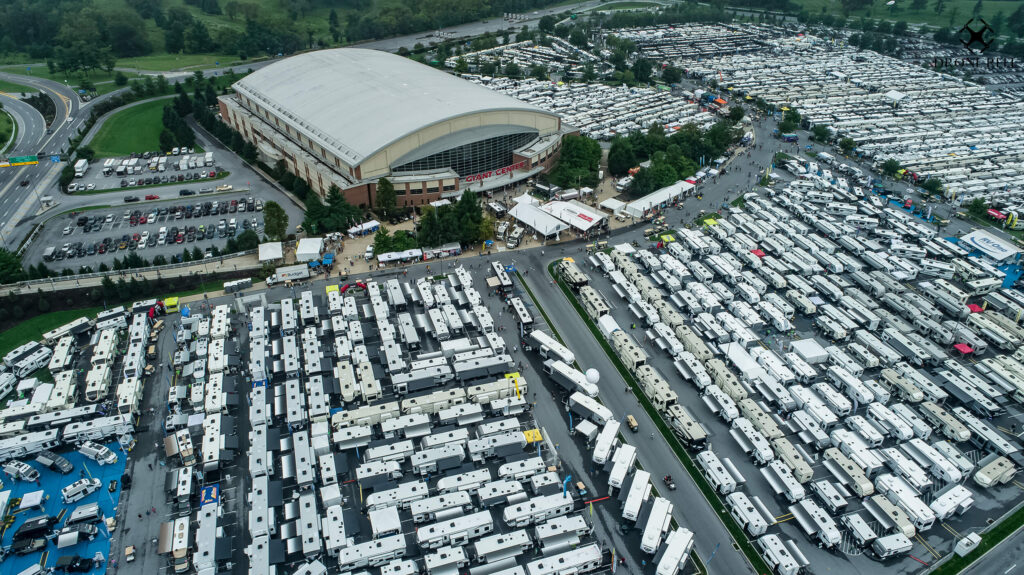 The 2021 Hershey RV show has wrapped, and one of the biggest take-aways — solar is hot right now. RV manufacturers are making real solar packages standard on many models, with lots more options for dealers to easily upgrade solar for their customers without tearing the roof apart and running wiring.
Several manufacturers said they had more people through their booths than ever this year, but the other big story out of Hershey is that there weren't a lot of deals going on. Our viewers have written in telling us that they were disappointed to find lots of RVs with no show price – selling for MSRP only.
It's a common problem that continues as RV sales remain very hot. This market is not yet ready to cool off, but as summer ends, it's possible you might find some decently priced used units out there but don't expect prices that'll make you happy anytime soon.
RV Business Releases 2022 Model Changes Article
If you aren't able to make it to one of the big RV shows but would like to see all of the 2022 model changes, there's one place to get it all. RV Business has just released its new model year guide in partnership with RV Enthusiast Magazine.
Winegard Announces Next Generation Air 360+
Antenna manufacturer Winegard has announced that the next generation of its Air 360+ TV, wifi, and cellular antenna, which can be found stock on a large selection of new RVs, will be 5G compatible, and will have a re-designed smart antenna with beamforming technology.
The Air 360+ 5G antenna array is housed and assembled with the same dimensions as the current version, which makes for an easy swap with no re-wiring. It will also be backward compatible with Winegard's existing line of 4G gateways, repeaters, and extenders. Sim cards from AT&T, Verizon, and T-Mobile will work in the Air360+.
Oregon Raises Camping Prices for Non-Resident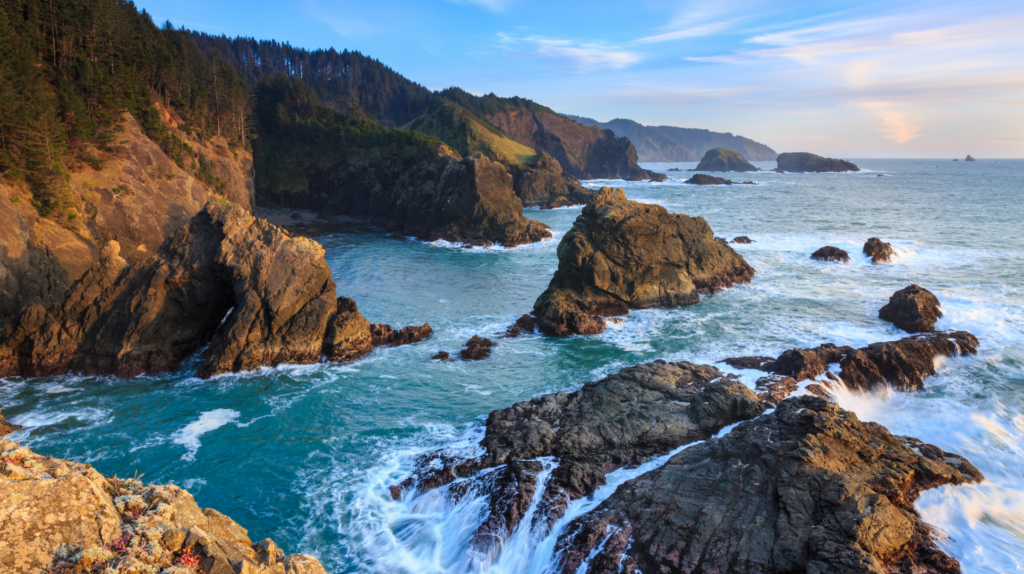 Oregon state parks will begin charging non-residents a 25% surcharge for RV sites in 56 campgrounds due to increased use.
Roughly 60% of state park campsites are designed for RVs and they currently cost $24 to $40 per night. Next year, they will cost $30 to $50 for non-residents.
The fee will apply to RV sites only, not tents and cabins. In June, we reported on a similar increase at Idaho state parks. The fee is supposed to help Oregon residents have a better chance at getting sites first, but I really don't see how that changes anything.
Competition for RV sites — and campsites overall — has risen dramatically in Oregon over the past decade, particularly at the Oregon Coast.
Camping World and Good Sam "Play Ball"
This week it was announced that Good Sam, Camping World's membership club, will be the presenting sponsor of Major League Baseball's American League and National League Division Series, beginning October 7th.
A particular focus of the Good Sam's advertising run will be their new RV Rental Marketplace, and you'll see them on broadcast, digital, social, mobile, and in-ballpark ads.
Founded in 1966, Good Sam has over 2 million members, and offers products like roadside assistance, RV insurance, and warranties, along with discounts on over 2000 campgrounds.
Hollywood Cashes in on RV Craze
Even Hollywood is cashing in on the RV craze: the Animated "Addams Family 2" film will release in theaters on October 1st, and this time, it's an RV road trip. Go RVing, the RV industry association's marketing arm, partnered with MGM on an ad to promote both the film and RV travel with a commercial that will also air throughout the October sports season.
The commercial was created during a meet-up of real RVers who served as the actors in the production along with their own RVs, recreating the Addams Family theme song in Flaming Gorge, Wyoming with their RV horns, bike bells, grills, and more.
The Most Ridiculous Towing Video Ever
Finally, I present to you the most ridiculous towing video I've ever seen. It's a fifth wheel, pulled by a homemade truck bed trailer, pulled by a mid-90s SUV…but wait there's more….towed on a rope by a Buick. You can't make this stuff up.