The Boulder-based Nite Ize brand—known for their innovative gadgets largely focused on the 0utdoor and camping lifestyles—has announced several new products to their lineup. Below is a selection of the new gear that we think will be great for RVers looking to make camping a little more fun and efficient.
---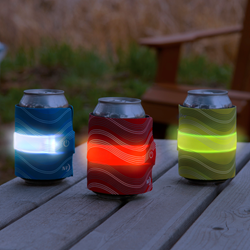 SlapLit LED Drink Wrap
Based on Nite Ize's popular SlapLit bracelet, the SlapLit Drink Wrap is designed with two spring steel bands that snap around nearly any can or bottle for a secure hold, featuring a lycra-covered neoprene material that keeps the beverage insulated. Available in red, green or blue, the wrap can be set to glow or flash mode with the push of a button, so you can find your drink in the dark, and the reflective design helps you find your beverage even when it's turned off.
The SlapLit LED Drink Wrap will be available for an MSRP of $11.19 when it goes on sale soon at niteize.com.
---
Gear Tie Handle + Loopable
Gear Ties are a really popular Nite Ize product here at the RV Miles headquarters. We use them for everything from tying up hoses and power cords to creating custom phone stands and bendable animals. Nite Ize has repurposed the popular product into a handle that can attach to pretty much anything. The new Gear Tie Handle + Loopable combines two 30-inch bendable, grippy Gear Tie Loopables with an ergonomic, soft-grip handle, perfect for cinching around irregular loads like skis and folding chairs. The Gear Tie Handle + Loopable has an MSRP of $14.99.
---
Flashflight Light-Up Flying Disc with Disc-O Select
The light-up Flashflight disc has been a popular campground entertainment for some time now, and Nite Ize has given it an upgrade. The Flashflight now includes the ability to choose from six different colors, or set it to the color-changing Disc-O mode, cycling through the colors continuously. Designed by a professional Ultimate player, the Flashflight is made of lightweight, durable materials that provide true balance and a long, straight flight engineered to please even the most serious players. It's also water resistant and floats, and sports a 20-hour battery life.
The Flashflight with Disc-O Select is available with an MSRP of $24.99.
---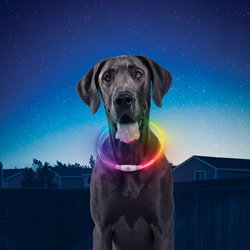 NiteHowl
NiteHowl is another popular NiteIze product getting an upgrade. The popular safety neclace for dogs will now feature a rechargeable battery (via micro USB, 5.5 hours per charge) and you can now set it to a flowing color blend (the same Disc-O mode as the Flashflight) or set it to one of three solid colors to be able to distinguish between multiple dogs. It can be cut to size, making it the perfect companion to late night walks for both big and small dogs. Available soon with an MSRP of $19.99.
---
NiteGem
The NiteGem LED Luminary from Nite Ize is a gem-shaped light that adds pizazz to a cooler, tent, picnic table or walkway. It floats and is waterproof, offering a gentle glow designed for durability, with a 20-hour runtime and replaceable batteries (included). The NiteGem is available in white or color-changing Disc-O Select. The white NiteGem can be set to glow or flash with the push of a button, while the Disc-O Select NiteGem offers six selectable colors plus Disc-O mode, which continuously cycles through each color.
The NiteGem LED Luminary will be available from NiteIze.com and other retailers soon for $9.99 (white) and $10.99 (Disc-O Select) MSRP.
---
Hitch Phone Anchor
Each year, more than 95 million smartphones are damaged from drops. To help solve this problem, especially for people who are active, NiteIze has introduced the Hitch Phone Anchor, that works with most phone cases. An ultra-thin vinyl film fits between the phone and a case, allowing a small ring to be accessible through the case's charging port, providing a quick connection to belt loops, backpack straps or other attachment points.
"If you've ever watched your phone fall into a pile of fresh snow, you know that you may as well have dropped it on the other side of the planet," Nite Ize Founder and CEO Rick Case said. "Statistically, dropping your phone is a 'when' not an 'if', which is why we wanted to create an affordable way for people to keep their phones convenient and safe."
The system is being introduced with two models: The Hitch Phone Anchor + MicroLock combines the Phone Anchor with a MicroLock for quick, secure attachment and is available for an MSRP of $9.99. The Hitch Phone Anchor + Tether includes the Phone Anchor, a tether that can be extended to 24 inches and two MicroLocks for an MSRP of $14.99.
---
For more information, visit NiteIze.com.