Update: 3/7/19, 6:00 pm—The resort has reversed its decision in a limited fashion under corporate pressure. More here
by Jason Epperson
MILLBROOK, IL — A franchisee of Yogi Bear's Jellystone Park Camp-Resorts has decided to exclude tents and pop-up style RVs from its northern Illinois campground, citing a "vision of a resort that is exclusive to Travel Trailers, 5th Wheels, Motor Homes, Cabins and Park Models."
The annoucement came Wednesday via a post on the campground's facebook page: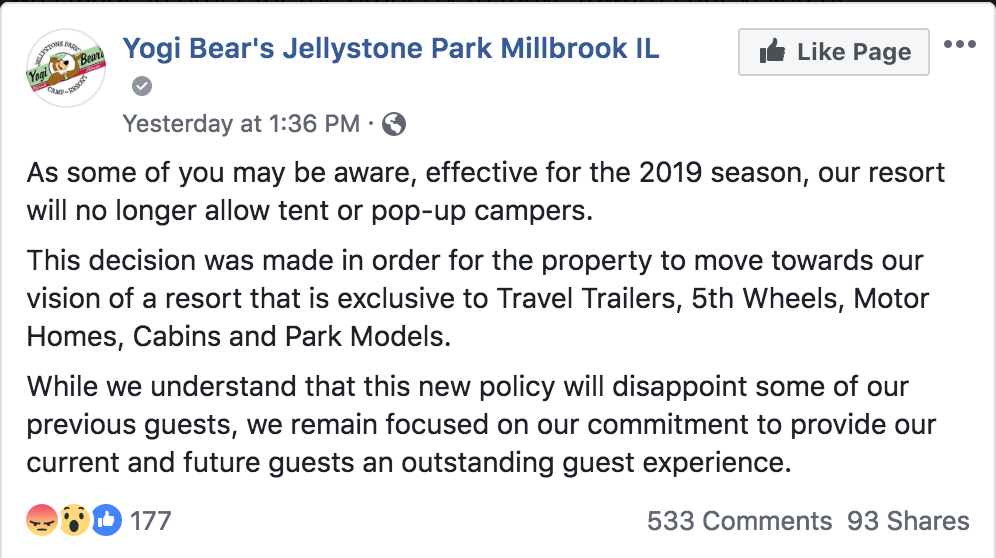 While many RV parks disallow tent camping due to the lack of tent pads, and some very high-end resorts only allow class A motorhomes or fifth wheel trailers, it's uncommon for big chain family campgrounds to exclude a particular type of RV unless it's for safety concerns (i.e., campgrounds near bear habitats may not allow soft-sided RVs). Tents may kill the grass, but it's not clear how excluding pop-ups (what the industry calls "folding camping trailers") at a Jellystone is advantageous. Pop-ups are the most affordable of the different RV types, causing many in response to the post to express concerns that the decision is a play to keep those with lesser financial means out—especially when the only explanation from the owners is that it's part of an "exclusive vision."
Leisure Systems, Inc, the parent company of Jellystone parks, says it's aware of the decision of the Millbrook franchise, but can't control the rules that individual franchisees put into place. Most of the other 80+ Jellystone parks allow all types of camping units, even the most expensive of the resort-style locations. "Whether you enjoy the comfort of a cabin, are an RV enthusiast, or prefer tent camping, Jellystone Park's first-rate accommodations, amenities and activities provide the setting for a fun family vacation that's also easy on the wallet," reads the company's website.
The post has well over 500 comments, most directly accusing the campground of classism towards people who can't afford more expensive RVs.






The owners of the Millbrook Jellystone—national mobile home park proprietor Zeman Homes—also own several other RV parks across the country, including the Oak Lake Family Campground in Fair Oaks, Indiana, and the Northwoods RV Resort in Garden Prarie, Illinois, where the same policy has been announced, garnering a similar response.