Welcome to this week's RV and camping news brief.
Have a news tip? Email Jason Epperson at [email protected]
Watch Below:
Campsite scalpers are causing problems in Kansas, used RV prices are up, but how much? A dealership chain plans to nearly triple its locations in the next year, a Yellowstone tent camping experience that costs as much as a Ford Mustang, and more. Read on for all the latest news.
By Jason Epperson
Couple Run Over While Camping
We begin with a couple that was hospitalized after a truck ran over their tent while they were sleeping in the Croatan National Forest in North Carolina, which happens to be where I'm recording this video from. The couple, both Marines, are stationed at Marine Corps Air Station Cherry Point and while their injuries are serious, they are in stable condition.
The driver and passenger of the truck are also Marines, stationed at a different base. After hitting the tent, the driver left the scene and was later arrested on base by base authorities. One of the survivors, Sara Rojas told the local ABC affiliate that at first, she didn't know what happened and that she's in disbelief the person who ran them over didn't stop. Rojas said she crawled to her boyfriend, Justin York, who was covered in blood and began yelling for help.
Rojas was hospitalized for 4 days. Her boyfriend remains at the hospital with a broken pelvis and ribs. The circumstances surrounding the incident are still under investigation, but the parties didn't know each other, and Rojas said the driver didn't even look back while driving away.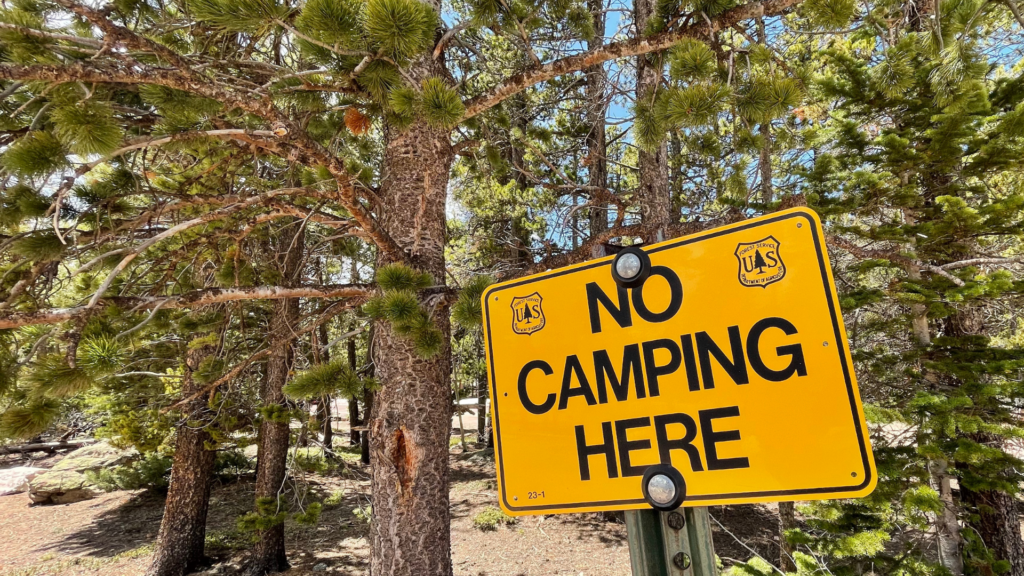 More Boondocking Closed
In what may be the theme of 2021 camping, more dispersed sites have been closed. The Chico Flat Dispersed Camping Area in California's Sequoia National Forest is closed for the next year, at least within 350 feet of the Kern River.
During the 2020 camping season, the Kern River Ranger District experienced an influx of visitors, and sites have only mildly recovered from the human-related resource damage since. The rangers believe the area's ecosystem is at risk and a year off will help the land continue to recover.
Kansas Campsites Selling on a Facebook Marketplace
The Kansas Wildlife, Parks & Tourism department is warning that people are reserving campsites and then selling on a secondary market at inflated prices on websites like Craigslist and Facebook Marketplace. They say there could be potential fines and court costs if you are caught selling on a secondary market, and park rangers will be keeping an eye out for abuse, especially as most Kansas state parks are at 100% capacity on the weekends.
The selling of campsites has been a problem in popular locations across the country and in Canada for the last decade. But now that camping is booming, it's going to be seen more and more. Many federal campgrounds require the person on the reservation to show identification upon check-in for exactly this reason. If you reserve a campsite and something seems fishy, it probably is. Make sure that you're reserving from the campground's official website or an authorized reseller.
Lazydays is Making Moves
Camping World isn't the only RV dealership with stores multiplying like rabbits. Competitor Lazydays Holdings operates 12 dealerships and a dedicated service center, and announced in a recent investor relations call the intention to open 20 more dealerships in the next year. About half will be new dealerships, built from the ground up, and half will be acquisitions. Whether they have plans to move into furniture design and manufacturing remains to be seen.
Used RV Prices up $1,500 from Last Month
We all know that RVs are more expensive right now than normal, and used prices are up as well, but how much? Eric Lawrence, Principal Analyst of Specialty Markets at Black Book, says that used motorhomes are selling at wholesale auction for an average of about $64,000 up more than $1500 from a month ago.
A year ago, the average selling price of a motorhome was nearly half – about $36,000. Towables are selling for an average of just over $22,000, up from about $14,000 a year ago. The average motorhome on the used market is from the 2010 model year, and the average trailer model year is a 2015.
RV Shipments Reach Record High
New RVs are rolling off the production lines at a record pace, even with huge raw material and component backlogs still plaguing the industry. RV shipments to dealers in April reached 51,813 units, the most for any April on record, and a 9% increase over the previous record set in April 2018. Each of the last 6 months have been record months for shipments and there's no sign that production is going to slow down anytime soon.
Camping Gear in High Demand
Other types of camping gear are also seeing a surge in demand. Sales of tents, lanterns, backpacks, and camp stoves are up 25 percent compared to the same period in 2020, and up 86 percent compared to 2019.
Glamp Camp in Yellowstone National Park
Tourism operator Excursionist is betting some people will pay thousands for a private, luxury tent camping experience. Their custom Yellowstone Glamp Camp is set up right outside of the National Park just for you. You'll stay in a 150-square-foot private canvas tent equipped with queen beds, down comforters, flushing toilets, and hot showers.
After a long day spent exploring the park, relax and unwind while your private chef prepares a gourmet dinner using fresh, seasonal ingredients. Enjoy dessert baked in a Dutch Oven over hot coals as you peer through the telescope for some world-class stargazing. The cost? About $27,000 for a group of 4.
Make-A-Wish Grants a Campers Wish
Finally, Garret DiMaggio, a 9-year-old boy suffering from Doose Syndrome, a form of severe epilepsy, was surprised last Saturday by the Make-A-Wish foundation and Lexington Kentucky's Northside Family RV dealership with a brand new camper to travel in during the summer months. Originally, Garrett hoped to go to Disney World, but because of the COVID-19 pandemic and travel restrictions, he decided a camper would be better.
Make-A-Wish says that RVs have been a popular request this past year with travel restrictions in place, and with supply and demand, they've been difficult to track down. Abby and I wish Garret and his family a joyous camping season.
Have a thought on the topics covered this week? Let us know in the comments below.
---