Boondocking, also known as dispersed camping or wild camping can be a refreshing way to escape the busy campgrounds and find a little peace and quiet, but it can also be really intimidating.
If you think you need to be loaded with thousands of dollars of solar and batteries in order to unplug and head off on your own, you don't. You can easily boondock with the exact rig you drove off the lot, no extras needed. In fact, we recommend you give boondocking a try and make sure it's for you before making any upgrades aimed at this kind of camping lifestyle.
Below we've got a few "new to boondocking" tips aimed at getting you out there and enjoying some wild camping.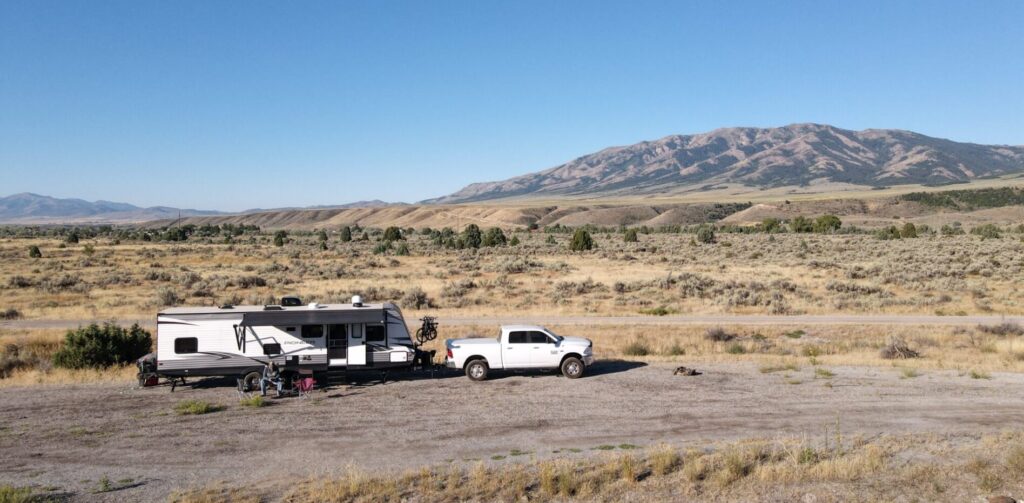 IS IT SAFE?
This is probably the number one question those new to boondocking ask themselves (and others). "Is boondocking safe"?
Short answer: Yes.
Long answer: Yes. If it wasn't, we wouldn't be allowed to do it, and the National Forest and Bureau of Land Management wouldn't set areas aside specifically for it. However, like all things, it's important to stay alert, know your surroundings, and do just as much vetting of your boondocking space as you would picking a campsite at a campground. And remember, your home is on wheels. If you arrive and it feels sketchy, leave. You are not required to stay there if you don't feel safe. Just like any trip or activity you take, make sure you have plans in place to keep you safe, and prepared while boondocking.
IS IT LEGAL?
Boondocking is legal as long as you stay in designated dispersed camping areas. There are a lot of sites and apps out there that can help you find your way, but two of our favorites are Campendium.com and FreeCampsites.Net. Both sites offer extensive overviews of locations, including cell service, and offer reviews from other campers (hearing a report from someone who has been there/done that is extremely helpful).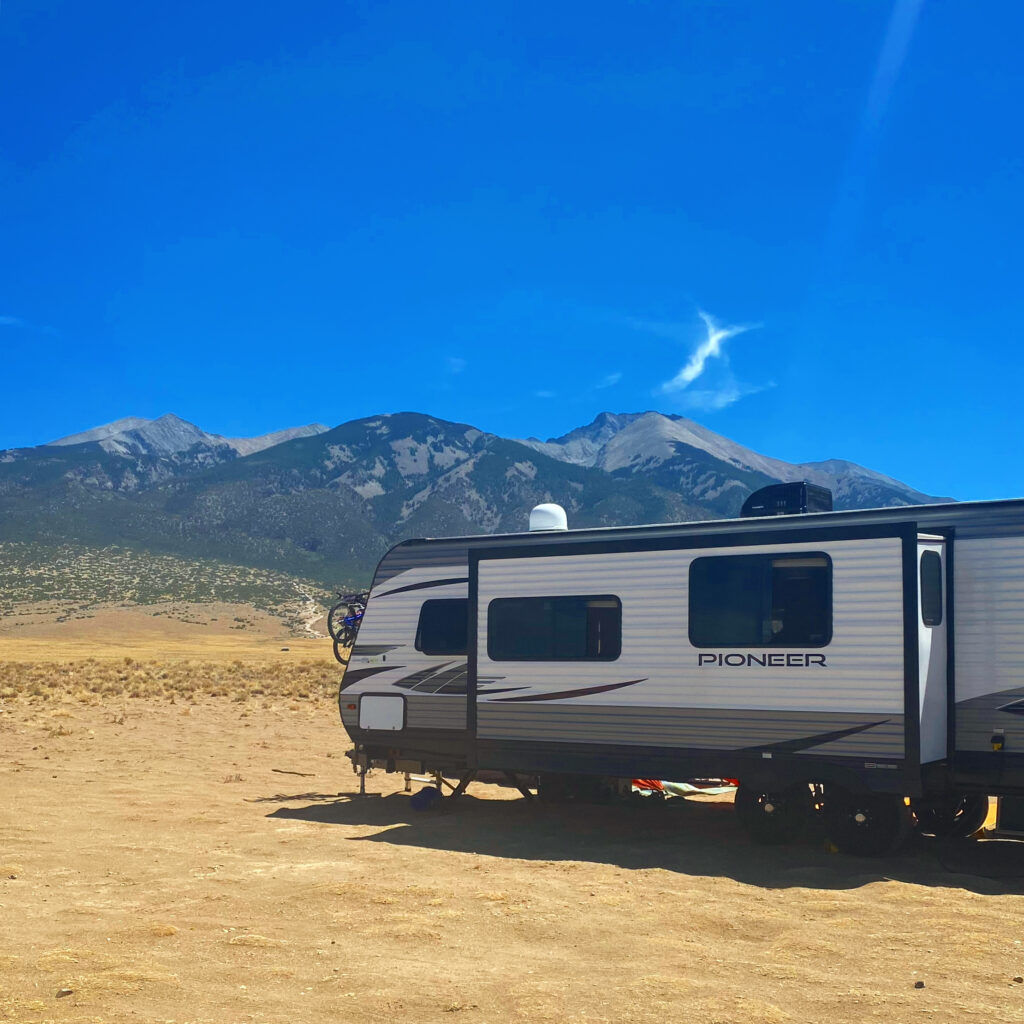 ELECTRICITY – BATTERY POWER/GENERATOR/SOLAR:
There are plenty of ways to generate the power needed to keep most things running when you are boondocking, many of which your rig may already come equipped with. Before adding anything on, know what you already have. Be familiar with the kind of battery life and power your RV came with, and go from there. How many days can you last on what you already? If you've never boondocked before, we recommend doing 1-2 nights just to see how you like it, and what your RV can do. From there, you can begin to add on.
GENERATOR USE: Many people who boondock use a generator to help amp up power, us included, however, it is important that you be mindful of when you use it and for how long. They can be really noisy, and if you are camping in an area with other campers nearby (and this is a possibility, especially in popular boondocking spots), you need to take that into consideration. Don't fire up that generator too early or keep it going too late. And when it comes to generators, you get what you pay for. The more expensive models – called inverter generators – are enclosed to keep noise levels down. An open frame generator will be much more affordable, but they sound like a lawnmower.
SOLAR: Solar can be a great way to harness energy without the noise and fuss of a generator. It can also be expensive and temperamental depending on the weather. Like the generator, you need to know what exactly you want your solar to do, and all the options that are out there. How much solar energy will you need? Solar panels require a solar charger to integrate into your battery system. Most people increase solar capacity and battery storage capacity at the same time. One goes with the other.
A note about electricity – it's important to know that you won't be able to run a multitude of items like you would if you were hooked up to a post at a campground. For instance, don't expect to run your air conditioner all day, or stream the latest movie to your TV while cooking a meal in the Instant Pot or microwave. Without some major financial upgrades that may not be an option for you, so it is important to look at boondocking for what it really is. A chance to unplug a little.
COOKING:
Boondocking is the perfect time to utilize that Blackstone griddle or outdoor grill you've been lugging around. Whatever you decide to do, keep meals simple and try to stock up on only what you need.
All of your propane appliances – like your range, oven, fridge, and water heater – will work without drawing any electricity. If you have an insulated cooler, consider keeping drinks or other cold items in there while you boondocking. We are huge fans of Pelican Coolers and often use our 30QT Elite Cooler while boondocking:
One-pot meals can be perfect for boondocking:
You can also consider using your Instant Pot for quick meals (we've got a list of easy Instant Pot meals perfect for the campground. Just remember, Instant Pots take a lot of power and you may need to adjust your usage while cooking.
WATER:
Water conservation is a top priority when boondocking, but that doesn't mean you can't shower or wash dishes, it just means you have to be more mindful of how you do these things. With a few very affordable adjustments you can cut your water consumption in half without sacrifice!
Showering – Most rigs will have a shower head with a shut-off valve to stop the water flow during a shower. This is your best friend when camping, so use it. If you RV didn't come with one, you may want to consider switching to a low flow showerhead like this one from Oxygenics. Wet yourself down quickly, shut off the water, and then soap up. Turn the water back on to rinse off quickly. Some people even save some of the excess shower water for flushing the toilet! Solar Shower – A solar shower can be a great way to offset indoor water use, keeping water out of your grey tank. They can have multiple uses, including washing hands, washing dishes or rinsing your feet after a day at the beach. We also find a solar shower handy to have around even when we aren't boondocking.
Dishes – An old boondocker's trick is to put soap and water in a squirt bottle, and then use that to spray all of your dishes before wiping them clean or giving them a quick rinse.
Toilet – It's important not to skimp on water when flushing toilet paper. That's the easiest way to get a clog. But you might consider throwing toilet paper in a trash can or diaper genie (at least the not-so-dirty stuff). That way, you can flush with much less water. Considering a composting toilet? Check out why we decided to put a composting toilet in our bus conversion, and while we haven't replaced our traditional RV toilet with one, we are considering it that's how much we freedom it offered us when boondocking.
Bottom Line:
Whatever kind of boondocker you are, or desire to be, the most important part of it all is the experience. The more you do it the more comfortable you'll become with it and learn what you do and do not need. Some of our most memorable moments, and spectacular sunsets have happened while boondocking.