Are you ready to get on the road and enjoy RV living? Are you looking around your house and wondering "what do I do with all this stuff?" If you are ready to downsize your life, and let go of what you don't need in order to make travel a reality, we've got five tips to help you clean out, pack-up and move on.
Watch us talk all about downsizing on the RV Miles YouTube Channel:
---
To Storage Unit or Not? That is the Question:
The first thing you should ask yourself – can I let go of everything I can't take with me? If the answer is no, and it's ok if that's your answer, then you are going to need a storage unit or a very nice family member's garage. If you decide to go with a storage unit, remember that will need to be a line on your monthly travel budget, and depending on who/where your storage unit is located, it can easily be an extra $500-$2500 a year depending on the size. We had a 5 X 5 storage unit for the first two years of travel, but eventually, it grew old, we never found ourselves near it, and the cost was weighing on us. We opted to take up space in a family member's basement and downsized our stored stuff further. Some times you just need a little space from something before you can let it go.
If you are storing items, start moving stuff over at least a month before launch. Don't take it all over the weekend you move into the RV (like we did), take your time, make sure it will all fit.
Start Downsizing as Soon as Possible:
Alrighy, so you know this is happening! You are going to become a full-time RVer. Time to get to work! Don't wait till a month or two before launch to start downsizing your stuff, start the minute you know this is happening. We had a six-month turn around between deciding and moving into our bus conversion, and even a half a year had us scrambling towards the end. Downsizing is an exhausting process, physically and emotionally, so give yourself as much space as possible to get it all done.
Even if you aren't 100% certain you'll become a full-time RVer, beginning the downsizing process will help you make the decision. And if you don't make the leap, you'll still be better organized and less cluttered.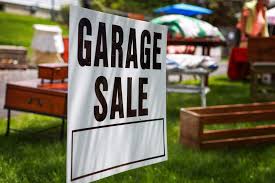 Skip the Garage Sale and Sell Through Online Platforms:
We held a garage sale, it was a total bust. Garage Sales just aren't what they used to be and the effort isn't worth the return. Instead, utilize online selling platforms like Facebook Marketplace, OfferUp, Mercari, and good ol' Craigslist. If you've a children's resale shop nearby, consider taking a load of clothes over, but just know you may find it doesn't pay much. I did 90% of my selling on OfferUp and found it to be a really useful platform. In recent years, however, it's clear that Facebook Marketplace has become the one-stop shop for selling your items. Whatever platform you use, price fairly, be as open as possible with buyers, and be prepared for people to negotiate. People will ALWAYS negotiate.
Take Care of You. Downsizing is Physically and Emotionally Exhausting:
Depending on how much you are parting with, how long you are at it, and what the items you are parting with mean to you, you may find this to be a really exhausting process, and that is totally normal. It can be hard to part with items that have been a part of your family for years, or that you have a connection too, but know that it has no place in your new life, or in a storage unit. When I sold our double stroller, I set on the porch of our apartment and cried afterward. Many a baby nap had taken place in this beloved stroller, we had strolled many a Chicago sidewalk, and I just really loved that thing. That said, I knew it was not a realistic item to bring with us, and I wasn't going to put a stroller in storage when it could be given a new life with another family. I set there, I cried, I acknowledged the attachment, and then I moved on. Downsizing can be hard for all involved, so keep an eye out for other family members who may be struggling with this sudden exit of stuff.
Four years later and I still miss that stroller…
Do You Really NEED That Item?
No, I'm not about to ask you if an item brings you joy (although that is a very valid question), but what I am about to say is that you need to ask yourself if your really need all those clothes in order to make life on the road work. Do you need a full set of dishes, or enough cups for every day of the week. Do you need ALL THOSE COFFEE MUGS, Abby? For the record, yes, I do need them, but did I bring them all – no. I couldn't justify the space.
And that's the real heart of this tip – can you justify the space? If you pack yourself to the brim with things, how will you bring new stuff into your life as your travel? Do you need to bring all those shoes, or all the toys, do you need more than one or two bedding sets per bed? If you have kids, the answer is yes, have at least one back-up bedding set for your kiddos. Trust me.
We have ten towels in our rig total, and we are a family of five. Five for bathing, Five for the beach/pool. We have ten plates, five cups, five water bottles, etc. You're going to do the laundry and wash the dishes a lot, so why take up all that space with things that you're going to wash daily/frequently anyways?
---
Keep the end goal always in front of you. Know that what you let go of today, you are making space for amazing adventures tomorrow. Downsizing is a full-time job, but you can do it and at the end of it all will be the a journey that is going to take you from sea to shining sea.
Have a downsizing tip? Leave a comment below and let us know!