Our whole life is a road trip, that's kind of the point of what we're doing, but this last month we journeyed along the northern coast of the Gulf of Mexico in an epic adventure that felt like it had its own beginning, middle, and end.
Originally our plan was to head towards Texas, New Mexico, and Arizona, but as we put the finishing touches on Bussie, our timeline was cut short. We're due back in Chicago May 1st, and the west was starting to feel a bit too far for our 6-week timeline. So, after a lovely week and a half traveling from Kansas City through Arkansas and Mississippi, we began this adventure full of bayous, beaches, and wildlife in New Orleans.
---
---
St. Bernard State Park, just 20 minutes Southeast of the French Quarter was our home base for five days. This park was lovely, with roomy sites, decent bathrooms, and a nice playground. When it rains, water tends to sit at the surface for a while in this part of the south, but the roads and sites are built high on a pavement slab, with the landscape sloping away. There is a "nature trail" that was quite a bit longer than we expected (there is no length posted). It was about an hour and a half journey through not-so-special vegetation. We did see a few turtles in a stream and to Abby's dismay, three small snakes on the path.
In NOLA, we, of course, visited the French Quarter, taking in the gorgeous architecture so jarringly juxtaposed against the thumping clubs that inhabit it. With three small kids (and probably without) we're not so much into the party scene, so daytimes during the week were perfect here. We paid more to park than we ever have in 17 years of living in Chicago ($30 for 4 hours) and had a nice (if expensive) lunch at Market Cafe in the French Market, consisting of jambalaya, red beans and rice, gumbo, and live jazz. You know, the good kind of jazz. Beignets were a must try for us, and we skipped the long lines at famous (and cash-only) Cafe Dumond, opting instead for Cafe Beignet a few blocks over. Henry was sleeping the first time, so we went back for seconds. The whole drive from Kansas City was worth the beignets. Seriously.
---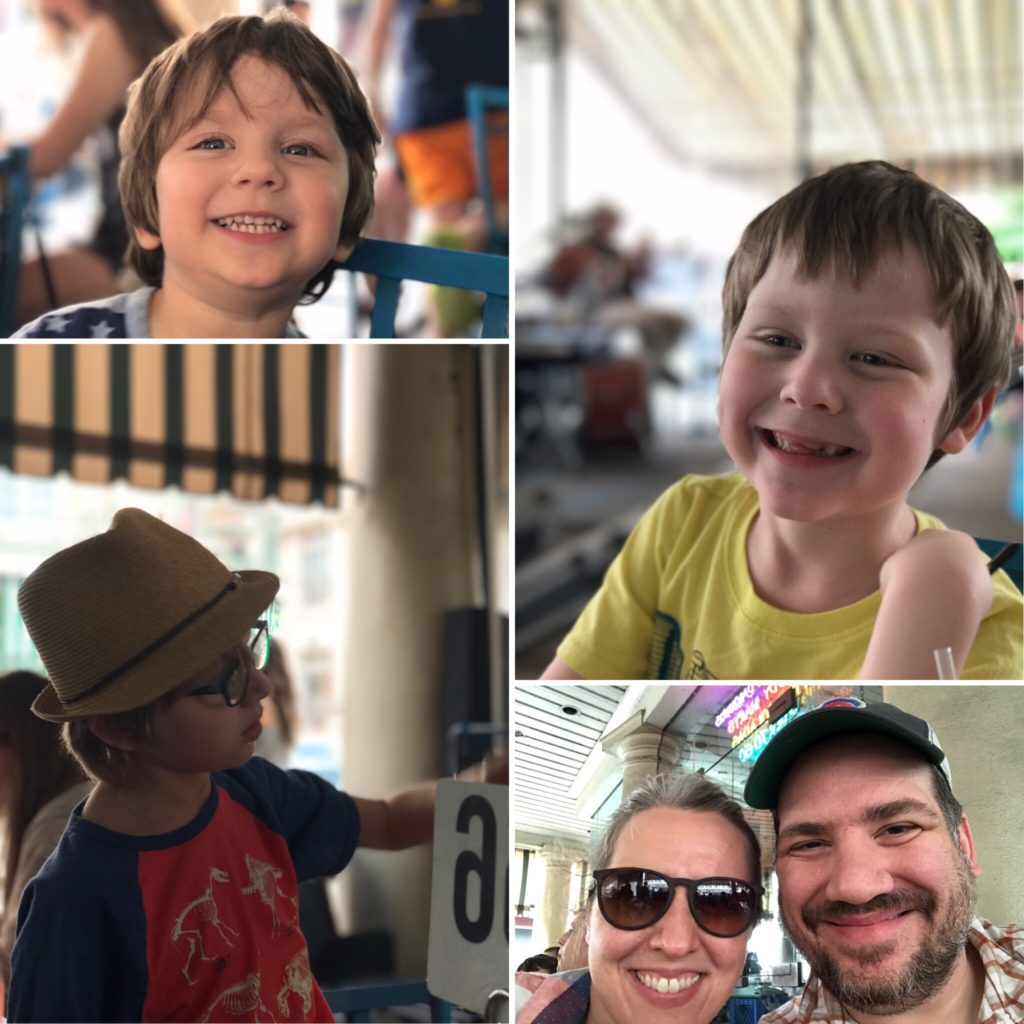 ---
We watched a halfway decent street-performer magician in Jackson Square, but were dismayed when he got angry that people were giving him singles and fivers after the show instead of tens and twenties. He probably pulled in $250 from the crowd for a 30-minute show and was really peeved over it. Probably would have made a whole lot more if he wasn't being a jerk — we totally avoided a tip because we didn't want him to announce to the square how much it was.
Other fun things in the Quarter – a short, free visit to Madame John's Legacy (no, it has nothing to do with ladies of the night). A nice historical home that has survived since 1788. We took a long walk along the levee and watched the steamboat Natchez blow its horn and pull away. Southern Candymakers has several locations in the area, offering free samples of tasty praline and brittle.
Outside of the Quarter, we spent an afternoon in City Park which houses the New Orleans Museum of Art, the Carousel Gardens Amusement Park, and much more. The free entertainment-seekers that we are, we had a nice picnic along a canal with gondola boats and enjoyed a stroll through the sculpture garden by the art museum. Another afternoon was spent at the Louisiana Children's Museum, free with our Association of Science-Technology Centers reciprocal membership from Chicago's Museum of Science and Industry.
---
---
The highlight of New Orleans, however, was on our last day at the Jean Laffitte Barataria Preserve. It's a wetland nature preserve operated by the National Park Service. On the trail from the visitors center, we saw a wide range of wildlife in their natural habitat. Many different types of songbirds, herons, turtles, snakes, and lizards were hanging out a safe distance from the raised boardwalk path, but the highlight was a big old alligator sunning itself just a couple feet away from us. A second trail follows the bayou as it morphs from grassland to marsh to swamp. 
---
---
Next up, a swing through the Mississippi coast, including Bay St. Louis, Gulfport, Biloxi, and half of the Gulf Islands National Seashore.