[vc_row][vc_column][vc_column_text]
by Jason Epperson
Our family has a love-hate relationship with the various mats and blankets we've used for the beach, picnics, and outside the door of our RV. They often fail to deliver on different fronts – either they aren't durable, or they take forever to try, or they're big and unwieldy when you try to stow them. And, of course, they get covered in dirt, sand, dust, and debris. 
All that made the CGEAR sand-free mat very appealing. Particularly the fact that their mats are designed to be multi-use, meaning we could get rid of beach blankets and our Walmart outdoor RV mat. 
CGEAR sent us their "original" mat (they make many types) in the large 10′ x 10′ size and the reversible orange/tan color. It came rolled into an orange cinch-up storage bag. The first thing I noticed was the size – the bag is fairly small compared to the space my slightly smaller RV mat takes up in our storage bay. We slipped it out of the bag, and sure enough, it was very big and looked incredibly durable, with quality stitching and heavy-duty D-rings all around.
We immediately put it to use at a playground, and now a half-dozen trips to the beautiful beaches of Pensacola since.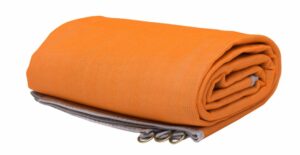 The way these mats work is a dual layer system in which one mesh fabric is stacked on top of another and sewn together. It was originally designed for military helicopter use, and it really does live up to its sand-free name. If sand gets on the top, you just give it a wipe with your hand and it falls right through. Even the fine sands of the Emerald Coast don't pass back up through it. 
As a beach mat, the trade-off for the rugged durability is the fact that it's slightly uncomfortable to lay on. I still preferred to have a towel on top of it, but the company also makes a "comfort" version that's probably not great for heavy foot traffic. The big benefit of the Original is that you can also use it as an every-day mat outside of your RV. It's certainly strong enough for the campsite, and rainwater will go right through it, along with enough sun to keep from killing the grass. They even make rectangular sizes specifically for RV use, up to 20′ x 8′. The numerous D-rings (16 on the 10′ X 10′) allow you to stake it down all over, instead of just the four corners. 
If I wanted to nit-pick, it's slightly difficult to fold back into the bag, at least until you figure out the right fold (we've come to realize this particular size needs to be folded into thirds, which is more difficult than halving it twice and rolling it up). I also wish it came in some more colors, though I do like the solid look over some of the patterned RV mats. It's a bit on the expensive side—most people aren't planning on paying $100 for a mat—but it's worth it for the quality. 
Overall, it's a fantastic product that solves a need well: a durable mat that keeps dirty spaces clean. CGEAR makes them in a variety of sizes, and has other products using the same tech, including tote bags and drone landing pads.
Available on Amazon.
[/vc_column_text][/vc_column][/vc_row][vc_row][vc_column][review_summary positive_heading="What's good" positives="Compact folded size compared to RV mats
Incredibly durable
Plenty of heavy-duty D-rings for ground stakes
Quick drying
Resistance to water, mold, and UV damage
Really does stay sand and dirt free" negative_heading="What's not so good" negatives="Somewhat uncomfortable to lay on
Somewhat difficult to fold back into bag
Pricey"][rating title="Design" value="5″]
[rating title="Durability" value="5″]
[rating title="Comfort" value="3.5″]
[rating title="Ease of Use" value="5″]
[rating title="Price/Value" value="4″][/review_summary][/vc_column][/vc_row]