By Jason Epperson
Only a decade ago, the RV industry was mostly focused on one customer: the retired couple. Sure, there were some options for families, but the pickings were slim.
Not anymore. Families are front and center on the minds of most manufacturers. Still, RVs are all about compromise. It can be a challenge to find the right coach with the features you want, let alone enough comfortable sleeping positions for your brood.

As a father of 3, it's the first thing on my mind at an RV show visit, so I've put together this list of five great RVs for family travel.

There are plenty of very long travel trailers and massive fifth wheels that are great for families, so I've tried to focus on models in five different categories that offer something different. The criteria were simple. The RVs on the list have to sleep five, and I mean for real. Dinettes that fold down don't count. Let me know in the comments if you have an RV to suggest for a family looking to hit the road.
---
Lance 2185 Travel Trailer
Have you ever seen a trailer under 30′ with three bunks? We hadn't either, until the Lance 2185. They accomplish this feat with a triple bunk at the tallest section of the trailer in the rear, and a queen master bed at the front. This trailer clocks in at under 26′ long and 4565lbs dry, meaning most half-ton trucks should have little issue hauling it.
While traveling, the bunks can flip up for garage space for your camping gear or bikes.
The best feature, however, is that it's a Lance. Lance is known for high-quality construction. It's a true 4-season camper. The walls are filled with Azdel, a thermoplastic composite that is impervious to rot. The 45-gallon tanks are insulated and heated. The windows are dual-pane and the roof is a single piece of PVC. Lance campers are also built eco-friendly and toxin-free.
The Lance 2185 lists for around $40,000. More info at lancecamper.com.
---
Thor Four Winds 31E Class C Motorhome
The classic class C floorplan usually boasts a deep bunk over the cab and a queen bedroom in the back. The Thor Four Winds 31E pluses it up with a bunk hallway, often only found in a larger class A. The two bunks are 21″x72″, in addition to the 54″x96″ over-cab bunk. The smaller bunks each have their own TV and DVD player, and the living room TV swings into the over-cab bunk if desired.
The Four Winds is on a Ford E-Series Chassis with a 6.8L V10 305HP 420 lb-ft Torque engine. Automatic leveling jacks are standard, as is the 4000 watt Onan generator, in-dash navigation, a back-up camera, slide topper awning, ducted air conditioning, whole coach water filtration, and a porcelain toilet.
If we have one quibble, it's the small, 28-gallon holding tanks. But they are heated.
The MSRP is $120,750. More info at thormotorcoach.com.
---
ModVans CV1 Class B Campervan
If you're looking for a nimble class B campervan for your family, you know it's next to impossible to find one that can sleep more than two people. Enter the ModVans CV1.
Thanks to its pop-top second story, you actually get two decent sized sleeping areas, plus you get a full second row of crash-tested seating to comfortably ride up to five people safely.
ModVans are a bit different than your standard class B campervan. The RV components are actually removable, so you can use the low-roof, medium-length Ford Transit chassis as your daily driver or a work van when you aren't camping.
The RV amenities in the CV1 are bare-bones, but at under $85,000, it's half the price of other class b vans. More info at modvans.com.
---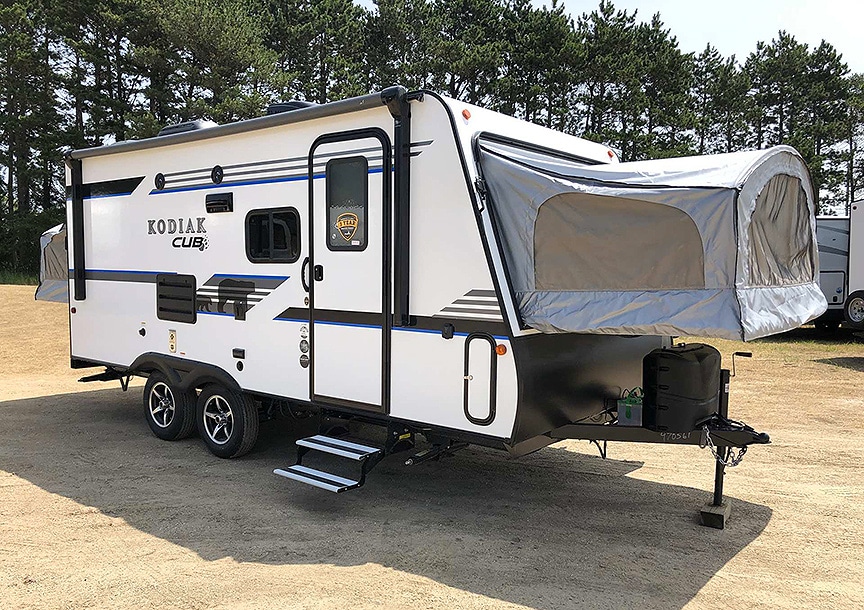 Dutchmen Kodiak Cub 179E Hybrid Trailer
Hybrid trailers live somewhere between pop-up and hard-sided trailer. Usually, they feature a small trailer frame construction with a pair of fabric fold-out sleeping areas. They're a really great entry-level option for people who only plan to camp in moderate-to-warm weather, and for people who aren't interested in buying a full-size truck.
The Kodiak Cub 179E is 21′ 8″ long and weighs 3,774 lbs, making it towable for many larger SUVs. What makes it stand out from other hybrid trailers is that it boasts three queen-sized fold-out beds. And they aren't short RV queen beds, either. They're a full 60″x80″.
The trailer is entirely framed out of aluminum, and the underbelly is fully enclosed and heated, a rarity for a trailer in this category. One big hidden surprise – a massive 78-gallon grey water tank.
The Kodiak Cub 179E has an MSRP of $26,882. More info at dutchmen.com.
---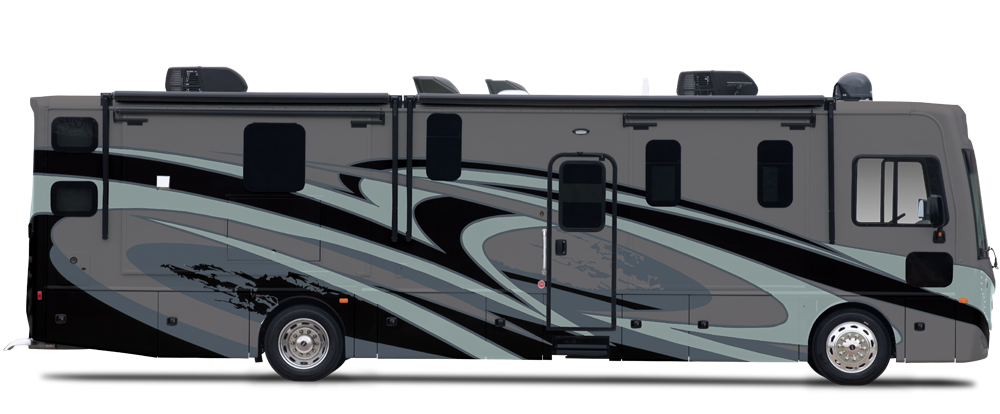 Fleetwood Pace Arrow 35RB Class A Motorcoach
A lot of families new to RVing have their hearts set on a big class A motorcoach—until they start looking at them. I can probably count the class As with bunk sleeping out there on my two hands. And the few that do usually feature a bunk hallway that cuts down on storage and sacrifices privacy.
Fleetwood, a division of REV Group, is changing that with the 2020 Pace Arrow 35 RB. The "RB" stands for "rear bunk." This is a legitimate diesel pusher with an actual walled bunk room where often a second bathroom might be located. The bunk room is small, with two sleeping spots, but there's also a larger motorized drop-down queen-sized bunk over the cab area. And the parents get to be comfy, too, with a standard king bed.
Built on a Freightliner chassis with a 340-hp Cummins diesel engine and Mercedes-Benz designed dash, this is a true Class A experience. This all-electric coach comes standard with solar panels, a beefed-up battery bank, and 6kw diesel generator, a 2000w inverter, induction cooktop, and a massive residential fridge.
A central vacuum system is great for picking up those spilled Cheerios off the high-end tile floor. The heated tanks are massive, the tankless water heater is great for long showers, the dual-pane windows will keep you warm, and there's even a teather for a child safety seat.
MSRP, $275,000. More info at fleetwoodrv.com.