The National Park Service formally opened the Dwight D. Eisenhower Memorial as America's 420th unit of the National Park System on Sept. 18, 2020. The memorial honors Eisenhower's legacy as the World War II Supreme Allied Commander and nation's 34th president.
"As the commanding general in World War II, Dwight Eisenhower forever changed the course of human history in leading the United States to victory. After being persuaded to run for President a few years after the war, he was a transformational leader, peacemaker, rebuilder, civil rights advocate and fiscal hawk who helped make our country a beacon of freedom and hope for the world," said Secretary of the Interior David L. Bernhardt. "As the stewards of our nation's monuments, memorials and historical sites, we enthusiastically welcome the Eisenhower Memorial to the National Park System as our 420th unit. We will forever tell the inspiring story of President Eisenhower and his unparalleled legacy through this iconic memorial in Washington D.C."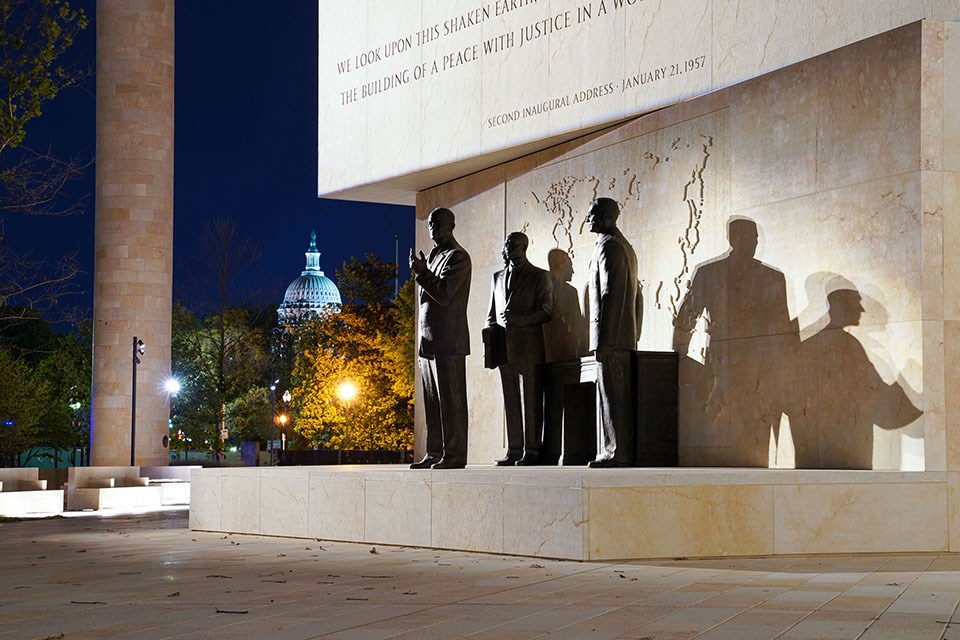 Designed by architect Frank Gehry, the memorial features three bronze statues of Eisenhower by sculptor Sergey Eylanbekov, one featuring General Eisenhower with troops from the 101st Airborne the day before the invasion of Normandy, another sculpture depicting President Eisenhower in the White House surrounded by civilian and military advisors, and a third portraying "Little Ike" in his boyhood.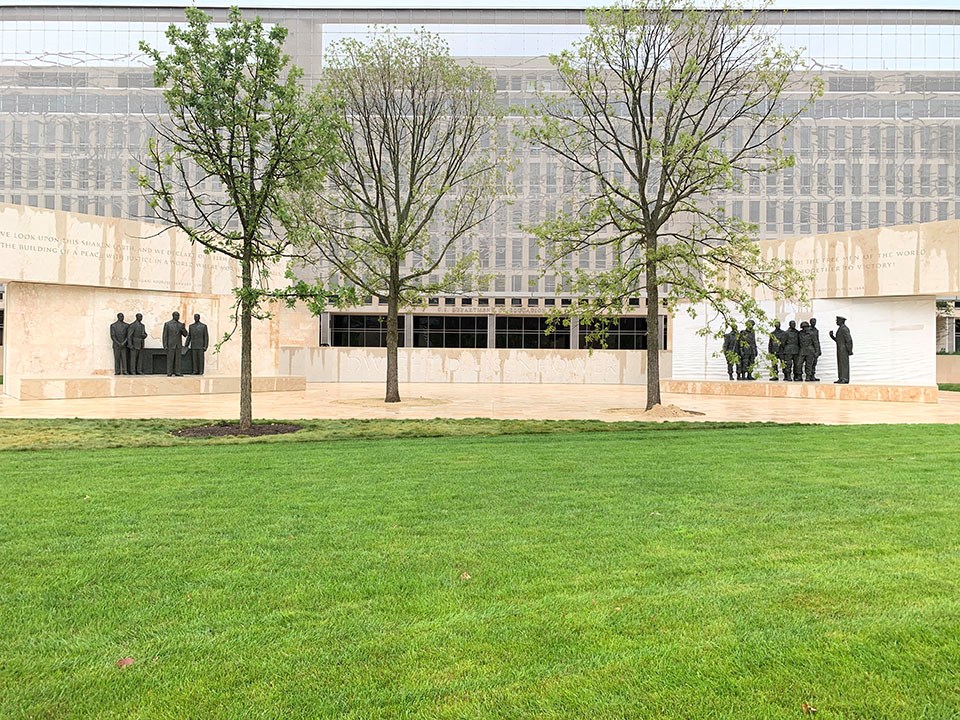 The stone bas-relief images and inscription panels highlight passages from notable Eisenhower addresses and give context to the memorial's sculptures. Framing the entire memorial is a first-of-its-kind stainless steel woven tapestry by artist Thomas Osinski, which depicts the cliffs at Pointe du Hoc on the Normandy coastline.
The memorial is located in a newly created, four-acre public park in Washington, D.C. along Independence Avenue, across from the Smithsonian National Air and Space Museum. The site is surrounded by several federal agencies that have roots in the Eisenhower administration.
The Dwight D. Eisenhower Memorial is administered as part of the National Park Service's National Mall and Memorial Park.