Listen Below:
Watch Below:
This week, we talk with Colin Philips from EmpireCovers.com about the importance of covering an RV in the off season. We chat about the news surrounding Starlink satellite internet, and the new policy allowing veterans free access to National Parks.
---
We start this week off with plenty of news – including Starlink pricing, which so far is much cheaper than we thought, and it's been a long time coming – the National Park Service has announced that U.S. military veterans and the immediate family members of those who have fallen in service will be granted fee-free access to America's National Parks and other fee-charging federal lands managed by the Department of the Interior.
Have a 4th or 5th grader this year? Both will qualify for the Every Kid Outdoors Pass. You can learn more here:
https://www.nationalparks.org/our-work/campaigns-initiatives/every-kid-outdoors
After a quick break we chat with Colin Philips of EmpireCovers.com, and fully admit that after our recent leak due to rain, we are now RV cover converts. Colin shares some great insight into why you should consider an RV cover and more.
Save on your own EmpireCovers.com RV cover! As a sponsor of the show, EmpireCovers has been offering RV Miles listeners a discount for the last several weeks, and with the weather taking a turn for winter, now is the perfect time to buy – click HERE to save 15% off your purchase.
Finally, we wrap this week up with our fresh tank/black tank segment and a new brain teaser.
Abby's Fresh Tank: La Vida Bonita Margarita. Abby snagged a bottle of this delicious margarita mix made with Agave wine at Trader Joe's and if you see a bottle, grab a bottle. It is delicious!
Jason's Fresh Tank: Of friend, and RV guru, Chuck Woodbury of RVTravel.com has written an excellent book for those looking to get into RVing and we couldn't recommend it more – The ABC's of RVing. It would make for the perfect stocking stuffer gift for anyone looking to learn more about the RV lifestyle.
Keep loggin' those RV Miles and we'll see you next week.
---
If you are enjoying the show we'd love a five-star review over on Apple Podcasts. Your five-star review helps put our show in front of more people, and we can't say "thanks" enough for your support!
Do you shop Amazon? Want to shop Amazon and help RV Miles out?
Use our affiliate link every time you shop and Amazon will send a little bit of money our way at no-cost-to-you!
RV Miles Stickers are HERE!!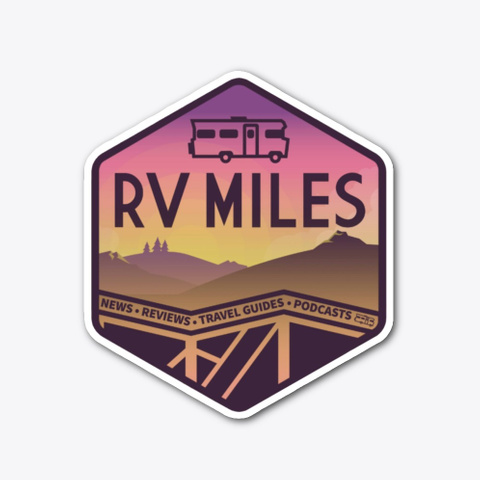 ---
Thanks to these businesses below for supporting the RV Miles Podcast! Click the logos to visit them:
---
Don't forget to take advantage of these deals specifically for RV Miles listeners:
Save $10 on a Togo RV Plus Membership with code RVMILES10X.
Save $10 on a new FMCA Membership when you click HERE.