Click to watch the video version of this post.
By Jason Epperson
In our last news brief, I briefly touched on the idea of vaccine passports, which in various ways are already here. The reaction of many made it clear that this topic has a lot of people concerned, so I thought it would be good to gather information on how Vaccine Passports might affect RV and road-based travel, and get to the bottom of what they mean and what they don't. Or shouldn't. For a list of resources jump to the bottom of this article.
Before we jump into this, let me say this – I'm here to share as much factual information as possible, from credible sources. I'm not taking a position on COVID vaccines, vaccine passports, or anything, really. My goal is to empower you with the information you need to make decisions about your travel plans. And whether you're getting a vaccine or not, this could affect you.
What is a Vaccine Passport?
Let's define what we're talking about. The word "passport" can mean a lot of things, but the general idea is some sort of credential, usually either a phone app or a certificate, that proves someone has the COVID-19 vaccine. The word "Passport" takes us down an interesting path because normally people consider passports as something issued by the government that allows you to pass freely somewhere. But in the case of the COVID-19 vaccine, it's mostly businesses like concert arenas, Broadway shows, and cruise lines that want people to show proof of vaccination, along with some foreign governments for international travel.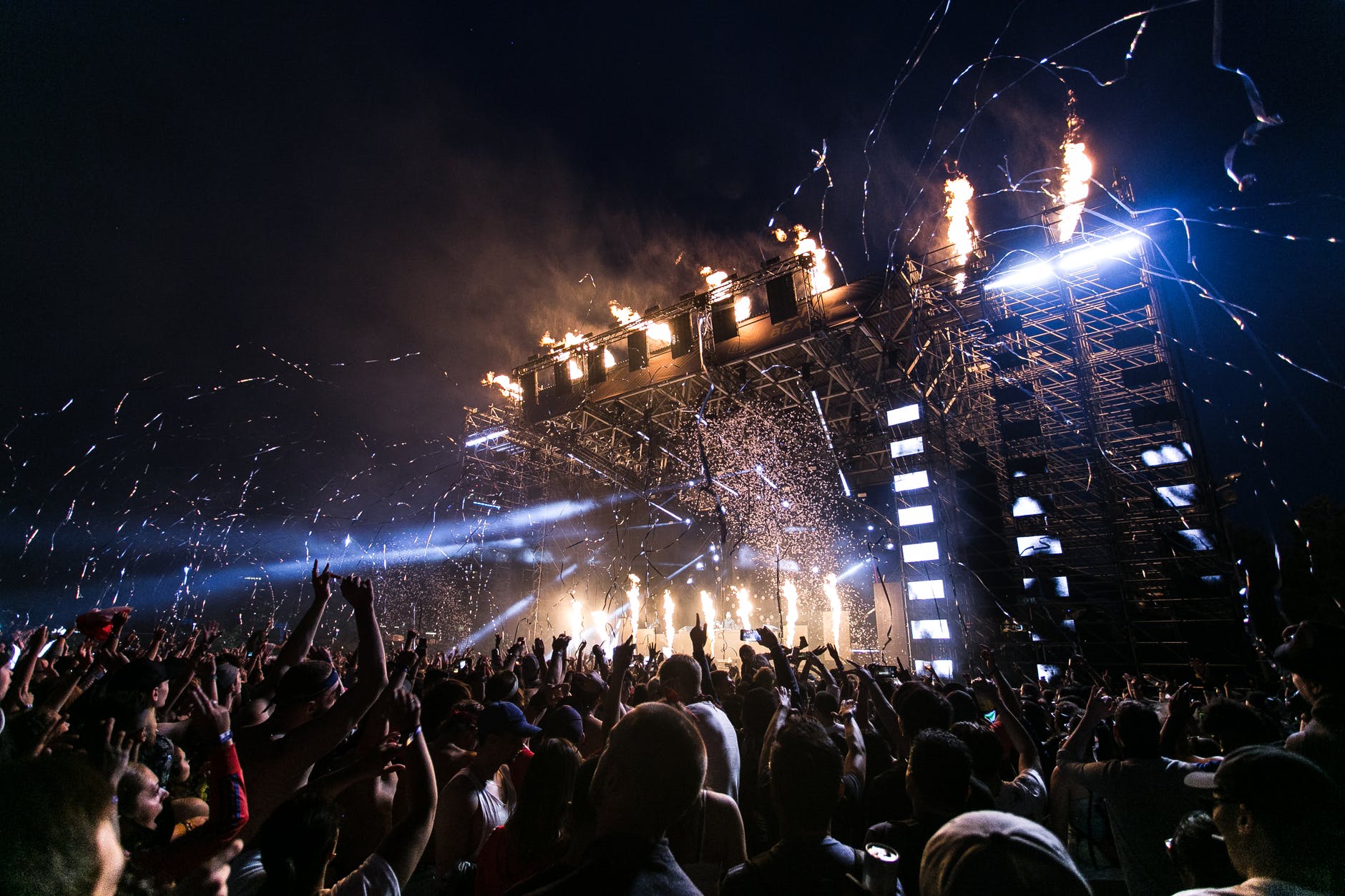 So if businesses want these credentials, why is the government getting involved? There are obviously lots of privacy issues to contend with, and getting society back to normal could be hindered by an array of passport initiatives that sow more distrust in Americans.
At the moment, no government agency to my knowledge has stated that it plans on requiring vaccine passports for any governmental purpose, which should include visiting national parks, crossing state lines, or utilizing government-run campgrounds.
White House Press Secretary Jen Ptsaky specifically said in a press briefing on Tuesday, "The government is not now, nor will we be, supporting a system that requires Americans to carry a credential….There will be no federal vaccinations database and no federal mandate requiring everyone to obtain a single vaccination credential."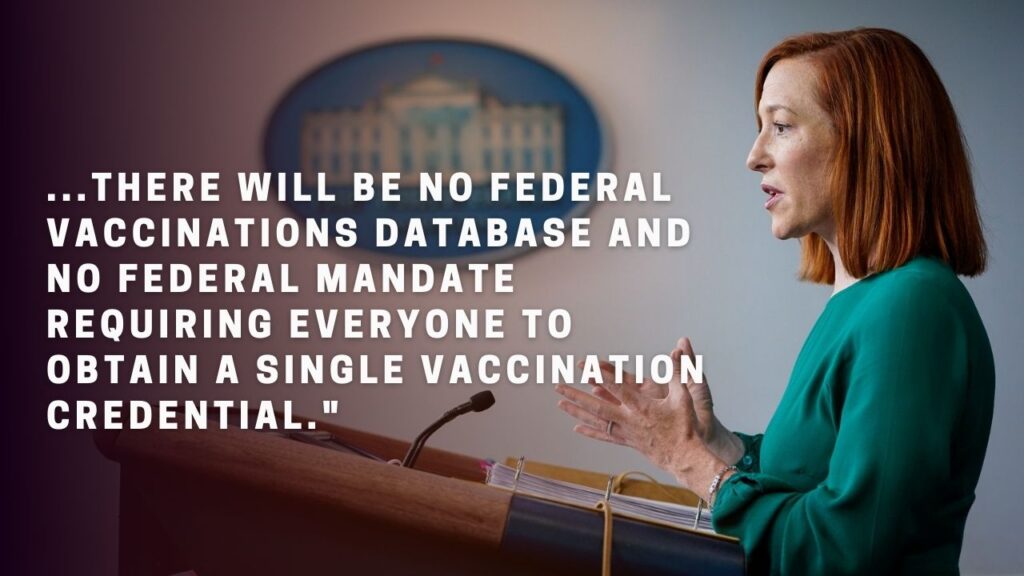 Instead, the White House is attempting to coordinate efforts from private entities like Microsoft and Walmart to make sure so-called passports are free and protect your privacy.
Will RVers and Road Trippers Need a Passport Vaccine?
So if you travel over the road, will you ever want or need a vaccine passport? Probably only if you plan to attend certain events with large crowds like a baseball game or a concert. Experts tend to agree that it is legal for private businesses to require proof of vaccination before entering. Similar to a no-shoes-no-shirt policy. Travel and event-related businesses in particular really want to be able to serve more customers after a long, painful year, and they think this is a temporary solution to make that happen. 
In some instances, a vaccine passport may just make things easier. For example, for some airline travel and live events, you currently need to show proof of a negative COVID test within 3-days, or you are required to self-quarantine once you arrive in a country. Proof of the vaccine alleviates the need for testing.
But passports may not be allowed everywhere. The governor of Texas just issued an executive order barring state agencies and private entities receiving state funds from requiring proof of vaccination. Similar orders have been handed down by governors of several other states, including Mississippi and Florida. That doesn't mean businesses in those states might not require them, but they'll likely be ineligible for state contracts. Even the World Health Organization has come out against vaccine passports for international travel, citing privacy concerns.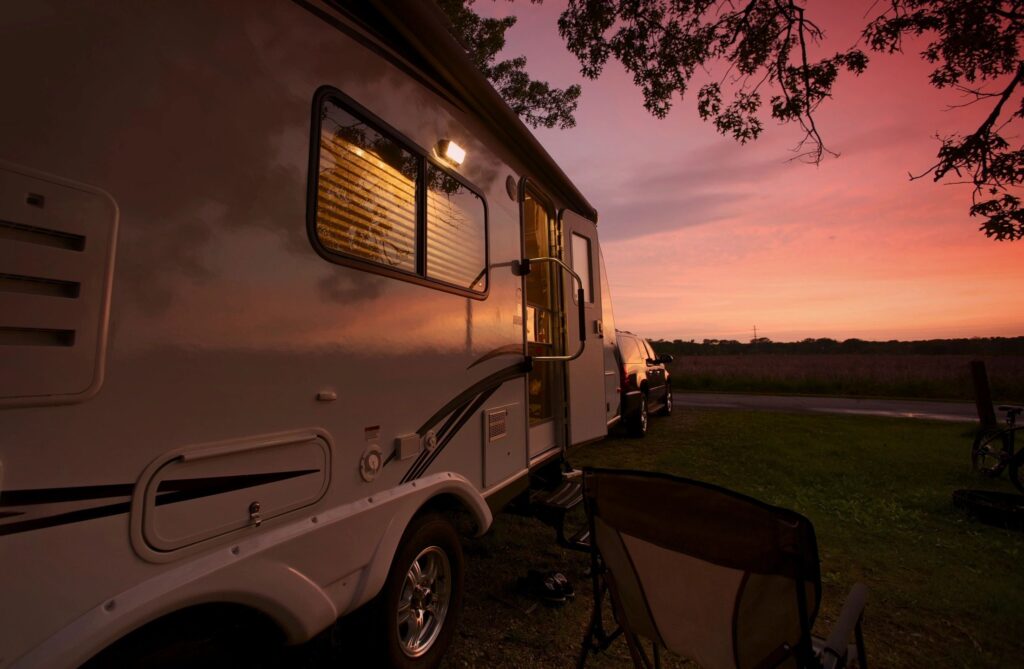 But it seems clear that most road-trip travelers will never need a vaccine passport. I can't rule out that some restaurants or campgrounds might eventually require proof of vaccinations, but it doesn't seem highly likely, and if so, it probably won't be very long-lived. 
If you do want a vaccine passport, New York is already rolling out the Excelsior App, and Walmart is offering anyone who receives a COVID-19 vaccine at its pharmacies digital proof. As the White House steers IBM, Microsoft, and other agencies to create a universal app, we can expect a more standardized vaccine passport option in a few weeks.
I hope that helps anyone who is confused or concerned over this, and I truly hope you have an excellent year of travel.
Resources:
Current CDC domestic travel guidelines:
https://www.cdc.gov/coronavirus/2019-ncov/travelers/travel-during-covid19.html
"There's a lot of debate about vaccine passports right now. What are they, and how would they work?" CNN Article:
https://www.cnn.com/2021/04/07/us/covid-vaccine-passport-explainer/index.html
"Biden administration helping develop standards to prove vaccination" CNN Article: https://www.cnn.com/2021/03/28/politics/biden-administration-vaccination-passport/index.html
"Baker says no to vaccine passport proposals in Mass." Boston Globe Article: https://www.bostonglobe.com/2021/04/08/metro/baker-says-no-vaccine-passport-proposals-mass-they-have-been-used-other-cities-overseas/
"White House rejects U.S. vaccine passports, skirting uproar" LA Times Article:
https://www.latimes.com/world-nation/story/2021-04-07/white-house-rejects-us-vaccine-passports
"'Vaccine passports' are on the way, but developing them won't be easy White House-led effort tries to corral more than a dozen initiatives" Washington Post Article: https://www.washingtonpost.com/health/2021/03/28/vaccine-passports-for-work/
"Likely Legal, 'Vaccine Passports' Emerge as the Next Coronavirus Divide" New York Times Article: https://www.nytimes.com/2021/04/06/us/politics/vaccine-passports-coronavirus.html