Here's our video of the things we cover in this post:

By Abigail Epperson
Our first major stop after a 3 day, 900-mile journey to New Mexico, was Roswell. Perhaps an odd choice for a first stop after being stationary for a couple of months, but we were looking forward to digging into the kitschiness the alien theories that abound. But Roswell turned out to be so much more and featured one of the best campsites we've had to date, and some of the best road food we've experienced so far.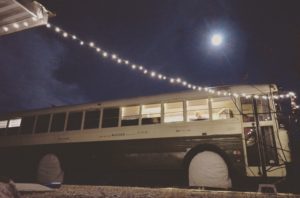 As you may know, Roswell is infamous for being the home of the supposed 1950 UFO crash landing, and the conspiracy theories that have resulted, and the city certainly cashes in on its popularity, but Roswell offers so much more, and we were able to enjoy an entire week with plenty to do.
But first, our campground. We stayed at Bottomless Lakes State Park in campsite 25, and upon nearing the park our visual senses were piqued. The campground sits near the deepest of all the natural made lakes that make up Bottomless Lakes, Lea Lake, a 90-foot deep body of water that in the warmer months opens up for swimming and beach activities. The nearby playground was a little too far for me to feel comfortable sending our kids off unaccompanied, but it was easy to take the laptop over and work while they played. Bottomless Lakes also offers WiFi, so this was a much welcome surprise since we are always trying to balance the requirements of our many full-time jobs with lack of internet, or sometimes even cell service at the campgrounds.
Bathrooms were older but clean and the water was nice and hot. A much appreciated hot, too, since the temps bounced 40+ degrees in a single day, often peaking in the upper 60s but dropping to below freezing at night. You can definitely feel a rapid temperature drop once the sun sets.
Also, don't open a window behind the paper towel rack.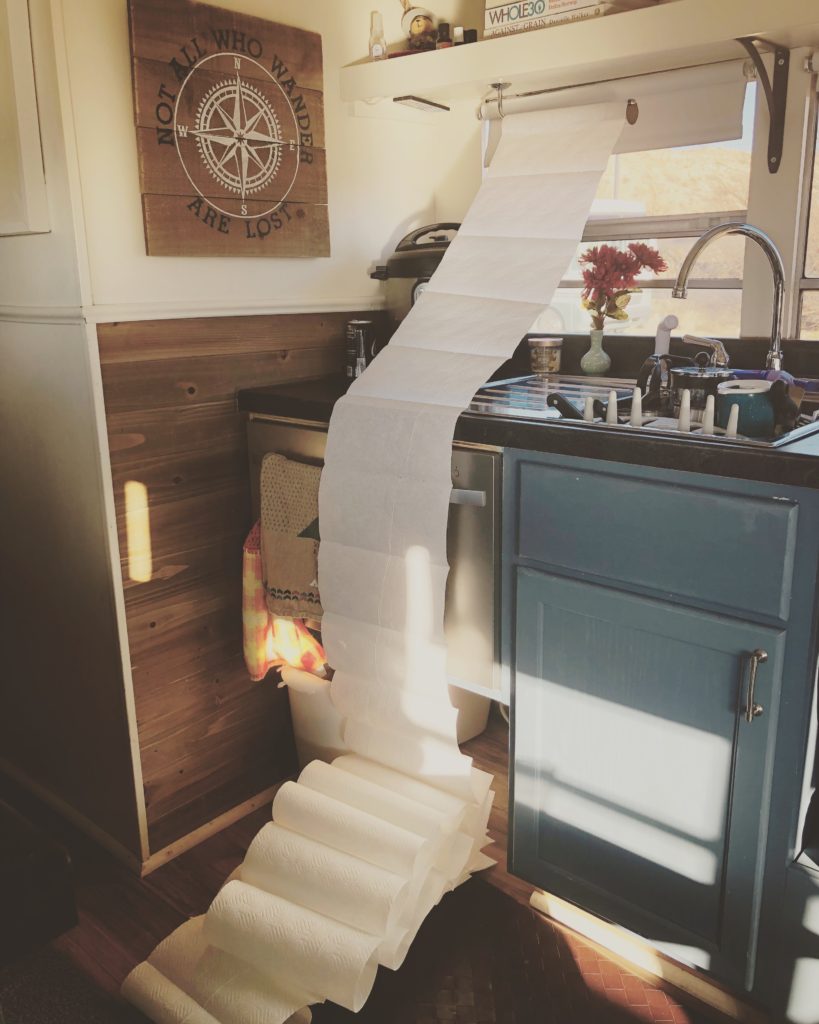 Peppered between days spent enjoying our campground and the state park, we did take the short 17 miles drive in Roswell to check out a few sites that can't be missed if you're going to be in the area.
First, no trip to Roswell is complete without a stop at the International UFO Museum and Research Center. This is full-on UFO kitsch and at only $5 an adult, $3 a kid, and 6 and under free, you definitely get what you pay for. The museum only held out interest for about 45 mins, 20 mins if you were one of our kids, but I'm glad we went.
If you asked the kids what was their alien highlight, they'd tell you it was the UFO/Space-themed McDonald's on the main strip. The playspace was huge and filled with a big outer space themed climbing structure, and we all enjoyed a milkshake and the kids burned off some energy.
Other highlights include the Bitter Lake Wildlife Refuge on the outskirts of Roswell. I wish we'd discovered this area sooner and spent some time hiking the many trails in this U.S. Fish and Wildlife Refuge. Something we are notorious for is discovering a gem the day before we leave and being unable to fully enjoy the discovery.
We also ate one slightly bland Mexican meal that featured wine-based margaritas, and one slightly awesome meal which we gushed about on our latest Road Eats article for RV Miles. When you find yourself near Roswell make time for Big D's Downtown Dive. Worth it and not too hard on the wallet.
And did I mention that inside all of this we FINALLY did a video of Wander Bus? Jason and I were high-fiving ourselves for getting this done, but also laughing that it took us 16 months to do so. Our to-do list is just never ending and anytime we get to an item that isn't time-sensitive it feels like we accomplished some big task. When did adulthood become the never-ending attempt to finish the to-do list?
Overall, the week at Roswell was exactly what we needed. Silly, surprising, quiet, breathtakingly beautiful, and featuring plenty of "boring" days just hanging our camp and getting stuff done. Alright, the man-hunt through the campground wasn't exactly boring, but I'll leave that recount to Ep. 28 of the RV Miles podcast, or our Roswell Travel Journal video on YouTube. It really is one of those stories that just needs be heard, and I think it's pretty safe to say it was one of the most dramatic events that has ever taken place in any campground we've stayed at.
But, manhunt aside, Roswell was the perfect introduction week to life back on the road, and by the time the week ended we were ready to pack-up and head for Carlsbad, New Mexico and the two National Parks that were waiting for us. Until next time, Wandering Friends.