By Jason Epperson
Listen Below:
Road Trip to The American Banjo Museum:
Bricktown. Oklahoma city. 
A museum here tells the story of the only real, truly American musical instrument. It wasn't just developed here, it was borne through the struggle for freedom, and tells the story of our country through its percussive draw, its rapid-fire playing style, it's expressive and exquisite construction.
If you're a frequent traveler, at some point you learned (or will learn) a lesson that opens up a whole new world of possibilities. You begin to look outside of the normal. Outside of the typical tourist traps and insta-favorites. You stop judging places based on your pre-concieved notions, and open your eyes to a world of possibilities. I really do think every traveler goes through this at some point on their journey. A lightbulb moment where you realize that there are special things to be found everywhere, even in places that you never had an interest in exploring in the first place.
Today's episode is about one of those places. If you're here because you love banjos, good for you. But I visited this museum on a whim with my three boys as a dad-son outing because, well it would be something different. It was. I had no aversion to banjos or banjo music, but no affinity for them either. No reason to step foot in this place. But I'm glad I did.
Forged inside every banjo is the history of America. Something I never would have known, nor would my boys, had we not visited.
Before we begin, let's be clear on what we're talking about. The banjo is a stringed instrument with a thin membrane stretched over a frame or cavity to form a resonator. The body, or "pot", of a modern banjo typically consists of a circular rim (generally made of wood, though metal was also common on older banjos) and a tensioned head, similar to a drum head. Traditionally, the head was made from animal skin, but today is often made of various synthetic materials. Most modern banjos also have a metal "tone ring" assembly that helps further clarify and project the sound, but many older banjos do not include a tone ring.
The banjo is usually tuned with friction tuning pegs or planetary gear tuners, rather than the worm gear machine head used on guitars. Frets have become standard since the late 19th century, though fretless banjos are still manufactured and played by those wishing to execute glissando, play quarter tones, or otherwise achieve the sound and feeling of early playing styles.
Modern banjos are typically strung with metal strings. Usually, the fourth string is wound with either steel or bronze-phosphor alloy. Some players may string their banjos with nylon or gut strings to achieve a more mellow, old-time tone. The modern banjo comes in a variety of forms, including four- and five-string versions. A six-string version, tuned and played similarly to a guitar, has recently gained popularity.
Along with the fiddle, the banjo is a mainstay of American old-time music, and then traditional jazz, but it's been featured in everything from rock to pop to classical music, and of course southern, bluegrass and country music where it has thrived.
---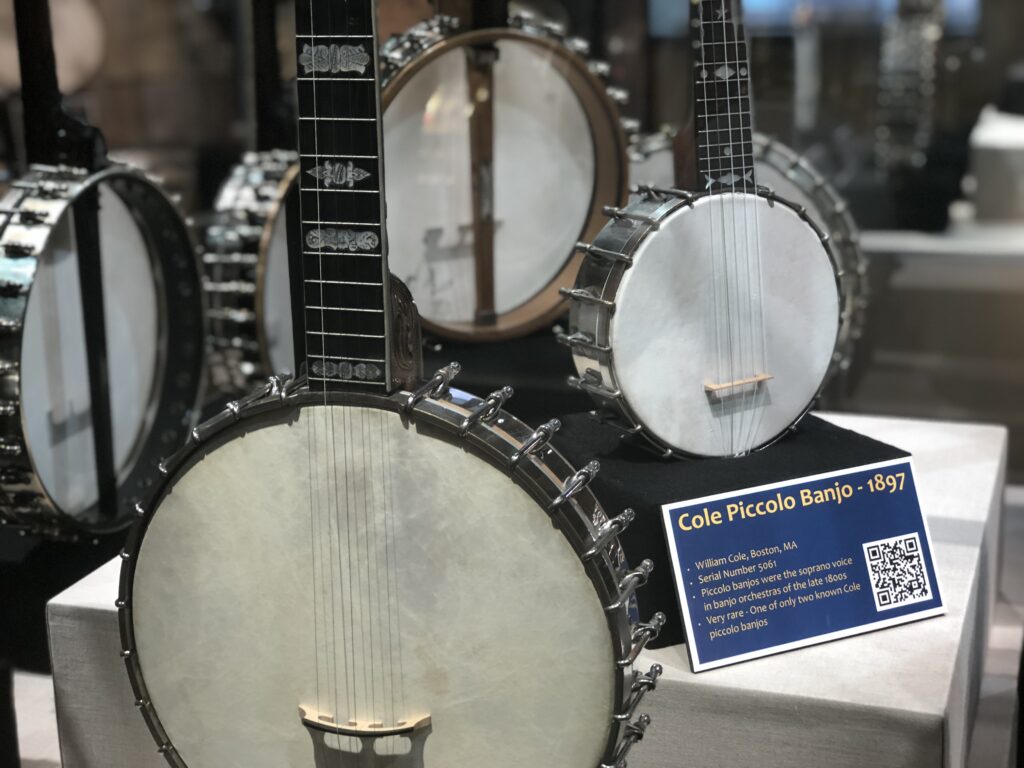 History of the Banjo:
The modern banjo's origins begin in West Africa from instruments that are thought to have been in use in the Caribbean since the 17th century by enslaved people. The name may derive from a traditional Afro-Caribbean folk dance called banya, which incorporates several cultural elements found throughout the African culture.
Early African-Americans began to add western-style fingerboards and pegs to the string-and-gord type instruments of their culture. These instruments had varying numbers of strings, often including some form of drone. The earliest known picture of an enslaved person playing a banjo-like instrument from the 1790s depicts a four-string instrument with its fourth string shorter than the others.
Banjo playing began to circulate and develop among people living in slavery, with many teaching their masters to play. By the 1830s, minstrel shows were in their hey-dey, in which mostly white musicians performed songs and skits in blackface, often with a banjo in-hand.
Joel Walker Sweeney, a minstrel performer from Virginia, was taught to play by enslaved people. Sweeney became the first white performer to play the banjo on stage. He moved the instrument away from homemade folk instruments by encouraging a Baltimore drum maker named William Boucher to make banjos commercially for Sweeney to sell.
Sweeney replaced the gourd with a sound box made of wood and covered with skin, and added a short fifth string. Sweeney's group, the American Virginia Minstrels, introduced Banjos to Britain, where they became very popular in music halls.
The Banjp grew in popularity during the 1840s. It was estimated in 1866 that there were probably 10,000 banjos in New York City. The instrument became a part of medicine shows, Wild-West shows, variety shows, circuses and traveling vaudeville shows. Servicemen on both sides of the civil war passed the time with the banjo, and were exposed to it on their travels.
By the early 20th century, there was a push to turn the raucous poor-man's banjo into "respectability." Musicians made an effort to "elevate" the instrument or make it more "artistic," by "bringing it to a more sophisticated level of technique and repertoire based on European standards
The banjo became more acceptable as an instrument of fashionable society, and the music changed to fit the class of people listening.
Banjo innovation continued, with increased use of metal parts, exotic wood, raised metal frets and a tone-ring that improved the sound. Instruments were designed in a variety of sizes and pitch ranges, including banjorines and piccolo banjos.
It now had polished sides, and looked at home in any respecable orchestra. And the fifth string was dropped in favor of the four-string variety. The instruments became ornately decorated in the 1920s to be visually exciting to a theater audience. Necks were shortened to handle new steel strings, which were strumed with a pick instead of fingers. The country was turning away from European classics, preferring the "upbeat and carefree feel" of jazz.
The changes in the banjo also made it louder, which was perfect for dance music and ragtime. The banjo could now play along with louder reed instruments like the clarinet.
But shortly, the Great Depression would mark a sharp decline in banjo sales. Not only was it harder for people to afford a well-crafted instrument, music changed to reflect the times. The banjo was dead. It wouldn't be until after World War II that it would be heard from again.
Learning to play a fingerstyle in the Appalachians from musicians who never stopped playing the banjo, Peet Seeger sparked a movement of folk musicians. And Earl Scruggs developed a lightning fast picking technique for the 5-string banjo that he perfected in rural North Carolina, and popularized on the stage of the Grand Ole Opry.
The banjo became incredibly popular again, and enjoyed America's new explosion of different styles of music. It would become popular in luegrass, and then modern jazz, celtic and irish music, big bands, folk, and even rock. And, finally, Black performers would begin to reclaim the banjo for their own with the birth of the blues. 
---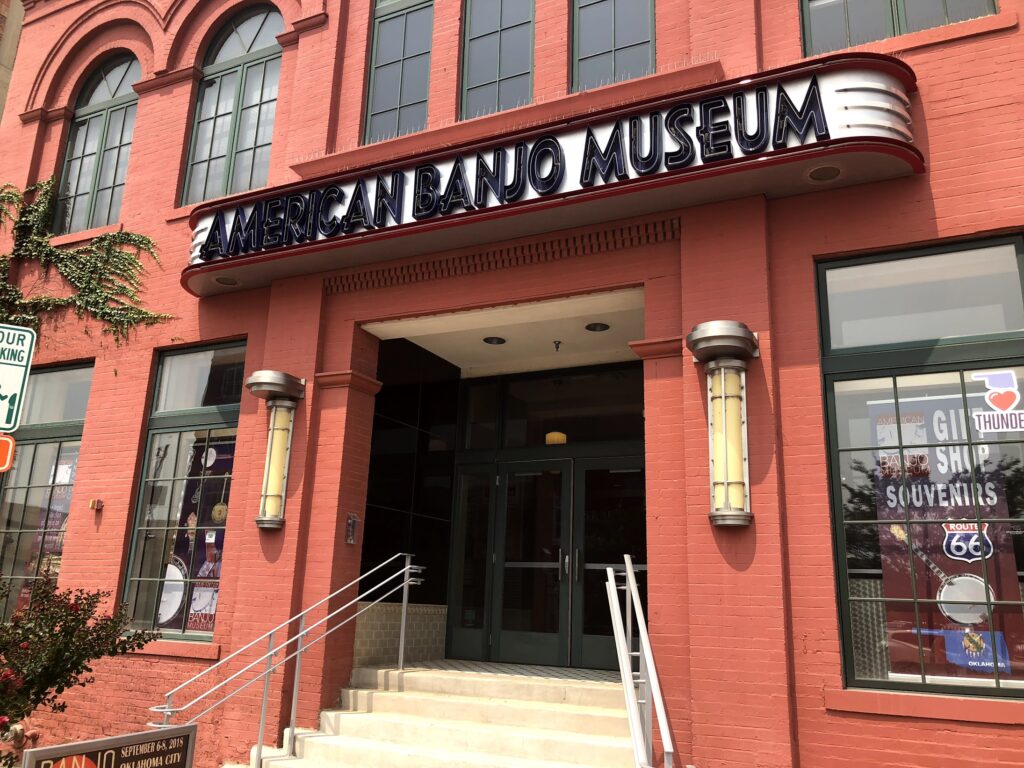 Visiting The American Banjo Museum:
The American Banjo Museum is a part of Oklahoma City's vibrant Bricktown district, where you can experience lots of fantastic food and entertainment. In fact, OKC might not be on your radar as a travel destination, but I'm here to tell you that mid-size cities are going through a renaissance, and they're competing hard for your tourism dollars. Oklahoma City is one of the best, with lots of adventuring fun.
When you enter the banjo museum, your journey begins with an eight-minute interpretive exhibit which introduces you to the evolution of the banjo, beginning with its humble roots in American slavery in the mid-1600s.
Beginning in the 1840s the banjo began its gradual shift away from being an exclusively handmade folk instrument. During this era many ingenious experiments in banjo design set the stage for all banjos which were to follow. The first large section of banjos in the museum will introduce you to some of the exquisite craftsmanship that banjos would become known for.
Then there's a Classic Era exhibit, featuring banjos as it began to lean towards a serious instrument for classical music.
My favorite exhibit, however, features The flamboyant banjos to come out of the Jazz Age. Their whimsical and masterful construction is a sight to behold. Then there's the Bluegrass period following WWII and the Folk period of the 50s and 60s. 
Overall, there are about 400 banjos on display at the museum, plus there's a performance hall modeled after one of the wildly popular banjo nightclubs of the 1960s known as Your Father's Mustache. The museum features regular performances and events in this upstairs venue.
And finally, as you exit the museum, there's my kid's favorite exhibit: The learning lounge. The museum provides banjos for you to play and video lessons from experts here. It's not something you'd expect in a place like this, and it was a huge hit with Jack, Ethan, and Henry. I even enjoyed a go.
The American Banjo museum is open Tuesday–Saturday 11am-6pm, and Sunday Noon-5pm. Admission is $8 per adult. 
---
Connect and Subscribe:
To learn more about the RV Miles Network, including the RV Miles and America's National Parks Podcasts, visit RVMiles.com.
You can hear this story and more on the See America Podcast. Available on Apple Podcasts or wherever you listen to podcasts.
Want to chat about great travel destinations all across the US? Join the See America Facebook Group and don't forget to follow See America on Instagram, Facebook, and YouTube.
See America is sponsored by Roadtrippers. America's #1 trip planning app. Enjoy 20% off your first year of Roadtrippers PLUS with the code RVMILES2X.