By Abigail Epperson
It's no secret we loved our time in Zion National Park, but it definitely came with a few challenges, nothing awful, and definitely nothing that would keep us from returning (which we can't wait to do). So, rather than let you wander off into the wilds of the third busiest park in the National Park Service like we did, here are a few lessons learned that will hopefully enhance your experience and make crowd navigation, and trail hiking a more enjoyable and rewarding experience.
1. Research Before You Go: We are normally "fly by the seat of our pants" type people, and we don't have a plan for a park until we get to the park, but Zion is different and we realized that immediately. Zion is busy, and unless you plan on going into the backcountry or hitting a trail off the shuttle bus line, you are going to have people wherever you go. So, build in extra time. Extra time to wait for the shuttle, extra time to get on the trail, extra time to come back to the RV for lunch (or better yet, pack one if you can).  Get in the mindset that outings are going to take a little bit longer – nothing worse than feeling rushed and everyone else around you is in vacation mode. Yes, we want to see it all, but at Zion, seeing it all is going to take some time. Check out Zion's newspaper page for up-to-date info on closing, as well as seasonal maps. Valuable info to help you prepare.
Pictured: Henry enjoying a little imaginative play at our campground in The Watchman B Loop.
2. Camp in the Park: We talked a lot about this on Episode 40 of the RV Miles Podcast, because for us, staying in the park was key to our success and time management. You have immediate access without having the hassle of finding parking and getting into the actual park. During our April stay, the parking lots were  full by 10:30 a.m. and stayed that way until late in the afternoon. The Watchman Campground offers spacious campsites with spectacular views and easy access to the main Visitors Center, which is also where you pick up the Shuttle Bus to head into Zion Canyon. The campground books fast, months in advance, so if you are serious about visiting and want to avoid site hopping (which is what we had to do in order to stay for the week), book in advance and stay in the park. In April of 2018, the cost was $30 a night for an electric site (there's no water or sewer hook-ups at your site, and no showers in the campground, however, there are flush toilets, and the bathhouses are new and offer a dish-washing sink and outdoor water faucet).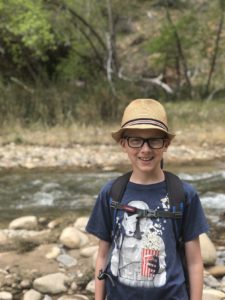 3. Water, Snacks, More Water, and More Snacks: Isn't it amazing how you can feed your kids lunch and 15 mins later they're telling you they're hungry. I can almost set my watch to this incredible phenomenon with our four-year-old, so I've become a pro at packing snacks and anticipating the inevitable. However, all those snacks and water for five can be a lot for one individual to carry in a backpack, so last Summer our boys were each gifted their own kid-size backpack, and we make it a family affair when it comes to hydration and energy. Each boy carries their own water and snacks along with a hat and a lightweight rain/wind jacket. The Visitors Center, The Human History Museum, the Zion Lodge, and The Temple of Sinawava, all stops on the Zion Canyon Shuttle Bus, offer water filling stations, so take advantage and fill your bottles up as you go. For more info on the Sunhiker Day Pack Jack and Ethan use, check out our article on inexpensive RV items, or click here to check out the North Face Recon Backpack we use for little Henry.
4. Junior Ranger Program: The Junior Ranger program at Zion is the first we've come across that requires you to attend a ranger-led program, which was awesome, but requires you to plan. I don't recommend doing this booklet in one day. The scavenger hunt alone takes numerous hours because it asks you to go to every stop on the Zion Canyon Shuttle Bus route (and we recommend you do this activity. It's a ton of fun and the kids enjoy riding the shuttle and hunting for items. Be warned. Zion Lodge was tricky). From start to finish the booklet took us the entire week, but that's because we didn't work on it every day and we took our time. It was nice to experience the park and then have the kids dive into the book and know the answers because we'd been out and about in Zion. We love when learning is organic, and if you have the time, this Junior Ranger booklet is set up for learning through doing.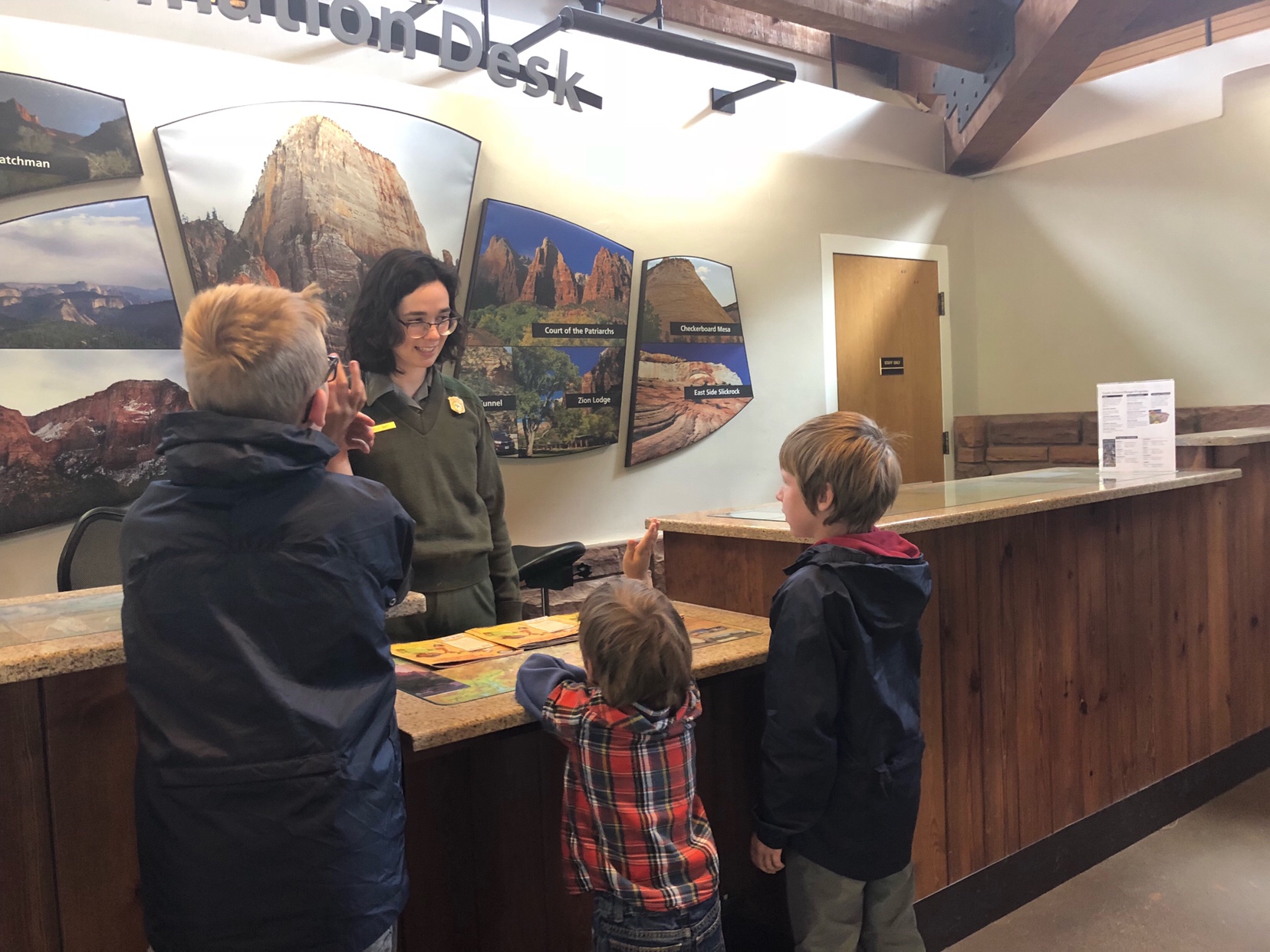 Pictured: Newest Junior Rangers of Zion National Park 
5. Hiking – Just Do It: The trails in Zion Canyon are busy. If you're looking to connect more with nature, and less with people, these aren't the trails for you. However, we did have a few moments and a few trails that we can recommend that get you close to nature without a lot of trail traffic.
The 1/2 mile path between Zion Lodge and The Grotto is a wonderful and easy walk, and more often than not, especially as you approach dusk, you're going to see Mule Deer hanging out along the path. We did this walk twice and encountered deer both times. Keep your distance, stay quiet. The deer and squirrels in Zion are pretty cool with coming into human populated areas, including the campgrounds, but this path offers a safe up-close experience.
Lower Emerald Pools/Kayenta Trail: The Emerald Pools trail is a very popular stop, offering lovely views of nature made pools fed by gentle waterfalls against a canyon wall. However, if you find the crowds just too much, and we did, hop on the Kayenta Trail that picks up between the lower and middle pools trail. The Kayenta Trail will lead you back to The Grotto and offer some truly beautiful views of the park. We still encountered hikers, but not nearly as crushing as the Emerald Pools trail. We were gifted with silence, a chance to interact with our natural surroundings, and the opportunity to be on a trail without feeling like someone behind us was frustrated at the pace small feet were moving at (a common feeling along both the Emerald Pools trail and the Riverside Walk Trail).
Archeology Trail: I'm not sure if we can call this a trail, so much as a 1/4mile  walk up a hill, but terms aside, this is a great intro to Zion for several reasons. First, it's really short and takes you to a prehistoric building believed to have been built by the Puebloan people. For us, this was a great way to tie all the National Park sites we'd visited in New Mexico with Zion in Utah. It is a rather steep walk, and it offers you lovely views of the Shuttle Bus parking lot, the Visitors Center and the campground, so that brings me to another point. It's right next to your campground. You don't have to make a day of it. Have an hour to explore? Want to burn off some energy before bedtime? This is your spot. It's a great short walk that also throws a little historical learning into the mix. Our seven-year-old loved this trail and by the time we left he was in full archeological mode and was pretending he was on an expedition.
Pa'rus Trail: This is the only trail in the park where bikes and animals are allowed, it also offers some incredible views of The Watchman. You can pick the trail up at the Visitors Center, The Human History Museum, or at the official trailhead which is the third stop on the Zion Canyon Shuttle Bus. I, personally, enjoyed this trail for my morning runs and watching the sun rise into the canyon is a perfect way to start your day. A very easy, very family friendly trail, Pa'rus is perfect, and at 3.5 miles from start to finish, its definitely get your kiddos moving.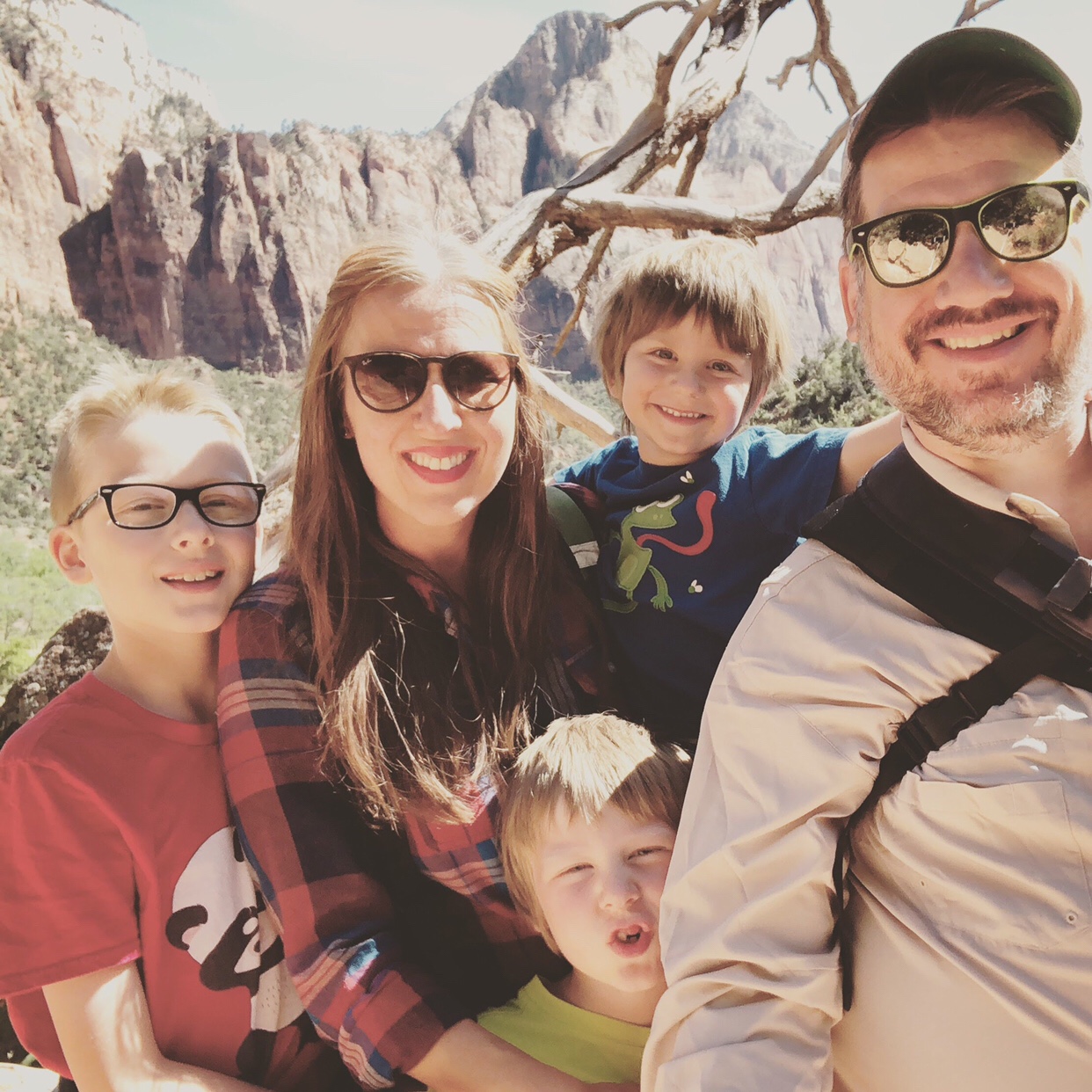 Pictured: Hiking the Kayenta Trail. Our favorite Hike in Zion. 
6. Embrace the Dirt: I think I've said this before, and it has become our mantra when it comes to camping in locations without hookups/showers. A baby wipe does wonders for feet and hands, and a tub full of water can be a great way to wipe a kiddo down quickly, but whatever you do, just embrace the fact that you'll be camping without regular access to a shower or a place to dump that gray water, unless you leave your campsite and go to the dump station, and really, a little dirt on the kids is worth staying put in my humble opinion. Now, if you do need a shower, and don't want to use the precious water in your tank, or perhaps you want to do a load of laundry, Zion Outfitters is right outside the walk-in entrance in the town of Springdale (and the walk-in entrance is conveniently located right next to the Watchman Campground's A Loop). A shower costs $4.00 for 5 minutes and a wash/dry will set you back $6.50. Of course, there are probably other locations in Springdale to do laundry and shower, but you can't beat being able to walk from your campsite. It's worth the extra dollar or two.
7. Grocery Shop Before You Go: Unless you'd like to pay $7 for a pack of hot dogs at the little grocery store in Springdale, I highly recommend you do all of your food shopping before your vacation. And I don't mean for just a few meals and then take a trip into town, try to purchase all of it. The nearest large scale grocery store is a good 30 minutes away, and even there you're going to pay extra for everyday items because of your proximity to Zion. This is where we utterly failed and ended up driving into town and spending a good chunk of our day grocery shopping. It was annoying. Also, if your kids are human eating machines, like mine, pack extra non-perishable food. Hiking and lots and lots of time spent outdoors work up one fierce appetite, and our boys ate all day long.
8. Have Fun: I talk about this in our article Stress Free Family Camping, but it just can't be said enough. Have fun! Camping with kids can be challenging at times (camping with adults can also be challenging at times) even to the most seasoned camper, so do your best to go in with ideas, but not with expectations. Nothing will derail a trip faster than an overabundance of unmet expectation. Zion is a unique experience, it is not like camping at a KOA or Jellystone, but what it may lack in amenities, it makes up for in spectacular views, once-in-a-lifetime experiences, and sights that will have you saying "wow" your entire trip.