By Jason Epperson
Listen Below:
Memphis Tennessee.
A metropolis along the Mighty Mississippi, it's named for its Egyptian sister city on the Nile. It's mentioned in more songs than any other city in the world – more than 400. And it ought to be. It's a seminal city to the blues & Rock 'n' Roll – not to mention gospel, jazz, R&B, rap, and soul. 20 percent of the first 100 inductees in the Rock 'n' Roll Hall of Fame came from within a 100-mile radius of Memphis. And it was home to their King – Elvis Presley, who took up residence in Memphis after his family moved to the city from Tupelo, Mississippi in 1948.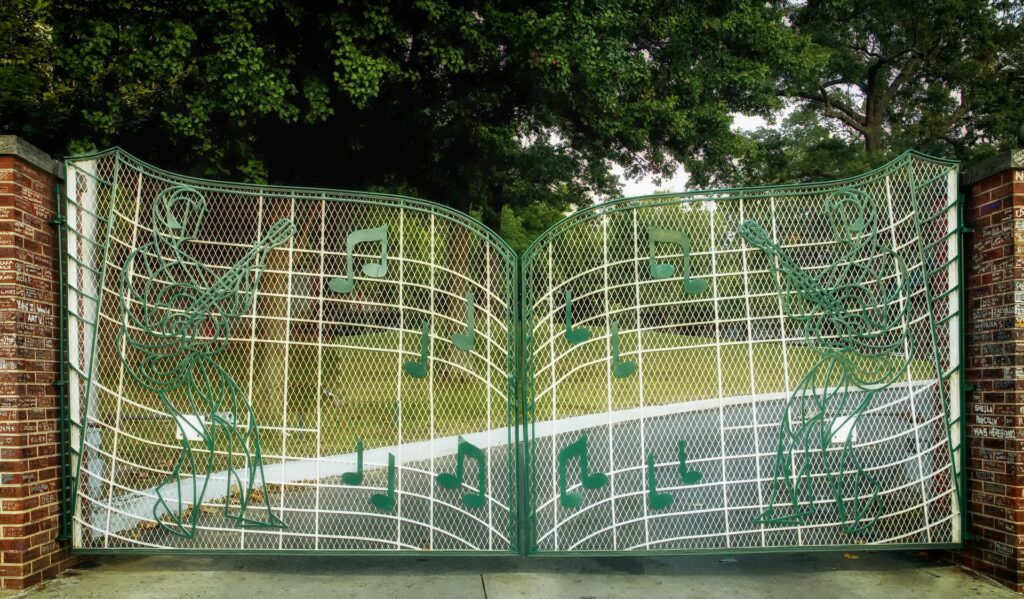 Graceland:
Last week we talked about Elvis's major failure at the Grand Ole Opry, and this week, I thought it would be a good idea to let him redeem himself. The Opry might be the mother church of country music, but Graceland is the palace of rock & roll.
Graceland is the second-most visited house museum each year, behind only the White House. It's hard to imagine any celebrity home in the past or the future earning such a place on the mantle of the American experience. Of course, Elvis was one of the top 5 biggest stars ever, but Graceland is not just a celebrity's former home. Graceland is synonymous with Elvis. His personality is in every corner of the place. He bought it when he was just 22, just after his incredible 1956 run that rocketed him to an icon.
In '56, Elvis performed ninety-four concerts spanning much of the nation, he made his first national TV appearance, and dozens more, including two landmark Ed Sullivan performances. He records Blue Suede Shoes, Don't Be Cruel, Heartbreak Hotel, Hound Dog, and Love Me Tender, along with 53 other songs. He signs a 7-year acting contract with Paramount Studios, and shoots his first feature film, he drops by Sun recording studios in Memphis to see his pal Carl Perkins, who's working with a yet-unknown Jerry Lee Lewis. Johnny Cash shows up, and the four jam together for a while in what will later be called "the Million Dollar Quartet."
So it's no surprise that in early 1957 (which, consequently, was every bit as busy for Elvis), the King of Rock & Roll gave his parents a $100,000 budget and asked them to find a secluded farm-style home near Memphis for him to get away from the screaming public.
They found a 14-acre farm on the outskirts of town just 4 miles north of the Mississippi border, and Elvis bought it on March 19, 1957, for $102,500. He lived there for the rest of his life.
History of Graceland:
Graceland Farms was originally owned by Stephen C. Toof, founder of S.C. Toof & Co., the oldest commercial printing firm in Memphis, who was previously the pressroom foreman of the Memphis newspaper, the Memphis Daily Appeal. The grounds were named after Toof's daughter, Grace. She inherited the property from her father in 1894. After her death, it was passed down to her niece Ruth Moore, a Memphis socialite, who together with her husband Thomas built a 10,000-square-foot Colonial Revival-style mansion in 1939.
After Elvis Presley began his musical career, he purchased a $40,000 home for himself and his family at 1034 Audubon Drive in Memphis, but as his fame grew, the number of fans and media that would congregate outside the house multiplied, to the annoyance of both Elvis and his neighbors.
When Elvis's parents found Graceland for him, it was located several miles beyond Memphis' urban environment, even though today it's been swallowed up by the ever-growing city.
In late 1957, Presley invited friends Richard Williams and singer Buzz Cason to the house. Cason said: "We proceeded to clown around on the front porch, striking our best rock 'n' roll poses and snapping pictures with the little camera. We peeked in the not-yet-curtained windows and got a kick out of the pastel-colored walls in the front rooms with shades of bright reds and purples that Elvis most certainly had picked out.
The next year, Elvis's mother Gladys met an untimely death at age 46. His father Vernon lived at Graceland and remarried Dee Stanley in 1960. When Elvis was away – Dee would rearrange and replace furnishings Gladys had put in place. One afternoon, a van arrived and all Dee's household goods, clothes, improvements, and pets were loaded on, and Vernon, Dee, and her three children were whisked by car to another house nearby. You don't mess with Elvis's curtains.
Constructed at the top of a hill, in a grove of oaks, the two-story residence features 23 rooms, including eight bedrooms and bathrooms. To the right of the Entrance Hall is the Living Room, with the adjoining Music Room behind a doorway framed by vivid large peacocks set in stained glass. The Music Room has a black baby grand piano and a 1950s style TV. The Living Room contains a 15-foot-long white sofa against the wall overlooking the front yard. To the left is a white fireplace. Adjacent to the Living Room is Elvis' parents' bedroom. The walls, carpet, dresser, and queen size bed are bright white with the bed draped in a velvet-looking dark purple bedspread.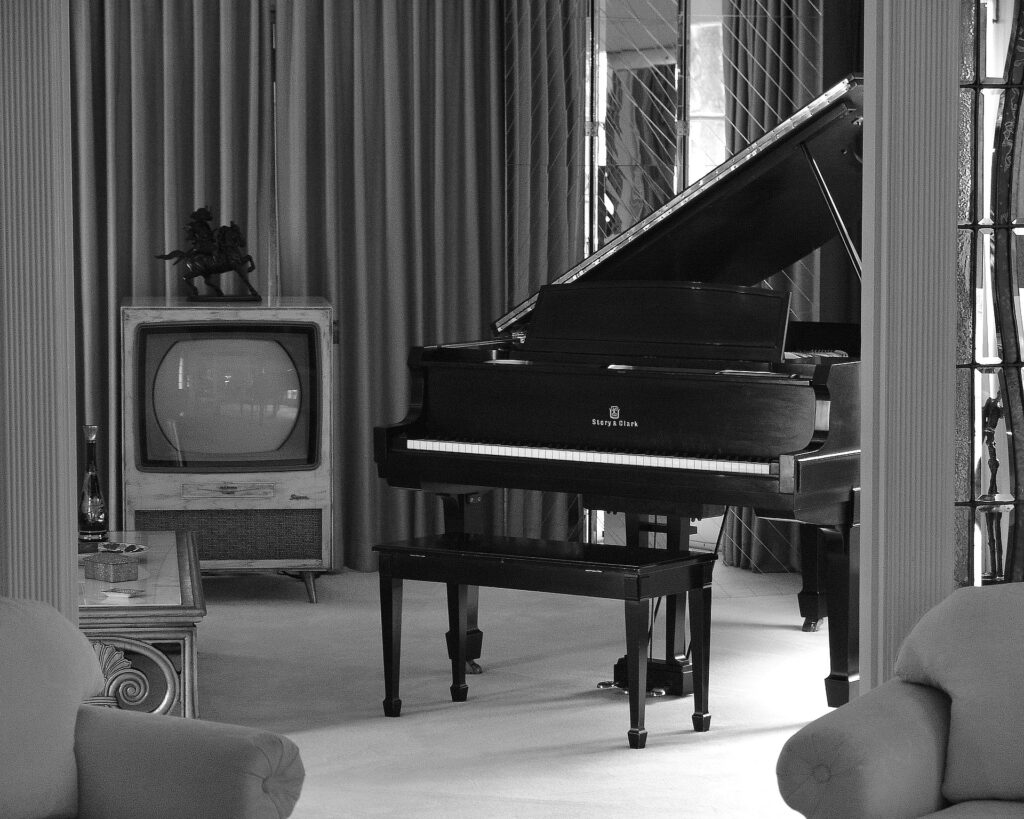 To the left of the Entrance Hall, mirroring the Living Room is the Dining Room, with black marble flooring in the center and carpet around the perimeter. Connected to the Dining Room is the Kitchen that was not open to the public until 1995, as Elvis' aunt Delta used it until her death in 1993.
In the mid-1960s, Presley enlarged the house to create a den known as the Jungle Room which features an indoor waterfall of cut fieldstone. In 1976, the Jungle Room was converted into a recording studio, where Presley recorded the bulk of his final two albums, He also constructed a large wing on the south side of the main house that initially housed a slot car track and stored his many gifts from admirers. Today, it's known as the Trophy Building and displays Priscilla's wedding dress, Elvis' wedding tuxedo, Lisa Marie's toy chest and baby clothes, and more.
There's a white staircase leading to the second floor where Elvis' bedroom, dressing room, bathroom, and office are located along with Lisa Marie's bedroom. The second floor is not open to visitors. It's been untouched since the day Elvis died and is rarely seen by non-family members. The TV room in the basement is where Elvis often watched three television sets at once and was within close reach of a wet bar A wall is painted with Elvis' 1970s logo of a lightning bolt and cloud with the initials TCB, for 'taking care of business in a flash'. The south wall has three built-in television sets, a stereo, and cabinets for Elvis' record collection. Opposite of the TV room is the billiard room; Elvis, an avid billiards player, bought the pool table in 1960 and had the walls and ceiling covered with 350–400 yards of pleated cotton fabric after the two basement rooms were remodeled in 1974. One corner of the pool table has a tear in the felt caused by one of Elvis' friends who attempted a trick shot that failed.
After purchasing the property Presley spent in excess of $500,000 carrying out extensive modifications to suit his needs including a pink Alabama fieldstone wall surrounding the grounds that has several years' worth of graffiti from visitors, who simply refer to it as "the wall," The wrought-iron front gate was shaped like a book of sheet music, with green-colored musical notes and a silhouette of Elvis. Presley also installed a kidney-shaped swimming pool and a racquetball court, furnished in dark leather and a functional bar. There is a sunken sitting area with a dark brown upright piano upon which Elvis played his last two songs, Willie Nelson's "Blue Eyes Crying in the Rain" and The Righteous Brothers' "Unchained Melody".
A Meditation Garden was used by Elvis to reflect on any problems or situations that arose during his life. It is also where he, his parents, and his grandmother, are buried. A small stone memorializes Elvis' twin brother Jesse who died at birth.
Graceland wasn't just home to Elvis. It became home to the corporation of Elvis, run by a menagerie of deputy Presleys, including his father who managed most of Elvis's personal life. Elsewhere on the estate is a small white building that served as his father's office; an old smokehouse that housed Elvis' shooting range; and a fully functional stable of horses.
Priscilla Presley lived at Graceland for five years before she and Elvis wed in Las Vegas, Nevada, on May 1, 1967. Their daughter Lisa Marie was born on February 1, 1968, and spent the first years of her life on the estate until her parents divorced in 1972, and she moved to California with her mother. Every year around Christmas, Lisa Marie and all her family would go to Graceland to celebrate Christmas.
On August 16, 1977, Elvis Presley died at 42 in his upstairs bathroom at Graceland. The official cause of death was cardiac arrhythmia, though fourteen drugs were found in Elvis' system, with several significant overprescribed quantities. Elvis's body was laid for visitation in a 900-pound copper-lined coffin just inside the foyer while over 3,500 fans passed by to pay their respects. A private funeral with 200 mourners was held on August 18, 1977, in the house, with the casket placed in front of the stained glass doorway of the music room.
Visiting Graceland:
When Elvis would tour, hotel rooms would be remodeled in advance of his arrival in the image of Graceland. His own furniture would arrive, and he could unwind after his performances in familiar surroundings. Graceland was Elvis, and Elvis was Graceland. The two are not interchangeable.
After Elvis's death in 1977, Vernon Presley served as executor of his estate. Upon his death two years later, he chose Priscilla to serve as the estate executor for Elvis' only child, Lisa Marie, who was only 11. Graceland itself cost $500,000 a year in upkeep, and expenses had dwindled Lisa Marie's inheritance to only $1 million. Taxes were due on the property; those and other expenses due came to over $500,000. Faced with having to sell Graceland, Priscilla examined other famous houses and museums and decided to turn Graceland into a moneymaker.
Graceland was opened to the public on June 7, 1982, and after only a month of opening the doors, the estate made back all the money it had invested. Priscilla Presley became the chairwoman and president of Elvis Presley Enterprises. The enterprise's fortunes soared and eventually, the trust grew to be worth over $100 million.
The Graceland grounds include a new exhibit complex, "Elvis Presley's Memphis," which includes a new car museum, Presley Motors, which houses Elvis' Pink Cadillac. The complex features new exhibits and museums, as well as a studio for Sirius Satellite Radio's all-Elvis Presley channel. Not far away his two planes Lisa Marie (a Convair 880) and Hound Dog II (a Lockheed JetStar) are on display.
In early August 2005, Lisa Marie sold 85% of the business side of her father's estate. She kept the Graceland property itself, as well as the bulk of the possessions found therein, and she turned over the management of Graceland to CKX, Inc., an entertainment company (on whose board of directors Priscilla Presley sits) that also owns 19 Entertainment, creator of the American Idol TV show.
One of the first celebrities who visited the home after Elvis's death was Muhammad Ali, followed by Paul Simon, who toured Graceland in the early 80s and afterward wrote the title track of his Grammy-winning album Graceland. On June 30, 2006, when US President George W. Bush hosted the Japanese Prime Minister for a tour of the mansion, it became one of a few residences on American soil other than an Embassy, the White House, or any of the other Presidential retreats to have hosted an official joint-visit by a sitting US president and current head of a foreign government. On May 26, 2013, Paul McCartney visited Graceland and left a guitar pick on Elvis's grave, "so Elvis can play in heaven."
---
Connect and Subscribe:
To learn more about the RV Miles Network, including the RV Miles and America's National Parks Podcasts, visit RVMiles.com.
You can hear this story and more on the See America Podcast. Available on Apple Podcasts or wherever you listen to podcasts.
Want to chat about great travel destinations all across the US? Join the See America Facebook Group and don't forget to follow See America on Instagram, Facebook, and YouTube.
See America is sponsored by Roadtrippers. America's #1 trip planning app. Enjoy 20% off your first year of Roadtrippers PLUS with the code RVMILES2X.