Click to watch the video version of this post.
A new, truly all-weather Class B+ campervan model, hands-free driving is coming this fall to the most sold vehicle in America, a state parks system raises prices, a new inverter generator from Harbor Freight, and a candidate for the most unusual RV on earth. Read on to learn more!
By Jason Epperson
Before we jump in, I'd like to take a moment to say thanks to those of you who join us here at RVMiles.com regularly. This site wouldn't be here without you. It's in that spirit, that I'm asking you this week to join us on the RV Miles YouTube channel. I'm blown away by how quickly our YouTube channel has grown after 4 years of primarily doing podcasts and articles, so if you haven't subscribed yet, please click here, make sure to hit that big red subscribe button and help us reach our goal of 100,000 subscribers by the end of the year. Abby and I thank you for your continued support. Now, let's get to the news.
---
Labor Shortage in Elkhart
We've talked a lot on this channel about some of the supply chain challenges facing RV manufacturers, but we haven't talked much about the labor problem. A new article from RVBusiness.com shares that the labor force in Elkhart County, Indiana is completely tapped out. For instance, Forest River, which employs 11,000 people in its 30 divisions, currently has 540 job openings listed on its employment opportunities website. Lippert Components, which makes the vast majority of trailer chassis used in RVs along with many other products has a similar list of openings. A manufacturer rep told RVBusiness that some companies are raising wages to attract workers, but that creates its own problem as people within the industry start job-hopping back and forth between companies to get the best wages.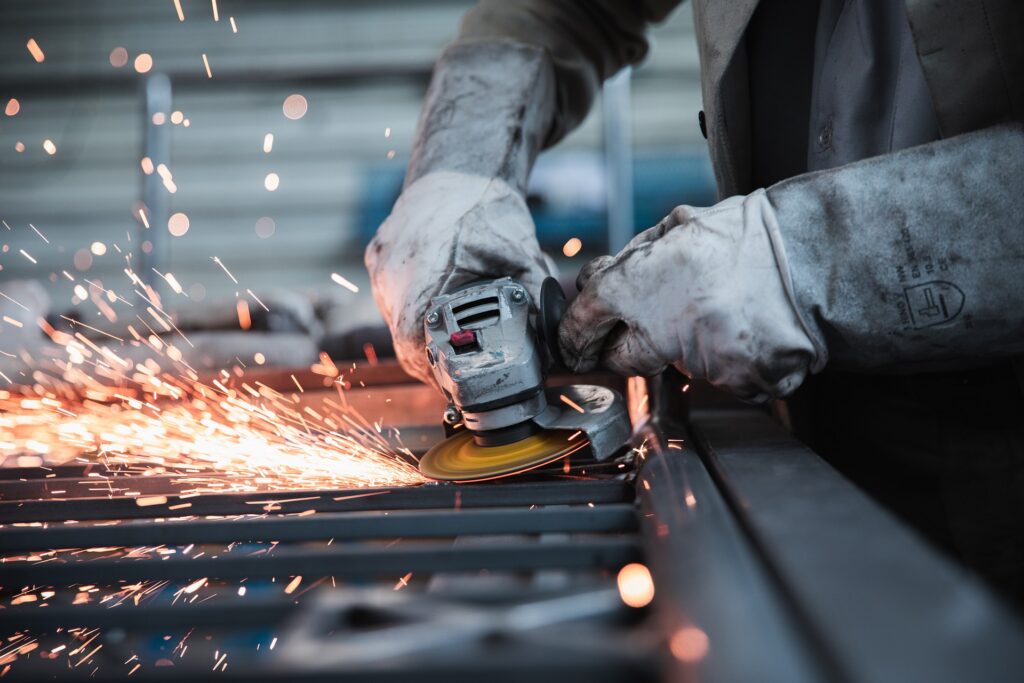 Continued Supply Shortage
And as those lingering supply chain issues work themselves out, new ones keep arising. The latest shortage? Rubber. A devastating leaf disease has caused a shortage in natural rubber, sending prices on the rise. U.S. automakers are rushing to secure shipments before the market gets squeezed further, and anytime the RV industry has to compete with the vastly larger auto industry for parts it's a problem. 
Thankfully the big problem that's affecting automakers right now hasn't headed too much into the RV space – computer chips. Ford has once again shut down production of the F-150, and new and used truck prices continue to rapidly rise with dwindling availability. Estimates put Ford's forced production cuts this year at almost 408,000 vehicles, and the other automakers are facing the same problem.
Ford F-150 "BlueCruise"
The new Ford Trucks that do hit the road soon may be responsible for a major shift in the way people are driving on the road. Ford just announced that 2021 and 2022 F-150s will get an over-the-air software update later this year that will bring hands-free driving to the most popular vehicle in America. Trucks equipped with the Co-Pilot360™ Active 2.0 Prep Package will be able to get what the company calls "BlueCruise" for a 3-year subscription that costs $600. The system will allow drivers on pre-approved roads (mostly divided highways) to drive without their hands on the wheel. The computer tracks lane markings, vehicles, and road signs, as well as the driver's face. If the driver looks away from the road for too long, the system will chime warnings until the driver takes over with their hands. 
Future updates will include automatic speed adjustments for curves, and the ability to change lanes automatically by just switching on the turn signal.
The BlueCruise feature will also roll out to the Mustang Mach-E this fall, and then eventually to the entire Ford lineup.  
Increase in Escapees RV Parks?
The Escapees RV Club, which offers education, discounts, and a popular mail forwarding service, has been in the campground operation business for 30 years, operating 8 parks for its members, along with 11 co-op parks. Now, the organization is launching a franchise program that may have us seeing Escapees RV parks across the country. Escapees parks are notable in that they are generally void of lots of amenities, providing basic, affordable campsites for travelers. Just the type of campground that I think we need a lot more of. 
Iowa State Parks Increase Price
Iowa State Parks – which are often excellent, affordable hidden gems WITH sewer hookups, are increasing their campsite prices for the first time in 20 years. Under the new four-tier pricing structure, out-of-the-way parks that get fewer visitors won't see a rate increase. But larger parks that draw more visitors will see nightly fee increases from 25% to 55%. For example, at Lake Macbride State Park, fees for a full hookup site went from $19 a night to $26. Still a great deal. Visitation to Iowa State parks was up 33% in 2020.
New Inverter Generator from Harbor Freight
Harbor Freight has a new inverter generator out, the Predator 4400. You may be considering getting a generator for the summer camping season, and you might be tempted by this one because you've heard inverter generators are quieter, which is true. You've also heard Harbor Freight's Predator Generators are pretty good. But this is still an open frame generator – the engine is on the outside. It is advertised as putting out a sound of 67 dB, which is actually twice as loud as the 57 dB (it's logarithmic) that Harbor Freight's Predator 3500 inverter generator that everyone loves puts out. This isn't going to be a great option for RVers who are trying to keep things quiet. Stick with the 3500. There's a reason it costs $250 more for less wattage. It really is that much quieter.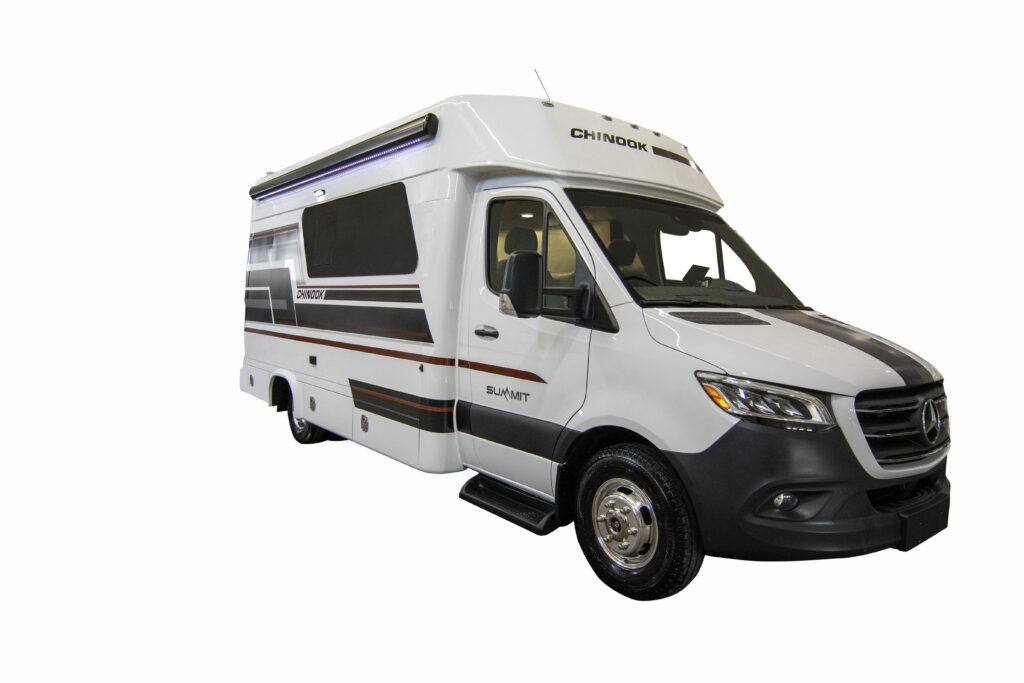 Truly All-Weather Class B+
Chinook RV has announced its newest model, the SUMMIT — and this thing may look like a typical B+, but I can assure you it's built quite differently. The Summit does not use fiberglass bonded walls like most RVs. Instead, a steel structure incorporates the sidewalls and roof, it's almost like a car's roll-cage design, which, of course, increases durability, but it also allows for more insulation. The Summit has been given Truma's gold standard certification for four-season cold weather resistance.
At 23 feet, 9 inches long, the debut floorplan is no slouch on the interior, either, offering high-end CNC-cut one-piece cabinetry, woven vinyl floors with soft-touch vinyl finishes on interior walls and ceiling, dimmable LED lights, solid-surface countertops, and it may look short, but there's 6 feet, 3 inches of interior headspace.
The living room is flanked with dual sofas, which open to a king-size bed. The gally is all electric, with a convection microwave and induction cooktop run by an optional lithium battery system providing 630 amp hours of capacity, 400 watts of solar, and a 2000-watt Xantrex inverter. There's a private bathroom, separate shower, and full-length wardrobe positioned at the rear. Extra cargo and outdoor equipment can be safely tucked away in powder-coated steel storage boxes under the floor.
The tanks, water lines and components are all within the Summit's heated cavity, the fully bonded roof is a full 5-inches thick, the windows are dual-pane, and a unique flooring system provides a thermal and moisture barrier.
Airplane Fuselage RV
But if the Chinook Summit isn't quite your style – here's a find for you. An airplane fuselage. TheDrive.com stumbled on this unique find in a California craigslist post, but its story is even crazier than it looks. 
It's registered as a 1979 Fleetwood Pace Arrow RV, but the boxy body has been swapped for the fuselage of a Convair CV-240, which was made between 1947 and 1954. It was built in the 80s by two men: Tony Tosta and Jason Von Straussenburg.
Von Straussenberg was one of four pseudonyms used by a man named Roger Crona, who escaped a Michigan prison in 1972. By 1983, Crona had met Tosta in Southern California, where the two constructed a quartet of vehicles bodied in the fuselages of scrapped aircraft. This Convair-Fleetwood was called "Andromeda" and was the "mothership."
It can be driven from either the pilot or co-pilot's seats, and, along with all the normal RV amenities, there's a hot tub hidden in the floor.
Crona and Tosta were would, not surprisingly, grow pot in the back of the Andromeda. Crona has since passed away after getting caught and going back to prison, but the Andromeda can be yours for the cool sum of $27,995.
---
Have a piece of news to share? Email Jason Epperson at [email protected].