By Jason Epperson
Garmin has released a pair of brand new RV-specific GPS units out, and today, we're giving you a first-look review of the RV 795 and the RVCam 795.
The pair of new units replace the 780 series in the Garmin RV line-up, though those units are still available in some stores and will continue to be supported by Garmin. I've had the RVCam 795 in my hands for a whopping 2 days, and I'm going to share some thoughts with you — but the headline is that the navigation is going to be pretty much identical to the RV890 and the RV1090. I've had the 890 for two years now, so I can speak a bit about how the navigation works and what I like and what I don't.
The RVCam 795 and RV 795 are virtually identical 7" screen GPS units, with one big difference, The RVCam version has a built-in front-facing dashcam to record any incidents on the road or maybe even some cool sights.
The Garmin RV Line-Up
If you're not familiar with the Garmin RV line-up, The RV1080 is the big boy with a 10-inch screen, the RV890 has an 8" screen, and now this pair of 790s have a 7" screen. The software is nearly identical, with a few key new features. So if you have one of the other units, you're not going to find much radically different.
Why not use an app?
So let's step back for a little bit and talk about your routing options if you're driving an RV cross-country, and why you might consider one of these over, say, google maps on your phone.
Google probably has the best routing available for the everyday driver, but there are a few issues. The first is that RVs can't always go down the same roads that cars can. There are sometimes length, weight, and height restrictions on roadways, especially those pesky overpasses if you're driving a tall RV. Garmin's RV options all let you put in the specifications of your RV and attempt to route you around any problem roads. There are a few app options that will do the same on your phone – the most used for RVers are probably the apps from RVLife and Togo. They both do a decent job, and they have great planning tools with RV Trip Wizard and Roadtrippers, respectively, but they're hamstrung a bit by the need for cell service. And perhaps by the size of the screen on your phone.
Satellite GPS units like Garmin, on the other hand, have all the map data pre-built in. That's both a good and bad thing. You can get routing information wherever you are, even if there isn't a cell tower for 100 miles. But it's is one-way communication. It's harder to get traffic data, weather, and road construction updates to a device that's not connected directly to the internet. Garmin solves that problem and attempts to give you the best of both worlds by connecting the Garmin to your phone via Bluetooth or cellular. When you're in an area with cell signal, you get some enhanced features.
Overall, GPS routing is an inexact science. I've used all of the above options, often pitting them against each other, and they all make major blunders. They're just tools that help you out. If you're going for a big drive, it's always going to be best to plan your route in advance carefully.
That said – a good GPS really does come in handy driving through unfamiliar areas. So let's get into the nitty-gritty of thid new Garmin unit.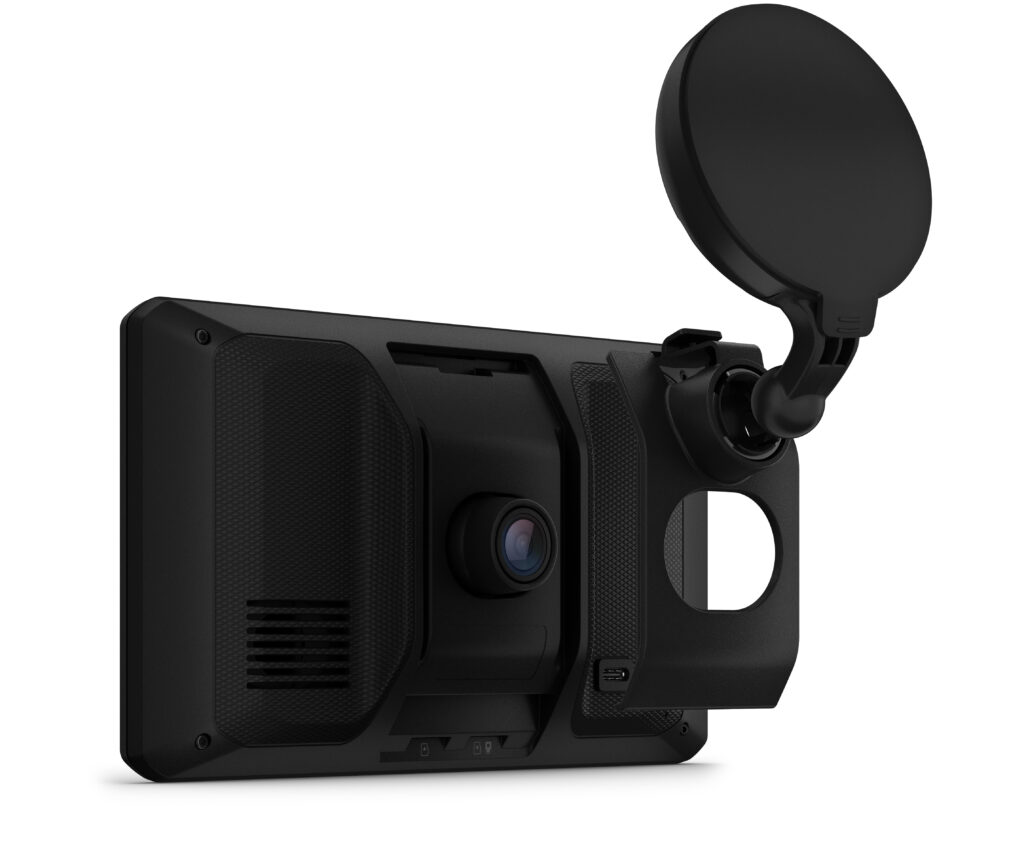 In the box
The RVCam 795 comes in a small box with a power cable and a suction cup mount. Right off the bat I was happy to see that the power cable is USB-C instead of a proprietary cable or older USB version. The entirety of the front is the 7" display. There are no buttons on the front or sides. The back has a power button, the usb power port, a speaker, the camera, which is adjustable left and right, and two microSD memory card slots — one for dash cam recordings, and one for recording or importing routes. The dash cam slot is pre-loaded with a generic 16-gigabyte card.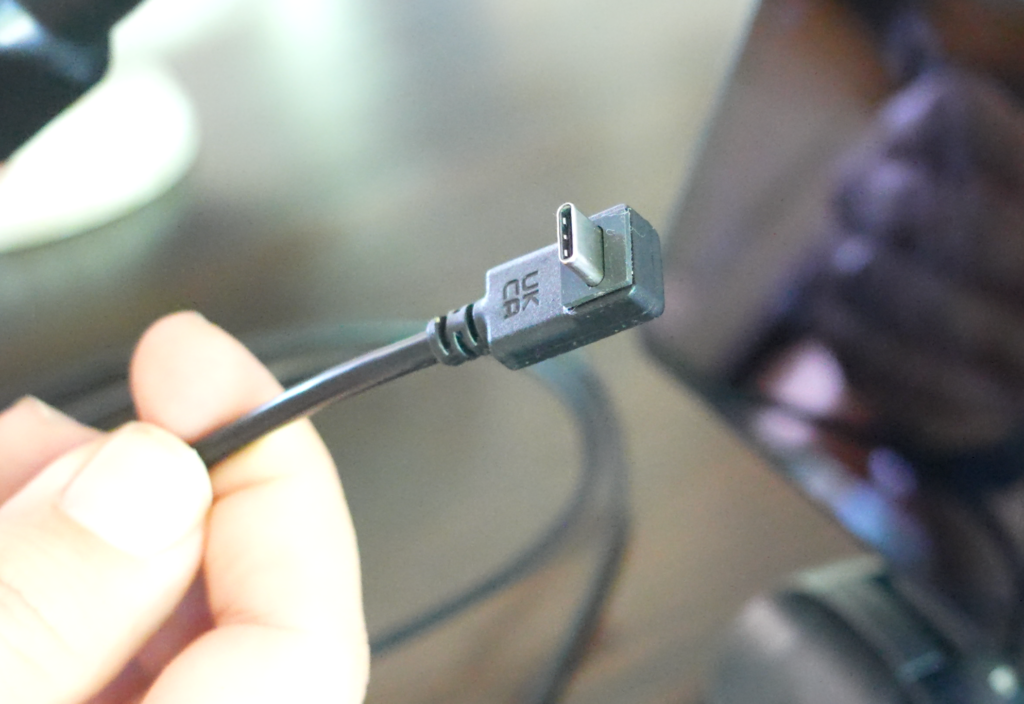 It's fairly lightweight; I weighed it at 9 and a half ounces. The mount is a plastic heavy-duty suction cup with a clip that goes over the back of the GPS. I find that it clips in and out easily, but it's not as nice as the magnetic mount on the 890. It's the same standard ball mount other Garmins use, so you might be able to make the clip work with other types of mounts, but I find in general that Garmin's suction cups are very good.
The power cable has a DC cigarette-lighter style plug on one end, and a right-angle USB-C connector on the other, which is nice because it helps the cable hang in a nice position.
Here is where there's an important distinction between a GPS and a GPS with a dashcam built in. You really have to mount it somewhere in the windshield so the camera can see the road. Luckily Garmin allows you to mount the RVCam 795 pretty much anywhere in the windshield, and you can rotate the camera to get a pretty straight-on view of the road.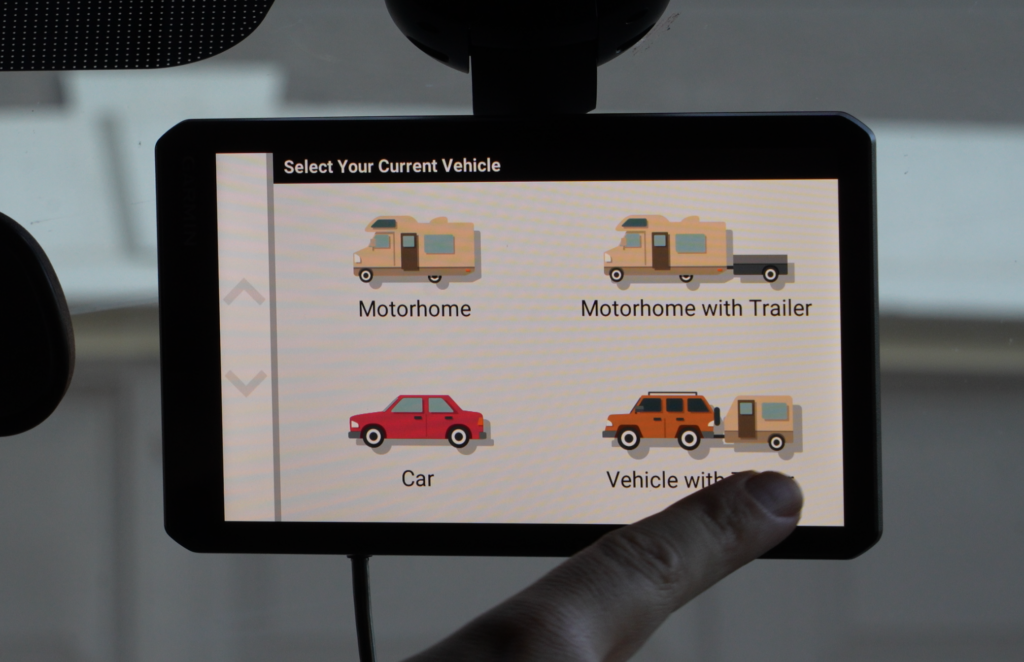 Setting up the RVCam 795 and RV 795
Setting up is fairly easy, and every time you use it, you can select the type of vehicle you're using it in and if you're towing. So you can set up to use it in your truck while towing one of several trailers, or with no trailer at all. Or you can set it up for your motorhome and leave it in there. You can pop it around from vehicle to vehicle, and it's got a built-in battery, so if you want to bring it into your house or trailer for some route planning, you can do that. I find that the battery on the 795 lasts quite a but longer than the battery on my RV 890.
When you tell Garmin where you want to go, you can type it in, or do voice activation. I find the voice activation works pretty well, but sometimes if you can't find something, the easiest thing to do is actually search for it on the app. You can also just have the map showing without entering a route.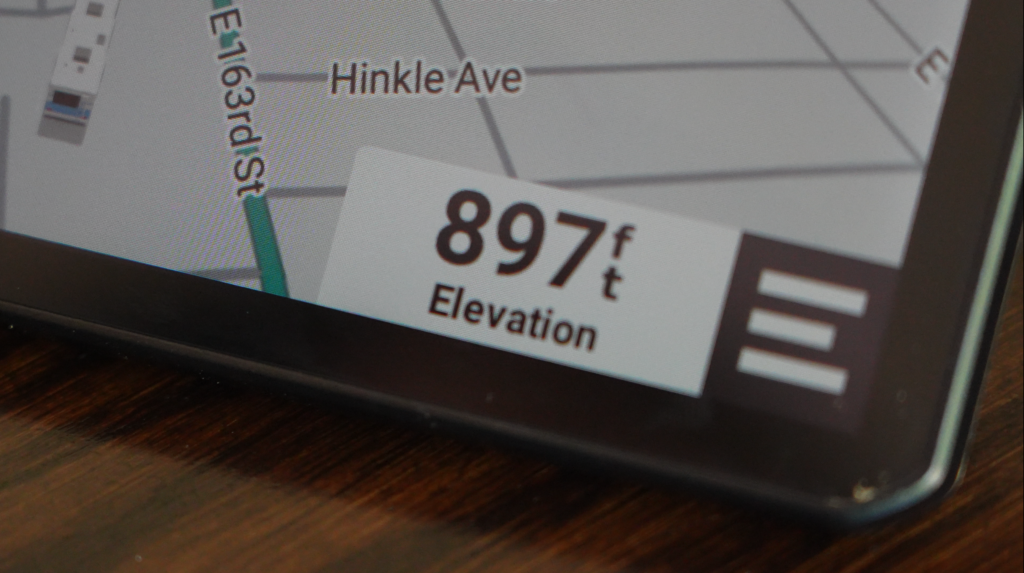 On The Garmin RV 795 Screen
On the map screen, you get a speed limit display, and also your current speed, along with a customizable slot that you can have show the number of miles you have left, the time left, the time of arrival, a compass, or many other things. This is where the smaller size of the RV 795 loses out a bit over its bigger brothers; you get fewer things on the display. If I have one complaint about this unit, it's that I can't see both the hours and miles left in my trip at the same time.
The bigger units can also be used in a vertical position, which I was at first very excited about when I got the RV 890, but found I didn't really need it. The map view is pretty square regardless.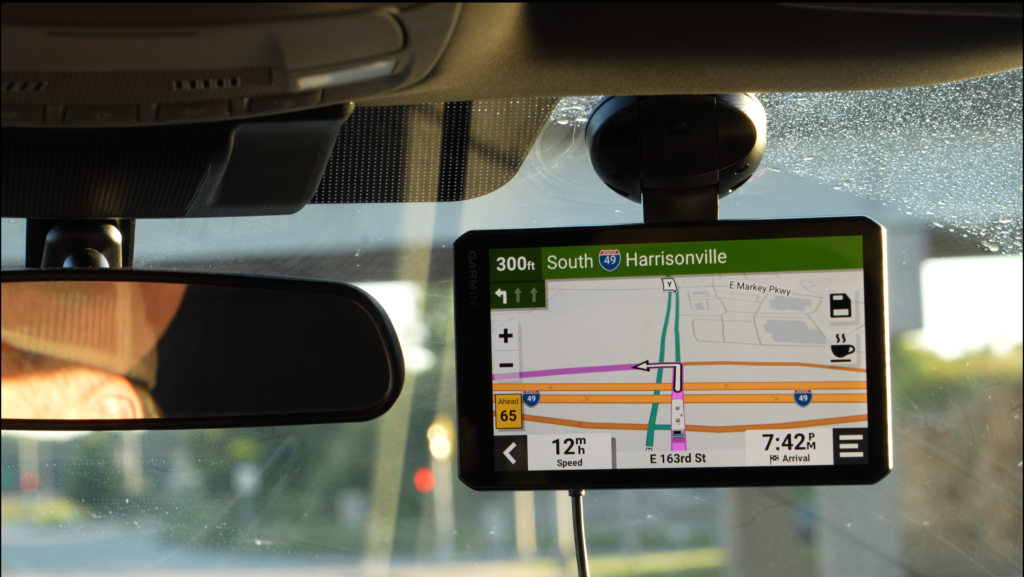 Navigating with the RV 795 and RVCam 795
The voice prompts on Garmin RV units are pleasant and effective, and you get some nice lane assistance when you're out on the highway. You'll get notified of steep grades and sharp turns, along with an audible ding when the speed limit changes. If the traffic info changes, you'll get notifications asking you if you want to try a different route.
Like most GPS units, you can go into settings and tell it if you want to avoid tolls, ferries, or highways. In fact, everything is highly customizable, from the sounds to the type of map displayed, to the vehicle icon.
When you're driving, you can have it track your route, which can come in handy on those networks of unmarked forest service roads to help you find your way back.
Garmin also packs in a bunch of trip planning features that, frankly, I don't use. Like the ability to select from lists of points of interest and campgrounds. I'm probably going to do most of that stuff on my phone or computer. You can see your points at Pilot/Flying J if you link your account – stuff like that.
If you've linked your phone, Garmin can act as your infotainment system, allowing you to do hands-free calling and control your music or podcasts on your phone, which is nice if you have a motorhome without that type of system.
New Arrival Planning Feature
A new feature on this unit is the ability to plan your arrival. You can look at an overhead satellite view of the destination (if you have it connected to your phone), and mark the exact entrance you want to go to. So if you're going to a big truck stop with multiple entrances maybe on different roads, you can look above and see the best way to approach and mark where you want to enter. If you're going to a mall, where there might be a dozen entrances, you can mark both where you want to enter and where you want to park. Or maybe you want to go to a big national park and have a specific spot you want to stop at, you can mark them yourself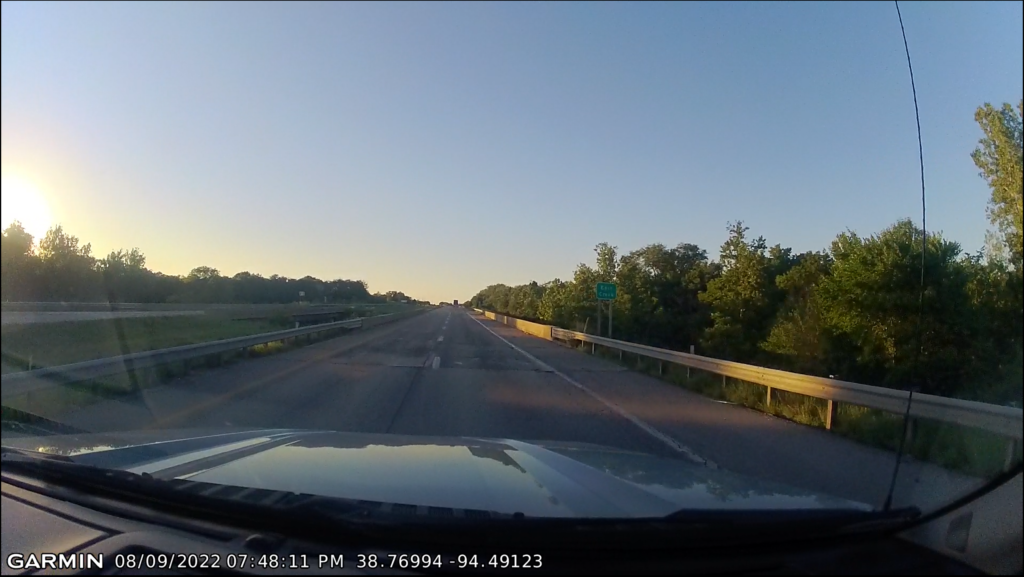 The Dash Cam
First off, I was a little disappointed that it's only a 1080p camera instead of 4k. Most dashcams these days are 4k, but that said, as a camera guy, resolution doesn't tell the whole story, good 1080p is better than bad 4K, and this is a good 1080p view that works day and night.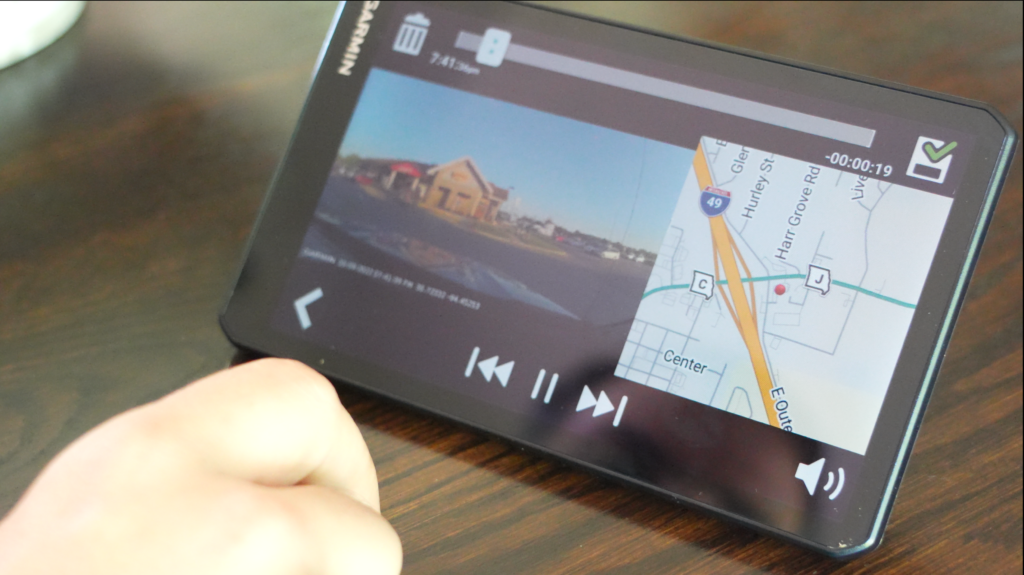 The camera records whenever the unit is on, so it's not recording in front of the vehicle when the car is off, unless you connect it to a power supply that doesn't shut off. The video clips are stored on the device to the memory card, but they're also uploaded to the cloud through your phone whenever you're connected to a cell signal. Garmin lets you keep your recordings on the cloud for free for 24 hours, or if you pay a monthly fee of $9.99 you can have them on there for 30 days. There's also a cheaper weekly plan. It will automatically save a recording if it senses a large vibration like a wreck. I've found this will go off with a large pothole, and the sensitivity is adjustable.
Driver Assistance Features
Something interesting Garmin has been able to do with the dashcam on the RVCam 795 is add some driver assistance features that most newer vehicles have, but your motorhome or older truck might not. Garmin uses the camera actually to give you lane departure warnings and imminent collision warnings. Our truck has both of these features, and I found that the lane departure warning is actually pretty accurate. The collision warning has been triggered by some shadows and overpasses, but I suppose any warning is better than no warning.
Using the RV 795 with a back-up camera
Both RV 795s are compatible with Garmin's BC-50 back-up camera. If you wire the camera into your brake lights, it will come on when you are in reverse. It will not, however, allow you to watch the rearview display going down the road, and it won't record the rear-view camera.
Overall thoughts on the Garmin RV795 and RVCam 795
Overall, I've found the RVCam 795 to be a worthy addition to the Garmin line-up, ad it's going to replace our 890, really only because of the dashcam. The 890 has held up really well in the heat in the window – and I expect the 795 to do the same. Since the map data is pre-loaded, you do have to update it from time to time, and if I find Garmin has led me astray, usually it was due for an update. Though not always, it's still an imperfect solution to a challenging problem.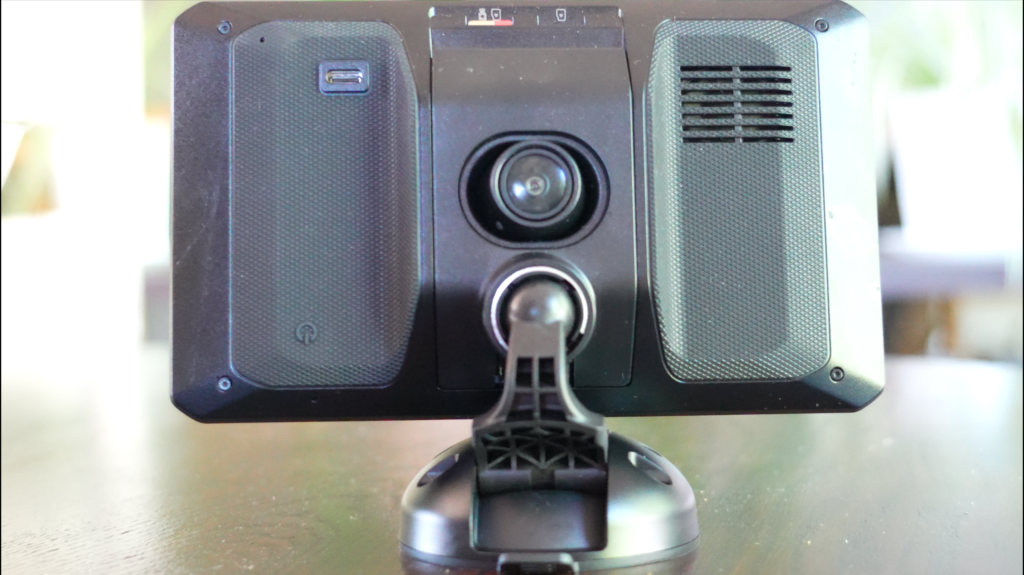 If you're an occasional traveler and don't want to spend a big chunk of change, you're probably fine using one of the RV GPS apps. But if you travel a lot to places with limited cellular access, and especially if you have a big vehicle that could hit overpasses or get you stuck on roads that are a bit too windy for your liking, I think Garmin's options are worthwhile.
The RVCam 795 is $599.99 and the RV 795 without the camera has a suggested retail price of $449.99.