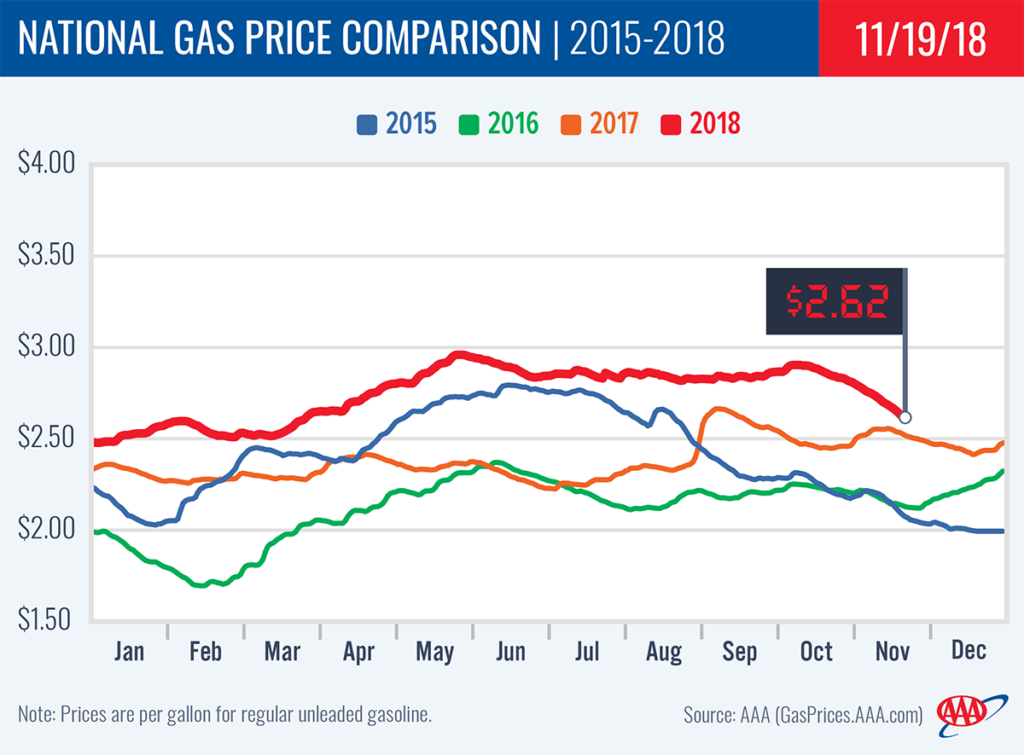 By Jason Epperson
Today's national gas price average is $2.62, which is seven cents less than a week ago and the largest one-week decline in pump price this year. That's up 7 cents over last year, but a welcome change in a year fraught with a heavy toll at fuel stations, especially for Thanksgiving travelers.
AAA projects 54.3 million Americans will journey 50 miles or more away from home this Thanksgiving, a 4.8 percent increase over last year. The 2018 holiday weekend will see the highest Thanksgiving travel volume in more than a dozen years (2005), with 2.5 million more people taking to the nation's roads, skies, rails and waterways. INRIX, a global mobility analytics company, predicts travel times in the most congested cities in the U.S. could be as much as four times longer than a normal trip. The Thanksgiving holiday period is defined as Wednesday, November 21 to Sunday, November 25.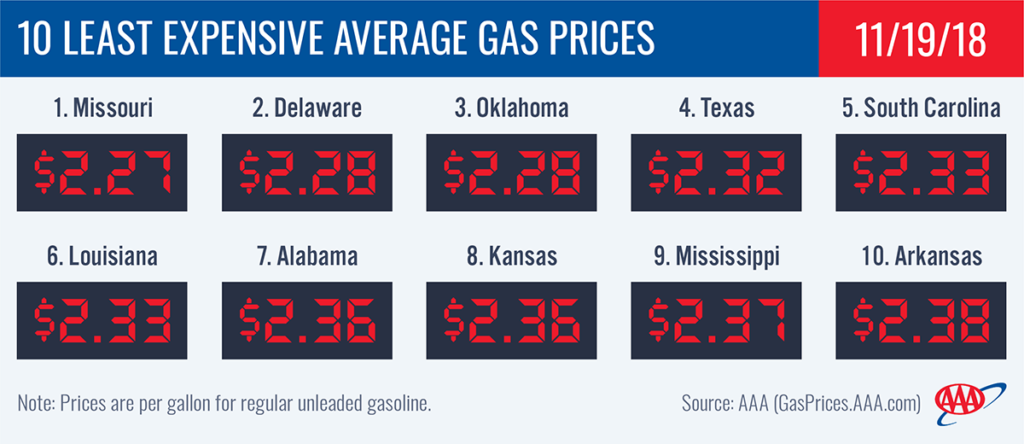 Based on historical and recent travel trends, INRIX, in collaboration with AAA, predicts drivers will experience the greatest amount of congestion Thanksgiving week during the early evening commute period. Drivers in San Francisco, New York City and Boston will see the largest delays.
"Thanksgiving is one of the busiest holidays for road trips, and this year will be no different," says Trevor Reed, transportation analyst at INRIX. "Knowing when and where congestion will build can help drivers avoid the stress of sitting in traffic. Our advice to drivers is to avoid commuting times in major cities altogether or plan alternative routes."
In most cases, the best days to travel will be on Thanksgiving Day, Friday or Saturday. Drivers should expect increased travel times on Sunday as most holiday travelers will be making their way home after the long weekend.
Worst Times to Hit the Road in America's Largest Cities
Metro Area
Worst Day for Travel
Worst Time for Travel
Worst Hotspot
Delay Multiplier
Houston
Monday
2:00 – 4:00 PM
TX-8 Beltway E, TX249 to I69
2.75
Boston
Tuesday
4:00 – 6:00 PM
I-495 S, exit 41 to 33
3.5x
Seattle
Tuesday
4:00 – 6:00 PM
I-5 S, exit 178 to 149
2x
Atlanta
Tuesday
5:00 – 7:00 PM
I-75 N, exit 216 to 227
2.75x
Washington, D.C.
Tuesday
5:00 – 7:00 PM
Capital Beltway Clockwise
2.5x
Detroit
Tuesday
5:30 – 7:30 PM
US-23 N, exit 35 to 49
2.5x
New York
Tuesday
6:00 – 8:00 PM
I-95 W, exit 7 to Hamilton Bridge
3.5x
San Francisco
Wednesday
1:00 – 3:00 PM
I-680 N, exit 8 to 21
4x
Chicago
Wednesday
2:30 – 4:30 PM
I-94 W, exit 40A to 1
2x
Los Angeles
Wednesday
2:30 – 4:30 PM
I-5 S, exit 79 to 54B
2x
Source: INRIX
Many travelers will seek iconic American cities, theme parks and other warm-weather destinations this Thanksgiving. Orlando, New York City and Anaheim top this year's top 10 holiday destinations based on AAA's online and travel agency air and tour bookings. Punta Cana, Dallas/Fort Worth and Miami are all gaining popularity as holiday spots compared with last year. The top Thanksgiving destinations this year are:
Orlando, Florida
New York, New York
Anaheim, California
Punta Cana, Dominican Republic
Las Vegas, Nevada
Cancun, Mexico
Dallas/Fort Worth, Texas
Honolulu, Hawaii
Washington, DC
Miami, Florida
AAA expects to rescue nearly 360,000 motorists at the roadside this Thanksgiving. Dead batteries, lockouts and flat tires will be the leading reasons AAA members will experience car trouble.