Listen Below:
Watch Below:
---
The Biltmore Estate is epic opulence that's not to be missed when visiting Asheville, North Carolina, and the Blue Ridge Mountains. In this episode, we take you to Biltmore, and tell you where to stay and how to get the most out of your visit to the largest house in America!
Campground: Asheville West KOA Holiday: https://koa.com/campgrounds/asheville-west/.
Abby's Fresh Tank: Spot2Nite, the new last minute campground booking app, is now available for Android. Check out Jason's interview with Terry on this past episode of the RV Miles Podcast: https://rvmiles.com/181-2/.
Jason's Fresh Tank: Harvest Hosts was in the latest issue of Forbes: Members helped businesses through the pandemic, spending an average of $50 on goods from the host they visit. That translated into $25 million in 2020, with projections to hit $40 million in 2021.
******
SHOP OUR NEW AMAZON STORE!
Want to support RV Miles while you shop Amazon? Click HERE. Looking for a Fresh Tank item or RV gear reviewed/recommended on a past episode of the podcast? Click HERE. Using our link to shop for anything on Amazon will provide us with a small kickback that helps grow and improve RV Miles content. Thanks for your support!
If you are enjoying the show we'd love a five-star review over on Apple Podcasts. Your five-star review helps put RV Miles in front of more listeners, and we can't say "thanks" enough for your support!
Thanks to these businesses below for supporting the RV Miles Podcast! Click the logos to visit them: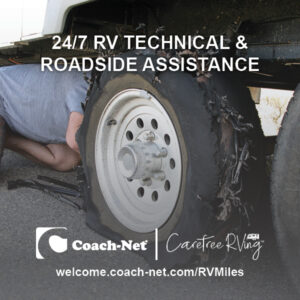 Don't forget to take advantage of these deals specifically for RV Miles listeners: